Mango Cheese Cake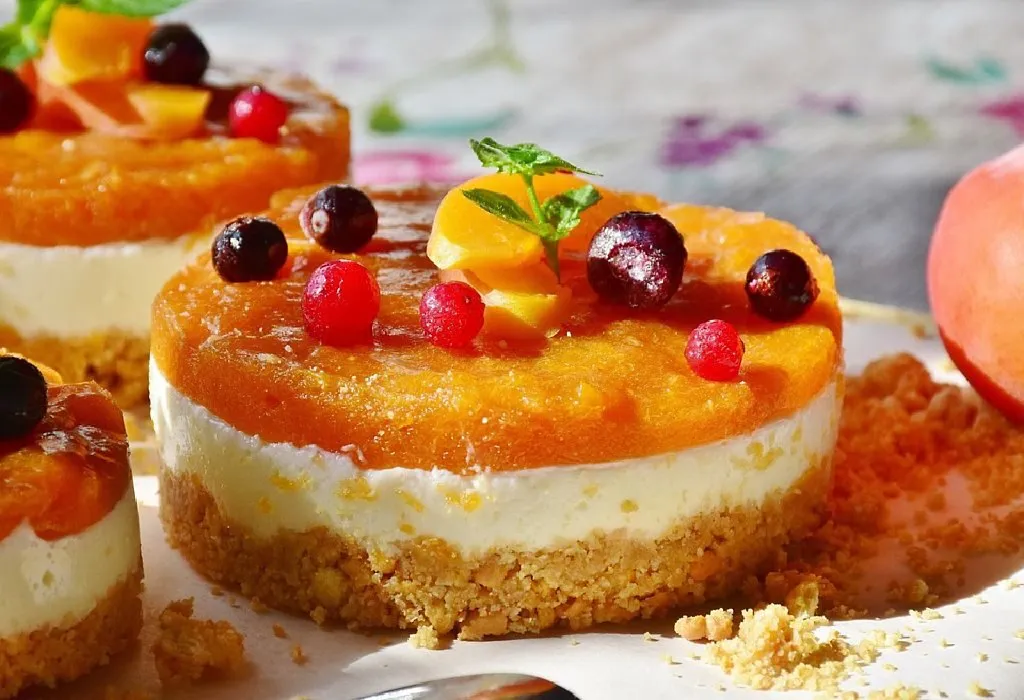 Soft, smooth & creamy with the delectable taste of mangoes – this Mango cheese cake is bound to be a sure-shot hit with the kids. Give it a try today, follow the easy steps of this recipe & make everyone smack their lips for fruity creamy cheesy after-meal sweet.
| | | |
| --- | --- | --- |
| Serves | Preparation Time | Cooking_Time |
| 5 People | 20 – 25 Minutes | 10 – 15 Minutes |
Ingrediant:
For The Base:
18-20 digestive biscuits
1/3 cup butter
2 tbsp powdered sugar
For The Filling:
1 cup mango pulp (real mango pulp would be best in mango season)
5 egg yolks
2 cups cream
2 cups mascarpone cheese / hung curd
1 cup sugar
4 tbsp gelatin (readily available in market)
Thin mango slices to garnish
Pinch of salt
Butter paper (to line cake tin)
Method:
1Crush the biscuits in a mixer. Or put biscuits in butter paper & powder the biscuits with the help of rolling pin.
2In a non-stick pan heat some butter, add biscuit powder & mix well. Remove from heat & add sugar powder. Keep aside.
3Take a cake tin. Place a butter liner and add the biscuit mixture. With the help of a flat bottom bowl, press to spread it evenly. Line the tin firmly as it is the base of the cheese cake. Keep aside to cool.
4Meanwhile, soak gelatin in 1/2 cup water.
5Take a double boiler and keep it for boiling. In the small container, add egg yolk, mango pulp, sugar, a pinch of salt & cook over low heat until it is mixed well & has become slightly thick. This is the 'custard'.
6Now, add soaked gelatin to warm custard. Stir well till it reaches a thick consistency. Remove from heat, cool & keep aside to set custard partially.
7Whip cream and add it to the custard. Next, add in the hung curd and mix it properly.
8Now, transfer this mixture to the cake tin, above the biscuit mixture and spread evenly. Layer with mango pulp. (If you feel the mango pulp is sour, you can add sugar)Store in the refrigerator for 7-8 hours.
9Pass a blunt knife to loosen the sides of the cake. Transfer to the serving dish. Serve chilled.
Nutritional Information:
| | |
| --- | --- |
| Calories: | 1234 Kcal |
| Proteins: | 46.0 g |
| Fats: | 46 g |
| Carbohydrates: | 132.2 g |
| Cholesterol: | 275 mg |
| Sodium: | 2688 mg |
| Potassium: | 20 mg |