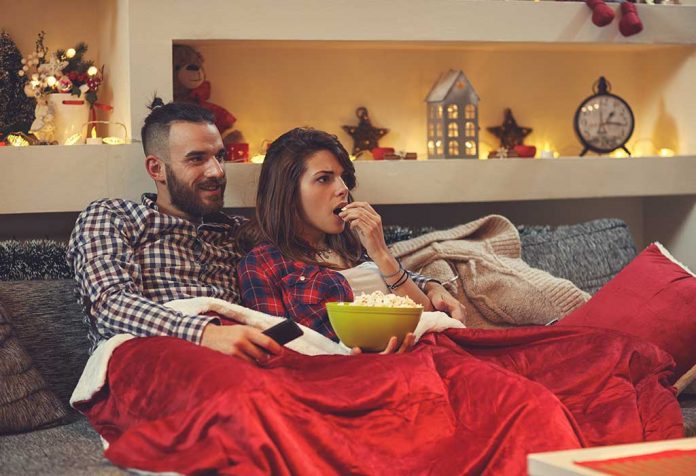 There are those who like to cook a big feast and call everyone over and play the perfect host. Then there are those who like to spend the entire month hand-picking gifts for every single person they know. Some want nothing more than getting the decorations in order. Christmas offers everyone a chance to be themselves and nurture their inner hidden talents.
And then there are those people who look forward to the Christmas break just so they can sit at home and chill with their partner!
20 Movies to Celebrate Christmas with Your Partner
If you are one such couple, who wants nothing more than to spend Christmas 'eve in your pyjamas, watching movies, and snuggling up, get ready for a feast! Here's a carefully curated list of some of the best Christmas movies you can enjoy watching with your partner this year.
The Classics
First, we start off with a bunch of classics, available to all viewers. Some of these are brand new, some fairly old, but they are all delightful to watch!
1. The Holiday
[youtube https://www.youtube.com/watch?v=BDi5zH18vxU&w=903&h=508]
Two women, 6000 miles apart but in the same place in life, decide to switch houses for the Christmas break, in their bid to run away from their lives. But nothing can help you escape what fate has in store for you… even if that means falling for someone who lives halfway across the globe! This movie not only exudes a warm, magical vibe but also makes you believe that love can happen when you least expect it!
2. Love Actually
[youtube https://www.youtube.com/watch?v=g8M-wa9SEuw&w=903&h=508]
This film celebrates love in all its weird forms and quirky glory. With one of the finest ensemble casts to ever come together and some festive and beautiful music, this movie is the perfect one to make you feel warm and fuzzy inside! Trust us, this movie will guarantee extra cuddles and kisses with not just your partner but your kids(and pets) too!
3. Last Holiday
[youtube https://www.youtube.com/watch?v=JO0NSRPcPFs&w=903&h=508]
What do you do if you have only three weeks to live? Do all the things you never thought you could, should, or would do. But the real question this film asks is – why should you be dying to finally do all the things you've always wanted to do? For that classic lingering, "I should live in the moment" feeling, watch this one with your husband! Who knows, he might finally decide to book tickets to that holiday you've been aching to go for!
4. A Bad Mom's Christmas
[youtube https://www.youtube.com/watch?v=FJdNdMOblaM&w=903&h=508]
This one is for all you tired mommies out there, who've been slogging all month long getting everything in order – get your husband to sit down and watch this with you. And if he still doesn't appreciate you… well, at least you watched a good funny movie together!
5. The Family Stone
[youtube https://www.youtube.com/watch?v=9fl9jRAK30M&w=903&h=508]
When the most 'prim and proper girl' finds herself meeting her boyfriend's messed up, funny and crazy family, she is ready to cry! But when her sister comes along to give her company, things escalate quickly! Anyone who's ever been in love will enjoy this movie. It is a warm and feel-good take on how love takes us by surprise and changes our lives in the most unexpected of ways.
6. The Best Man Holiday
[youtube https://www.youtube.com/watch?v=k6iNiJivOOQ&w=1027&h=436]
The very trailer of this film opens with a sexy racy Robin Thicke number. So, you can imagine what the movie is going to be like! This is the story of 4 couples – who are all mutual friends – reuniting to spend Christmas together. Reunions, however, have a special knack of ripping band-aids off of old wounds. Married life often preoccupies us too much with responsibilities and duties, so watch this movie to reminisce old times (and finally make that reunion with your friends happen!).
7. Home Alone
[youtube https://www.youtube.com/watch?v=jEDaVHmw7r4&w=903&h=508]
This movie needs absolutely no introduction. While it is not the typical movie you would want to watch with your partner, it definitely a great one if you want to have a hearty laugh! If there is one thing this movie taught all parents, it is to never underestimate a child! So go on and revisit your childhood together and have a laugh at the antics of a naughty child on Christmas and thank the heavens that your little angel has never been left home alone!
8. While You Were Sleeping
[youtube https://www.youtube.com/watch?v=AjcLQ4r8jIU&w=677&h=508]
It seems you can't even save somebody's life these days unless you want to somehow get roped into his family because everyone thinks you are his girlfriend! How then is a girl supposed to react when she finds herself inexplicably drawn to the guy's brother? This movie will resonate strongly with most women, as along with being a love story, it is also the story of one girl trying to fit in with a strange family.
9. Just Friends
[youtube https://www.youtube.com/watch?v=vIBBVzy5UoQ&w=903&h=508]
This is every school kid's fairytale come true, and we mean EVERY school kid. Each one of us has an Achilles heel when it comes to school – an issue we don't like to talk about. We all dream of some day being able to set things right. What if you actually got the chance to do it?
10. The Grinch
[youtube https://www.youtube.com/watch?v=Bf6D-i8YpHg&w=903&h=508]
The Grinch is the party-pooper of Christmas – they guy we all love to hate and hate to love! Watch this movie to celebrate the Grinch for all the times you might have been party poopers!
11. The Polar Express
[youtube https://www.youtube.com/watch?v=AZzIyKIigbM&w=903&h=508]
Who hasn't ever dreamt of boarding the Polar Express and getting to the North Pole to celebrate Christmas with Santa and all his elves and reindeers? This movie will evoke a sense of wonder in you again. We recommended snuggling close with a blanket and some hot coffee or cocoa. Turn on the air conditioner if your city isn't cold enough! It's about to be a magical night!
12. Four Christmases
[youtube https://www.youtube.com/watch?v=1v0Rbf5xI9o&w=903&h=508]
This one tells the tale of an unlikely couple that just 'Wants. To. Escape. Christmas!' Not all of us love festivals and families and big gatherings, and neither do these two! But Christmas is exactly about that – getting over old ways and feelings and starting something brand new.
13. Ben is Back
[youtube https://www.youtube.com/watch?v=MI9NdYktzfE&w=903&h=508]
Family is family, and whether we like each other or not, we share an unbreakable Karmic bond with each other. This may not be your typical feel-good, happy-happy Christmas movie, but it sure as hell is one that will make you want to hold your loved ones tighter and closer.
Netflix Movies
For those of you who prefer to watch movies on the internet instead of on the TV, here are some exclusive Christmas movies that are available on Netflix.
1. The Christmas Chronicles
[youtube https://www.youtube.com/watch?v=YaeDa_Uempk&w=903&h=508]
They say growing up truly means preserving the child within you. This movie will give you hope, and teach you to believe in your dreams… for they do come true.
2. Angela's Christmas
[youtube https://www.youtube.com/watch?v=RnrkwZBnbLs&w=903&h=508]
This one will feel like a punch in your guts. But sometimes, the best thing that will put warmth in your heart, and love in your soul is a good cry for someone.
3. The Princess Switch
[youtube https://www.youtube.com/watch?v=-WBhj57fHeI&w=903&h=508]
We've all wondered at some point in our life, what the royal people's life is like. Do they get bored like we do? Do they have bad hair days? We know we'd kill to get a chance to live their life, even if only for a day. Would they do the same? Watch as an ordinary girl gets to live the life we all secretly dreamed we could. Hint…it involves romance with a prince!
5. The Holiday Calendar
[youtube https://www.youtube.com/watch?v=km7gv28_uX0&w=903&h=508]
This movie tells the story of a woman who inherits a very antique and special advent calendar from her grandmother – a calendar that grants wishes! What would you wish for, if you knew every wish of yours, for the next 24 days, would come true?
6. Merry Kissmas
[youtube https://www.youtube.com/watch?v=gkA-5vK6EG4&w=903&h=508]
The mind is fickle, and one's idea of love keeps evolving through the years. But we can't possibly keep changing partners every couple of years. True love is true love and has no expiration date. But if it expires at all, was it true love in the first place?
7. Christmas Wedding Planner
[youtube https://www.youtube.com/watch?v=HS9x40rE5Cs&w=903&h=508]
Marriage is a big decision. You could go wrong, and turns out, you could even get tricked. But when a well-meaning wedding-planner and a spy come together to set things right, one thing is for sure – there will be a wedding!
Winter may be a cold season. But Christmas is one festival that can thaw even the coldest of hearts! So put these movies on, make a big batch of popcorn, and enjoy some quality time with your near and dear ones this Christmas.
Also Read:
Simple Ideas for Decorating Your Home for Christmas
How to Save Money for Christmas & New Year Parties
Best Christmas Gift Ideas for Everyone in 2018