Yummy Make-ahead Meals You Can Prepare for Your Family
In this Article
Homemakers often find themselves struggling to conjure something healthy and fancy for their family at the end of the day for dinner or tea. It is no doubt difficult! After a hard day's work, no one would want to rack their brains to think about what meal to cook. Make-ahead meals for busy moms are a wonderful respite from the humdrum of cooking from scratch on a weekday. Cook, store, and freeze is the new mantra that is fast catching on with working households. Parents can now blissfully serve healthy meals with their family and have a restful evening after work with the help of easy make-ahead meals for the week.
Life can get hectic, and it certainly helps to have a meal stuck in the freezer that needs to be heated and eaten. While there are many gourmet microwavable recipes out there, you sometimes crave a little more. On those days, nothing else but traditional delights can satiate your gastronomical senses and leave you satisfied. Read on to find out the best make-ahead meals that can help you stay on top of the homemaking game.
Simple and Healthy Make-ahead Meals
Weeknights are tricky when it comes to making meals. After a long day, one does not want to spend their time churning up delicacies in the kitchen. It is even more difficult with kids. They need food when they return, and it is practically impossible to cook a wholesome meal in less than 30 minutes.
So what could be the ideal solution to bringing home-cooked meals to the dining table in a flash? Make-ahead meals are fast growing in popularity for those busy people allowing them to eat home-cooked food by simply reheating rather than bringing takeout or getting food delivered to them. With make-ahead meals, you can now ensure your freezer or fridge is equipped with a meal handy that can be served instantly at the dinner table. All you need to do is heat it in the microwave or oven as you set the cutlery on the table. You can now become a meal prep professional with this list of delicious and easy make-ahead meals.
1. Lemony Chicken Noodle Soup
One of the best kid-friendly make-ahead frozen meals, you can freeze this soup for upto three months.
Total Time – 45 minutes
Servings – 8
Ingredients
2 tablespoons olive oil
4 carrots or parsnips cut juliennes
2 stalks chopped celery
1 large onion chopped
½ tsp dried thyme
Black pepper and kosher salt
2 lbs chicken breasts with skin removed
6 cups of chicken broth ( less salt)
1 cup of small pasta
2 tbsp fresh lemon juice
2 tbsp chopped parsley
How To Make
Heat oil in a pot, add carrots, celery, onion, thyme, salt, and pepper. Cook until vegetables are tender for 10-12 minutes, stirring constantly.
Add chicken, broth, and 4 cups water. Bring to a boil, simmer until chicken is cooked for 15-20 minutes. Remove chicken and shred the meat with forks removing the bones.
Add pasta to the soup and cook for 6-10 minutes. Add chicken, lemon juice, and parsley and stir until combined.
Freeze and transfer to a pot after de-freezing before you want to eat it.
2. Mini Sausage Pies
These pies offer a sizeable portion to all and are another popular option for make ahead and freeze meals.
Total Time – 1 hour and 10 minutes
Servings – 12
Ingredients
1 pack of frozen puff pastries, thawed
1 lb of sage pork sausage
6 green onions chopped
½ cup chopped dried apricots
¼ tsp pepper
1/8 tsp ground nutmeg
1 large egg beaten
How To Make
Unfold pastry sheets on a lightly floured surface and roll into a 16×12-inch rectangle. Use a cutter and cut 12 circles of 4 inches diameter from one sheet. Press bottoms and top sides of ungreased muffin cups. Now cut 12 circles of 3½ inch diameter on the remaining sheet—preheat oven to 375°F.
Mix the sausages, apricots, green onions, and spices – scoop ¼ cup mixture in each pastry cup and brush the edges of the smaller cup with egg. Place it over pies and press edges to seal. Brush with egg and cut slits at the top.
Bake until golden brown. Insert a thermometer – if it reads 160°F after 30 minutes, it is done. Cool on a wire rack for 5 minutes. Freeze and thaw pies in the refrigerator overnight. Reheat in oven for 14-17 minutes.
3. Quick Beef Chilli
In addition to being make-ahead, this one lets the flavor infuse to make a delicious meal when served.
Total Time – 55 mins
Servings – 15
Ingredients
2 lbs beef ( tender steak) trimmed and cut into cubes of 1 inch
2 tbsp olive oil
1 onion chopped
4 cloves garlic chopped
2-3 tsp chipotle chili powder
2 tsp dried oregano
2 tsp ground cumin
1 can tomato paste
5 cans chopped green chilies
4 cups chicken broth
1 can stewed tomatoes
2 tbsp yellow cornmeal
Green onions, sour cream, cheddar cheese, fried onion rings for toppings
How To Make
Marinate beef with salt and pepper. Cook the beef in hot oil on medium-high heat for 5-6 minutes, stirring until browned. Transfer to a plate.
Add onion to the pot, cook for 3 minutes or until tender. Next, add garlic, chili powder, oregano, ground cumin, and stir for 2 minutes.
Add green chilies, beef, 1 cup water, and boil. Stir occasionally for 20 minutes. Add salt and sprinkle with cornmeal. Stir constantly until thick and serve with toppings.
4. Freezer Breakfast Sandwiches
Why run to the café for a sandwich when you can pull it out of the freezer.
Total Time – 1 hour
Servings – 10
Ingredients
18 eggs
20-25 slices of ham
20-25 slices of cheese
Bread
How To Make
Crack the eggs in a bowl and add your favorite seasonings.
Line a pan with aluminum foil and pour the egg mixture into it. Bake for 10-15 minutes at 180-200 degrees.
Once cooled, use a cookie cutter to form circles.
With the same cookie-cutter, cut up the ham and cheese slices to layer them on the sandwich.
Apply butter on the bread slices, and arrange the egg slice, ham, and cheese on the bread. Cover with another bread.
Wrap them in saran wrap and then freeze them.
5. Slow Cooker Vegetable Stew
A protein-rich stew, this one includes vegetables that can make a hearty meal.
Total Time – 7 hours and 10 minutes
Servings – 6
Ingredients
3 garlic cloves chopped
1 onion chopped
2 celery chopped
2 carrots sliced thick
1 small butternut squash, peeled, seeded, and cut into chunks of 1 ½ inch
2 leeks (white parts sliced)
1 pack sliced mushrooms
½ lbs white potatoes
1 can white beans, rinsed and drained
¾ cup vegetable broth
1 can crushed tomatoes (fire-roasted)
1 bay leaf
How To Make
Gather ingredients.
Layer garlic, onion, vegetables, celery, carrots, leeks, mushrooms, potatoes, and butternut squash in a slow cooker.
Add beans, broth, tomatoes, and bay leaf.
Cook in the slow cooker for about 5-7 hours until the vegetables are tender.
Freeze it. Thaw it in the refrigerator and transfer it to a pan to heat before serving. Serve with crusty bread and enjoy.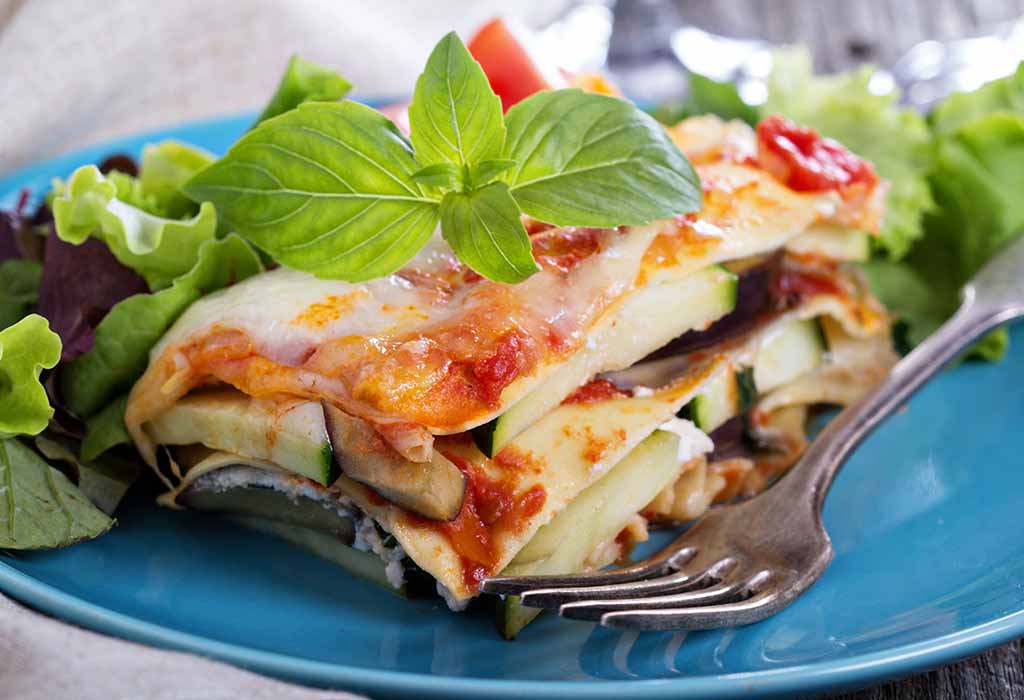 6. Green Vegetable Lasagne
A brilliant option for vegetarians, it is packed with greens and ideal for busy weeknights
Total Time – 50 minutes
Servings – 4
Ingredients
350 gms broccoli florets
100 gms kale
100 gms spinach
30 gms unsalted butter
1 garlic clove crushed
2 tbsp plain flour
650 ml milk
75 gms grated cheddar cheese
200 gms lasagne sheets
85 gms crispy salad
150 gms baby plum tomatoes cut in quarters
1 tbsp extra-virgin olive oil
½ tbsp. cider vinegar
How To Make
Preheat oven to 200 degrees. Bring water to a boil in a pan. Add broccoli, cook for 3 minutes and add kale. Cook for 3 minutes, drain and stir in spinach till it wilts. Rinse cold water and drain thoroughly.
Heat butter in a pan, add garlic and cook for a minute. Add flour and stir the milk. Simmer for 2-3 minutes until thick and add in cheddar cheese.
Spoon a quarter of cheese sauce at the bottom of the baking dish, cover a third of it with lasagne sheets, and top with vegetables. Add another layer of sauce, sheet, and remaining vegetables. Continue till the sauce, sheets, and vegetables are used up. Sprinkle with cheese.
Bake for 40 minutes until golden or it bubbles. Freeze it and heat in a preheated oven before serving. Alternatively, cook for 30 minutes after Step 3. Bake straight from the freezer for 40 minutes at 350°F.
Toss salad leaves with tomatoes. Whisk oil and vinegar in a jug and season over salad. Spread over lasagne.
7. Oven Baked Fish Sticks
A simple dinner and delicious baked dinner option.
Total Time – 45 minutes
Servings – 8
Ingredients
3 cups panko bread crumbs
1/3 cup olive oil
1 tbsp seafood seasoning
Kosher salt
3 large eggs
21/2 lbs skinless tilapia fillets ( cut to 1-inch strips)
Coleslaw and ketchup for serving
How To Make
Preheat oven to 450 degrees. Toss the bread crumbs with oil, seafood seasoning, and ½ tsp salt on a large baking sheet. Toast in the oven and toss once until golden brown for 5-7 minutes. Transfer to a shallow bowl and wipe the baking sheet. In another bowl, beat eggs with 1 tbsp water.
Dip the fish in beaten eggs (shake off any excess), coat with bread crumbs—place in a single layer on parchment-lined baking sheets.
Bake the fish stick until crisp and opaque for 12-15 minutes. Serve with coleslaw and ketchup.
Freeze uncooked fish sticks for three months. First, freeze them on baking sheets until they are firm and transfer them to freezer bags. Bake on parchment-lined baking sheets until crisp and opaque for 18-20 minutes.
8. Super Easy Country Style Ribs
Make this classic and beloved recipe ahead of time for an easy dinnertime surprise.
Total Time – 5 hours 15 minutes
Servings – 4
Ingredients
1 ½ cups ketchup
½ cup packed brown sugar
12 cup white vinegar
2 tsp seasoned salt
½ tsp liquid smoke
2 lbs boneless country-style pork ribs
How To Make
In a slow cooker, mix ketchup, brown sugar, vinegar, salt, and liquid smoke (if you desire). Add the ribs and toss them well to coat. Cook on low heat for 5-6 hours covered or until the meat is tender.
Remove pork to a serving plate. Skim the fat from cooking liquid. Transfer it to a small saucepan to thicken, boil and cook for 12-15 minutes or until the sauce is reduced to 11/2 cups. Serve with the ribs.
Combine ketchup, brown sugar, vinegar, seasoned salt, and liquid smoke in a large air-tight container to make it ahead. Add pork, cover, and freeze it. Let the ribs thaw in the refrigerator for 48 hours before cooking them as above.
9. Easy Taco Soup
Warm and perfect for winter, you can serve this with taco toppings to make a winning meal that needs only a few minutes to heat.
Total Time – 55 minutes
Servings – 14 cups
Ingredients
1 lb ground beef
2 cans pinto beans, rinsed and drained
1 pack frozen cut green beans
1 can ranch beans (not drained)
1 can stewed tomatoes
1 can petite diced tomatoes not drained
1 pack of frozen corn kernels
1 bottle beer
1 pack of taco seasoning mix
1 pack Ranch dressing mix
Corn chips and grated cheddar cheese for toppings
How To Make
Brown the ground beef in a pot on medium heat for 8-10 minutes and stir constantly. Drain once cooked.
Stir pinto bean, green beans, ranch beans, stewed tomatoes, diced tomatoes, and 2 cups water in the beef. Bring it to a boil and reduce heat to a medium-low. Stir occasionally on simmer for 30 minutes.
To make ahead, freeze the soup in freezer-safe containers—thaw and heat before serving with toppings.
10. Honey Sesame Chicken Lunch Bowls
Another frozen staple favorite, this delicious combination of rice, veggies with chicken interspersed with sesame, and honey is bound to become a family favorite.
Total Time – 1 hour
Servings – 4-5
Ingredients
1 cup stir fry vegetables (broccoli, snap peas, carrots, beans)
1 lb boneless chicken breasts chopped into 1-inch pieces
3/4 cup cooked rice (you can use basmati rice or any long grained rice)
¼ cup chicken stock or water
¼ cup soya sauce
¼ cup honey
1 tablespoon sesame oil
½ tsp red chili flakes
1 tsp cornstarch
Sesame seeds for garnish
How To Make
Shake the honey, sesame, and sauces together and keep them aside.
Cook the rice and divide it into four freezer storage containers
Heat 1 tbsp olive oil in a large pan. Add the stir fry vegetables and saute for 5-7 minutes. Add the chicken. Season with salt and pepper. Add the red chili flakes if desired. Cook for 7-10 minutes.
Add the sauce to the pan and simmer, and cook for 2 minutes. Cook until thick.
Add the chicken to the containers with the rice and drizzle the sauce. Garnish with sesame seeds.
Store in the freezer for upto five days and reheat when you wish to serve.
Feeling the dinner crunch? Turn to these make-ahead and freezer-friendly recipes to get a delicious meal on the table in no time. Just because weeknights are busy, it does not mean you cannot enjoy a home-cooked meal with family. These home-cooked and make-ahead meals will stock your fridge and freezer that will help set your table in a flash. A few extra hours over the weekend in the kitchen will leave you with more spare time on a weeknight and one that is not devoid of flavor. These pasta bakes, soups, fish sticks are weeknight superheroes that you have been searching for.
Also Read:
Benefits of Eating Together As a Family
Sunday Dinner Ideas for Family With Recipes
Affordable & Healthy Meal Ideas for Large Families