Young Abhishek's Letter to Amitabh Bachchan Is the Cutest Thing You Will Read Today!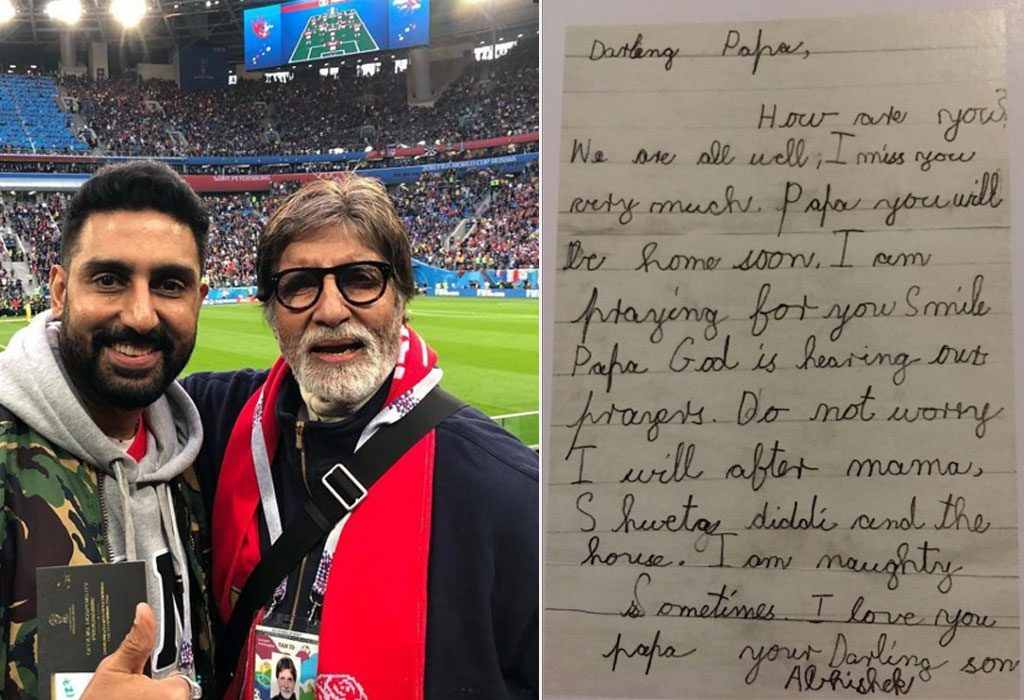 Owe it to the beauty of childhood, but children are unabashedly innocent and honest – memories of them doing things without a care in the world are what parents cherish long after their child has grown up.
He may be one of Bollywood's biggest stars, but at the end of the day, even Amitabh Bachchan is one such parent! He is quite active on social media, with his Twitter feed up-to-date with his thoughts, opinions, and upcoming projects. Recently, however, he shared something that made us all collectively go 'awwww' in our seats – this letter written to him by none other than his son, Abhishek Bachchan, as a child.
"Abhishek in his glory…a letter to me when I was away on a long outdoor schedule…" was the caption above the image of the letter he shared. The letter is nothing short of adorable!
T 3549 – Abhishek in his glory .. a letter to me when I was away on a long outdoor schedule ..
पूत सपूत तो क्यूँ धन संचय ; पूत कपूत तो क्यूँ धन संचय pic.twitter.com/Tatw1VU1oj

— Amitabh Bachchan (@SrBachchan) November 14, 2019
This letter was written by young Abhishek to Big B when he was out shooting for a film. In the letter, written in cursive handwriting, Abhishek addresses Big B as 'darling papa' and expresses how much he misses him. He also writes about how he is "praying for your smile" and that God was "hearing our prayers". He continues by saying he will "look after mama, Shweta diddi, and the house" – providing him assurance in the cutest way possible.
He ends the note with an honest confession – "I am naughty sometimes" – and signs it off with "your darling son, Abhishek". We totally understand why Big B wanted to hold on to this letter – it's the most innocent, sweet message!
Big B's tweet was, obviously, met with a lot of positive responses of people feeling touched with the contents of the letter. Not long after, however, Abhishek Bachchan himself responded –
. @SrBachchan evidently before I took a creative letter writing course. 🤦🏽‍♂️ https://t.co/VWWMISYgat

— Abhishek 𝐁𝐚𝐜𝐡𝐜𝐡𝐚𝐧 (@juniorbachchan) November 15, 2019
All said and done, it's commendable that a little child would write something so heartfelt – shouldering the responsibility of the household is no easy feat, after all!
Big B and Abhishek share a really special bond, just like most father-son duos – this letter goes to show how raising a responsible and sensitive child goes a long, long way.
What's your most memorable moment with your child? Tell us in the comments!