World Toilet Day 2023 – History, Significance, and Facts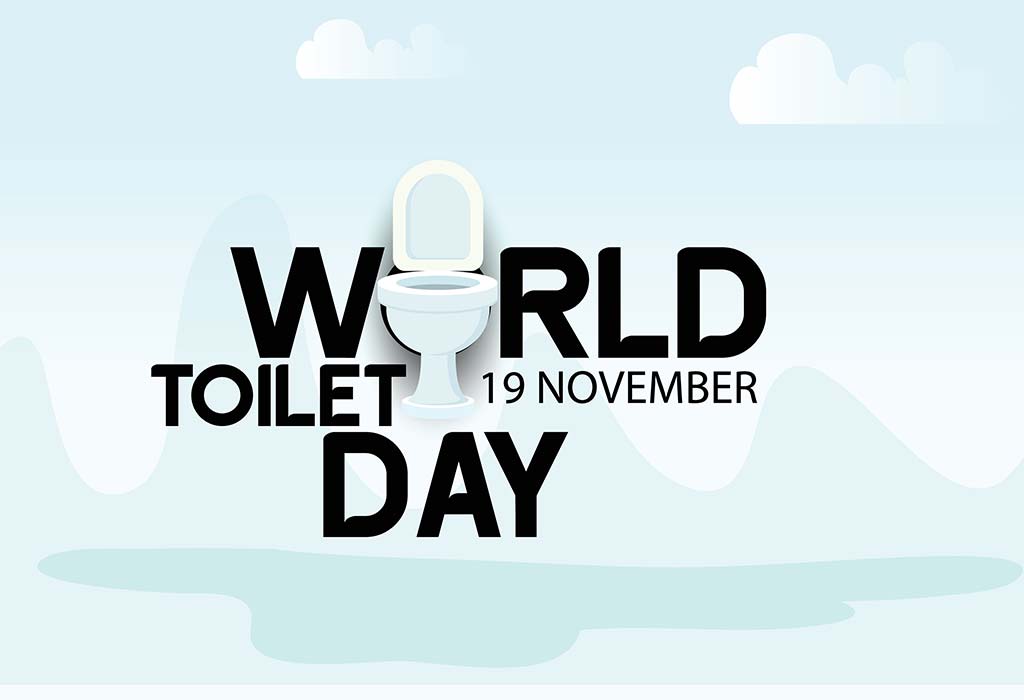 Do you know that 40% of the world's population, i.e. 4.2 billion people, do not have access to proper sanitation facilities? Yes, you read it right! Even though we humans have achieved a significant milestone in technology, agriculture, space research, and bioscience, we still haven't crossed one hurdle of hygiene and sanitization. Poor sanitation increases the risk of diseases and malnutrition, primarily in women and children. To shed light on the great importance of toilets and hygiene, the United Nations had established World Toilet Day in 2013.
What Is World Toilet Day?
World Toilet Day is dedicated to raising awareness of sanitation and health crisis across the globe. The United Nations Water, along with the governments across the world, focus on building sustainable initiatives that will tackle climate change and global sanitation plight. Global communities, big and small, profit and non-profit, have come up with thousands of innovations that have the potential of wiping out this crisis in the coming years.
By 2030 Sustainable Development goals, the United Nations hopes that it will ensure the availability and management of proper sanitation facilities and water in all countries.
When It Is Observed?
The United Nations General Assembly has declared November 19 as World Toilet Day. World Toilet Day date is a reminder about the people who live in severe poverty and poor sanitation circumstances.
History of World Toilet Day
A dedicated philanthropist from Singapore, Jack Sim, established the World Sanitation Organization on November 19, 2001, to stress sanitation systems, processes and public awareness. Later, this day was renamed World Toilet Day by the United Nations to ease public understanding since toilets are considered the first and foremost subject of sanitation.
Soon after, the WTO started to raise awareness globally and established World Toilet Day as a global health crisis. Following active support for this day by many institutions, the United Nations declared the right to sanitation and water a human right.
In 2013, the Government of Singapore and the World Toilet Organisation participated in a joint initiative, and the UN's first resolution was passed – Sanitation for All, to diminish the sanitation crisis around the world. The resolution was adopted by around 122 countries at the UN General Assembly held in New York.
Another resolution passed by the United Nations Secretary Ban Ki-Moon, named Call to Action on Sanitation, aims to end open defecation by 2025.
The Importance of World Toilet Day
Did you know that Diarrhea is the second leading disease causing the death of children below the age of five? The fact that this disease is entirely preventable with access to clean water and basic sanitation facilities is a reminder of the milestone we still haven't achieved. India, the second-largest populated country, tops the chart of having the worst sanitation facilities in the world.
Why do we need the World Toilet Day celebration? Here are the following reasons:
1. Raise Awareness
World Toilet Day needs to be celebrated in every country as it is a subject many people consider inappropriate to discuss. With a massive leap in technological advancements, we need to broaden our mindsets and welcome this day. Posting awareness on social media platforms, at public places, and educational and work institutions is necessary.
2. Climate Crisis
Since climate crisis is another emergency we are facing today, it is imperative that we focus on innovations that are not just solutions, but sustainable solutions. Sanitation and water go hand in hand. We have to create such solutions that reduce the sanitation problem and sustainably manage procurement and wastage management of water for all.
3. Urgency
The sanitation crisis is increasing at an alarming rate, which cannot be ignored anymore. Every year around 3 million children die of poor sanitation facilities and exposed water. This leads to a decline in the GDPs of poorer countries, due to which poor countries remain in a vicious circle of poverty and hygiene.
How One Can Observe World Toilet Day?
The official convener of World Toilet Day, UN-Water, choose a new theme every year for this day. 'Leaving no one behind' was the official theme of World Toilet Day for 2019. Prior to 2019, other themes included 'toilets and nutrition', 'wastewater', 'nature-based solutions', etc. This year's theme is 'valuing toilets'.
There are many ways you can observe International Toilet Day with friends, classmates, and teachers. Several educational institutions and companies, and public places also celebrate this day.
1. Gain knowledge
The first and foremost thing to do is gather knowledge of the crisis, historical circumstances, and current statistics. You can start by learning about the history of toilets, from ancient Greeks and Romans to brilliant Indus valley civilizations. Then, you can do some research on the current sanitation situation in your home country and compare it with global richer and poorer countries. This comparison will give a clear picture of your country's improved sanitation situation.
2. Visit museums and institutions dedicated to the subject of awareness
Do you know that there is a museum in the capital city of India, Delhi, dedicated entirely to toilets? The Sulabh International Museum of Delhi by an India-based NGO Sulabh International displays various kinds of toilets from 2500 BC to the modern date. The museum is constructed to promote the awareness of proper sanitation across the country and shed light on the global history of toilets and sanitation.
3. Improvise it
As it is rightly said that the change starts from within. To perfectly understand the crisis at hand, we need to start the change with ourselves first. You can start by posting a picture of your clean toilet to raise awareness of sanitation and World Toilet Day. Benefit from the power of hashtags and spread your message on social media platforms.
4. Time to take action
Educational institutions, including schools, colleges, and universities, participate in every way to raise awareness. As a responsible citizen, you can take part in events and competitions like slogan making, poster making, wall art, etc. Several theatre groups create plays that boost public awareness. Suppose you want to collaborate and make changes globally. In that case, you can visit the official website of World Toilet Day, partake in international events, and connect to people globally who are fighting for the same cause.
How to Toilet Train Your Child?
Toilet training is an essential part of parenting during the development of kids. Some kids learn to use toilets early, while some take time, which can be frustrating for parents.
We have some simple guidelines that can make potty training stress-free.
1. Plan a routine
Start the training when your child is old enough to sit. You don't have to rush things. You can set them on the toilet after their meal and play with them until they do their business.
2. Look out for physical and facial signs
Children tend to show signs and make facial gestures that indicate that they are going to do their business.
3. The right equipment
Buying the right equipment, like a potty or a toilet training seat for your child is important. They should neither be small or big, but a right fit.
4. Communication
As your child starts to talk, you need to teach them the words associated with the toilet. Use hand gestures, bright facial expressions, and praises to teach them. Ask them now and then whether they want to visit the washroom or not.
5. Advanced skills
Now that your toddler can sit, walk, and talk, teach them some actions like how to pull down and pull up their underwear when they want to visit the toilet. Also, teach them about the regular use of flush and hand wash every time after using the bathroom.
Good Toilet Habits for Kids
Children are at a learning stage when toilet training. Since they are only learning new words and things, don't hurry. They will learn at their pace.
Teach them the rules of toilet training when they are playing.
Practice hand-washing with them after very toilet use. Children learn by copying their parents. So, if you follow hygiene habits, they too will follow the same.
Teach them how to sit properly.
Clean the toilet facilities after every use.
World Toilet Day Facts
Around 297,000 children (more than 800 every day) under the age of five die yearly from diarrhoeal diseases because of poor hygiene, unsafe drinking water, and poor sanitation.
40% of the global population lives without basic hand-washing facilities like soap and water available at home.
Globally, 80% of the wastewater generated by human consumption flows back into the natural ecosystem without being treated or reused.
By 2050, there will be a crisis of water that up to 5.7 billion people could be residing in areas where water is scarce for at least one month a year.
For every dollar spent on water and sanitation, there is a $4.30 return in the form of lessened health care costs around the world.
People across the globe have access to more mobile phones than toilets.
Toilets have added up to twenty years to the human lifespan over the past 200 years.
Strong Quotes for World Toilet Day
"May your life be like toilet paper, long and useful." – Anonymous
"You don't know what you have until it's gone. For example, toilet paper." – Anonymous
"Don't hurry, don't worry. Do your best. An flush the rest. In the toilet!" – Anonymous
"This day reminds us of the fact of how important sanitation and hygiene is in our lives." – Anonymous
"The lack of a proper supply of water, proper sanitation systems, and sewage systems are causing infections to an uncountable number of people and are creating a very unhealthy lifestyle for them." – Anonymous
Sustainable sanitation is a concerning problem across the world. It is essential to employ safe sanitation practices in every household as it sheds light on the development of the country as a whole; because toilets are the way to avert several public health crises. As World Toilet Day approaches, we should make sure to communicate with people among us about the best practices of healthy hygiene.
Also Read:
?>