Women's History Month 2023 – Importance, Celebration, and Quotes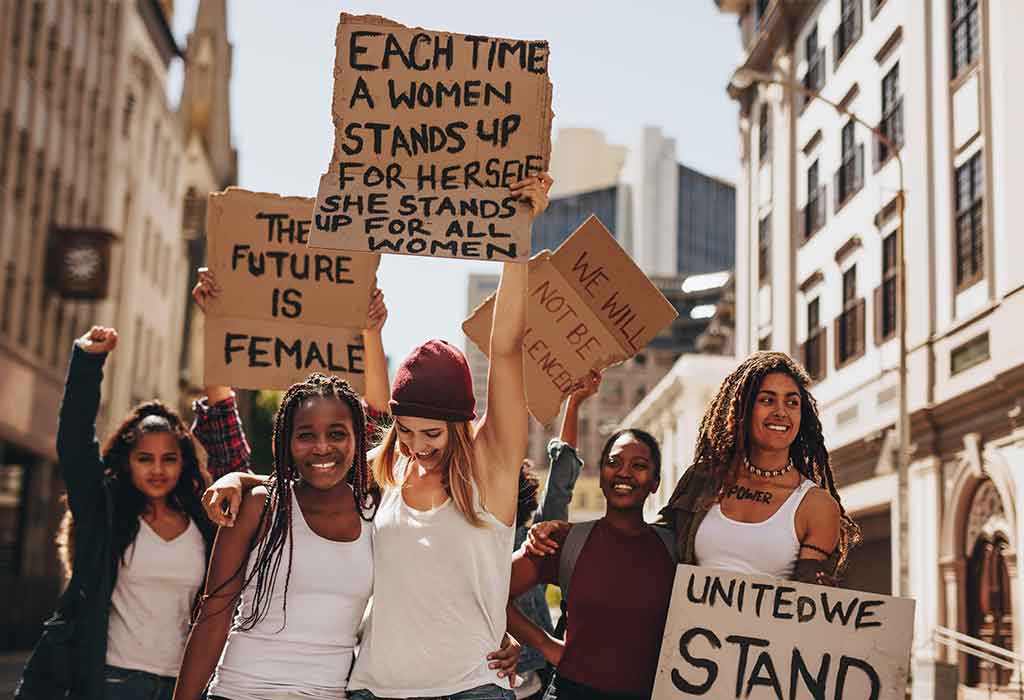 History is the witness of women's strong valour and courage that have transformed many lives. From being a part of independence movements to winning Nobel prizes for innovations, women like Marie Curie and Hillary Clinton have timely reminded society of women's potential. Started as a week-long celebration in the name of Women's History Week, it got recognised by the government and made public as a national celebration in 1982 as Women's History Month.
What Is Women's History Month?
Women's History Month is an annual, monthly celebration that highlights lady heroes' significant historical and contemporary contributions. Every March, countries, including the United States of America, Canada, and Australia, honour women's contribution to history and culture.
How Did It Begin?
It all started when some fellows of Santa Rosa in California celebrated Women's History Week in March 1978 to make children aware of women's contributions to the country. Initially, it corresponded with International Women's Day, which used to fall on March 8. The awareness of this celebration spread fast throughout the country, and several cities joined in to celebrate Women's History Week. Soon after the celebrations have spread across the United States, in 1980, the then US president Jimmy Carter officially declared the week of March 8 as the start of National Women's History Week in the United States of America.
Later in 1987, Congress passed the resolution promoting National Women's History Week to Women's History Month.
Who Founded the Women's History Month?
In 1987, The National Women's History Project petitioned the government to make the month of March Women's History Month. As a result, Congress passed Pub. L. 100-9 proclaiming March as the official Women's History Month. This resolution declared March 1987 as the first-ever Women's History Month.
From 1998 to 1994, Congress passed more resolutions requesting the then presidents to proclaim March of each year as the official Women's History Month. Ever since, the US presidents have been announcing March as annual Women's History Month.
Molly Murphy MacGregor, Paula Hammett, Mary Ruthsdotter, Bette Morgan, and Maria Cuevas are the co-founders of the National Women's History Project. These women are also credited as the founders of Women's History Month because their work contributed to the proclamation of Women's History Month.
When Is Women's History Month Celebrated and Why?
Women's History Month is celebrated in March. It is a month-long celebration and starts on March 1 till March 31.
Why Is Women's History Month Celebrated in the Month of March?
Women's History Month when started as Women's History Week was organised to correspond with International Women's Day, which falls on March 8 every year. Later the week celebration turned into a month as Congress declared March as Women's History Month.
This national women's month aims to spotlight the achievements of women in the areas of independence, culture, and history. These women pioneers belong to various fields, including engineering, filmmaking, aviation, etc.
This celebration is one of the ways to give trailblazing women their due credit for transforming the world for the better and encouraging young minds to prosper. It is a chance to reflect on their achievements in science, culture, politics, sports, and more.
Important Dates During Women's History Month
Some of the important dates we should remember during Women's History Month are:
March 8 is celebrated as International Women's Day. It was first established as a holiday in 1911.

In the late 19

th

and early 20

th

centuries, several women came out on the streets to campaign for women's rights. At that time, it mainly focused on the right to vote. This came to be called as suffragist movement. Women did their first-ever major suffragist campaign in Washington on March 3, 1913.

The National Women's Party was formed in March 1917 to fight for women's right to vote.

The Equal Rights Amendment (ERA) was passed on March 22, 1972, by Congress. The amendment proclaimed equal legal rights for all American citizens regardless of sex.
How Women's History Month Is Celebrated
The United States, Canada, and Australia celebrate Women's History Month by honouring women pioneers. The month dedicates to discussion on women's health, achievements, and discoveries. Here are some activity ideas to celebrate Women's History Month with friends and family.
Learn about the history of trailblazing women and their achievements through biographies and autobiographies. Not just historical, several women of the recent past are known for their accomplishments in politics, science, and culture. You can join a book club, read with your friends, or read individually.
Film screenings, festivals, museum exhibitions, and extempore are some of the activities organised in March. Educational institutions and organisations conduct seminars, fairs, group discussions, and book reading sessions.
This is the perfect time to do something valuable for a cause. You can start volunteering at shelters or foundations that help women by supporting them with basic needs, medical care, and women's rights.
If you cannot spare much of your time volunteering, then you can donate to organisations that support women with education, hygiene, or finance.
Movies are a great way of enjoying time together with friends and family. You can watch movies based on women's history or ones that empower women.

History-Making Women to Celebrate on This Day
There are several history-making women who need due credit for their outstanding work. Some of the notable figures often honoured on this occasion are:
1. Sacagawea
Sacagawea was a native American who, at the age of 16, helped Clark and Lewis' expedition in exploring the West part of the United States.
2. Harriet Tubman
Harriet Tubman was a prolific political activist. She rescued dozens of enslaved people using the Underground Railroad.
3. Rosa Parks
Rosa Parks was one of the fearless women who had contributed to the Civil Rights Movement. She refused to give up her seat in a bus to a white man in Montgomery.
4. Susan B. Anthony
Susan B. Anthony was one of the leading figures in the women's suffrage movement during the mid-19th century.
5. Elizabeth Cady Stanton
Elizabeth was a famous writer, activist, and leader of the women's rights movement during the 19th century.
6. Shirley Chisholm
Chisholm became the first African-American woman to run for president and was elected to Congress in 1968.
7. Amelia Earhart
Earhart was one of the world's first female pilots and the first American female pilot to fly solo across the Atlantic Ocean.
8. Hillary Clinton
Clinton is a celebrated American diplomat. In 2016, she became the first woman presidential candidate from a major political party.
9. Kamala Harris
In 2021, Kamala Harris became the first woman and first woman of colour to become vice president of the United States.
Women's History Month Themes
Every year, the National Women's History Alliance chooses a theme for annual Women's History Month. Previous themes include "Celebrating Women in STEM" (2013), "Visionary Women: Champions of Peace and Nonviolence" (2019), and "Valiant Women of the Vote" (2020-2021).
The current theme of 2023 Women's History Month is "Celebrating Women Who Tell Our Stories". The theme aims:
To honour the determination and valour of the caregivers and frontline workers who have worked tirelessly during the COVID-19 pandemic.

To recognise women from different cultures, in both public and private life, who have come forward to provide healing and hope for society's betterment.
This year, the National Women's History Alliance also encourages people to honour not just national heroes but also women from small communities and organisations.
Movies and Books About Women's History Month
Time has witnessed beautiful jewels that should be honoured and credited for their superlative work. There are hundreds of books and movies that appreciate women and can be read and watched to support Women's History Month. Let's take a look, shall we?
Books for Women's History Month
Pride and Prejudice by Jane Auston
Set in England in the 18th century, Pride and Prejudice is Jane Austen's most popular novel. It is a remarkable work of fiction that relates to education, morality, marriage and societal pressures of the British Regency.
The Voyage Out by Virginia Woolf
The Voyage Out is Woolf's very first remarkable novel. The story revolves around a young protagonist who shares her beautiful and eye-opening experiences of her journey to South America.
This 1987 novel is set after the American Civil War. It narrates the story of formerly enslaved people, micro scoping on the profound truths of America.
We Should All Be Feminists by Chimamanda Ngozi Adichie
The book takes us through a deep understanding of feminism and masked politics. A great read for young minds!
Girl, Woman, Other by Bernardine Evaristo
The book narrates the lives of 12 women characters—mainly Black and British over several decades. Each character has her own story of patriarchal oppression, self-doubt, triumph, empowerment, and feeling othered.
The Handmaid's Tale by Magaret Atwood
The novel is a futuristic dystopian fiction set in near-future New England. It reflects the patriarchal and totalitarian state and recounts the oppression of women.
Hidden Figures by Margot Lee Shetterly
The book revolves around three African American women who worked as NASA mathematicians and contributed to winning the space race.
My Own Words by Ruth Bader Ginsburg
The autobiography is a stunning narration of Ginsburg's pursuit of women's rights and her journey of becoming the second woman to be appointed to the Supreme Court of the United States.
I Am Malala: The Girl Who Stood Up for Education and Was Shot by the Taliban by Malala Yousafzai
It is an autobiography of a young Yousafzai who fearlessly stood against the Taliban for women's education in Pakistan.
Becoming by Michelle Obama
This memoir of the former first lady of the United States of America encourages young minds of resilience through the author's life experiences.
Movies for Women's History Month
The movie is a dramatised version of the life of Amelia Earhart. She was the first female pilot to fly solo across the Atlantic Ocean and mysteriously disappeared in an attempt to fly around the world.
RBG is an excellent encounter of Ruth Bader Ginsburg's rise to the Supreme Court of the United States of America.
This spectacular movie focuses on Iranian women's political contribution to the 2001 presidential election.
Sisters of Selma: Bearing Witness to Change
This historical documentation speaks of strong Catholic nuns who took great efforts in securing voting rights for African Americans in Selma, Alabama.
The documentary film is about the life of a German-Jewish girl during WWII who went into hiding in an attic for two years.
This is a 1995 documentary looking at the women's suffrage movement and the passing of the 19th Amendment by one vote.
This is a dramatised movie on the Polish woman scientist who balances her marriage while making scientific discoveries in radioactivity.
Frida is a movie about the life of a famous Mexican painter Frida Kahlo.
The Burning Times is a fantastic Canadian documentary on the witch persecutions and trials that took place in Europe in the 15th-17th centuries.
Radium Girls is a true story based movie, set in the early 20th century, about a group of women who protested against the dangers of working with radium in the Radium Factory.
Quotes About Women's History Month
Let's check out some empowering quotes that reignite that passion for women's equality.
"Owning our story can be hard but not nearly as difficult as spending our lives running from it." — Brené Brown

"I think beauty comes from actually knowing who you are. That's real beauty to me." — Ellen Degeneres

"Life shrinks or expands in proportion to one's courage." — Anais Nin

"If you truly pour your heart into what you believe in, even if it makes you vulnerable, amazing things can and will happen." — Emma Watson

"Take criticism seriously, but not personally. If there is truth or merit in the criticism, try to learn from it. Otherwise, let it roll right off you." — Hillary Clinton

"It is impossible to live without failing at something, unless you live so cautiously that you might as well not have lived at all – in which case, you fail by default." — J.K. Rowling

"We realize the importance of our voices only when we are silenced." — Malala Yousafzai

"If you were born with the weakness to fall, you were born with the strength to rise." — Rupi Kaur

"Each time a woman stands up for herself, without knowing it possibly, without claiming it, she stands up for all women." — Maya Angelou

"Some people ask: 'Why the word feminist? Why not just say you are a believer in human rights, or something like that?' Because that would be dishonest. Feminism is, of course, part of human rights in general — but to choose to use the vague expression human rights is to deny the specific and particular problem of gender. It would be a way of pretending that it was not women who have, for centuries, been excluded. It would be a way of denying that the problem of gender targets women." — Chimamanda Ngozi Adichie

"The challenge is not to be perfect… it's to be whole." — Jane Fonda

"I hate to hear you talk about all women as if they were fine ladies instead of rational creatures. None of us want to be in calm waters all our lives." — Jane Austen

"No woman can call herself free who does not own and control her own own body." — Margaret Sange

"When there is oppression, the only self-respecting thing is to rise and say this shall cease today, because my right is justice. If you are stronger, you have to help the weaker boy or girl both in play and in the work." — Sarojini Naidu

"Don't compromise yourself. You are all you've got. There is no yesterday, no tomorrow, it's all the same day." — Janis Joplin

"If particular care and attention is not paid to the ladies, we are determined to foment a rebellion, and will not hold ourselves bound by any laws in which we have no voice or representation." ― Abigail Adams

"For most of history, Anonymous was a woman." — Virginia Woolf

"Life is not easy for any of us. But what of that? We must have perseverance and above all confidence in ourselves. We must believe that we are gifted for something and that this thing must be attained." ― Marie Curie

"No one can make you feel inferior without your consent." — Eleanor Roosevelt

"Imperfection is beauty, madness is genius, and it's better to be absolutely ridiculous than absolutely boring." — Marilyn Monroe
To show their solidarity and compassion, many people dress up in the official colour of International Women's Day, purple. If you are celebrating Women's History Month, don't miss out on wearing the colour purple! Happy bias breaking!
Also Read:
Amazing Women's Day Gift Ideas
Best Ways to Celebrate International Women's Day
Women's Equality Day – History, Importance And Celebration
?>