Where To Donate Clothes In The USA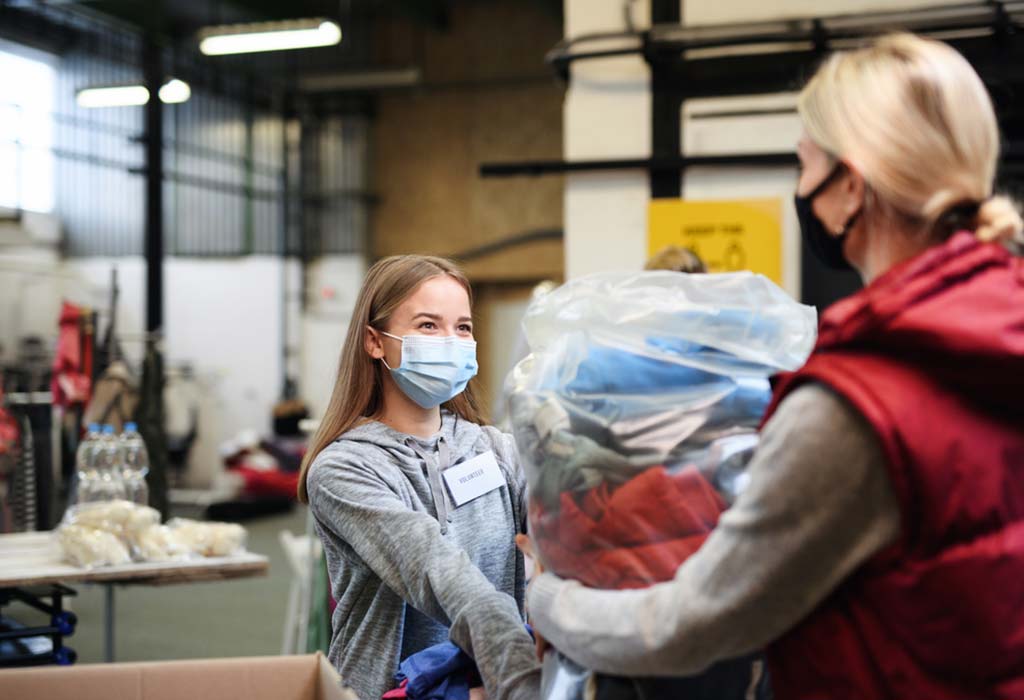 In this Article
Cleaning out your closet and arranging your wardrobe can be an activity you dread, especially when you do not know what to do with the clothes you throw out. So why not make the process easier by donating your clothes to a charity instead of throwing them into the trash? Whether you are getting rid of the existing stuff before a huge move or downsizing, donating clothes can be a great option. This way, you are not only getting rid of the stuff you do not need but also making sure it finds another home – one that really requires it.
Now that you are thinking, "Where can I donate clothes for the homeless or families in need?" then check this list out.
Places To Donate Clothes in America to Help Those in Need
There is a charity for everyone here, from places that let you donate clothing and shoes to furniture and toys; there is one for everyone here!
1. American Red Cross
The American Red Cross is one of the most popular and the oldest charity organizations in the country. The organization began its operations in 1881, and its motive is to provide disaster relief, disaster preparedness education, and emergency assistance for millions of people across the country and internationally. However, American Red Cross sells donated clothes for very lower prices to raise funds for the organization; so if you have problems with a charity that sells donations, this organization might not be the one.
Process
The American Red Cross has a partnership with GreenDrop through which people can make their donations. You can either have your clothes picked up from your home, or you can drop these off at the donation centers of GreenDrop.
Suitable Donations
People can donate any gently-used items, including shoes, dresses, t-shirts, jackets, hats, gloves, sweaters, coats, handbags, formal wear, bathing suits, ties, and sleepwear.
2. Dress for Success
If your wardrobe is filled with professional outfits you do not wear anymore, let Dress for Success be your next stop! Founded in 1997, Dress for Success is a non-profit organization supporting women from low-income families by providing them with formal outfits while they seek and maintain jobs. Since this NGO was established, they have supported over 1.2 million women in developing their careers and securing their jobs.
Process
You can drop off used clothes at your nearest affiliate location, whose addresses you can take from their official website. Each location has its own specific drop-off times, days, and hours of operation, so make sure you call ahead or make an appointment, if necessary, to donate.
Suitable Donations
The organization accepts any women's ready-to-wear clothing that is business casual and work-appropriate. Donations must be dry-cleaned or laundered and must be in good condition.
3. Salvation Army
Founded in 1865, the Salvation Army is another popular international charity organization that assists people facing disasters, families in poverty and providing services for domestic abuse survivors, veterans, the elderly, and the LGBTQ communities. The charity has a network of thrift stores where all the donated clothing goes towards that finally help fund the organization's adult rehabilitation centers. Therefore, if you are looking for a charity where you can donate children's clothes and adult clothing, this organization is perfect!
Process
There are two ways you can donate old clothes to the Salvation Army. You can either schedule a pick-up on their website or find the nearest drop-off location present near you.
Suitable Donations
You can donate any clothing items, including women's, men's, and children's items. However, ensure that all of the clothes you donate are in good condition.
4. One Warm Coat
Ever wanted to share some warmth during cold winters? Then donate some of your extra coats and jackets to One Warm Coat. It is a non-profit organization that offers free coats and jackets to people in need. Since 1992, the organization has provided over 6.6 million free coats and more than 38000 coat drives across the country.
Process
You can donate coats and jackets at your nearest active coat drives that are usually held in the fall months, or you can donate them to one of the organization's non-profit partners located nearest to you. However, make sure you contact them to confirm the drop-off hours.
Suitable Donations
One Warm Coat accepts gently worn and new coats, men's, women's, and children's that are wearable and clean. Ensure that the coats you donate do not have stains or holes.
5. ThredUP
ThredUP is an online thrift store where you can sell and purchase secondhand clothes. Since its beginning in 2021, around 78 million items have been recycled through the organization. The store does not only allow people to sell clothes through their online store for cash, but they also provide people with a donation kit in which, instead of providing you money for selling, they will donate $5 to your favorite charity.
Process
All you have to do is set up an account on the thredUP app or website, add in your clothes, or purchase them directly from the store.
Suitable Donations
People can buy or sell children's, women's, and men's shoes and clothing in good condition.
6. Goodwill
Goodwill is one of the popular places for donating not just used clothes but also loads of other things! This is a non-profit organization funded by a huge network of retail thrift stores across America. The revenue from these retail places goes directly toward helping people grow their careers by offering them placement services, job training, and other such programs.
Process
Goodwill has many stores and donation centers across the country where you can drop off your donations. Some locations also provide pick-up services for larger items that are not easy to transport.
Suitable Donations
Goodwill accepts any gently used and new clothes, shoes, and other accessories. You could donate baby items like baby clothes, toys, and games as well. You could also donate other items like furniture, books, appliances, and many more. This is one of the best places to donate toys and clothes.
7. Soles4Souls
Looking for a good charity that takes shoes as well? Then head to Soles4Souls, the organization popular for turning clothing and shoes into opportunity. The charity's mission is to collect unwanted clothing and footwear and provide it to people in need not only across the country but also internationally. They also allow people to start a small business selling the donated clothing and shoes they receive.
Process
one can provide donations at the nearest drop-off location, or you can ship your donations for free through Zappos for Good.
Suitable Donations
The organization accepts all sizes and styles of gently worn or new clothing and shoes.
8. Planet Aid
While most charities only accept clothing that is wearable and in good condition, Planet Aid is entirely different. Their mission is to save all cloth from landfills to protect the environment, so they make it easier for people to donate and recycle most extra clothes. These donated items of clothing are later reused and sold in other developing countries.
Process
Place any clothes you do not want into a bag and then drop it off at any of the yellow drop-off bins placed by Planet Aid across the country.
Suitable Donations
Planet aid accepts any clothing, including the ones with tears, stains, and holes. However, they do not accept clothing that is moldy, wet, or dirty. People can also donate curtains, towels, bedding, shoes, and other textiles to Planet Aid.
9. Free the Girls
With this charity around, do not simply throw away your old bras. The organization's mission is to bring economic opportunities to survivors of sex trafficking in Mozambique, El Salvador, and Uganda. The bras you donate are provided to women who have escaped sex trafficking, who then earn an income by selling these second-hand bras in their local markets to support their families and themselves.
Process
All you have to do is fill out a donation form on their official website and drop off the donations at your nearest Free the Girls drop-off location. You can only drop off 5 bras at a time, but if you wish to provide more than 5 or if the drop-off locations are very far away, you can directly ship them to the Free the Girls organization in Indiana.
Suitable Donations
The organization accepts gently-used and new bras of any style as long as they are wearable and good.
Once you begin looking into donation possibilities, you will see that the process is straightforward and quick. All you have to do is choose one with a mission you care about the most and get started!
Also Read:
Tips to Wash White Clothes
Easy Tricks to Dry Clean Clothes
Hacks to Remove Stains from Clothes