When and How to Start Growing Seeds Indoors?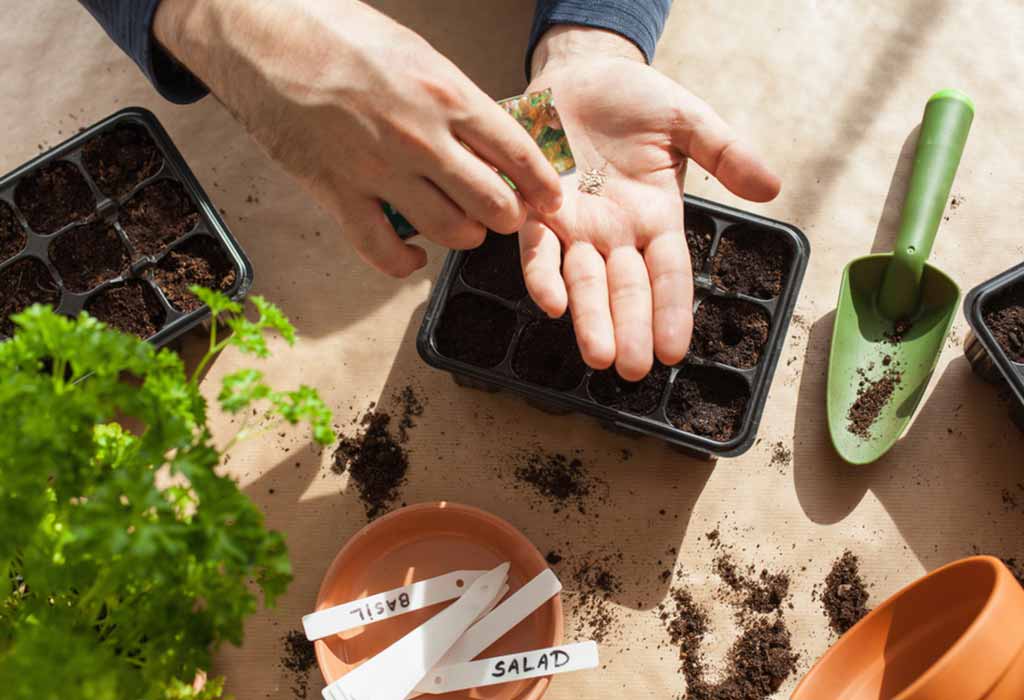 For gardeners, it is standard practice to plant seeds for a variety of reasons. A modest amount of greenery can be grown indoors to provide a welcome distraction from the winter chill, and it's gratifying to watch plants develop from seed to harvest over time.
Seeds should be planted 4 to 6 weeks before the last frost date, according to general recommendations. To determine seed planting dates, start with the most recent cold snap dates and subtract the number of days until transplantation. You can find out how long it will take on the seed package. These indoor plant seeds are typically planted between late March and late May, depending on the weather. Only in the southernmost zones can plants be started from seed in the early months of the year. Allow enough time for the plant to germinate and grow to an acceptable transplanting size before planting it.
To ensure that your seeds get off to a good start, use a high-quality seed starting mix or compost when planting your seeds. Because seeds require little rooting area to thrive and can be grown in virtually any container with adequate water drainage, a simple plain surface will usually suffice for the majority of them.
Plant your seeds by following the recommended instructions on the back of your seed package. For some seedlings, it is recommended that the soil be lightly dusted over all of the seedlings. In contrast, for other seedlings, it is necessary to submerge the soil around the seedling thoroughly.
Growing seedlings in water or wrapping them in a moist paper towel overnight may be all that is required to increase the likelihood of them sprouting the following morning. Place the jars in a warm location to ensure that they retain their heat for as long as possible.
Temperatures around 60 degrees Fahrenheit are ideal for the germination of the majority of seeds. Germination is best accomplished at temperatures around 70 degrees Fahrenheit (16 degrees Celsius). Afterward, you can move the pots to a location where they will receive plenty of natural light to ensure that they grow and thrive in their new home.
Why to Start from Seeds?
These germinating seeds indoors can live for eons, but their utility dwindles over time. In contrast to purchasing seedlings that have already started growing, one packet of seedlings will produce significantly more plants per purchase than buying seedlings that have already started growing. Furthermore, if heirloom seeds are grown in a controlled environment, they can be saved and replanted year after year, extending their usefulness.
There are numerous advantages to germinating seedlings indoors, including the possibility of harvesting them sooner rather than later, which is a significant advantage. However, getting a head start on the landscaping season is the primary objective.
But then, it is not the only factor to consider. Instead, this allows for the possibility of gaining several valuable periods of growing time by starting seeds indoors in colder countries with shorter growing seasons. However, starting seeds indoors in colder countries with shorter growing seasons may impact performance once frost approaches the region in the autumn.
Several varieties are started indoors and harvested earlier in the season, while others are planted directly into the ground in some locations. Another advantage of starting seedlings indoors rather than outdoors is growing long-season crops in short-season climates, which is impossible when planting seeds outdoors.
You can get better results by starting with seedlings or seed pods of various plant species rather than cuttings. It has the potential to be a fantastic method of growing your herbs, spices, and other culinary ingredients in a small amount of space. It is possible that having a vegetable patch will provide an excellent opportunity to experiment with new gardening techniques.
Right Time to Start Seeds Planting
In most cases, seed planting takes place between March and May, depending on the weather conditions at the time. It is only possible to start plants from seeds in the early months of the year when they are grown in the tropics when they are grown in the world's southernmost parts of the world. You should move the plant away from its current location once it has had enough time to sprout and grow to the appropriate size for transplantation.
Seeds for all of these crops should be planted no later than ten weeks after the last date of frost on the calendar year to ensure a successful harvest. To determine the best time to plant seeds in the spring, take into consideration the following factors.
With the help of our Gardening Almanac, you can create a list of the best times to start your vegetables indoors throughout the growing season. Your postcode and regional frost dates, among other factors, will be used to create a customized tool for you.
Generally speaking, most annual vegetables must be started within six weeks of the last frost date in the region to be successful.
Confirm the date on which the last frost occurred in your region.
Because the weather outside is still not conducive to outdoor planting at that time of year, you will need to transplant seedlings into larger pots on a more frequent basis if you do preseason planting.
A date is generally printed on the back of seed packages to indicate when to transplant the seeds into an indoor environment. For instance, "begin within eight weeks well before the latest anticipated frost dates in your area" is a prime example of what could be written on the product packaging.
Advantages of Starting Seeds Planting Indoors
You can start seedlings inside for various reasons, including the ability to conserve moisture and nutrients throughout the growing season. Here are just a few of the most notable examples: A traditional fertilization and pest control method passed down from generation to generation can be used to protect the vegetables grown by those who can grow their own.
Growing vegetables in your backyard and using manure or compost to maintain control over the chemical balance of your environment are both effective ways to keep your environment under control. This, of course, has a significant impact on a variety's ability to grow and develop appropriately. This method also benefits from decreasing the likelihood of potentially harmful insects establishing themselves in your new food garden.
Look at the advantages of starting seedlings indoors during the winter months rather than outdoors during the summer months.
It is possible to be selective in the seeds grown, which is one of the advantages of germinating seeds in various situations.
Purchasing the ingredients for seed-growing for a few pennies on the dollar, or even less than a dollar, depending on where you live.
Taking the initiative and starting them yourself will save a significant amount of money over the long run.
Several studies have shown that seedlings grown indoors produce better-quality plants than seedlings grown outdoors.
Furthermore, plants raised indoors are usually healthier than plants grown outdoors and, as a result, are usually healthier.
Starting seeds indoors and then watching the seedlings emerge from the soil about a week after starting can be an exhilarating and rewarding experience. The attainment of this personal satisfaction represents the pinnacle of gardening success!
Types of Containers for Starting Seeds Planting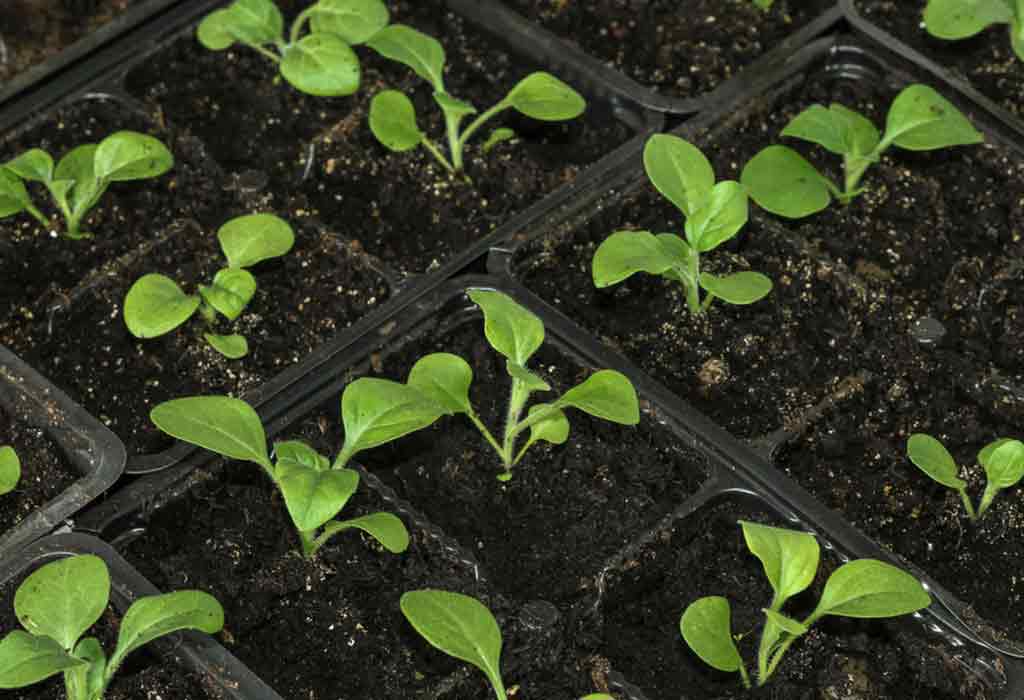 1. Disposable Food Containers
Disposable yogurt or cream cheese bowls make excellent planters for sowing seeds indoors. Remove these and poke holes in the bottom. They can usually keep one or two tiny seedlings for a few weeks. Transplanting seedlings must then be done into these containers.
2. Seeding Trays
A seeding flat or tray is used to plant tiny seedlings, such as mint, or easily transplanted floral seedlings. When the seeds are large enough, they are seeded in the trays and transferred to single planters or plug trays. Seedling trays' compact size saves space during the early stages of development.
3. Plugin Trays
Plugin trays are pots with holes in them for seeds. They save time and reduce root damage by allowing seedlings to move directly from the plug tray to the outside.
4. Recyclable Fiber Bags
If you want to avoid using plastic, look for options made of recyclable fibers for starting vegetable seeds indoors.
Which Seeds Should be Started Indoor?
The following seedlings usually transfer successfully and easily and can thus be started inside, with hardening of the seedling:
Broccoli
Brussels sprouts
Cabbage
Cauliflower
Eggplant
Kale
Lettuce
Onion, and many more.
The following vegetables can be grown indoors, but you must handle them with care during the transplanting process:
Celery
Chard
Cucumber
Melon
Peas
Pumpkin
Spinach
Squash, and many more.
Seedlings from the indoor flowering plants:
Flower seeds (which can be planted year-round) can be grown indoors.
What Materials and Tools Will You Need to Start?
See in the section below what materials and equipment you will need to get started growing seeds indoors:
Appropriate lighting fixtures
Racks
Fixtures and fittings for securing things to the wall
The use of platters, flats, trays, and other tabletop accessories
Sediments derived from organic seeds, preferably those grown in the area
Seeding preparations
Soil-blocking tools (Optional)
Steps to Start Seedlings Indoors
Increase the amount of time your seeds are grown indoors before starting the growing season to ensure that your seedlings have the best possible sprouting environment when they emerge. Take the steps outlined below to complete your purchase:
Plant a few seedlings and leave them for some time to establish themselves.
Fill a vessel halfway with seedling starter mix and set it inside a container with ventilation holes (removing the vessel from the table is necessary).
Place your seeds in the vessel and cover it with a lid to keep them moist until they germinate.
Make sure that your seedlings receive adequate water.
The seedlings will begin to sprout once the lid of the container is carefully removed.
You can bring the seedlings into the sunlight by moving them around in their pots.
Restock with fresh ingredients as necessary.
Remove any too-close seeds in the planting area by rubbing them together.
Allow your seeds to harden by storing them in a relaxed, dry environment.
Remove the seeds from the container carefully and place them in the open air to dry.
Things to Consider Before You Start Seeds Indoors
The following are some critical considerations for you to keep in mind before starting seeds indoors. Here is a list of some of them:
Put your seed knowledge to good use.
Make a list of the things that you would like to see flourish in your life.
Be prepared to experience several setbacks.
If you're starting in the late winter, you might want to think about investing in a health-improving light fixture.
Make use of containers that are appropriate for the situation.
As soon as possible, identify the packages you have received.
Depending on the seeds package, it may be necessary to immerse, scrape, or freeze seedlings before sowing them on the ground.
What if you could grow vegetables from seeds inside your home? It would be a great way to create and harvest delicious vegetables. Increasingly popular growing technologies, such as hydroponic gardening, allow people to grow vegetables, fruits, and flowers from seeds in their homes. Here are the steps to take to become an expert in indoor seed cultivation. Follow these steps to become a seasoned gardener in no time.
Also Read:
Simple Soil Tests That Identify Your Garden's Properties
Indoor Kitchen Garden Plants
How to Maintain Indoor Plants in Your House