What Is Galentine's Day And How Did It Start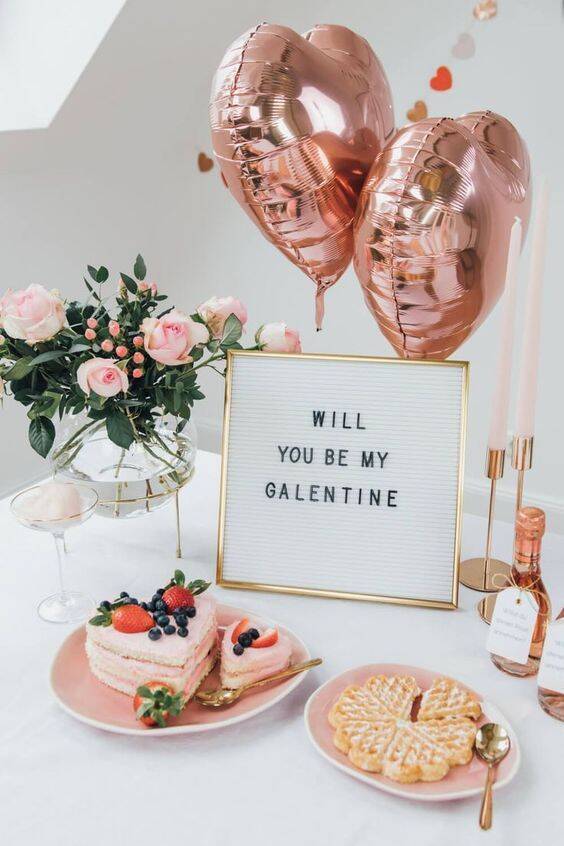 February is the most dreaded month of the year, and most people have their love-hate relationship when it comes to Valentine's Day eve. If you are in a relationship with someone, it feels like the most auspicious day to celebrate together. However, if you are single, it is that time of the year that you dislike the most. It feels like the day is meant only for relationships and has its idea rooted in exclusion. But ever since Galentine's Day came into existence, celebrating friendship has been pure joy and a fun-filled soiree. So, wish your best friends a Happy Galentine's Day next time on 13th February and celebrate the occasion by inviting them over brunch or dinner.
And if you are wondering how Galentine's Day came into being, grab your cup of coffee and read further…
What Is Galentines Day And Who Invented It?
Ever wondered what Galentine's day stands for?
Galentine's Day, as the name suggests, is a day when women celebrate their friendship with their female friends. It's basically Valentine's Day with your gals. Celebrating Galentine's Day on 13th February in the month of love fits right in! You can shower your friends with gifts and treats as this day is designed to celebrate the important people in your lives besides your significant other. It is the special time of the year when you spend time celebrating with the ladies you love the most in your life!
The term 'Galentine's Day' was popularized from an episode of 'Parks and Recreation' – a popular sitcom in the US. In the popular sitcom, Leslie Knope's character, played by Amy Poehler, explains the meaning of throwing an annual Galentine's party with her friends.
When Is Galentine's Day?
Now that you have a fair idea about how the occasion started, do you know what day Galentine's Day is?
Well, Galentine's day will be celebrated next year on Saturday, 13th February. Although Valentine's Day celebrated on 14th February is a holiday, Galentine's Day isn't. It is a special day celebrated with love and joy among your lady friends, whether single or in a relationship. It is a day dedicated to your most loved friends with whom you share your love and affection. It stands out among other fake holidays in which you celebrate life only with the ones who make up your support system.
History Of Galentines Day
Galentine's Day dates back to 2010 when the fictional deputy director, Leslie Knope, in the TV sitcom – Parks and Recreation started the tradition. It featured in the 16th episode of 'Parks and Recreation, and the tradition centered on celebrating life with her female friends and co-workers over a brunch of waffles and gift-sharing. Each year, it instantly became a social phenomenon, with businesses creating Galentine's Day promotions and merchandise skyrocketing in popularity. Soon thereafter, happy hours, brunch deals, group lunch and dinner packages, and group spa discounts became popular to celebrate the occasion. It filled the void left by Valentine's Day that made singles feel excluded during the only couple's holiday.
In the sitcom, Amy Poehler plays the character, Leslie Knope, who is an over-the-top generous and sincere deputy director. She recognized the impact that close friends and colleagues can have on one's life. She eventually invented the holiday to thank them for their support with fun, love, laughter, and celebration over a brunch.
Who Can Celebrate Galentines Day?
Although exclusionary lover's day celebration led to the invention of Galentine's Day, the biggest argument against it is the same exclusionary idea that it is based on. Even though we have our own close group of lady friends in our lives, they might not be living nearby. So, we can celebrate this day with people with whom we can share our affection regardless of gender. You can include ladies, men, trans and non-binary friends whom you consider as cherished friends for a perfect Galentine's Day celebration.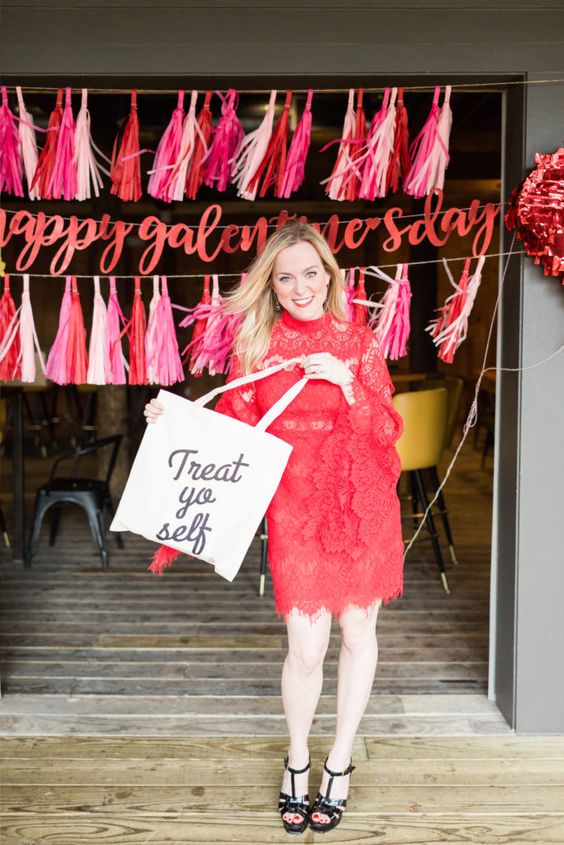 Ways To Celebrate Galentine's Day
You can choose to celebrate Galentine's Day with your close friends and colleagues and hang out for a picnic, organize a brunch party or set up a virtual lunch session with them. Here are some 25 best ideas to celebrate the spirit of Galentine's Day and cherish good memories with your besties.
1. Virtual Cocktail Party
Make this Galentine's Day an event to remember with your folks by hosting a virtual cocktail party through video chats and conference calls. If possible, get the same variety of beverages for a fun-filled session.
2. Weekend Brunch Get-Together
Follow the original lead in celebrating Galantine's Day with your friends by hosting a Brunch party rather early in the day with waffles and mimosas. You can also initiate a video chat with them and celebrate the occasion with a small gathering.
3. Baking and Cooking Together
Share your recipes with your friends, bake your favorite foods, and celebrate the occasion by sharing screen time online through video chats and zoom calls. Grab your favorite recipe books and learn new baking lessons from each other to commemorate the day.
4. Exchange Your Favourite Items
Share your favorite lipsticks, books, stacking rings, etc., with your lady friends or purchase two of the same item and gift it to your friend. The more others participate and the more items you have, you all will have a collection of the things you have been obsessed with for a long time.
5. Tea Party
Head to an open café or restaurant and sip a cup of tea or coffee together with your lady friends and celebrate the day by exchanging gifts and memories.
6. Exchange Homemade Cookies
Invite your friends over and bake homemade cookies with different styles and flavors while sharing baking ideas.
7. Overcome Your Fears
Scared of heights or being underwater? Try some encouraging and jaw-dropping challenges with your best buddies for an adventurous skydive or bungee-jumping to pump your adrenaline. Make it a habit to change your mundane life and bring some excitement and new experiences to feel more powerful from within.
8. Empowering Group Session
Share life's valuable lessons through quotes and messages with each other via emails and reach out to your best friends. Remind them of how strong, capable, and resilient they are and send out a personalized message designed to support each other through tough and good times.
9. Social Media Support Group
Connect with your office pals via social media, share photos, insights, and promote one another while appreciating and supporting each other's initiatives. Connect them with your best friends who share diverse skillsets like photography, graphic design, investing, blogging, and much more to support each other.
10. Dining Out
Catch up with your best friends and make a reservation at your favorite restaurant. Share your meals, desserts, and take group selfies while sharing chocolates and gifts of their choice.
11. Share Homemade Chocolates
Meet up with your best pals online through Google Meet or Zoom calls and share homemade chocolate recipes and make them from the comfort of your kitchen. Have the ingredients ready and savor homemade hot chocolates with them while sharing the best of memories.
12. Besties Offer
Reach out to a group of best friends and present a non-negotiable offer to look out for your pets, kids at home for a couple of hours. This allows you or your friends to head out of their homes guilt-free and you time to complete household chores. You can tag a couple of more friends and involve them by making a grand gesture to your friend and celebrate the occasion.
13. Gathering with Your Best Pals
Lookup for upcoming conventions and events by doing some research online and book reservations with your close pals. It can be Comic-Con, book conventions, religious or political events, and fairs.
14. Shopping Spree with Friends
Get an early start to the day with your friends and hit the shopping center nearby or shop your favorite apparels together online. Experience the togetherness of your closed ones and share your laptop screens, and exchange opinions of the latest hits and misses of your favorite products on e-stores.
15. Weekend Stay Together
Explore and enjoy nearby favorite places with your close friends and flaunt customized face masks or T-shirts to mark the occasion. Take a day off, relieve stress and make endless memories together with your best pals.
16. Changing Hostess and Location
Start Galentine's celebration with your close buddies and create a schedule for each meet-up weekly or monthly. This way, each member will get the chance to become a hostess, switching locations with a unique style and settings each time.
17. Exchanging Books and Novels
While staying safe and socially distancing from each other, exchanging books, novels, and magazines with your best friends is something you can enjoy this Galentine's eve. You can start a Zoom call on the day of the celebration and share books among yourselves. Start by covering the book with kraft papers and descriptive clues written on them. Participants can select the books of their choice and have them mailed over the weekend.
18. Music Party
Keep the party vibe alive by sharing Spotify playlists or your favorite music to celebrate the occasion filled with fun by listening to your favorite songs and party albums.
19. Book Lovers Club
Initiate a Bookclub with your co-workers or friends over a Zoom call, talk about the book, and share insights on some of the best-selling novels or books that interest you.
20. Online Goddess Party
Goddess party is all about celebrating life from the viewpoint of a woman. It focuses on supporting each other and sharing inspirational stories and experiences to mold each other to reach milestones in one's life. Galentine's day is the perfect occasion to start a get-together deeply rooted in women empowerment and being independent in life.
21. Virtual Class
Sign up for a yoga, cooking, language, craft class online and let your best friends sign up as well. Learn new things together and share wonderful moments filled with fun and laughter while adding some new skills.
22. Family Reunion
Arrange a get-together party with all women members of your family for quality time and memories to share. Figure out a location and time and save the date on your calendar and share life's experiences. Appreciate each other's insights and stories and relive moments of the past while exchanging foods and gifts with each other.
23. Arrange a Themed-Party
Share your TV or Movie obsession with your loved ones and best friends by planning an outfit, food, décor, or other activities that revolve around a movie or TV series. To get some great results, ask everyone participating in the event to get movie CDs and watch them simultaneously and chat over video calls to enjoy the most.
24. Giving Support to Women Entrepreneurs
Reach out to women-led enterprises and celebrate the day by supporting them. Shop their products and bring home some memorabilia and souvenirs to cherish the memories.
Is Galentine's Only For Ladies?
Many would agree that Galentine's Day is celebrated with an attempt to sell merchandise, products, cards, gifts, and unnecessary spending in the name of friendship. However, there is something special in celebrating the day with your female friends and supporting each other. With Father's Day, Mother's Day, and Valentine's Day getting celebrated with just an individual, Galentine's Day offers us the option to celebrate our best buddies together and relive the moment. So, it can be celebrated between friends without any gender biases and take it as a day to recognize the importance of friendship.
Is Galentines Day a National Holiday?
When it comes to true friendships that stand the test of time, celebrating them provides a sense of belongingness and purpose that can lower our stress and enhance the quality of our lives. Here, the common thread is the desire to celebrate love and affection among the best of friends by thanking them and praising them for their support. It helps us cherish our memories, share valuable insights, and celebrate life on the day before a holiday. And as such, celebrating an occasion with your fellow female friends right before Valentine's Day fills up the void and makes it whole. Although Galentine's day is not a holiday, the quality time spent over breakfast, brunch, or a cup of coffee makes a difference in one's life.
So go ahead and celebrate with your close friend on the best day of the year by sharing gifts and exchanging ideas. Make them feel special and find special ways to thank them and make them feel appreciated.
Also Read:
Beautiful Galentines Day Gifts Ideas
Best Valentine's Day Quotes, Messages, and Wishes for Your Spouse
Cute Valentine's Day Poems for Him and Her
?>