Unique Light Ideas That Will Illuminate Your Bathroom Design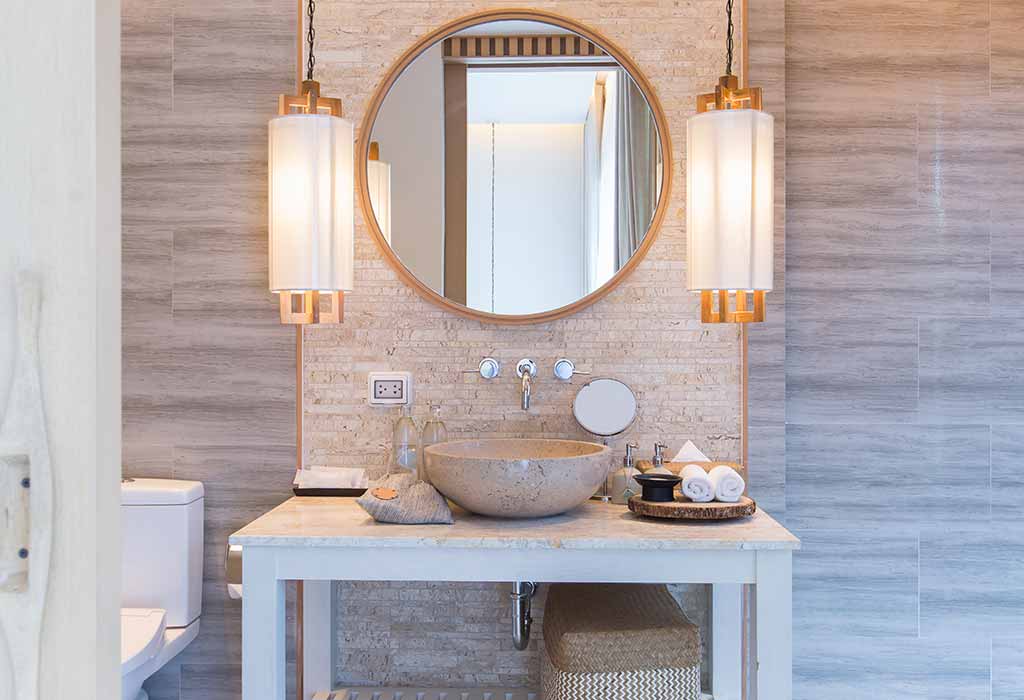 In this Article
A well-designed home interior is incomplete without a well-designed and perfectly illuminated bathroom. There are many light designs suitable for different kinds of bathrooms; you can compare and select the one that fits best with the interior of your bathroom.
Trendy Bathroom Light Ideas
You can go for a chandelier, brass lamp, light pendants, and many other light designs available. The lighting of the different areas of the bathroom, such as the mirror area, vanity, and bathtub areas, should be chosen wisely so that the lighting in the bathroom looks balanced and soothing. Check out the trendy light ideas for your bathroom:
1. Two-Arm Sconce
Fitting the two-arm sconce lights on the bathroom walls will give a fainted and soothing glow. Its design and brightness feel like a white light in a misty night.
2. Jewelled Golden White Light
This easy-to-fix lighting gives a perfect glamorous look for girls' bathrooms. Its design is simple yet eye-catching and is a good choice if you prefer a light interior for bathroom walls.
3. Fillmore Bath Fixture
The perfect metal and glass combination in these lights is what you need if you prefer a different look on your bathroom walls.
4. Brass Cog Candle Holder
If you are bored of regular electric lights, then try these beautiful candle holders around the bathtub. Light the fragranced candles in the brass cog candle holders and feel refreshed and relaxed in the ambience that it creates. You can also try the candlestick chandeliers that hang above the bathtub to have a new experience.
5. Light Vanity Light
These lights are designed in a way that gives the perfect, effortlessly elegant lighting to your bathrooms. The trendy space-saving lights can be a good idea to illuminate your bathroom area.
6. Globe Sconce
One cannot avoid looking at these creative lights. If you are looking for an interesting and creative light design, the beautiful transparent bubble-shaped lights are a perfect match for your bathroom walls.
7. Lure Polished Chandelier
These lights are designed to give your bathroom a royal and rich look. If you like heavy and classic light ideas, then you must go for these polished lighting chandeliers.
8. Cord Pendant Light
An artistic light with a suspended long cord is another excellent choice if you want simple and unique lighting for your bathroom.
9. Gold Quatrefoil Pendant Lamp
The chandelier style golden outer structure of these lights can easily fit in your bathroom space. It is a combination of art and class and looks attractive.
10. Sabine Sconce
Its design resembles a hanging keyring structure to hold a light. A modern light idea with minimum space occupancy is ideal for small bathrooms and is primarily suitable for people who prefer simple lighting in their bathrooms.
11. Three-Way Lighting
This idea involves unique bathroom lighting ideas over mirror fixtures, lighting the bathroom from three different angles. The ceiling lights light up the entire space. The hanging pendant design lights over the mirror to give extra light for brushing and grooming. And a rustic iron-toned chandelier over the tub for a rich and bright ambience.
12. Copper Cage Style Sconces
The two copper cage-style sconces, one on each side of the mirror, are excellent designs to illuminate the bathroom and enhance its interior look.
13. Globe Pendant Lights
The globe pendant lights over the mirror give a refined touch to the interior walls and resemble the historical artwork of old times.
14. Brass Wall Lamps
The brass wall lamps simply mounted on the walls around the mirror will illuminate the mirrors and the entire space. The design of these lights is inspired by industrial lights and is, therefore, a unique and new way to illuminate your bathrooms
15. Rustic Lighting for Bathrooms
A pendant light with a brass metal lamp can give an appealing look to the bathroom. The lights and lamps can be customized as per your preferences to get rustic lights for bathrooms.
16. Surround the Mirror With Lights

When the ceiling lights are not enough, you can always invest in exquisite bathroom vanity lighting ideas for the extra oomph. The mirrors can be surrounded from two sides by vertical sconces and a hanging lamp or pendant light right above the mirror to throw sufficient light on your face while or brush, get ready or groom yourself.
17. Use White Lights and White Shades
For better and bright light, use white lights and shades for the ceiling and vanity area. These lights will glow like the natural daylight, and you can see the actual color of your clothes, hair, and skin.
18. Install a Dimmer Switch
It is better to keep your bathroom lighting adjustable as per your mood. You can install a dimmer switch to adjust the bright lights when you want dim and soothing lighting to relax or get a spa-like feel in your bathroom.
19. Vintage Lights
A light resembling an ancient design of lamps and a crystal chandelier can give a vintage look to your bathroom. This type of lighting for small bathrooms can brighten the small space to provide an illusion of a bigger space.
20. LED Bulbs
Fit LED bulbs in the bathroom ceilings to light up your bathroom without consuming an extra inch of space. You can fit LED bulbs in the bathroom ceiling to get a bright and glowing interior look in small bathrooms. Besides space, the LED bulb also saves energy and gives a bright light.
21. Geometric Lamps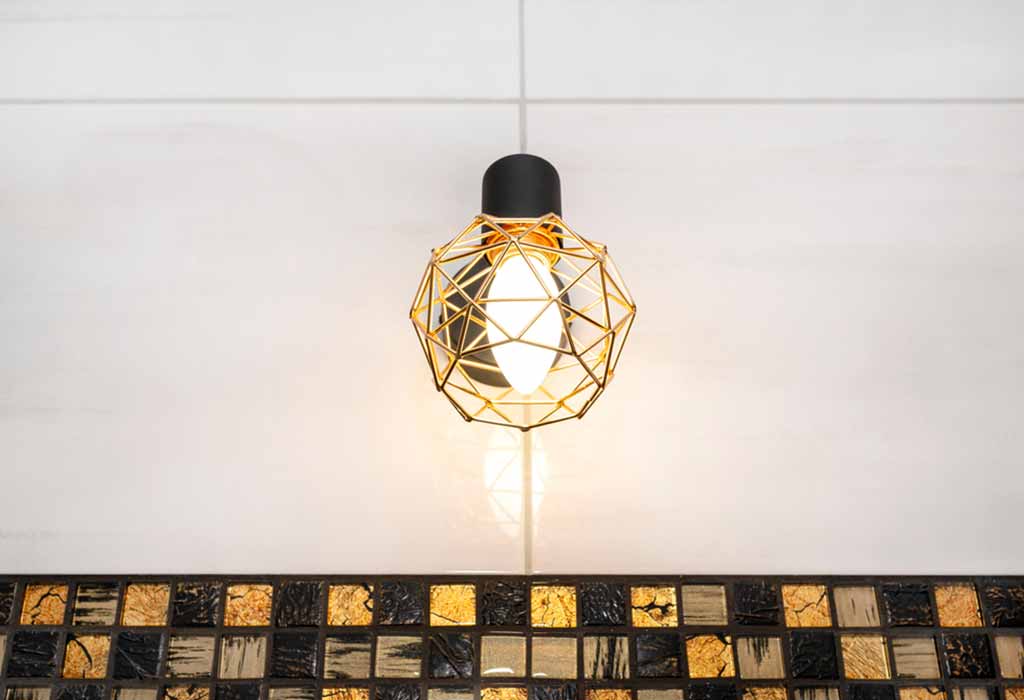 If you have a small bathroom you want to light with a modern touch, you can go for geometric lamps in different shapes. You can fit these in any suitable corner of the bathroom without requiring any extra space.
22. Install Light Tubes
The light tubes can be placed around the mirror walls and windows. Light tubes occupy less space and give bright light. This type of lighting is suitable for both day and night. Light tubes are a good option for small bathrooms as they can provide perfect lighting without taking extra space.
23. Recessed Ceiling Lights
These lights are fixed in hollow openings in the ceilings and throw light straight down. The recessed ceiling lights fit with the surface of the ceiling and gives it a sleek look. The electric wirings are hidden inside the surface, and the lights are only visible, thus giving a neat and clean glow in the bathroom.
24. Flush Mount Lights
Modern bathroom ceiling lighting ideas include flush mount lights. It is a dome-shaped structure light that is fixed in the ceiling. These lights sit directly into the ceiling and are suitable for lower ceilings. Semi-flush mount lights that look similar but do not hang as low as pendant lights are ideal for bathrooms with low ceilings.
25. Glittering Lights
Lamps with golden and silver designs can give a rich and classy look. The shimmery light pendants and lamps throw bright light that looks good in both day and night time.
26. Multi-Colored Lamps
To give a more artistic look to the bathroom, you can choose multi-colored lamps. The hanging lamps in your favorite colors will refresh your mood.
27. Sparkling Lights
Sparkling lights are a popular choice when you want a more glamorous look for your bathroom. The crystal pendants combined with artistic mirrors will give a glow to the bathroom interiors. These lights will provide a rich look to the bathroom.
28. Glass Light Fixtures
The bulbs fixed inside glass-shaped lamps and fixtures of different shapes and designs are the most used bathroom lighting ideas over mirror fixtures. Modify the glass light fixtures as per the color of the wall and the size of the bathroom. The choice of bulbs also depends upon the type of light that you prefer in the bathroom – an intensely bright glow or a soothing dim light.
29. Night Lights
These lights are battery-operated and come with motion sensors attached to them. The lights are waterproof and can be fixed around the bathing area to create a beautiful ambience.
30. Shower Light
These lights can give you a unique shower experience. These lights do not need electricity or a battery for functioning and work with water induction. You just need to install them with the shower fittings.
The shape, size, color, brightness, and structure of the lights to be fitted in the bathroom depend on the preferences and choices of individuals. The light design of the bathroom for kids and teenagers should be more vibrant and colorful. Similarly, you can give bathroom design for young people a glamorous and fancy touch with the appropriate light fixtures. Bathrooms are not only a place of utility but are an essential part of your home. Well designed and decorated bathroom with a neat and clean appearance reflects the personality of the ones who live in the house. The look of bathroom interiors can be enhanced with perfect lighting, combined with artistic mirror designs, bathtubs, designer taps and showers, colorful shades, and curtains.
Also Read:
Best Shower Tile Ideas for Your Bathroom
Pocket-Friendly Bathroom Interior Design Ideas
Useful Tips to Keep Your Bathroom Organised