Uneven Skin Tone – Easy Ways to Even Out It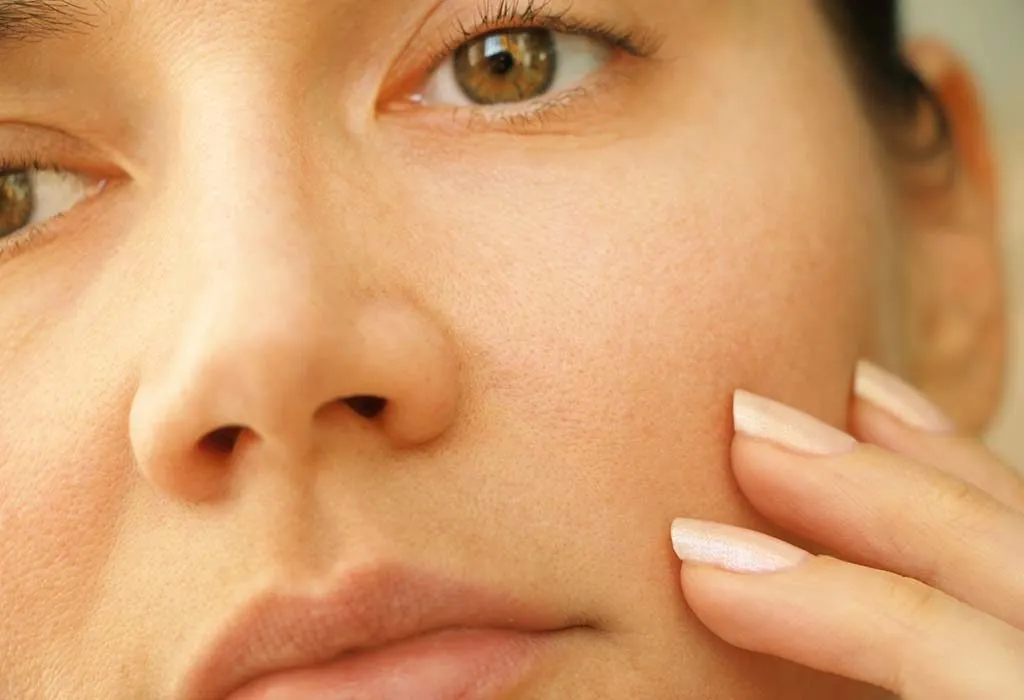 Problems with skin tone are very common and appear in many different forms. While not all can be held off forever, it is possible to treat your skin so that any uneven skin tone is seen to with the help of natural remedies, a visit to the dermatologist and by making a few lifestyle changes.
What Causes Uneven Skin Tone?
Here are some of the most common reasons for uneven skin tone:
1. Hormonal Changes
Those who take contraceptives or who are pregnant will experience a change in hormones that can lead to a rise in the level of melanin. When this takes place, it results in an uneven skin tone that is commonly called melisma.
2. Exposure To Sun
Too much exposure to the sun can also cause excessive melanin in the skin, leading to skin discolouration. This will lead to long term damage as the pigments tend to absorb the UV rays, the main cause of damage to the skin from the sun.
3. Post Inflammatory Hyperpigmentation
When the skin is injured by something like a cut, the skin around it will begin to darken as it heals. This discolouration can fade within a few weeks, or it could take months to years to fade, leaving the skin looking discoloured.
4. Ageing
This is something that nobody can escape, and with age comes age-related skin spots.
How to Get Even Skin Tone
Seeing how there are so many things that can cause discolouration in the skin, it can become worrisome if you are someone who is aiming for an even skin tone on face and body. Fortunately, there are many ways to deal with this issue and bring healing to the skin.
Home Remedies
Here are some home remedies that can help with evening out the skin tone:
1. Coconut Oil, Lemon And Sugar Scrub
Lemon has bleaching properties and is very useful when dark spots or hyperpigmentation need to be addressed. This recipe can be used to even skin tone all over body.
What You Will Need
Coconut oil, 1 teaspoon
Lemon juice, ½ teaspoon
Granulated sugar, 1 tablespoon
How to Use
Mix the ingredients together in a bowl and gently scrub your face
Do not go around your eyes with this scrub
Rinse your face with lukewarm water
2. Tomato, Honey and Lemon Juice Face Pack
Rich in Vitamin A, tomatoes are great when it comes to reducing any blemishes or dark spots you have.
What You Will Need
Honey, 1 tablespoon
Lemon juice, 2-3 drops
Tomato juice, 1 tablespoon
How to Use
Mix all the ingredients well
Apply the tomato-honey-lemon face pack on your face and leave it for about fifteen minutes
Rinse with warm water
Splash some cold water onto your face to tighten the pores
3. Green Papaya And Milk Facewash
Since green papaya is rich in enzymes like papain and alpha hydroxy acids, it is able to remove any dead skin cells and even the skin tone.
What You Will Need
Raw papaya, ½ cup, diced
Raw milk, 2 tablespoons
How to Use
Blend the papaya
Mix in the milk until you are left with a thick paste
Clean your face and then spread this mix over your skin
Once the mask is dry, rinse with cold water
4. Cinnamon, Honey, Lemon And Nutmeg
Nutmeg is rich in anti-bacterial, astringent and anti-inflammatory properties.
What You Need
Cinnamon powder, ½ teaspoon
Nutmeg, ½ teaspoon
Honey, 1 tablespoon
Lemon juice, ½ teaspoon
How to Use
Mix everything well and massage into your face
Allow to sit for half an hour
While removing the mask, move your fingers round in circular motions
5. Orange Juice And Turmeric
Orange juice is good for bleaching and reducing dark spots and hyperpigmentation, while turmeric is used to reduce discolouration.
What You Need
Orange juice, 1 tablespoon
Turmeric, 1 teaspoon
How To Use
Mix the turmeric and orange juice well and then apply it to your skin
Leave it for ten minutes before rinsing it off with cool water
6. Sandalwood And Milk Face Pack
Since red sandalwood powder is healing and can reduce wrinkles and dark spots, it is great to add with milk and turmeric.
What You need
Red sandalwood powder, 1 tablespoon
Milk, 1 tablespoon
Turmeric, ½ teaspoon
How to Use
Mix the ingredients together into a thick paste
Apply to face and let dry
Rinse with warm water
7. Cucumber And Lemon Juice
This combination can battle uneven skin tone by reducing dark spots and reducing dark circles.
What You Will Need
Cucumber, 1/2 , grated and chilled
Lemon juice, ½ lemon
How to Use
Mix the cucumber and lemon juice and apply it onto the skin
After fifteen minutes, remove the mask by using cotton pads soaked in chilled water
Make sure not to use too much lemon juice as it can cause irritation in sensitive skin
8. Tomato Pulp
Rich in Vitamins A, C and K, tomatoes are great for treating almost any skin ailment.
What You Will Need
How to Use
Rub the pulp of the tomato all over the skin very well and leave until it dries.
Rinse with cold water
9. Honey And Oatmeal
The saponins present in oatmeal are great for cleansing the skin. They give the skin a brighter appearance.
What You Will Need
Oats, 2 tablespoons
Lemon juice, ½ tablespoon
Honey, 2 tablespoons
Tea tree essential oil, 4 drops
How to Use
Grind the oats and then mix with the rest of the ingredients
Apply it to the skin and leave for fifteen minutes
Rinse with cool water
10. Multani Mitti, Neem, Rosewater And Tulsi Face Pack
Tulsi is known for repairing damage to the cells, while neem kills any germs with its anti-bacterial properties and Multani mitti can absorb any excess oil.
What You Will Need
Multani mitti, 1 teaspoon
Neem powder, 1 teaspoon
Tulsi powder, 1 teaspoon
Rosewater, 1 tablespoon
How to Use
Mix everything together well and apply it to your clean face
Allow it to dry and then wash with cold water
Medical and Other Options
Here are some other options that include some medical procedures:
1. Clinical Peels
These can penetrate into the skin and exfoliate on the deeper layers due to the chemicals involved. This treatment comes in three levels: deep, medium and light. Once the chemical peels have exfoliated the dead skin, you will find new, blemish free skin underneath. Healing from a clinical peel can take up to a few days to a few months, depending on the severity of the condition.
2. Hydroquinone Creams
Creams that contain hydroquinone can bleach the skin and remove any dark spots or hyperpigmentation. This even skin tone cream must only be used according to your dermatologist's instructions.
3. Professional Microdermabrasion
This procedure works by thickening the collagen present in the skin, while at the same time removing the dead and damaged outer layer. This procedure will leave your skin dry and red, and you will experience a certain amount of peeling over the few days following it. This works well for discoloured, scarred and damaged skin.
4. Laser Treatments
Sun spots, age spots or scars can be lightened with the laser treatment. Though this treatment works well at reducing the appearance of scars and redness, there is the chance that it could cause more discolouration, which is why this option should be looked at last.
5. Makeup
If you are looking for a really fast fix for your problems, applying the right shade of foundation or concealer can work wonders. Use a green colour corrector if you are trying to correct redness in the skin.
Lifestyle Tips
Here are a few lifestyle tips that you can include to help in the process of healing the skin.
1. Stay Hydrated
Drinking at least eight glasses of water every day is important as the water helps to replenish the skin, keeping it looking youthful and by keeping the signs of ageing from being seen. Drinking plain water is the best method to stay hydrated as drinks that are carbonated or have added sugars cause pimples and oil build up, while alcohol can dry the skin out.
2. Apply Sunscreen
Staying out in the sun too long can cause damage to the skin cells, resulting in darkening of the skin as well as an increased risk of cancer. To avoid the harmful effects of getting too much sun, always make sure to apply sunscreen during the day.
3. Maintain A Balanced Diet
Avoiding all types of junk food is a must when it comes to improving the quality of the skin. Consuming fresh fruits and vegetables is one of the best ways to ensure that the skin is healed from the inside and to have a more permanent solution for your skin tone.
4. Regular Exercise
The minimum a person should exercise to have a healthy and fit lifestyle is for at least thirty minutes, five days a week. By making sure to keep your body fit, you are ensuring better circulation and will help with the production of new skin cells. This is important when it comes to having even skin tone and youthful looking skin.
FAQs
Here are some frequently asked questions:
1. Can Kojic, Glycolic And Salicylic Acids Help To Achieve Even Skin Tone?
Kojic acid can disrupt tyrosine, a vital compound when it comes to producing melanin. Salicylic acid is well known for helping to treat acne, but it can also help to even out the skin tone. Derived from sugar cane, glycolic acid has been around for a while and can improve the skin tone, treat fine lines and many other skin issues. When used correctly, these ingredients can work wonders at helping you achieve the perfect, glowing and even-toned skin.
2. Should I Apply Rosehip Oil To Get An Even Skin Tone?
Rosehip oil has lots of vitamin A, which is good for reducing fine lines and signs of ageing, helps to treat dark circles and hyperpigmentation and it also helps fade scars left over by acne. Simply add a few drops of rosehip oil to a carrier oil or to aloe vera gel for making the skin tone even.
After exploring the different options for getting even skin tone naturally, through medical means and how you can help it with your lifestyle, we hope you can make the best decision that suits your skin and your needs when it comes to healing uneven skin tone.
Also Read:
How to Deal with Pimples & Acne in Summer Season
Homemade Night Creams for Healthy Skin