7 TV Jodis Who Gave Us Major Marriage Goals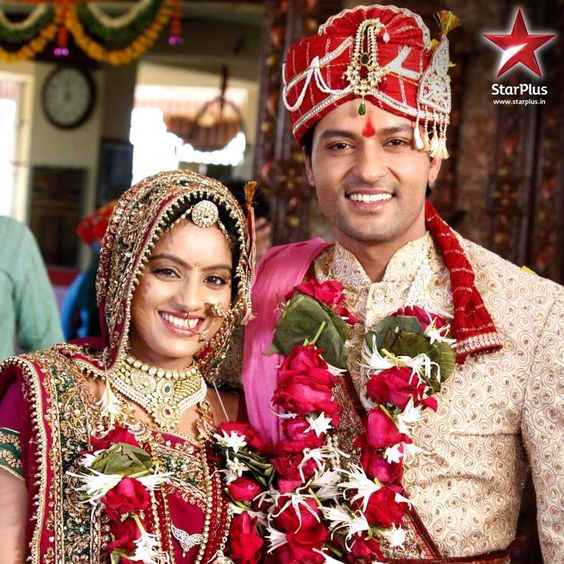 In this Article
Mother-in-law drama, cute and mushy romance, and some "who did what" masala – no wonder we don't want to miss even a single episode of Hindi TV serials! As we follow the lives of our favourite TV jodis closely, they make an impact on our expectations from our spouses. And why not? These on-screen couples have given us major #marriagegoals.
7 TV Jodis Who Were the Perfect On-screen Couples
Although new Hindi TV serials keep coming up on different channels, there were a few couples who we loved and talked about for years. That's because we could relate to them and also pick up a hint or two for our own marital relationships from their lives.
1. Sooraj and Sandhya from Diya Aur Baati Hum
We all remember Bhabho and our favourite Sooraj and Sandhya from Diya Aur Baati Hum, right? Sandhya has dreams of becoming an IPS officer but they seem to shatter when she is married off to a young halwai, Sooraj. When her mother-in-law gets to know that Sandhya doesn't know how to cook, Sooraj acts as a strong pillar of support for his wife.
To help her learn the household work faster, he takes up the responsibility of teaching her how to cook. Slowly, Sandhya too starts developing feelings for Sooraj. He encourages and motivates her to achieve her ambitions, which is what every wife would wish for.
Marriage Goals They Gave Us:
Being supportive of our spouse, no matter what the situation
Being encouraging and motivating towards each other
2. Priya and Ram from Bade Acche Lagte Hain
Priya and Ram Kapoor from Bade Acche Lagte Hain won hearts by setting major relationship goals for married couples. They enter into marriage not knowing each other well enough, yet they respect their long-term commitment and resolve their differences for the welfare of their families.
Then unexpectedly, Priya is involved in an accident and her family thinks she has died. But she doesn't die and starts a new life in the US under an alias (for reasons unknown). However, when she returns to Ram's life after many years, he forgives her and forgets all their misunderstandings. Even if they have differences of opinion, they never let it affect their parenting style. Every time Priya and Ram are faced with problems, their trust and respect for each other just grows stronger.
Marriage Goals They Gave Us:
Sorting out personal differences and the importance of compromising for the well-being of the families of both sides
Being trustworthy and respectful even in trying situations
3. Raman and Ishita from Ye Hai Mohabbatein
Who can forget the Punjabi munda-Tamilian ponnu jodi of Raman and Ishita from Ye Hai Mohabbatein? Raman is a single father raising his daughter, Ruhi. Ishita lives in the same building. On coming to know she is infertile, she develops an emotional attachment to Ruhi. To allow Raman to have custody of his daughter, Ishita gets married to Raman.
She takes good care of Ruhi, slowly developing a deep bond with Raman. In spite of being from a different cultural background, she strives to be accepted by her Punjabi in-laws, and make Raman happy. The couple does have cute arguments, but always quickly forgive each other.
Marriage Goals They Gave Us:
Being adjusting towards the habits of in-laws
Not letting differences of opinion affect parenting
4. Suhaana and Ishaan from Sasural Genda Phool
A love story set in the old alleys of Delhi, Suhaana and Ishaan from Sasural Genda Phool are two different individuals who get united in marriage. She is a bubbly and honest young woman, whereas he is a shy, and good-natured IT professional. Suhaana starts her married life with a lot of emotional baggage. Ishaan, being an understanding husband, gives her space and time.
Gradually, the couple gets to know each other well, prompting Suhaana to do cute and romantic things like picking out a shirt for him and packing his tiffin. They know it's love they feel for each other when they realise that they can't live apart.
Marriage Goals They Gave Us:
Giving our partner space and time when they need it
Complementing our significant other's personality
5. Arnav and Khushi from Iss Pyaar Ko Kya Naam Doon?
Fate brings Khushi and Arnav together in Iss Pyaar Ko Kya Naam Doon? Arnav is a rich businessman. At a fashion show, due to a misunderstanding, he develops hatred for Khushi. However, one thing leads to another and they get married.
Arnav falsely accuses her of trying to interfere in their relative's love life, but on finding out the truth, he apologises to her. A little boy enters their married life – when she gets to know that he is Arnav's son, Khushi willingly consents to be his step-mother. Even when his wife expresses her desire to be independent and successful, Arnav goes against his family and supports her. Such a gentleman, don't you think?
Marriage Goals They Gave Us:
Not letting ego prevent an apology
Being supportive of each other's ambitions
6. Pratigya and Krishna from Mann Kee Awaaz Pratigya
Pratigya and Krishna set major marriage goals with her TV serial Mann Kee Awaaz Pratigya. Though from a traditional family, she is a highly educated young woman. Krishna belongs to a superstitious family and is her secret admirer. They are incompatible, yet they fall in love.
In the initial months of her marriage, Pratigya feels she can't adjust with her husband. But, when she realises Krishna will go to any lengths to prove that he loves her, she also starts developing feelings for him. The couple sorts out their personal differences for the welfare of their families.
Marriage Goals They Gave Us:
Making efforts to keep the relationship alive
Expressing love for our partner through words and romantic gestures
7. Shivaay and Anika from Ishqbaaz
The TV serial Ishqbaaz ruled hearts with Shivaay and Anika. Shivaay is a reputed businessman and doesn't believe in love. He gets married to Anika, even though he doesn't have strong feelings for her. But, Shivaay and Anika soon discover each other's likes and tastes.
When he finds himself constantly thinking of Anika, Shivaay realises that love has worked its magic on him. Both partners put in efforts to develop and strengthen the relationship, soon getting noticed as the perfect couple.
Marriage Goals They Gave Us:
Discovering the person's likes and tastes for a strong relationship
Striving to be the couple who is in sync with each other
"A successful marriage requires falling in love many times, always with the same person". Although these families and stories were reel-life ones, the #marriagegoals they gave us are relevant in real life. Our favourite TV jodis showed that being supportive and practising forgiveness opens doors to the perfect relationship and marital bliss.
Also Read:
Things to Deal With If Your MIL is Like Maya Sarabhai
TV Celebs Who Are Now Proud Parents Share Their Maternity Photoshoots
Dark Side of Kids' Reality Shows Parents Should Know