Try Out These Best and Most Beautiful Nail Shapes for Your Hands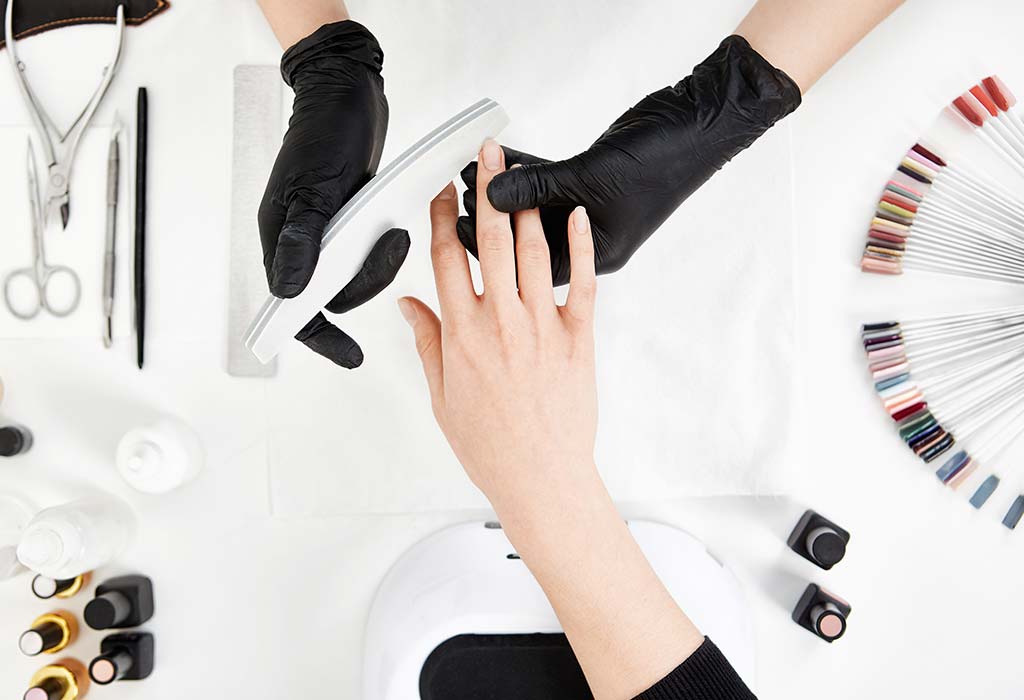 In this Article
Getting the most out of your manicure begins with not just your nail color but your nail shape. From round, oval, square, almond, and ballerina or stilettos, there are many nail shapes to choose from. The nails you wear will dramatically alter the look of your hands, and you must think about your nail shape before going for color or artistic styling.
It is also essential to factor in your lifestyle when selecting a nail shape of your choice. Some shapes have to be handled with care, are delicate, and are not meant for regular use. If you work with your hands a lot, starting with a shorter shape and then picking longer ones might be your best bet.
Best Options to Find Your Perfect Nail Shape
Before you decide on different nail shapes, it is a good idea to start familiarizing yourself with the width and shape of your nail bed. If you're trying to make your fingers look slender, long shapes like coffin nails and stilettos are suitable. For women who have naturally long fingers, square and short square nail designs add a flattering element to their looks. Shorter nails are easy to work with, don't chip or break, and are great for everyday wear.
If a unique style is what you are looking for, don't be afraid to try out elongated, sharper, and longer nails.
1. Almond Nails
Almond nails taper down to form a round peak and are filed on the sides. They are perfect for making your hands look slender and go well with pink. You can try almond-shaped nails if you're looking for an upgrade from the oval shape.
2. Ballerina Nails
Ballerina nails, also known as coffin-shaped nails, have a square tip instead of a pointy end. They have a resemblance with stilettos and add elegance. They're called ballerina nails because the shape is a mix of a coffin and ballerina slippers.
3. Square Nails
Square nails have flawless angled sides and have sharp 90 degree corners. Solid dark colors go well with this nail shape, and it's often associated with queens. If you have slim fingers and want sophistication, you can go for this shape. Additionally, geometric art and nail paintings complement its design very well.
4. Squoval Nails
Squoval nails are a hybrid of the classic square and trendy oval. This shape works best with short and long fingers, which makes it suitable for just about everyone. Dark shades look great on these nails, and there are no limits to what it goes best with. Having squoval nails indicates you are open to experimentation, prefer sophistication, and most importantly, you're bold and stylish.
5. Round Nails
Round nails are popular among all generations and give an image of a laidback and cool person. They work with fingers and hands of all shapes and sizes, which means they offer a universal appeal. Older folks tend to go for round nail shapes, but the younger ones are catching on. Many celebrities, like Steph Pratt, love this style, and you don't need to get an expensive manicure to finish since they're naturally attractive on their own.
6. Lipstick Nails
Lipstick nails draw inspiration from the cut edge of lipsticks when they are fresh out of the tube. The diagonal cut on the shape of the classic square is what lends it a unique look. Lipstick nails are trendy, fashionable and make a stunning style statement. It's constantly trending on Instagram, and various colors and designs pair perfectly with it. Don't be afraid to experiment because it's versatile!
7. Stiletto Nails
Stiletto nails add ferocity to your fingers since they're long and extremely sharp on the edges. Celebrities opt for this nail shape a lot, and if you're trying to glam up your hands, this is your go-to. The only catch is you won't be able to insert your contacts or work on delicate tasks with your fingers once you wear them. But the looks, fierceness, and compliments are worth it if that's what you're aiming for.
8. Arrowhead Nails
Arrowhead nails are a shorter version of the stiletto nail shape, and the tip is shaped like an arrow. The shape exudes cute and feminine vibes, making it the ideal nail shape for dates or impressing your female peers. If you're trying to surprise someone, wear this to your next meeting. You'll leave a stunning impression, no doubt!
9. Flair Nails
If you're going for something extraordinary, why not try some flair? Flair nails spread out sideways and have their edges squared. The shape somewhat resembles a duck's foot and is compatible with women who have wide nail beds. Not many opt for this design, and the nails are filed in the outwards direction. Just make sure the width of your nail doesn't exceed your nail bed's width since it may break otherwise.
10. Edge Nails
Edge nails are most preferred by women visiting salons and are also popular in Russia. They're cool, trendy, and look glamorous when polished with color-blocked art on top. These nails will make your hands look slimmer, longer, and elegant if you have a narrow nail bed. Prism edge nails look very magical.
11. Oval Nails
Oval nails are fashionable during the summers, and bright, trendy, neon designs look fab with this. This shape never goes out of style, which means it's a timeless classic. You can make the design pop by styling it with neutral shades.
12. Mountain Peak Nails
Mountain peak nails get their name from the shape of mountain summits, having a broad base with a pointed tip shaped just like a mountain summit. Nails come in different shapes and sizes, but this style stands out among them. If you hop over trendy mountain peak designs on Instagram or Pinterest, you'll see why they're famous. They're perfect for the creative ones and anyone who craves uniqueness.
Rounder shapes and shorter nails are low maintenance, while sharper and elongated shapes require extra care. But if you're going for looks or slenderness, you should opt for sharper, bolder, and fierce shapes. There is no right guide to picking the ideal nail shape, and what shape you choose will depend on your personal preference and lifestyle needs. But don't shy away from experimenting because you can always pick another nail shape if you're not happy with your current look. Ultimately, the perfect nail shape is the one that fits comfortably on your fingers and aligns with your overall style.
Also Read:
How to Shape Your Nails Perfectly
How to Remove Acrylic Nails at Home
How to Make Your Nail Paint Last Longer
?>