Trendy Strawberry Blonde Hair Color Ideas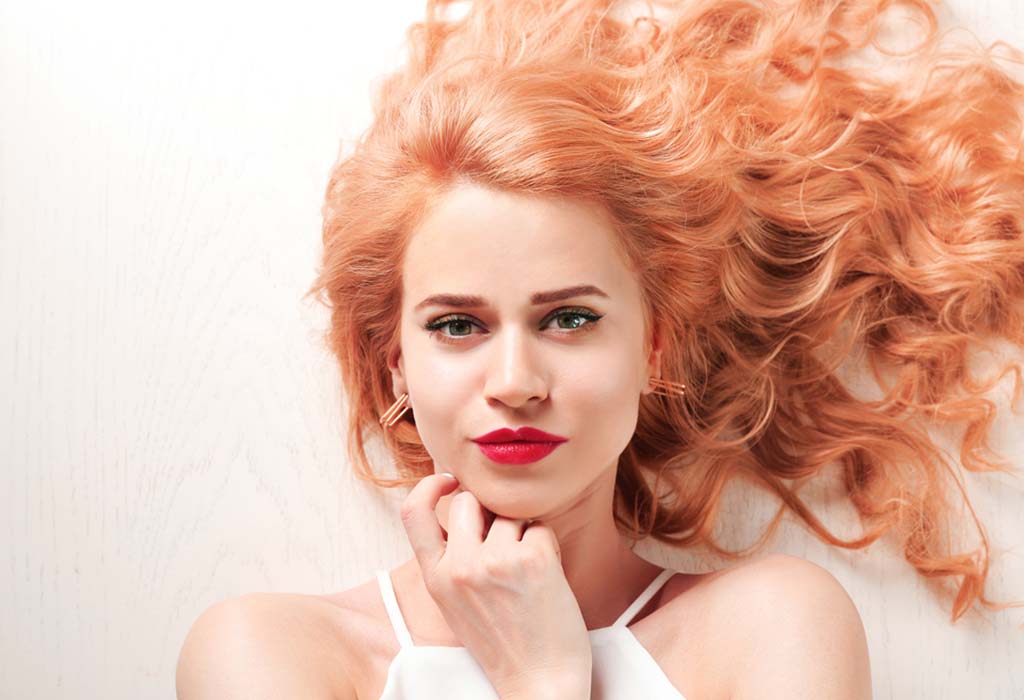 Fashion hair colors can give you a whole new avatar in no time, and when it comes to hair colors, there is an array that you can try from! One of the hottest trends and latest fads that you can try this season is strawberry blonde hair color! If you think that this combination will be too vibrant or striking, well, it's not as this hybrid color gives a softer hue of both colors. This stunning color compliments light eyes and fairer skin tones, and if you too are thinking of experimenting with your hair color, then this post offering strawberry blonde hair dye ideas can help you decide! So, keep scrolling!
Who Can Go For Strawberry Blonde Hair?
Well, it's your hair and your decision, so, if you like something then you should go ahead with it! The people who are naturally born with this hair color usually have fairer or paler skin tones with light eyes, but does that mean that you need to fit this description to get this shade of hair? The answer is no! Thanks to the latest fashion technology advancements, you can achieve any color by mixing and matching various colors. This means that if you wish to go in for this color, then there are so many options that you can pick from, based on your skin tone and other such factors. For example, if you have darker eyes and tan skin, then going with darker hues of the color is something that will suit you!
Variations of Strawberry Blonde Hair You Can Try
Here are some variations in strawberry blonde hair that you can try:
1. Red Strawberry Blonde
If you have long curly or wavy tresses, this is the color for you! In most cases, the base shade of this color can be ginger red with a hint of blonde cascading through it. This is a perfect color for those who want red but not too much of it!
2. Pale Peachy Strawberry Blonde
If you have light strawberry blonde hair in mind, there are many options that you can try, and one of them is to go in for a peachy hue with this color. With dewy fresh peachy undertones and blonde highlights, this breezy color will compliment your complexion to the hilt!
3. Strawberry Blonde Balayage
Now, balayage has been one of the hottest trends in hair coloring for a while, and when you go in for this combination, you are surely set to make some heads turn in awe. You can opt for this variation if you have shoulder-length or longer hair for a more intense look!
4. A hint of Red Undertones
If you are someone who cannot do away with her blonde tresses completely, fret not, as you can go in for a red undertone for a subtle yet trendy look! Keep a soft peachy hue to the undertone rather than opting for striking red color and keep the color natural! However, if bold is your thing, then go in for a brighter undertone in red!
5. Glamorous Copper Strawberry Blonde
Flaunt your bolder and fiercer self with this shade! This stunning dark strawberry blonde hair will give a muted metallic look to your tresses. For those who dare to experiment with their hair color, this color gives a mystical and ethereal charm.
6. Ombre
A variation that you cannot possibly go wrong with is strawberry blonde hair with highlights in an ombre effect. This combination will not only add more dimension to your hair but will lend a breathtaking appeal to your style! Darker color at the roots, which transits into the lighter hue of the same color, works wonders on more hair lengths!
7. Classy Caramel Strawberry Blonde
If you don't want to get rid of your darker undertone and wish to achieve a blonder look, you should try this variation! With this classy variation, you can give a softer caramel undertone to your hair and then highlight the length of the hair in a soft strawberry blonde hue! Voila, the best of both worlds!
8. Rose Gold Strawberry Blonde
For a surreal grace, stunning shine, and luster, opt for a rose gold strawberry blonde hair color! This color will add a golden hue and a hint of shimmer in your hair that looks stunning on tanner skin tones. This color lends a hint of red that faintly reflects through the bright rose gold for a more captivating appeal to your hair.
9. Subtle Strawberry Blonde Highlights
If you wish to kick your style up a notch, adding just a hint of highlights in this color will instantly uplift your look! Whether you like to keep your hair messy, wavy, or straight, this color will reflect an equal elan in all the styles. Perfectly subdued but fashionable at the same time, this stunning color suits most skin complexions!
10. Multi-hued Strawberry Blonde
Get a mesmerizing kaleidoscopic effect on your hair by opting for a multi-hued highlight in this color. Go in for darker and lighter shades of this color palette and create a striking look for yourself! This effect will look best on curly or wavy hair; however, if you have straight hair, keep the highlights muted and use matching color shades to highlight rather than opt for contrasting colors!
11. Subtle Ombre
If distinct and high definition ombre is not your thing and you are looking for something mellower, you should get a subtle ombre for a more natural and subdued effect. You can go in for a softer brown base color such as chocolate brown or other similar colors from the palate for the roots and opt for lighter hues of strawberry blonde towards the end. This color will give the illusion of depth to your tresses.
12. Babylights with Strawberry Blonde color
If you are looking for a hair color option that will not pop out instantly but, on the other hand, give a subtle and mellow effect, then the strawberry blonde babylights will be perfect for you! It will add just the right amount of oomph and radiance to your natural color. This works best for hair that is naturally towards the reddish hue, and by adding subtle streaks, it will add more dimension to your hair.
13. Strawberry blonde with a hint of Tangerine
Did we hear you shout bold and bright? Well, if that is your desire, then this amalgamation of colors will lend an effortlessly sultry and sexy look! Accentuate your style further by wearing your hair in soft curls, and you will look no less than a star!
14. Muted Strawberry Blonde
Not every woman wants all eyes on her and prefers a style that is uniquely hers and something that can help create a certain amount of mystic panache; if that is the case, then opt for muted hues of this shade! Go in for a muted hue that merges well with your original hair color. Keep your hair silky straight, curly, or wavy, and this color will make all kinds of hair look utterly gorgeous.
15. Cool Chocolate brown blonde with Strawberry
A perfect mix of brunette and blonde, this hair color is something you should choose if you prefer to stand apart from everyone. With a warm chocolate color as the base and lighter-colored strawberry blonde tips, the transition of the color from dark to light will create a mesmerizing look. And if you are someone who already is blessed with naturally brown colored hair, then this stunning color will be very low maintenance for you!
When it comes to playing around with strawberry blonde hair color, there is so much that you can achieve. From lighter to darker shades to multi-hued highlights, the sky is the limit. We hope this article helped give you an idea of what all one can do with this color! So, make up your mind, plan your color and give yourself a stunning hair makeover!
Also Read:
Health Benefits of Coffee for Hair
Homemade Hair Masks for Gorgeous Hair
Amazing Benefits of Eggs for Hair