Top 9 Mouth-Watering Holi Sweets Recipes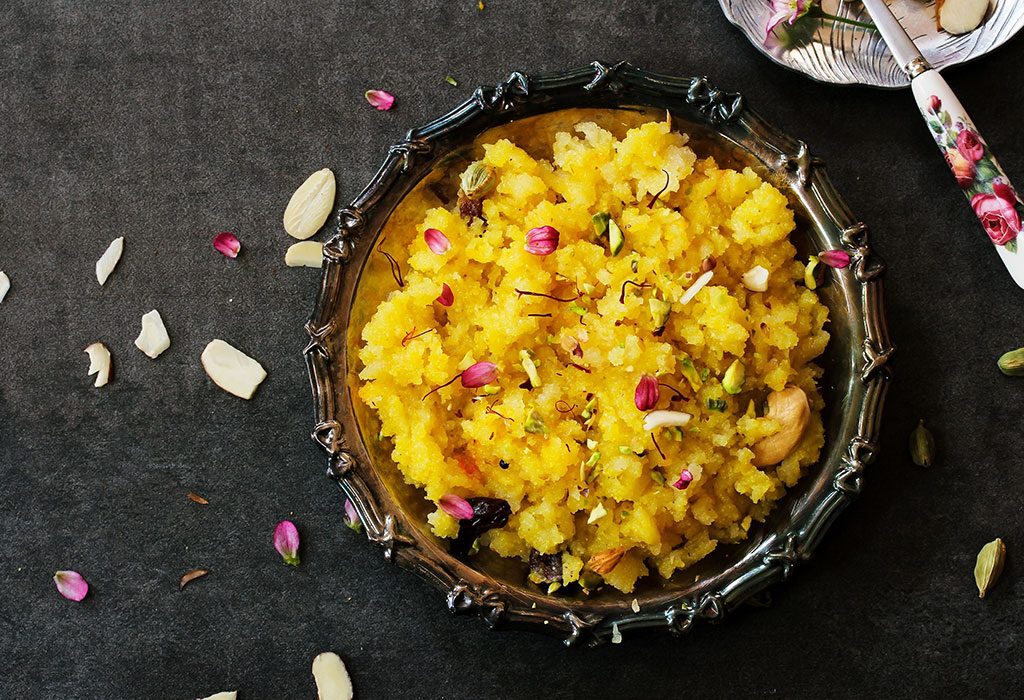 In this Article
Colours, dance, and happiness are what define Holi. With the entire family gathering together, conversations and food preparations are aplenty. Including some great Indian sweets for Holi in your meal preparations would be a great idea, don't you agree? After all, festivals are incomplete without sweets! We bring you some delicious Holi sweets that you can make at home. Read on to learn the recipes!
Lip Smacking Holi Desserts Recipes to Make Your Day Special
If you're craving some popular Holi desserts but want a special touch to them, here are some great recipes that can help you make them right at your home.
1. Coconut Laddoos

We all love laddoos, don't we? We bet your children love eating laddoos too. So, how about you try grated coconut laddoos this Holi.
Ingredients
How To Make

Heat a pan and add some ghee to it. Once the ghee melts, add some milk and grated coconut. Mix this together properly and allow it to heat well. Finally, add the cardamom powder and keep mixing and stirring it once in a while. Let it cook on low heat.
As the combination starts to thicken, stir it constantly. This will separate the fat from the mix on the sides. Once this happens, turn off the stove and pour the mixture into a bowl. Allow it to cool down.
Later, begin rolling laddoos from that mixture as small or large as desired. Spread the dry fruits and more grated coconut on a plate, and roll these laddoos in it. These can then be stored in a refrigerator for later consumption, too.
2. Malpua

No Holi celebration is ever complete without one of the favourite Indian sweet dishes of all time. Malpua has found a fan following across the nation and with good reason.
Ingredients
Pistachios, 2 tbsp
Saffron strands, 4-5
Sugar, 250g
Milk, 0.5L
Baking powder, ½ tsp
Rava, 100g
Khoya, 50g
Water, 0.5L
Ghee, 1 cup
Green cardamom powder, 1 tsp
Fennel seeds, 1 tsp
Maida, 200g
How To Make
Start by preparing the sugar syrup first. Take a pan with some water and heat it. Stir in the sugar, keep stirring until it dissolves completely. Add a few teaspoons of milk and stir again. A thick layer will rise on top which should be scooped off with a spoon. Turn off the stove once the syrup thickens.
In another bowl, prepare the batter by mixing together milk, cardamom powder, fennel seeds, baking powder, khoya, rava and maida. Make sure the batter is liquid enough to be poured easily. Allow it to sit for a while.
Now add some ghee to the pan and heat it on a low flame. Pour a large spoonful of the mixture on the pan and spread it circularly. Let it cook until it gets a brownish shade. Once cooked, take it out and place it in the sugar syrup for 5-8 minutes, allowing it to soak well.
Make more malpuas with the remaining batter and soak them in the syrup one after the other. In the end, sprinkle chopped pista over it and gorge heartily.
3. Puranpoli


Puranpoli is a popular Maharashtrian dish that is enjoyed by all. Here's how you can make it right at home this Holi.
Ingredients
Jaiphal powder, ½ tsp
Oil (as needed)
Water, ½ cup
Ghee, ½ cup
Chana dal, 1.5 cups
Rice flour, 2 tsp
Milk, 4 tbsp
Salt to taste
Green cardamoms, 3
Sugar, 1.5 cups
Flour, 1 cup
How To Make

Take a bowl and add water and flour to it, mixing it well to form a dough. Allow it to sit for an hour.
Cook the chana dal with some water in a cooker on full flame. When done, strain the water. Place this dal in a separate bowl and let it cool down.
Add the dal to a pan and cook it on medium heat with some ghee and sugar. Stir it constantly until it turns into a sticky soft mixture. Keep this mixture aside.
Take the dough and knead it again with oil, water and salt one by one. Separately, run the mixer with the chana dal mix, jaiphal powder and cardamoms. Add milk if needed.
Once both mixtures are ready, take two balls of dough and some chana dal mixture. Roll two rotis from the dough and spread chana dal mix on it, leaving the edges. Place the other roti on top and press the edges to seal it up. Roll it again to spread it consistently.
Heat a pan and add spread some ghee on it. Place the puranpoli on it and press it while it is being cooked. Feel free to add more ghee so that it gets a nice golden brown colour. Cook well on both sides, and make more puranpolis.
4. Rasmalai

Northern India celebrates Holi with an entirely different fervour. Satiating those taste buds with this delicious sweet.
Ingredients
Maida, 1 tsp
Pista, ½ tsp
Kesar
Paneer, 50g
Water
Black cardamom powder, ¼ tsp
Almonds, ½ tsp
Sugar, 6 tbsp
Milk, 0.5L
How To Make
Begin by crumbling the paneer in a bowl and mixing it with maida. Knead this together to form a dough and roll balls from it, patting them flat at the end.
In a pan, add some water and heat it on full flame. Follow up with sugar and allow the water to boil until it completely dissolves. Turn off the stove and add the paneer balls to it. Cover the pan and let it sit aside for a couple of hours.
Boil milk in a separate large pan until it reduces in volume by half. Add some sugar until it dissolves and turn off the flame. Add in the saffron strands and cardamom powder and mix well.
With both the items ready, pick out the paneer balls and squeeze gently to drain the excess syrup. Add them to the milk, and sprinkle pista and almonds. Refrigerate for an hour, then enjoy! consume when it has chilled down properly.
5. Shakarpare


Shakkarpare is a favourite jar snack that is consumed widely in North India. It is usually made during Diwali and Holi. Find out how you can make them!
Ingredients
Sugar, ½ cup
Water
A pinch of salt
Ghee, 1 tbsp
Maida, ½ cup
Milk, 5 tbsp
A pinch of salt
Oil for deep frying
How To Make
In a deep pan, take the milk, some ghee, and sugar and cook on a low flame for 2-3 minutes or till the sugar dissolve.
Sieve the whole maida and salt through a sieve in a bowl.
Add the milk-sugar-and-ghee mixture to the flour and knead a soft dough.
Roll out a portion of the dough with a rolling pin and cut diamond shapes out of it.
Heat some oil in a pan. Once the oil is hot, slowly deep fry the cut diamond shapes in batches until they turn golden brown. Place them on tissue paper to soak the excess oil.
6. Phirni

This wonderful delicacy is the perfect way to end any Holi meal and to satisfy your taste buds.
Ingredients
Green cardamom, 1 tsp
Pista, 4 tsp
Almonds, 4 tsp
Cashews, 4 tsp
Milk, 1 litre
Raisins, 1 tbsp
Sugar
Khoya, 100g
Basmati rice, 100g
How To Make
Soak the rice in water for a couple of hours then drain the water. Wash it again until the water runs clear then grind to form a paste.
Add milk to a pan and boil it over medium heat. When the milk begins to boil, add the rice paste to it and cook it on low heat until the milk reduces to half.
Add grated khoya to this and stir to dissolve. Follow up with sugar and keep stirring to prevent it from sticking to the pan. Finally, add some chopped dry fruits to this.
Once the phirni changes slightly in colour, sprinkle some cardamom powder and turn off the stove. Mix it well and garnish with more dry fruits and nuts. Refrigerate it and serve chilled.
7. Chocolate Modak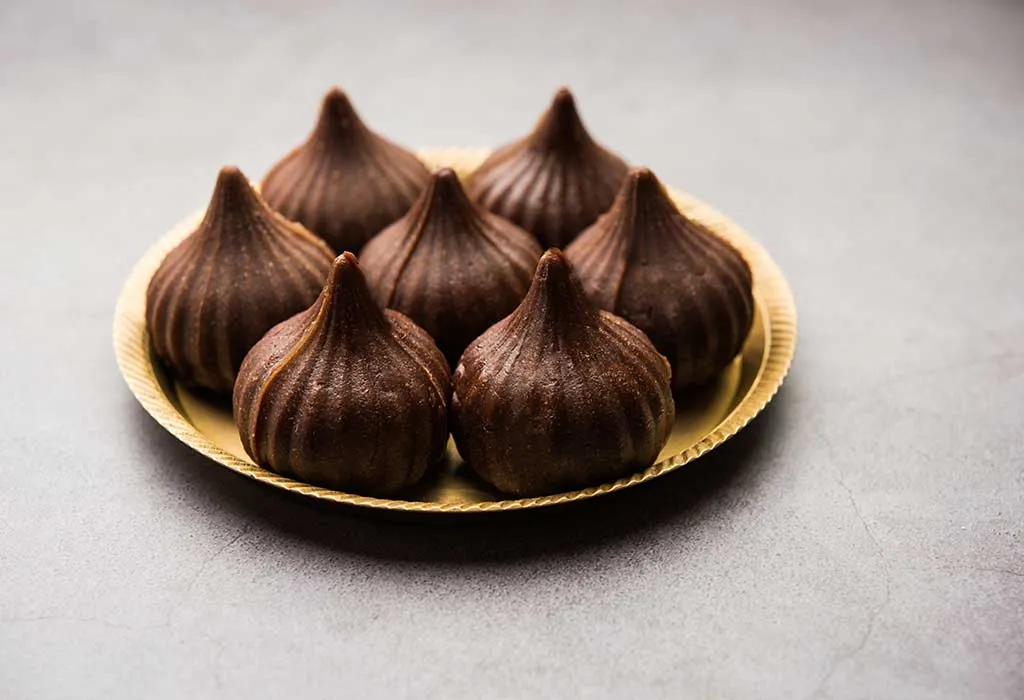 Gujiyas are usually made during Holi and Diwali, but how about you make tasty chocolate modak this Holi. They are more or less like pedas, and you can make them easily. Plus, your children will love eating them too!
Ingredients
A bar of dark chocolate (grated) – 1 cup
Khoya (grated), 2 cups
Sugar, 1 cup
Cardamom powder, ½ tsp
Cinnamon powder, ½ tsp
Ghee for greasing the moulds
Thinly sliced almonds, ¼ cup
How to Make
Heat a pan on a low flame and add the grated khoya to it.
Stir the khoya on a low flame until it starts melting. Add in the sugar and stir.
Next, add the grated chocolate. Alternatively, you can use chocolate chips.
Keep stirring on a low flame to melt the chocolate.
The mixture should start thickening by now.
Sprinkle cardamom powder and cinnamon powder and give it a nice stir.
Continue stirring until the mixture starts leaving the edges of the pan.
Turn off the heat and transfer the mixture to a dish or bowl.
Let it cool; meanwhile, you can grease the modak moulds with ghee.
Make small balls from the mixture.
Place one ball in the modak mould and press its lid. After a few seconds, gently take it out from the mould and place it on a dish.
Repeat the above step with the remaining mixture.
Garnish the chocolate modak with the thinly sliced almonds.
8. Paneer Jalebi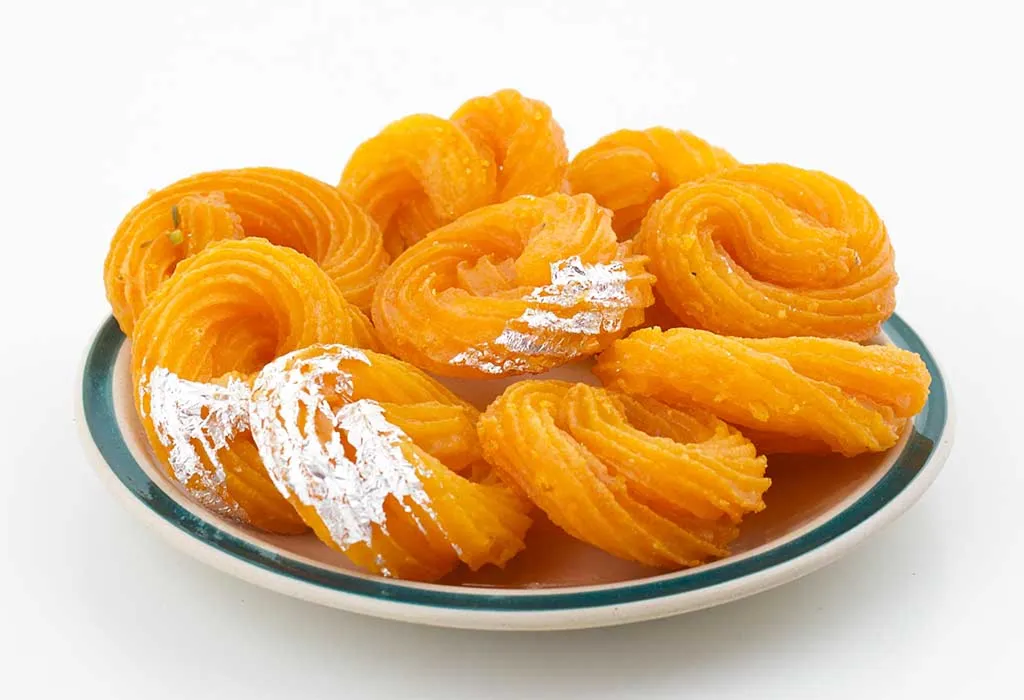 Now we agree, making paneer jalebi would require some effort, but trust us, they would be so worth the time and love you put in them. Awaken the inner chef in you this Holi, and make these delicious jalebis for you and your kids!
Ingredients
Crumbled paneer (made from at least 1 litre of full fat cow's milk), 1 cup
Maida, 1/4 cup
Sugar, 1 cup
Saffron strands, 8-10
Cardamom powder, 1/4 tsp
Green cardamom pods, 3-4
Milk, 1 tbsp
A pinch of baking powder
Refined oil for deep frying
Water
How to Make
Boil some water in a heavy-bottomed pan and add in the sugar.
Stir until the sugar dissolves completely.
Add in the green cardamom pods, and let the water boil on a medium flame.
Next, add the saffron strands and stir for a while.
The sugar syrup should have a double string consistency by now. Turn off the heat.
In a bowl, mix the maida, baking soda, cardamom powder, and crumbled paneer.
Add in some water to knead soft dough.
Take a small piece of the dough and roll it gently to get a thick-long, rope-like structure.
Coil it in a circular motion of about two and a half rounds.
Repeat the procedure until the dough is finished.
Heat some oil in a wok. Fry the jalebis in the oil until they turn golden brown.
Next, dunk them into the warm sugar syrup, and cover the pan with a lid. Let it stand for a few hours.
Heat the syrup soaked with paneer jalebis for about 5 minutes then turn off the heat.
Let the jalebis absorb the syrup well, then serve warm.
9. Apple Kheer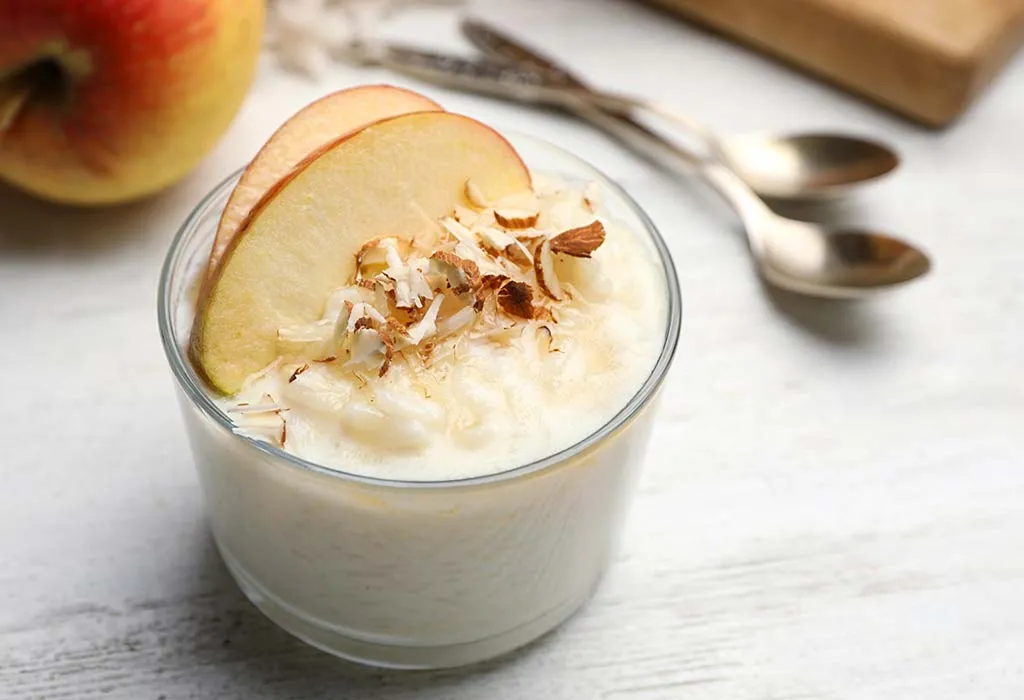 Apple Kheer is a delicious apple and milk-based dessert with the goodness of fruit and aromatic cardamom flavour. Your kid will love this kheer with notes of an apple this Holi!
Ingredients
1 large apple (sweet apple), grated
1 tablespoon of ghee
Milk – 500 ml (full fat preferable)
Condensed milk
Cardamom powder
Sliced almonds
How To Make
Take a small pan and heat one tablespoon of ghee. Add grated apple to it.
Cook until the apple juice evaporates and the grated apple turns semi-dry.
Now turn off the flame and let it cool down at room temperature.
Add milk to another pan and bring it to a boil over a medium flame. Cook until the milk reduces to almost ¾ of its original quantity and turns a little thick.
Add 2½ tablespoons of condensed milk and stir continuously.
Add two tablespoons of sliced almonds and 1/4 teaspoon cardamom powder to the above milk.
Mix well and let it cook for a minute. After turning off the flame, transfer prepared milk to a serving bowl.
Once it cools down, add the cooked apple and mix well.
Refrigerate it for at least 2-3 hours before serving the chilled apple kheer.
Holi and other Indian festivals bring families together. There's laughter, fun, and lots of food. Celebrate this Holi, by making these delicious sweets at home, and have a happy and colourful Holi!
Also Read:
Special Holi Recipes for Your Kids
Best Holi Gifts for Your Loved Ones
How to Make Safe and Natural Holi Colours at Home