Top 10 Trees That Are Perfect To Plant In Front Yards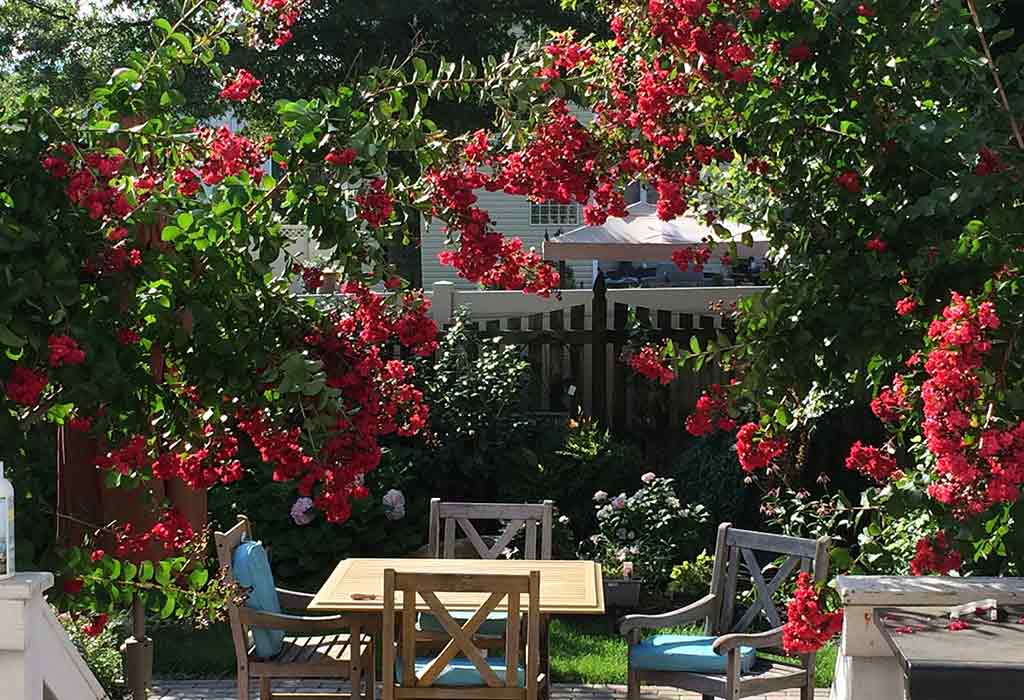 In this Article
All front yards don't come in the same size, and neither do trees that look terrific in the yard. While most large trees aren't suited for every front yard, many flowering trees can explicitly compliment the yard. When you go looking for a tree, you could look for native varieties that provide shade and attract local wildlife which helps the biodiversity. Native varieties not only do well with minimal effort in your yard but need lesser maintenance. So if you are looking for the best trees for front yard landscaping, continue reading for some great suggestions.
Best Trees For Front Yard & Small Yards
Here is a list of some great decorative trees for the front yard, along with important information such as the USDA Plant Hardiness Zone and soil requirements to grow each tree.
1. Ivory Silk Lilac Tree
The Ivory Silk Lilac Tree is an improved Japanese Tree Lilac that grows to 15-25 ft tall. Those who like the Lilac shrubs will find this tree appealing and a lovely addition to their front yards. The tree's extra-large blooms and the foot-long flower pinnacles add beautiful white fragrant flowers to the landscape. If you already have lilac shrubs, this tree will complement the yard as it extends the flowering season and continues long after the shrubs have finished. Once the flowering season is over, the tree continues to give plenty of shade to the yard and, in the cold months, show its dark red bark that stays decorative throughout
USDA Growing Zone: 3-7
Soil Requirements: It grows well in well-drained soil.
2. Flip Side Chaste Tree
Chaste trees are popular for their lush blue flowers in the summer months. The Flip Side Chaste Tree is new to the landscaping scene. It gets its name from the olive-green leaves that have a flipside of dusky purple. What makes the tree attractive is the shimmer of its colorful foliage, even in a mild breeze. But the best comes with the blossoming of the trees when the tree is covered with captivatingly fragrant lavender-blue flowers. The show continues with the arrival of the fall when the leaves of the tree turn pumpkin orange. The tree has a beautiful way of ending the autumn and welcoming the growing season. It also grows to about 6-8 ft tall and 8-10 ft wide, making it one of the prettiest small trees for the front of the house.
USDA Growing Zone: 7-9
Soil Requirements: Lose well-drained soil.
3. Genie Magnolia Tree
While a full-sized magnolia tree is too big for the average suburban front yard, the Genie Magnolia Tree is made just for that purpose. The tree is an excellent focal point with its small height that reaches a maximum of 10 ft and spreads out to about 5 ft. It has gorgeous maroon flowers and boasts full-sized magnolias. The tree is also good to be grown in a large patio and can act as an anchor for a perennial garden. The flowers blossom in the spring and last until mid-summer. They are excellent tabletop decorations.
USDA Growing Zone: 5-9
Soil Requirements: Moist but well-drained soil. It can also tolerate most soil types.
4. Tamukeyama Japanese Maple
The tree's deep red leaves and diminutive size make it a favorite among homeowners and landscaping artists. Surprisingly the Tamukeyama Japanese Maple has been cultivated for over 300 years and is not a new species on the continent. What makes it attractive is its finely textured leaves that are plum red cascading over the branches. As the tree matures, it takes a dramatic sweeping look, which can sometimes droop to the ground. A fully grown tree can be 6-10 ft tall and 10- 12ft wide. It can be grown in containers or raised beds, making it a landscaping favorite.
USDA Growing Zone: 5-8
Soil Requirements: Well-drained soil.
5. Pink Heartbreaker Weeping Redbud
This small tree has a distinctive look and attractiveness that earns it a place in all landscapes or front yards. While it's not a tree that forms a focal point, it adds to the landscape's character with its branches, creating a unique umbrella shape with bright lavender flowers in early springtime. This visually appealing tree is also a favorite to the local fauna such as bees, butterflies, and hummingbirds. Mature trees will grow to 5-10 ft tall and 5-10 ft wide.
USDA Growing Zone: 5-9
Soil Requirements: Well-drained soil.
6. Common Crape Myrtle
When looking for a moderately tall tree with great foliage and pretty flowers, the common crape myrtle fits the bill to the T. Its name comes from its blossom's resemblance to crepe paper. The tree grows 15-25 ft tall and 15 ft wide, making it an excellent shade tree for small yards. It is well suited for all yards as its roots don't disrupt the foundation or pavements making it a great choice in confined spaces. The tree needs plenty of light, and its blossoms last all summer.
USDA Growing Zone: 7-9
Soil Requirements: It is quite resilient and tolerates poor soil as well.
7. Witch Hazel
The Witch Hazel is one of the best small trees for the backyard due to its structure resembling both a tree and a shrub. The tree's yellow foliage glows beautifully from dusk through dawn, making it a pleasant sight to relax within the yard. The tree grows 15 to 30 ft tall and spreads out 15- 25 ft wide. It can be pruned to give it the look of a small tree or a multi-stemmed shrub.
USDA Growing Zone: 3-8
Soil Requirements: Well-drained loamy soils. It doesn't do well in clay soil.
8. Monk's Pepper
If you're looking for evergreen trees for your front yard, then Monk's Pepper is a tree worth considering. Although technically a shrub, it can grow to a monstrous size of 25 ft when the soil is suitable. Given proper pruning, the tree becomes a beautiful addition to the front yard with its cluster of lavender flowers in between lacy green leaves. The fruit from the tree has been long used in traditional medicine and resembles peppercorn. The clustered flowers of the tree attract butterflies and bees throughout.
USDA Growing Zone: 5-9
Soil Requirements: Very resilient, does well in loose, well-drained soil.
9. Acer Palmatum 'Lemon Lime Lace'
This Japanese maple is very colorful and lush, a perfect tree for those looking to introduce color in the yard or make a statement. The leaves turn from lemon yellow at the sprout to chartreuse during the summer months. In the fall, they turn bright orange. The tree grows to about 6 ft tall and 6 ft wide.
USDA Growing Zone: 5-9
Soil Requirements: Rich, well-drained soils.
10. Royal Raindrops Crabapple Tree
Adding a focal point to your landscaping, the Royal Raindrops Crabapple Tree does a fine job with its rich purple foliage throughout summer and fall and pink flowers in the spring. Giving a full display of its foliage and flower, this tree is sure to be one of the best sights in spring in your yard. The tree grows to 50-20 ft tall and spreads out 10-15 ft wide. It can do well when pruned well or just as is naturally.
USDA Growing Zone: 4-8
Soil Requirements: It does well in moist, well-drained soil.
These are the top 10 trees that do quite well in all suburban backyards. They grow from 10 to 25 ft tall and spread out no more than 20 ft, making them ideal as focal points of just trees for shade in the yard. Their soil requirements are also minimal and thrive well when planted according to their USDA growing zone recommendation. Most trees can also be grown in a range of zones, so feel free to stretch the limits a little!
Also Read:
How to Grow a Bonsai Tree at Home
Plants that can Bring Home Good Luck
Decorative Indoor Plants that Clean the Air