Tomatoes for Skin – Here's How It Helps You Get Gorgeous Skin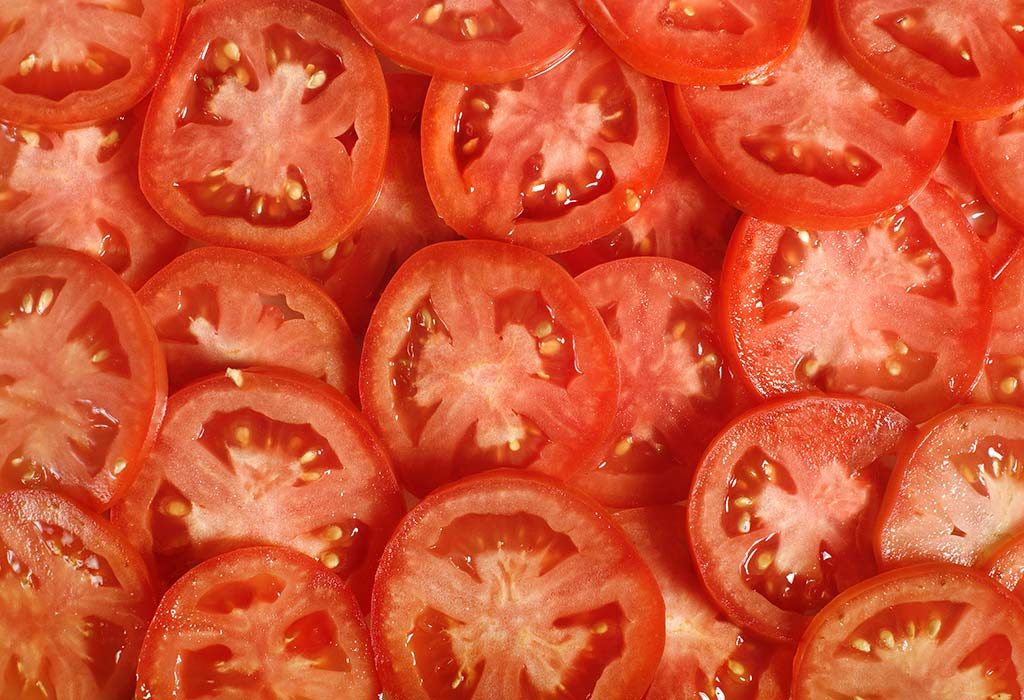 Most of us like to relish juicy and succulent tomatoes in our salads, gravies, sauces and other various forms. Do you have any idea how this versatile kitchen staple can do wonders for your skin? Well, it may come as a pleasant surprise to most of us that tomatoes not only taste good, but they are also loaded with umpteen health and even skin benefits. If you wish to know more about tomatoes and how they can actually help you get beautiful skin, reading this post will help!
9 Amazing Benefits of Tomatoes for Skin and Face
Tomatoes are good for boosting immunity, preventing blood clots, lowering blood pressure, lowering cholesterol, beneficial for bones and teeth and are loaded with umpteen health benefits. However, if you are looking to have clean and clear skin, a tomato is something that you cannot give a miss. Not only is this small fruit loaded with ample nutrition, but it is also great for healing and curing various skin conditions. Let us find out more uses of tomato for skin in this section:
1. For Glowing Skin
One of the best tomato uses for the face is to have a glowing complexion. Tomatoes are loaded with vitamin C, which is a natural skin brightening agent. Therefore, you can apply tomato juice or rub a slice of it directly on your face to obtain a skin that glows brightly.
2. For Reducing Oiliness
Tomatoes contain natural astringent properties, which make them an ideal ingredient to remove that extra oil from the face. All you have got to do is rub your face with a tomato wedge or simply apply juice all over the face and rub for a few seconds in circular motions, to expose a shiny skin that is sans oil.
3. For Reducing Open Pores
Open pores can be an eyesore, but there are resorts to overcome this problem too. Instead of using any chemical on your skin to get rid of this skin condition, you can simply use tomato to cure this skin for you. This natural astringent not only reduces the open pores but it also great for preventing the occurrence of black and white heads on the skin.
4. For Fighting Cellular Damage
Tomatoes are loaded with lycopene, which is great for preventing and reducing free radical damage. It is also great for reducing skin redness and for fighting cell damage. All these properties prove to be ideal in making the skin appear more youthful by reducing the appearance of fine lines and wrinkles.
5. For Fighting Stress
Stress is not only a mental state – sometimes, our skin feels stressed too. However, tomatoes work effectively in reducing the symptoms of visible stress from the skin, thereby leaving the skin looking fresh and rejuvenated. No wonder many spa treatments and other facial treatments use tomato extract for giving the skin that much needed freshness and rejuvenation.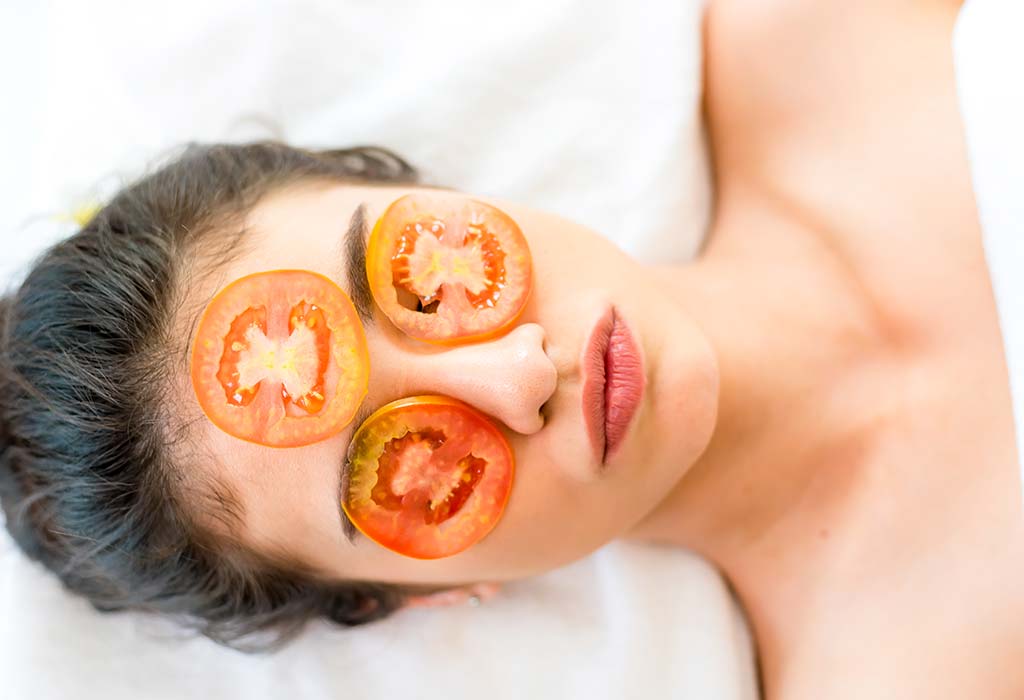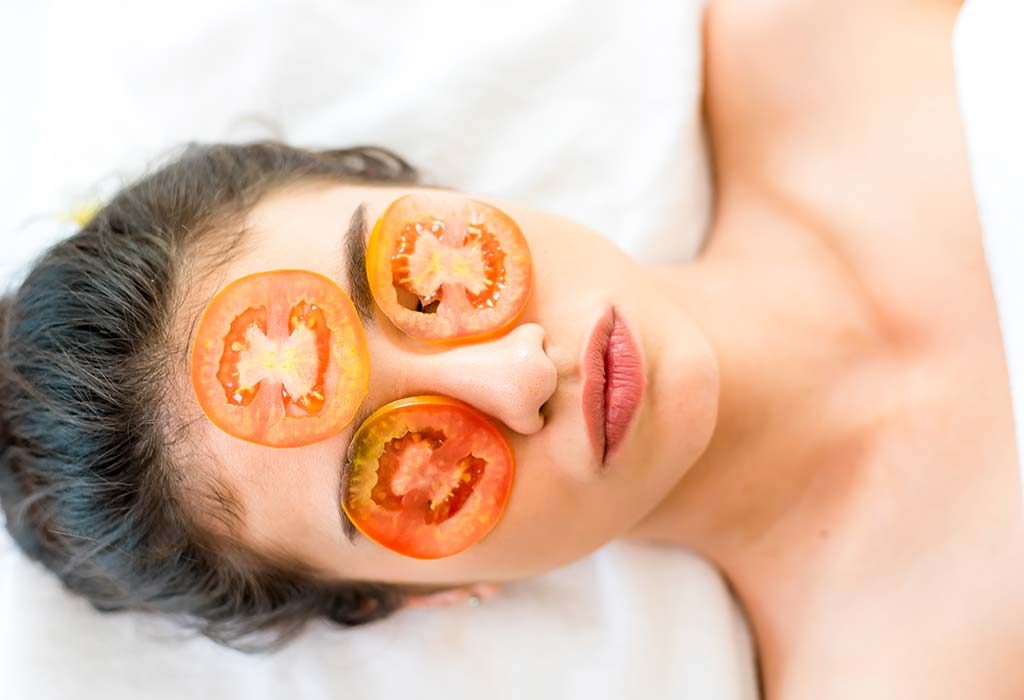 6. For Protecting the Skin From Sun Damage
The sun can take a toll on your skin and make it dull, lifeless and tired. However, you can make use tomatoes to overcome your sun-related skin woes. Tomatoes are power-packed with a natural compound called lycopene. Lycopene is an anti-oxidant which is great as a natural sunscreen. Tomatoes provide protection from the harmful effects of the sun such as ultraviolet or UV rays.
7. For Removing Skin Tan
Some people may love to flaunt a sun-kissed skin. However, there are others who may like to get rid of it. Well, tomatoes are great for reducing the skin tans. Tomatoes not only contain vitamin C and anti-oxidants but they also contain natural skin brightening and lightening properties. All these qualities make tomatoes an ideal ingredient for reducing the skin tan. It also prevents the skin dryness that can get caused because of strong UV rays.
8. For Preventing the Signs of Ageing
Ageing is a natural process; however, with optimum care can help in delaying this inevitable phenomenon. Tomatoes may prove to be of great help in delaying the process of ageing by giving a skin a healthy and youthful glow. Tomatoes help the skin to get optimum oxygen, which in turn prevents the ageing signs and symptoms to a great extent.
9. For Smooth Skin
We all desire a smooth and supple skin. One of the best ways to get smooth and radiant skin is by using tomatoes. Tomatoes are ideal for scrubbing off the dead skin cells, preventing blackheads and whiteheads, thus making the skin appear smoother and softer.
Homemade Tomato Face Packs and Masks for Various Skin Problems
In the above section, we talked about the benefits of tomatoes for the skin. Tomato on the face overnight or for a few minutes can result in beautiful and supple skin. Let us find out some simple and effective face packs that you can make to treat various skin problems:
1. Face Pack for Dark Circles
This pack works perfectly for curing dark circles.
What You Need
2 tsp tomato juice
Few drops of pure aloe vera gel
What You Need to Do
Take aloe vera gel and tomato juice and mix nicely.
Apply the mixture on your under eye area. You can apply the mixture on your entire face too.
Leave the mixture on for 10 to 15 minutes and then wash your face with cold water.
How Often to Use
If you wish to see quick results, apply this pack once or twice a day. Tomatoes are loaded with bleaching properties, and aloe vera soothes the skin. Together, both these ingredients work effectively in reducing dark circles.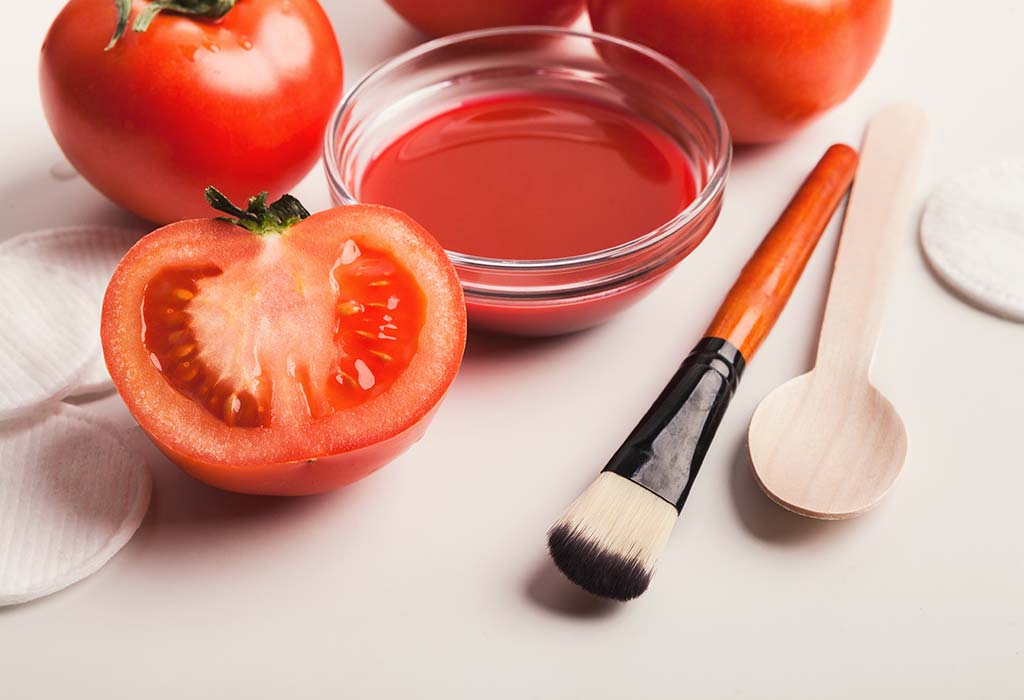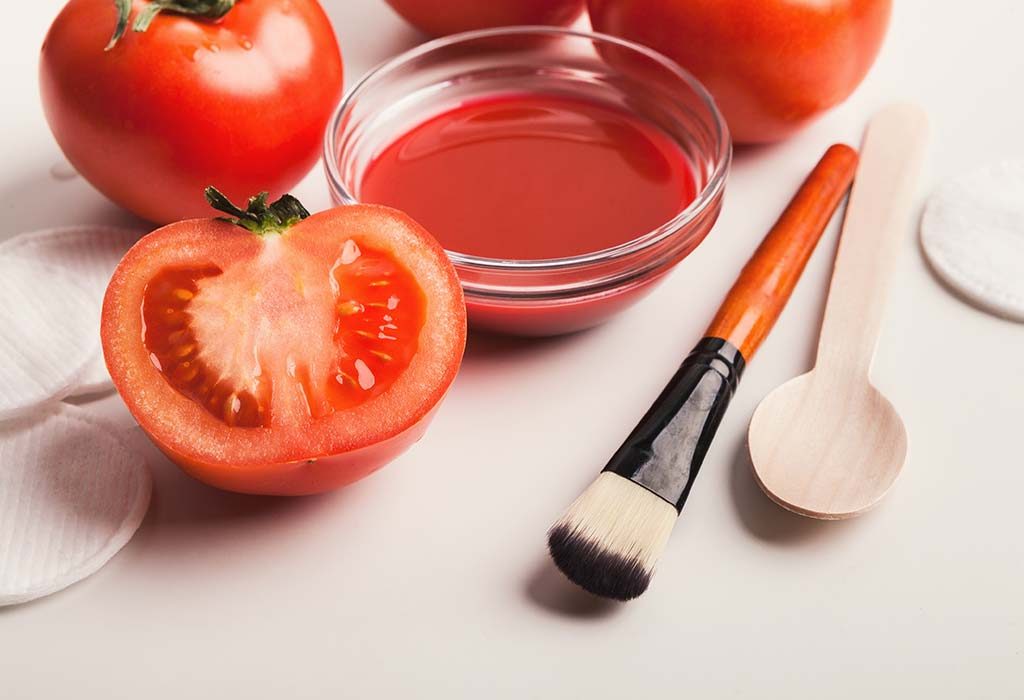 2. Face Pack for Skin Blemishes
If you are thinking about how to apply tomato on the face, well, you can apply it in its pulp form, juice form or mixed with other ingredients as a pack. This pack works well for skin blemishes.
What You Need
2 to 3 tablespoon tomato pulp
1 to 2 teaspoon
What You Need to Do
Take a bowl and put both the ingredients in it and mix thoroughly.
Apply liberally on your face and neck and leave it to dry or let it sit for 10 minutes.
Wash your face with lukewarm water.
How Often to Use
You can apply this pack twice a week for best results. Tomato helps in brightening the skin and honey helps in providing moisture to the skin.
3. Face Pack for Acne
If you are wondering how to use tomato for acne or tomato for pimples, well, you can do a tomato facial at home or even use a tomato face scrub to keep off pimples. However, a face pack does wonders too and here's how to make it!
What You Need
1 small tomato
4-5 drops tea tree oil
1 tsp jojoba oil
What You Need to Do

Cut the tomato into half and scoop out the pulp in a bowl.
Mash the pulp nicely, add tea tree oil and jojoba oil in it and mix well.
Apply this pack all over your face, leaving your eye area.
Leave the pack on the skin for 15 minutes.
Wash the face with warm water then splash some cold water.
How Often To Use
Use this mask two to three times a week. This mask works well in controlling the excess oil production by the skin, thereby reducing the occurrence of pimples and acne.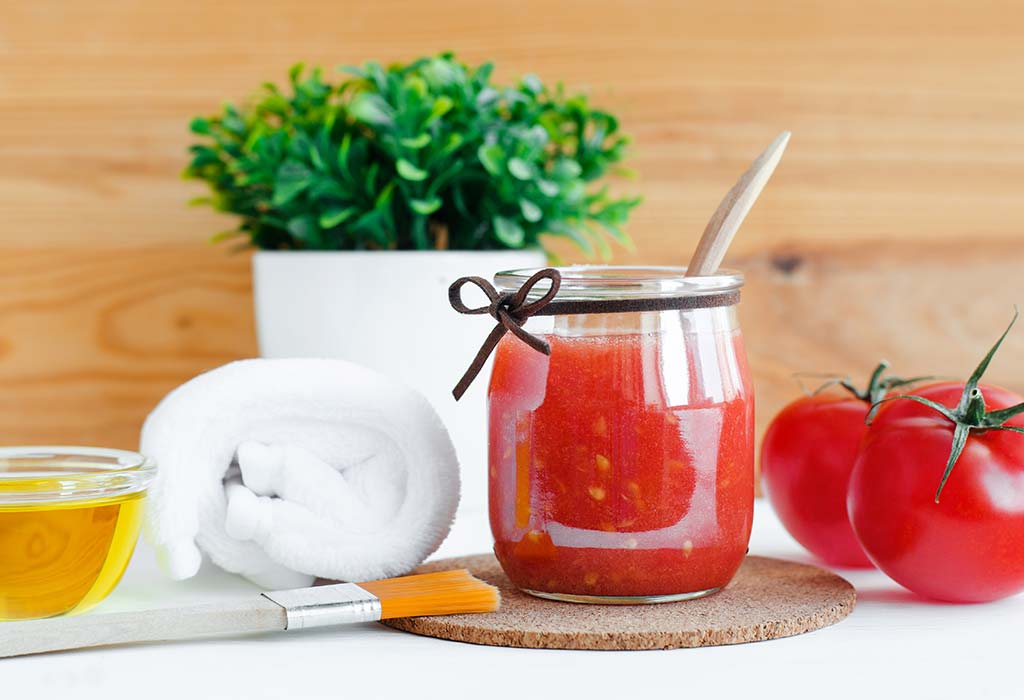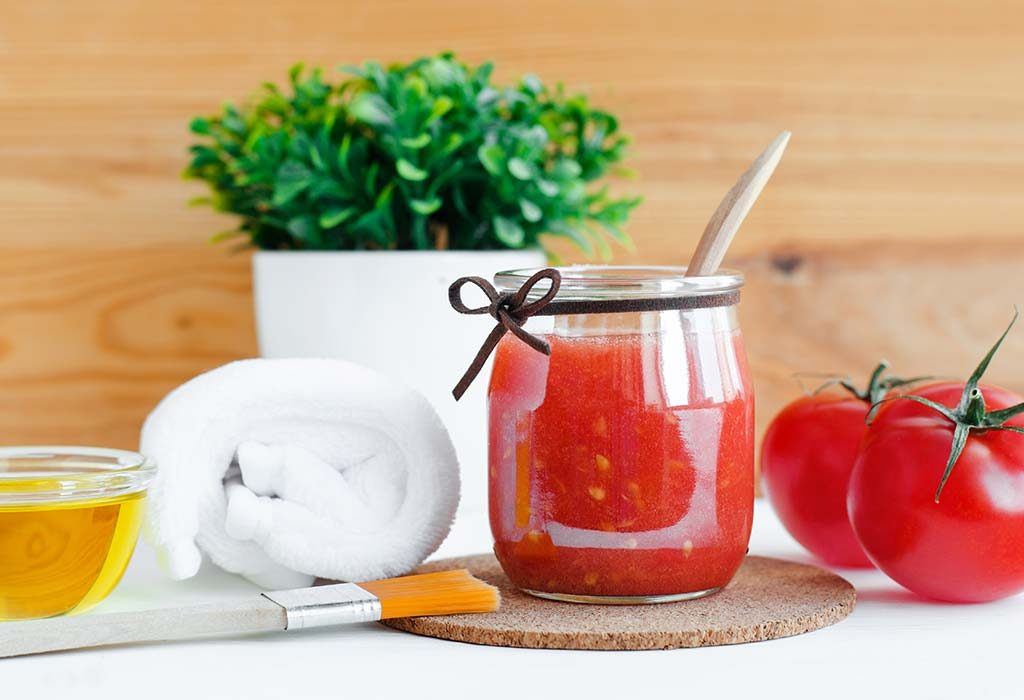 4. Face Pack for Dry Skin
Wondering how to use tomato for dry skin, well, try this pack if you are suffering from skin dryness.
What You Need

What You Need to Do
Cut the tomato and squeeze out the juice into a bowl.
Add olive oil and mix nicely.
Apply the tomato mixture on the face and leave it for 10 to 15 minutes.
Wash your face with warm water.
How Often to Use
Apply this pack two times a week. Tomatoes and olive oil combination not only nourishes the skin from within, but it also removes dryness.
5. Face Pack for Glow
If you are looking for ways to use tomato for glowing skin, this pack may help you achieve the desired results.
What You Need
What You Need to Do
Cut the tomato, remove the seeds and scoop out the pulp.
Mash the pulp nicely; add turmeric and sandalwood powder, mix well.
Apply evenly all over the face, let it dry.
Wash your wash with warm water.
How Often To Use
You can apply this pack every alternate day. Turmeric, sandalwood and tomato combo works really well in brightening the skin. It also helps in removing any skin discolouration and helps in attaining an even complexion.
We hope you will make use of this wonderful kitchen ingredient for getting beautiful and radiant skin!
Also Read:
Homemade Face Bleaching Packs to Brighten Your Skin
Best Fruit and Vegetable Juices for Glowing Skin
Best Foods to Eat for Healthy Skin