8 Times Bollywood Actresses Gave Us Major #HairGoals!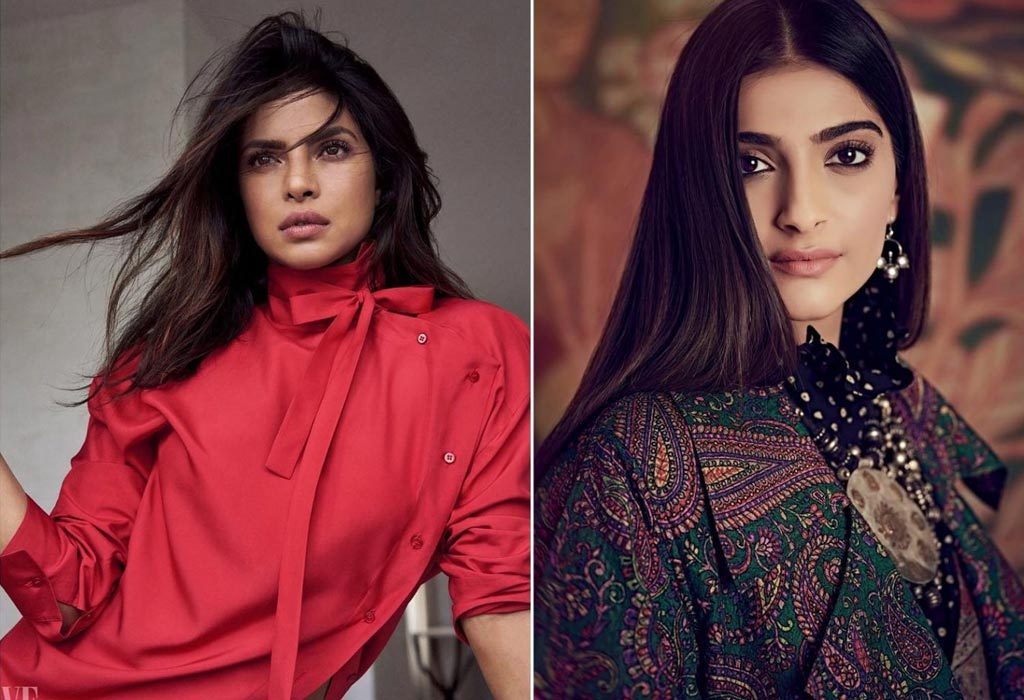 In this Article
Bollywood has always entertained and inspired us – from cheesy romantic films to dressing and styling ideas, Bollywood films have given us a lot of inspiration in many aspects of our lives. Trends are constantly changing, and our beloved film industry always manages to showcase them to us. So why not use it for some hatke inspiration?
Bollywood Actresses Who Have Given Us Hair Inspiration
A good hairstyle or haircut can go a long way in building confidence. If you're a mom, you're aware that taking good care of your hair and skin is a matter of luxury now, but the job is half done when you have a hairstyle that suits you!
If you're wondering where you can start hunting for the right hairstyle, there's no better place to start than Bollywood! Below are some actresses who have given us major #hairgoals over the years with their bold, elegant, and stylish looks. Don't hesitate to try them out!
1. Priyanka Chopra
It goes without saying that Priyanka Chopra's hair is effortlessly stylish. With her thick jet-black mane, creating new looks and styles is quite a treat for a hair stylist. Her hair has seen trendy and edgy haircuts like the asymmetrical bob, the long bob, classic layers, and soft waves too! So, if you have straight hair, don't hesitate to follow PC's lead – try her messy, super straight, or asymmetrical hairdo with a few simple curling techniques using hair curlers or DIY – you are just one step away from celeb-stylish hair!
8 Times Bollywood Actresses Gave Us Major #HairGoals!
2. Deepika Padukone
Deepika's long, beautiful hair has made all of us envious at some point. Even though Deepika does not experiment much with the length of her hair, she sure knows how to make it look stylish each time she steps out – and that's major fashion inspiration right there! From thick, heavy waves to a chocolatey brown balayage or just a simple middle parting with her hair tied up, Deepika knows how to work her hair to her advantage. If you have mid-length or long hair, Deepika is here to show you how you can do more with less. Get elegant waves for a casual day out, or a simple middle parting when you're going for something traditional. Getting subtle brown balayage hair is also a great idea, because you won't be using wild colours that you are afraid to try on. Go for a colour that is just slightly lighter than your natural hair colour, and you're good to go!
3. Kangana Ranaut
Kangana's hair exactly like her personality – it stands out from the crowd. Kangana has never shied away from embracing her opinions and beliefs, and her hair follows suit. Her luscious, natural curls can give you the courage to leave all those straightening products and embrace your naturally curly hair. For all the curly haired women out there – this year, try Kangana's wild, natural hairstyle that is super easy to maintain. Just using a couple of leave-in products will do the trick, and you can make some of them at home!
4. Sonam Kapoor
All hail the fashion queen! As Sonam has mentioned several times, she is blessed with gorgeous hair owing to her father's genes. No no, we aren't asking you to question your genes – we're just saying that you can have hair as gorgeous as hers just as well! Sonam may not be too experimental with haircuts, but her beautiful, often chic hairstyles make a huge difference! If you're not in the mood to get a drastic change by cutting your hair, you can follow Sonam's tricks – style your hair differently and don't be afraid to try on different looks. From braided crowns to soft, 60s style waves, you'll be surprised how one unique hairstyle can change your entire outfit and how you look in it!
5. Kareena Kapoor Khan
It goes without saying that Kareena Kapoor Khan had been a fashionista way before everyone else. She has not experimented with too many haircuts in the prime years of her celeb-hood, but her hair manages to look beautiful and on trend every single time. The varied hairstyles she goes for – high ponytails, extreme side parting, poker straight, and side-swept hair have been some of her defining styles, so you can go for the same if your hair is straight to mildly wavy. If not, it's time to get out those flat irons and curlers!
6. Katrina Kaif
Out of most A-list Bollywood actresses around, Katrina Kaif has experimented the most with her long hair. From having elegant, bouncy waves to a simple U-shaped cut and even edgy bangs, Katrina has done it all. She has also gone from jet-black to a simple balayage look, all without going short! If you're looking for that push with regards to colouring your hair or going for those fringes or bangs, Kat is the one to look out for. She carries her different hairstyles with absolute panache, and so can you!
7. Taapsee Pannu
She might be a newbie in comparison to the others on this list, but the girl is here to stay – as is her gorgeous, messy, and wavy hair! We have seen Taapsee with her long and thick wavy hair in her debut film, and she's gone edgy with her hair of late with her cropped look! If you're looking for short hairstyles and doing it for the first time, look to no one else but Taapsee for encouragement and, of course, hair goals.
8. Sanya Malhotra
Sanya Malhotra's first film had us guessing what her hair was like – her short, crew-cut like hairdo in Dangal didn't give much away. But now, we're all aware of how her hair is – those beautiful, separated curls make her stand out! To add to it, she has not shied away from bringing attention to it by adding highlights; they give incredible depth to her already gorgeous hair! Sanya's hair is a huge shout-out to all those ladies who have had a complicated relationship with their curly, unruly hair – it's time to embrace it!
These actresses have given us major hair inspiration by being bold and confident with their hair, despite the length or hair type. Watching these gorgeous actresses on screen only tells us one thing – you don't need to be edgy to be stylish; you just have to be a little creative!
Also Read:
Foods to Eat for Healthy Hair and Hair Growth
Best Vitamins for Hair Growth
Best Hairstyles to Go With Different Saree Styles
Summer Hairstyles for Medium and Long Hair