This New Mom Gave Her Flight Co-passengers the Cutest Warning About Having a Baby on Board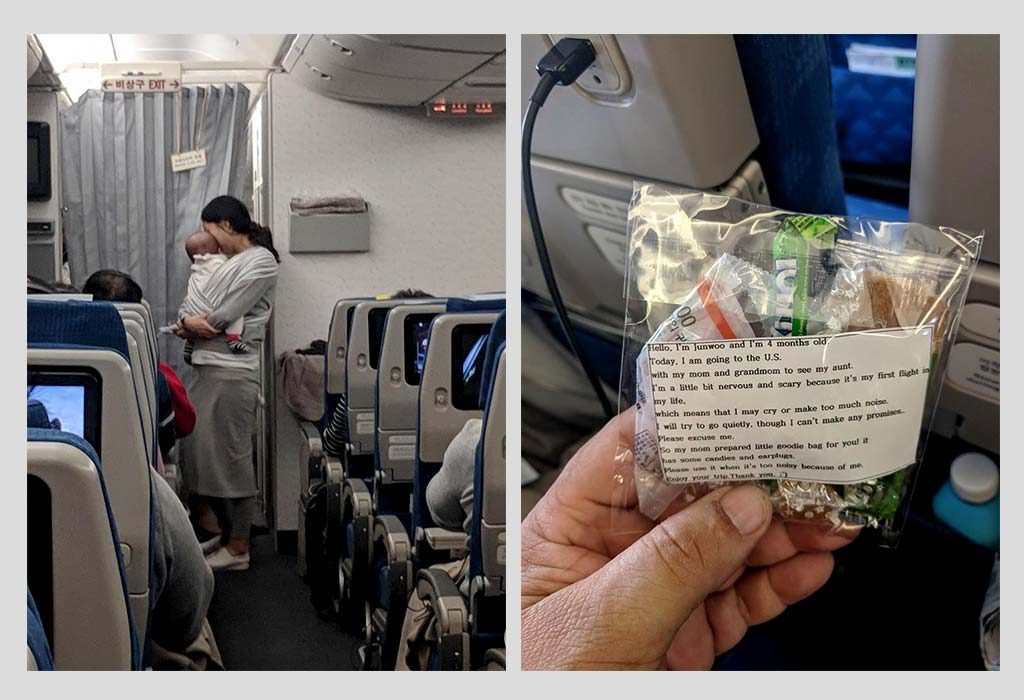 Mothers are incredible! Their minds work in unimaginable ways, and their kind gestures extend way beyond their immediate family. Their loving hearts have an impact on not just their babies, but even on those around!
It's obvious for every 'new mom' to be confused and anxious when it comes to her first baby, and this anxiety only multiplies when she's travelling with her newborn. You can imagine the number of scenarios she has to prepare for (in advance) – feeding, changing, comforting her baby and what not! New moms barely have the chance to think about their own comfort after having a baby, let alone the comfort of absolute strangers. However, some moms are just built to go above and beyond to make everyone comfortable, isn't it? Read on to find out this mommy's story, and the cutest way in which she warned people about having a baby on board.
This is the story of Junwoo – a 4-month-old travelling with his mommy & grand-mommy in a 10-hour flight for the very first time. We're all well aware of the fact that travelling with children can be stressful, even more, when the child is barely months old! But as they say, "Expect the unexpected when you have a baby!" This mommy took that word of caution seriously!
While travelling from Seoul Korea to San Francisco, Junwoo's mother was kind enough to carry goodie-bags for her co-passengers, just in case, her baby cried during the flight. There were more than 200 passengers in the plane, and in spite of not knowing them, this kind mommy had thought about the comfort of every single one of them. As soon as she settled in, she started handing out goodie-bags to all her fellow passengers. Each of these bags was packed with the cutest note, a pair of earplugs, and some candy.
Through the note, she warned her co-passengers (in the cutest way) that a newborn will be travelling with them on the flight. It's his first flight, and in spite of her best efforts, her baby might cry during the journey. These goodie-bags were a touching way to inform them that even though she cannot stop her baby from crying, she can do the least to ensure that they are comfortable during the journey.
This sensitive gesture obviously stemmed from the fact that crying babies are commonly seen as a nuisance on flights without any empathy for the mom who is struggling to keep her baby comfortable.
Through this kind act of love, we can only hope that more travellers empathize with moms travelling with babies in the future. In the meantime, we will remain completely inspired by her thoughtfulness. Hats off to her!
Also Read:
Travelling by Flight With Your Baby: Check Our Checklist
Important Guidelines While Travelling With Baby
Baby Travel Checklist