Things You Need to Know About a Cape Cod Style House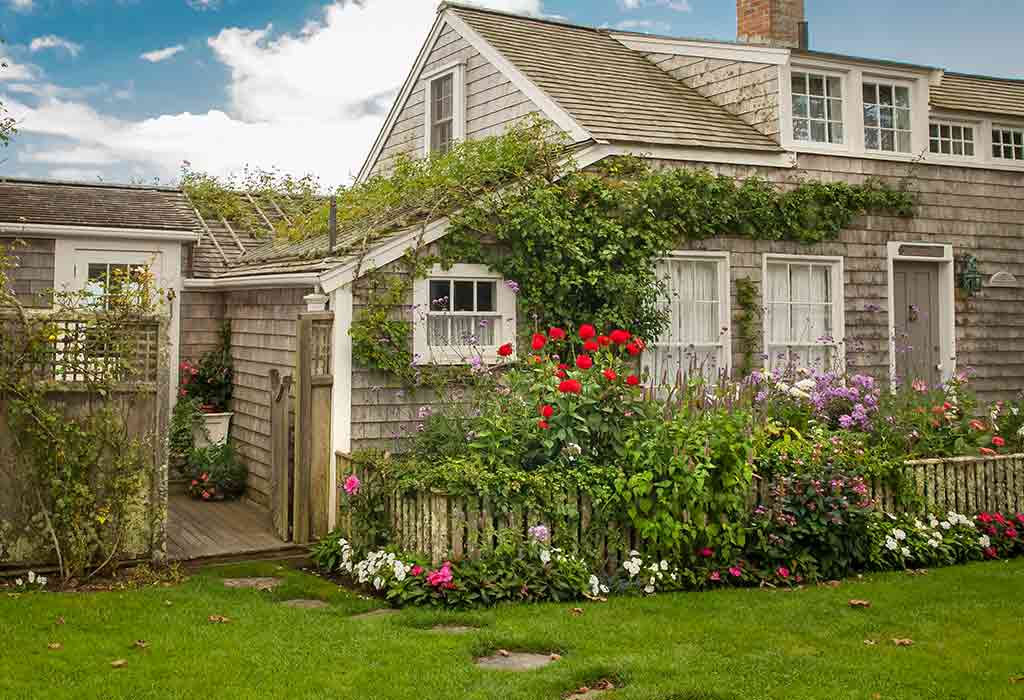 Cape Cod homes or simply 'cape' are an American variation to the Colonial homes of England. Their minimalist design with distinct individualism makes them ideal for starter homes for starter families or the elderly. Mostly found around the coastal towns of New England and Massachusetts, these remarkable historic homes have become a popular choice in every neighborhood across the nation. Now synonymous with beachy weekend homes, the architecture of Cape Cod homes represents a classic American cottage ideally. So, let us find out what contributes to the unique and timeless quality of Cape Cod architectural style that has inspired a gorgeous range of adaptations with a modern edge.
What is a Cape Cod Style Home?
A Cape Cod home's functional design and minimal ornamentation depict traditional culture and coziness, a precursor to contemporary architecture. Having evolved from a simple English cottage, it still bears a classic American look. It is marked by a clean-line silhouette, broad rectangular profile, symmetric facade, shingled exterior, and a massive chimney at the center. Although a traditional Cape Cod house was single-storied, the addition of dormers or second stories served practical purposes. Giving an impression of idyllic living, these simple residences are devoid of extra decoration or a porch, making them versatile enough for various homeowners. This kind of steep roof design facilitated the heavy snow and rain to slide off easily. Modern cape cod house design boasts a minor picture-perfect symmetry that has become charming multi-functional spaces that are significantly more cost- and energy-efficient.
History of Cape Cod House Style
Cape Cod style of architecture was introduced in America by the Puritan colonist in the 1600s. Essentially modeled after the half-timbered thatched English cottages belonging to the 17th century, these humble homes had common themes and were made of local materials. Cape Cod-style homes proliferated all over New England in the mid-1800s as these homes were easier to heat and strong enough to stand up to the snowfall. These houses have two rooms, a hall, and a parlor. While daily living activities centered on the threshold, the parlor was used as the bedroom. Most were constructed of timber and had low ceilings to conserve heat.
After he visited Cape Cod, Massachusetts, Timothy Dwight, the president of Yale College, came up with the name and classification of Cape Cod houses. With time, they developed distinctly American traits that made them highly popular all over the country—their steeply pitched roofs and installation of shutters aided in blocking the cold winds. There was a renewed interest in colonial-era architecture during the first half of the 20th century in the US. With the rise of demand for cheap housing increased during the Great depression, Cape Cod houses became popular in the 1920s or 1930s with more identifiable modern features like separate kitchens with pantries and small bedrooms.
As the sizes of Cape Cod houses increased, more bedrooms were built on the second floor and dormer windows projected out of the roof. Molding with trim details around the front door, windows, and along the eaves under the roof and white picket fences added to the allure of these rather unostentatious homes. After World War II, Cape Cod-style homes were a part of housing development projects and fulfilled the dreams of returning soldiers wanting to buy their first homes.
Types of Cape Cod-style Homes
The size of the family and budget were the critical factors for the variations of Cape Cod architecture. Here are some types of Cape Cod Style Homes:
Half Cape
Also known as 'Single Cape,' these modest houses had shingle-clad roofs, an entry door on one side of the house while two multi-paned glass windows adorned the other side. With growing needs, later additions converted the half cape into a three-quarter Cape house.
Three-quarter Cape
Three-quarter cape homes featured an entry door located on one side of the house. There were two windows on one side of the front facade and one on the other side.
Full Cape
The prosperous settlers mostly adopted this style of architecture. The entire Cape or the Double Cape features a steep roof, a massive chimney, and two multi-paned windows aligned perfectly on either side of the central door.
Features of Cape Cod Style House
A few remarkable features contribute to the distinct style of Cape Cod homes. Here is a general overview of Cape Cod-style house plans:
Interior Characteristics
Sometimes architects overlook the Cape Cod-style house interior, or they may not carry the quintessential nuances of New England detail. Here are some of the interiors characteristics:
Many Cape Cod houses have a steep and narrow staircase known as a "captain's stairway" leading up to the second floor.
The asymmetrical layout at the center of one main living space is a defining feature of a Cape Cod-style home.
An open concept plan of this house style ensures free flow of heat throughout the home, keeping it warm and cozy.
Low ceilings in these houses retain the heat inside successfully.
Exterior Characteristics
The cottage-like appearance of cape Cod-style homes exterior makes them very easy to spot in your neighborhood. Here are some of the exterior characteristics of a Cape Cod Style home.
A steep gabled roof with a shallow overhang helps snow and rain quickly slide off the top and lessens the chance of ice jam right at its base.
Cape Cod-style house plans of its original version included a centrally located massive chimney placed right behind the front door.
Although modern Cape Cod house designs include sidings made of brick and stone, the grey shingles fit the bill as a classic option.
A traditional Cape Cod-style house features a front door with two windows with shutters on either side and a chimney with a dormer window on either side.
Other Characteristics
A large fireplace is a prominent interior feature of this style of the house.
Staircase and Bathroom Separating Sections
These homes have large second-floor bedrooms on either side, while the staircase and bathroom separated the two sections.
Straight lines with minimal aesthetic detailing are the external characteristics of a Cape Cod-style house.
Ornate yards with a rose garden are commonly found in most olden Capes.
Pros of Cape Cod-style House
Cape Cod-style houses continue to enchant home buyers with their ageless charm. Here are some pros listed below:
Small Roofs
Cape Cod-style homes have smaller and simpler roofs that one can easily replace for cheap. Moreover, steep-sloped roofs allow the snow or ice to slide off during winter, negating the chance of the top collapsing or leakage due to heavy snowfall.
2. Compact Space on Second Floor
The second floor of a Cape Cod home can accommodate upto four bedrooms and two bathrooms within a 1000 square foot home, making them affordable enough for starter families.
3. Symmetrical Layout
Capes feature a perfect functional layout that provides a warm and intimate feeling with eaves in upstairs bedrooms and quirky gable end windows.
4. Timeless Character
The original hardwood floors, woodwork, and shingle siding lend a timeless quality to these homes even if they are were three centuries old.
5. Room For Expansion
The plot size and town regulations can enable you to make new additions to your Cape Cod house as your family increases in size.
Cons of Cape Cod-style House
The benefits of owning a Cape Cod Style House comes with its set of limitations affecting your finance and lifestyle. Here are some cons of a Cape Style House:
1. Smaller Master Bedroom
You cannot find a large master bedroom with a massive walk-in closet, en suite bathroom, and peaceful reading nook in your Cape Cod-style house.
2. Outdated features that need modernization
Older Cape Cod-style may have common problems of an old house like uneven flooring, smaller bathrooms, outdated kitchens, or unfinished basements. Hence, any significant renovations will require substantial investments and cannot be done by a simple DIY project.
3. Roof Problems
If the attic of a Cape is converted into a living space, it needs to have proper insulation and ventilation to avoid an ice dam and water drips due to the melting snow.
4. Shorter Lifespan of Shingles
The external and internal difference in temperature dramatically affects the shingles, leading to their shorter lifespan. Condensation of snow on the roof back and shingles result in a mold as there's not as much attic space or air movement to help them dry out.
5. Hot Attic Space
Cape Cod houses situated in warmer climates are difficult to cool during summer as the heat passing through the attic space makes the house's upper story very hot. Installation of an additional window AC unit upstairs may look very unappealing from the outside.
What Makes Cape Cod Style Home So Popular?
The sheer simplicity of Cape Cod houses has made them sustain through time and home trends since the 1930s. They are not just cost-effective to build but can withstand the cold climate of New England with ease. Additional features can make them functional and upgrade their aesthetics. Cape Cods have a manageable size and are efficient to heat. They are immensely versatile and enduring; they have been replicated to suit modern sensibilities using a wide array of materials in different parts of America. A well-proportioned Cape Cod-style house built ingeniously with suitable materials and maintained correctly can solve the housing needs of an average family living in America for a lifetime.
Materials Used In Cape Cod Style House
Cape Cod houses have been constructed using locally available materials around the New England area for ages. Here are some of the materials used:
Frames for the post and beams made with oak and pine wood

Brick

fireplace

Oak and pine wood were used for flooring.

Exposed and natural side shingles

Clapboard or natural cedar shake for roofs

Exteriors painted with white paint with black shutters.
Facts about Cape Cod Style House
These interesting facts about Cape Cod Style houses are sure to intrigue you:
Suburbs like Levittown, Long Island, and New York were developed with cape Cod-style homes in the post-World War II era for soldiers.

Architect Royal Barry Willis of Boston fuelled the popularity of Cape Cod-style homes during the Colonial Revival in the United States.

The Dugan residence and The Levittown House are some types of Cape Cod Architecture.

The pioneer housing development company to build more than 17,000 similar Cape Cod homes was Levittown.
Tips To Decorate a Cape Cod Style Home
In case you're looking for ways to revamp your Cape Cod home, here are some stunning ideas to try.
1. Bygone Treasures
Traditional décor items like classic furnishings, beautiful curtains, wooden accents, patterned or textured rugs, statement lighting, and grandfather clocks that bear testimony of the times of colonial America can nicely match this architectural style.
2. Neutral Colours
Choose a simple color palette with neutral colors that can lend your Cape Cod house a naturally elegant look, just as a blank canvas can offer opportunities to upgrade.
3. Ship Style
The Cape Cod architectural style is mainly found in the beachside homes of Massachusetts. If you're far from the sea, boat motifs can restore the coastal look to your home.
4. Beautification of Backyard
Match the neutral colors of the house to the bright and vibrant blooms of your garden. White picket fences with a rose garden can give the backyard space of Cape Cod houses some personality.
5. Exteriors with a creative color scheme
Instead of the signature white paint and black shutters on the façade of original Cape Cod homes, you can invigorate the exterior by keeping the siding natural and give the shutters a coat of rich forest green paint for a creative color combination.
Cape Cod homes' modest and practical styles have not just stood the test of time but retained their nostalgic aura even in the 21st century. Thus, the Cape Cod architecture still manages to inspire and capture the attention of the South and East Coast, along with the rest of the country.
Also Read:
Popular Ranch Style House Ideas
Beautiful Cottage Style Home Ideas
Nature Inspired Home Interior Decor Ideas