The Best Irish Movies You Must Watch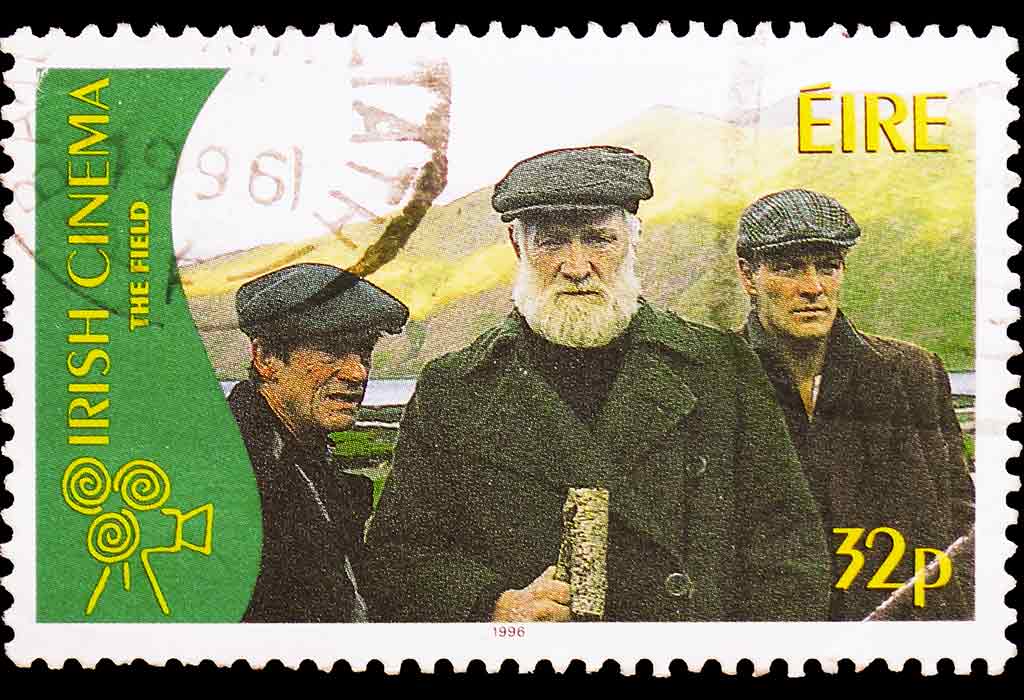 In this Article
Also known as the Emerald Isles for its lush natural landscapes, Ireland provides beauty, rich history, and captivating traditions unique to its culture. It is also known for its wonderful storytelling and regales the world with the fantastic record of its tragic tales of war, famine, and hardships. Dublin, the capital of Ireland, has been named a UNESCO City of Literature in 2010 for its profound written tradition.
Artists known worldwide, such as U2, Sinéad O'Connor, and Van Morrison, all hail from Ireland. The Emerald Isle has also provided a beautiful setting for "The Quiet Man," a movie by John Wayne. In addition, Irish filmmakers have proved their worth by providing the world with Oscar-winning films such as "The Crying Game" and "My Left Foot."
There are many more Irish movies that have the ability to draw you in, provide some comic relief, and capture your attention with drama. So, whether you are watching Irish movies for St. Patrick's Day, or if you want to enjoy good movies from around the world, the deep and fascinating world of Irish filmmaking will not disappoint!
Top Irish Movies to Chill and Enjoy
While watching exciting Hollywood Blockbusters can be a thrill, watching a movie with a smaller budget that deals with relatable issues are equally enjoyable. Here are some of the best Irish movies on Netflix and TV. With different genres included, there is a little something for everyone.
1. The Wind That Shakes the Barley
This Irish film stars Cillian Murphy and is set in 1920s Ireland.
Year of Release – 2006
About the Movie
The film is a wartime drama during the struggle for freedom against the British. The story can get rather bloody and bleak as we follow two brothers on their journey to freedom.
2. Song of the Sea
This Oscar-nominated animation will leave you and the kids spellbound. It is one of the most magical Irish movies for kids.
Year of Release – 2014
About the Movie
Irish mythology is fascinating, and this hand-drawn animated film has incorporated it well in this gripping tale. Here, we follow a young pair of Irish siblings: a little boy and his mute sister, who are on a mission to rescue the spirit world.
3. The Commitments
Directed by Alan Parker, this film is best watched without the kids.
Year of Release – 1991
About the Movie
This film is about a rock band in North Dublin who aim to share their beautiful soul music with the people of Ireland. Put this one on hold for a night without the kids as it has some vulgar humor.
4. The Secret of Kells
Gather up the kids to enjoy this delightful animated film.
Year of Release – 2009
About the Movie
This story follows a young Brendan, who travels to the enchanted forest on a quest and encounters some fascinating mythical creatures.
5. Ondine
Myths of the deep come to life in this drama.
Year of Release – 2009
About the Movie
Divorced and caring for a daughter with failing kidneys, Syracuse rescues women caught in a fishing net. Unfortunately, his daughter believes that she is really a mythological creature, known as a selkie.
6. Extra Ordinary
If you are in the mood for comedy, this one is a great pick!
Year of Release – 2019
About the Movie
Rose can see ghosts and needs to overcome her fear to help save a life.
7. Hunger
A captivating portrayal of what life was like in the Maze Prison in 1981.
Year of Release – 2008
About the Movie
This movie follows the events during the IRA Hunger Strike.
8. Into the West
The appearance of a white horse is the beginning of the adventure of a lifetime for two brothers.
Year of Release – 1992
About the Movie
This movie takes you on an adventure with two brothers attempting to rescue their horse from a seedy horse breeder.
9. The Crying Game
This thriller will leave you at the edge of your seat.
Year of Release – 1992
About the Movie
A volunteer Irish Republican Army befriends their British Soldier hostage and is then sucked into a world he was unprepared for.
10. Sing Street
Set in 1980s Dublin, this popular comedy is a must-watch!
Year of Release – 2016
About the Movie
In a bid to escape the stress of tense family life and to impress a girl, Conor and his brother start a band.
11. The Secret Scripture
An older woman staying at an asylum keeps a record of her life.
Year of release – 2017
About the Movie
Roseanne has lived in an asylum for more than fifty years. She is fiercely attached to her bible, in which she keeps a cryptic record of her young years, where she was involved in a love triangle with a fighter pilot and a priest.
12. The Boys And Girl from County Clare
This rom-com will hit the spot if you enjoy good music.
Year of Release – 2006
About the Movie
In the mid-1960s, a group of musicians aims to win the yearly Céilí Music Competition held in Ireland.
13. The Magdalene Sisters
This is the story of the hardships of life in an asylum.
Year of Release – 2003
About the Movie
Three Irish sisters are sent to live in Magdalene Sisters Asylum for unjust causes. The story follows how they try to keep their spirits up even in their abusive environment.
14. Once
A musical of the times that follow the adventures of two music lovers.
Year of Release – 2007
About the Movie
A Dublin-based Guy who plays the guitar meets a Czech girl who plays the piano. The Girl and Guy get together to put a demo together for the Guy to take to London. During their time together, sparks fly, and love blooms.
15. In the Name of the Father
Set during the conflict over Northern Ireland splitting from the UK, this thrilling tale will have your full attention.
Year of Release – 1993
About the Movie
Wrongly accused of playing a part in the Guildford Pub Bombings, a father and son are sent to prison, where they fight to prove their innocence.
16. My Left Foot
Daniel Day-Lewis does a spectacular job playing the role of Christy Brown in this drama.
Year of Release – 1989
About the Movie
Christy Brown can only move his left foot. His family is impoverished, but Christy Brown's spirit is never broken. Through hard work and determination, he becomes a successful writer and artist.
17. The Guard
This comedy thriller brings two very different people together for a big adventure.
Year of Release – 2011
About the Movie
An Irish cop hailing from a small town has to work with a duty-bound, no-nonsense FBI Agent as they try to bring down a cocaine-smuggling ring that runs on an international level. When unconventional meets strait-laced, comedy is always forthcoming.
18. Black 47
This movie is set during the Great Famine in Ireland.
Year of Release – 2018
About the Movie
An Irish ranger abandons his post fighting for the British Army so that he can reunite with the family he left behind. The destruction caused by the famine is much worse than any horror that he has witnessed fighting in the war.
19. Angela's Ashes
This film is based on the memoir by Frank McCourt.
Year of Release – 2000
About the Movie
The story is based on the true events in the Irishman's life. It captures the struggles and hardships of a family faced with poverty and living in the slums of Limerick.
20. The Quiet Man
This classic comedy was shot in Ireland and is the story of an Irish American who travels back home to escape his past.
Year of Release – 1952
About the Movie
When Sean moves back from America, he meets and falls for a poor and beautiful Mary Kate. However, her brother does not want them to be together and tries his best to keep them from being together.
21. Dancing at Lughnasa
This story is based on the play written by Brian Friel and stars Meryl Streep.
Year of Release – 1998
About the Movie
The movie is seen as the son of one of five unmarried sisters in 1936. The film is set in an Irish village and showcases the tradition, social guidelines, and economic difficulties people face.
22. Bloody Sunday
This film was set during the Irish Civil Rights March in 1972.
Year of Release – 2002
About the Movie
The movie is made to appear like a documentary and focuses on showing what led to the tragedy when British Soldiers fired on the protesters during the march.
23. High Spirits
This comedy will leave you in high spirits with its ridiculous schemes that have a twist.
Year of Release – 1988
About the Movie
When a hotelier decides to drum up more business for his ailing hotel, the staff pretends that the hotel is haunted. In a surprising turn of events, it appears that the hotel really is haunted.
24. The Hole in the Ground
If you enjoy watching horror now and then, this is the perfect pick for you.
Year of Release – 2019
About the Movie
A single mother and her son move to a peaceful home in the beautiful Irish countryside. Their home is located right next to the woods that contains a huge sinkhole. When she notices a change in her son's behavior, she fears that he is not really her son but a changeling.
25. Calvary
A priest is threatened during confession and must now fight against the dark forces that threaten to engulf him.
Year of Release – 2014
About the Movie
When Father James is told that he will be the substitute sacrifice to replace another priest guilty of abusing a child, he must find a way to carry on helping his congregation while also looking for his would-be killer.
26. Grabbers
This hilarious movie plays with the stereotype of the drunk Irishman.
Year of Release – 2012
About the Movie
Off the coast of Ireland lies an island that aliens invade. The unlikely heroes realize that the only way to survive is to raise their blood alcohol level.
Having a fun time does not always mean you need to go out and spend a ton of money. Staying home can be just as fun! All you need is a good activity that everyone can enjoy. Everyone loves a good movie night, so with this list of good Irish movies, you will be able to enjoy the creativity and talents of those that hail from the Emerald Isle. All you need is some popcorn, cozy blankets, and your choice of film.
Also Read:
Best Korean Movies of All Time
Fun Movies to Watch with Your Family
Christmas Movies to Watch with Your Family
?>