Summer Wreath – Beautiful Hangings for Your Front Door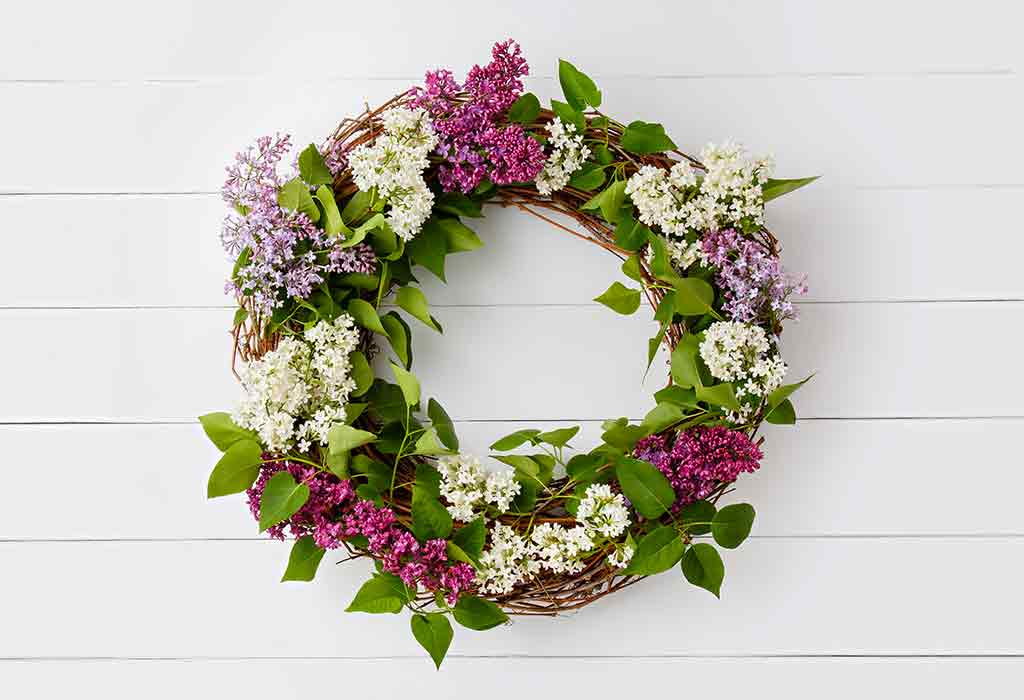 In this Article
Want to know the best way to accentuate your home for the summer? Summer Door Wreaths! Scroll down to know more.
Best Summer Wreaths Ideas for Your Front Door
Some of our favorite DIY summer wreath ideas are listed below:
1. Dried Flowers Wreath
Greet anyone coming to your home with a wreath made with stunning pastel-colored dried flowers. The cheerful mix of various flowers with dried leaves will make for a stunning outdoor décor idea!
2. Pom-pom Wreath
This is one of the most fun and vibrant summer outdoor wreaths ideas that you can try. Just make some multi-colored pom-poms with yarn and stick them on a circle fashioned from cardboard.
3. Crepe paper Wreath
Crepe paper offers versatility when it comes to doing DIY projects. You can make some stunning flowers and leaves in bright colors and decorate your wreath frame!
4. Seed packet Wreath
If you have loads of packets with stunning floral images, that calls for a stunning summer door decoration idea! Stick these on a frame, throw in some colorful buttons and bows, and you have a stunning wreath to flaunt!
5. Banana Leaf Wreath
Leaves fashioned from crepe paper will be used to make this fun tropical-themed wreath. Go for vibrant hues of green color to make this wreath that will lend a welcoming vibe to your front door!
6. Watering Can Wreath
With an old watering can and some artificial flowers, you can transform it into a quirky and trendy wreath idea. Paint the can in a bright color and assemble the flowers in it, and you are good to go!
7. Funnel Wreath
We have just what would excite you! If you have an old funnel at home, then assemble some fresh flowers in it and hang it on your door. Keep replacing the flowers as required, and you have the perfect spring-summer wreaths!
8. Cocktail Umbrella Wreath
Looking to lend a chic summery vibe to your wreath? We have just the idea that will scream summer to the core. Use cocktail umbrellas to make a wreath. Stick these funky umbrellas on a wreath frame, and you have a groovy wreath ready!
9. Driftwood Wreath
Wondering how to put your driftwood to good use? Easy! Make a wreath out of it. Get a metal frame and stick random-sized but similar shaped pieces to make an eye-catching wreath.
10. Crochet Wreath
Your crocheting skills come in handy here. Fashion some exciting summer shapes, patterns, or anything that resonates with the season, such as watermelon and crochet on a frame in a creative way.
11. Fabric Wreath
If you have colorful fabric lying around the house, you can use it to make a beautiful fabric wreath. You can cut various textures and colors of the fabric in long strips, tie them around a wireframe, and leave the ends hanging to create a funky summer wreath!
12. Ilex Berry Wreath
Get hold of some dried ilex berries and tie them around a wooden frame. Hang it with a big ribbon for a calm and serene summer wreath option to exude an earthy vibe.
13. Rainbow Wreath
Vibrant, colorful, and pleasing to the eye; that is what rainbows denote. You can get a similar feel in a wreath too. Get hold of some faux flowers in all the shades of a rainbow and stick them on a frame. Your wreath is ready.
14. Faux flowers and Butterfly Wreath
Flowers and butterflies as a combination look utterly pleasing to the eye, so why not fashion a wreath with this mix? All you have to do is get some faux butterflies and flowers, assemble and stick them on a frame for a nature-inspired wreath.
15. Felt Succulent Wreath
Get some pastel-colored felt sheets and cut some different sizes and shapes of succulent leaves. Stick these leaves on a metal wireframe. Now you have an adorable wreath ready for your door!
16. Paper Flower Wreath
Put your art and craft skills to use by making some single-colored paper flowers, preferably in summer hues. Glue them to a cardboard frame for a perfect summertime wreath.
17. Seashell Wreath
Exuding a perfect beach vibe in sync with a summer theme, you can put your seashell collection to use by sticking various kinds and shapes of seashells randomly on any kind or shape of the frame.
18. Straw Hat Wreath
Is there an enormous hat sitting in your wardrobe that you seldom wear? If you do, stick some single or multi-toned faux flowers on a side and hang them on your door as a cool summer wreath.
19. Wooden Number or Alphabet Wreath
Stick any wooden number, for example, your house number, on a wooden frame and accentuate it by adding some faux flower arrangement to fashion a unique wreath for your front door. You can do the same with alphabets.
20. Grain Sifter Wreath
Paint and polish a grain sifter in summer colors. Use a fresh or faux flower arrangement to sit on one of its ends. Hang it with a ribbon to fashion a funky wreath.
Wreaths do not take up time, and you can always tweak them to match your own summer curb appeal.
Also Read:
Wall Décor Ideas for Your Home
Summer Makeover Ideas for Home
Ideas to Decorate Home With Flowers