Stylish Outdoor Fireplace Ideas to Create a Dramatic Look to Your Backyard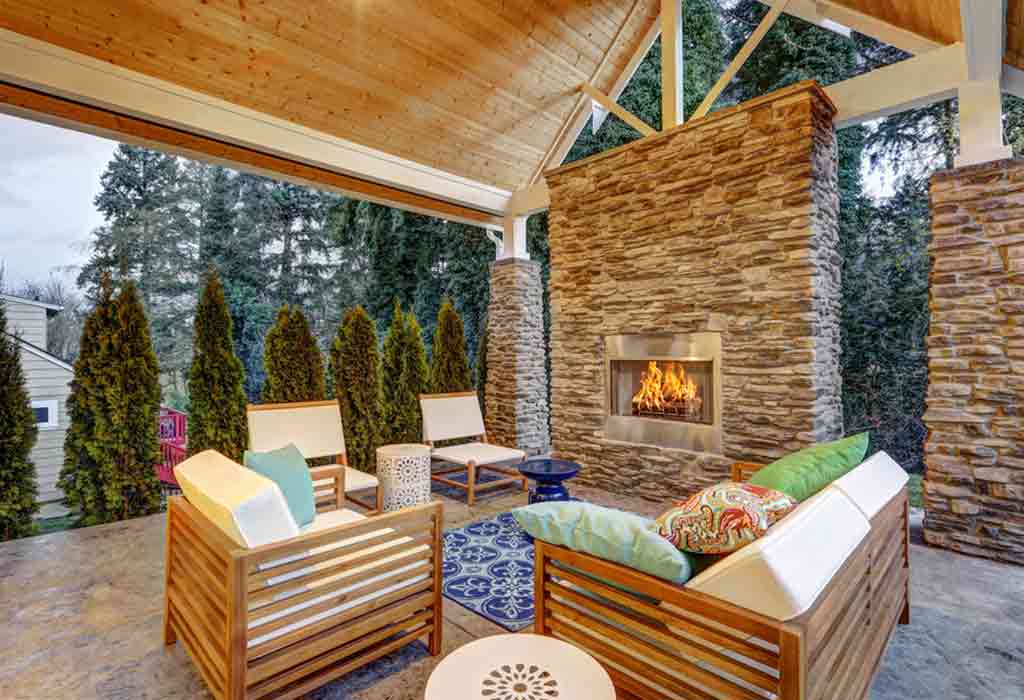 In this Article
An airy outdoor fireplace in the patio or deck helps create an ideal place for entertainment and establishes a stunning focal juncture. They add an amazing element for all those who like spending their time with family and friends outdoors. From rustic to trendy, discover a fireplace design that suits your living style.
Top Outdoor Fireplaces Ideas for Deck or Patio
Fireplaces are incredibly stylish yet very practical. Listed below are a few ideas to prep up your backyard game and make it a perfect weekend spot.
1. Woody Outdoor Fireplace
Enjoying the patio season in a modern setting is just what you need to grab attention. Light up those logs in wooden outdoor fireplace designs with pretty details. Use natural colors for the wall and ceiling to contrast the woody setup. Add a bit of character by scraping the edges to round the corners of the fireplace using a draw shaver.
2. Landscape Fireplace Setting
Create that ultimate outdoor dining space with a stucco outdoor fireplace. Give it a touch of elegance with ornate detailing on the top. Simple metal furniture will go exceptionally well for this kind of setup. Add a pinch of drama with lanterns and windchimes.
3. Statement Outdoor Fireplaces
If you are someone who loves minimalism and does not intend to go overboard with hardscaping, all that you need is the touch of statement colors. It is simple yet catches all the attention your outdoor setting needs. Opt for cherry blossoms or bougainvillea and let the colors play the game. Make sure you team up with matching upholstery.
4. Stargazing Fireplaces Outdoors
Open pergolas are so much fun in the summers. Small outdoor fireplace ideas create a super comfy sitting space by the firepit. Throw in lots of cushions and runner carpets in bright colors to add style, and you are good to go stargazing in your backyard. You may also opt for the new age operable pergola roofing systems to take you through all seasons.
5. Fireplace With Tiles
If you love that sophisticated indoor feel and want the same in your outdoor settings, all you need is tiles. Textured tiles with a decorative finish are great to add a modern twist around fire pits.
6. Outdoor Fireplace With a Setting to Cook
If you love hosting parties in the backyard and show off your culinary skills, you might as well add a cabin-style chimney to cover the fire pit. It adds a lot of character to the setting while giving out those living-in-the-woods vibes.
7. Firepit by the Pool
So, you already have a superb backyard setting with a pool. Build a sleek design fire pit to match the vibes excellently. Organize some low-seated sofa pieces in grey to match the style vibes of the place.
8. Transform the Unused Wall
An alight-head wall with a built-in fireplace looks sophisticated, elegant, and perfect for the minimalist you. Give the firepit a steel surround finish to add optimum style. Since this is an integrated setting, make sure you use manufactured solid fuels or low-emission dry wood. For added comfort, add some pillows in earthy colors to the seating area, flanking the fireplace.
9. Al-Fresco Dining Spaces
Turn your outdoor dining area into a happening corner by installing an outdoor firepit. Make some space to store the log woods too. Styling wooden furniture pieces with comfy pillows will make it up to the entire setting.
10. Vintage Style Outdoor Fireplaces
Dive into timeless memories with vintage-style inspired flooring with matching upholsteries. Introduce an eclectic fire pit to bring in the old-world charm. You may also try getting a hammered copper one. Add rocking chairs to make the setting a perfect backyard retreat.
11. Indoor Style Outdoor Patio Fireplaces
Creating that indoor space outdoors is not an arduous job. A few modern outdoor fireplace ideas include luxe pieces around the elegant mantle will do. Paint the walls in white hues and use perennials fabrics in subtle colors. Use zebra prints to add that classy feel to the overall setup.
12. The Hot and Tiny Backyard Fireplaces
Are you wondering whether you can have flickering flames in your tiny backyard? Grab a cute-looking fire bowl and place it in a stony setting. Add low seated wooden furniture with bright and colorful cushions to complete the look.
13. Fireplaces With an Old-World Charm
Revamp your backyard and travel back in time. Use smoky bricks to cover the fireplace for a rustic setting. Grab furniture pieces in cane along with a classic candle chandelier rigged to a tree. Pillows and cushions in white hues will balance out the overall color scheme.
14. Rustic Firepits DIY Styled
Remember the camping nights of your summer camps? Collect pieces of rock and bind them together with concrete to form a firepit. Add a burst of colors with bright statement furniture to relive the memories.
15. Two-Sided Fireplace Outdoors
The two-sided fireplace works as a room divider too. Available from both sides, you can divide the place into a dining area and relaxed seating space on the patio. Accents on the fireplace, like the chimney, work to make the climbing piece look more grounded.
16. Conventional Backyard Fireplace
A freestyle fireplace that features simple stones and clean lines adds warmth to the airy retreat. The minimalist look of the fireplace has the reminiscence of the traditional designs in Asia. Accentuate the look further with the furniture pattern and the big area rug.
17. Beautiful Outdoor Fireplace
A fireplace outside in the patio adds an attractive focal point. Besides giving a good dose of personality, it also guarantees the little seating arrangement is used after the sunset and in different seasons, keeping you cozy.
18. Western Fire Pit
Use chairs made from trees, framed with big rocks, and envelop with more stonework for a rustic in-ground fireplace. This will enhance your autumn fireplace with a decor that screams fall, allowing you to get warm and cozy in the chilly outdoors.
19. Separate the Spaces
Sitting by a bonfire or an outdoor fireplace is the most extraordinary way to spend the night, especially during summers or getting warm on a calm evening during fall. To create outdoor patio fireplace ideas as a hangout area, you must give it the vibes of an intimate corner within a bigger patio. Use some tiles with a pattern that can help the fireplace stand out.
20. Fireplace by the Pool
With contemporary fireplaces that come in a bunch of fashions and essences, you can pick one that completes your pool in the best way possible. From the elegant to the most basic to those wrapped in unique stones, a glimmer of sparkling flame near the refreshing pool provides an entirely new tone to the outdoor space.
21. Stone Fireplace
Stonework enhances visual interest in the stunning outdoor fireplace layout. Outdoor stone fireplace ideas are earthlike and understated color enhances the rustic view of the fireplace outdoors. A stucco-finish fire pit enhances the textural attention to the outdoor gathering room.
22. Backyard Fireplace Parties
Turn an unused corner of your backyard into a party place. Add screen space on the wall above your fireplace to enjoy football viewing and Thanksgiving parties in style. Furnishing in neutral hues and tints with natural textures enrich the modern-rustic taste of the outdoor space.
23. Outdoor Brick Fireplace
Brick comes across on many surfaces all over the covered patio. The brick fireplace will act as an extension of the floor and the closed columns, with its climbing height making it the primary focus. Bricks organized in the herringbone structure on the interior of the fireplace add a speck of delightful contrast.
24. Painted Outdoor Fire Pit
Painted brick on the surface of this house is duplicated on the firepit surrounding the patio too. A big seating area can accommodate your family and the guests. Elegant wall decor and a neat coffee table enhance interior-like relaxation and comfort.
25. Color Themed Fireplaces
Chilling out as you warm up in the cool weather alongside a fireplace makes for a good leisure day. Play with lots of contrasting colors and patterns, or opt for a statement color. Use natural and subtle colors for the seating to give that classy touch. It will make your patio the most exciting hangout of all seasons.
When designing homes, many homeowners have begun to recognize the allure of bringing in an outdoor firepit. You can decorate the outdoor firepit in intricate or straightforward ways. In little time, you'll see how it enriches your backyard's image. Though it needs some effort and planning, the result will undoubtedly be worth it. Throw a runner with a splash of your favorite color to give the dramatic effect, and you are all set to welcome the cold in style.
Also Read:
Landscaping Ideas for Your Home Yard