Stunning Farmhouse Decorating Ideas For Your Home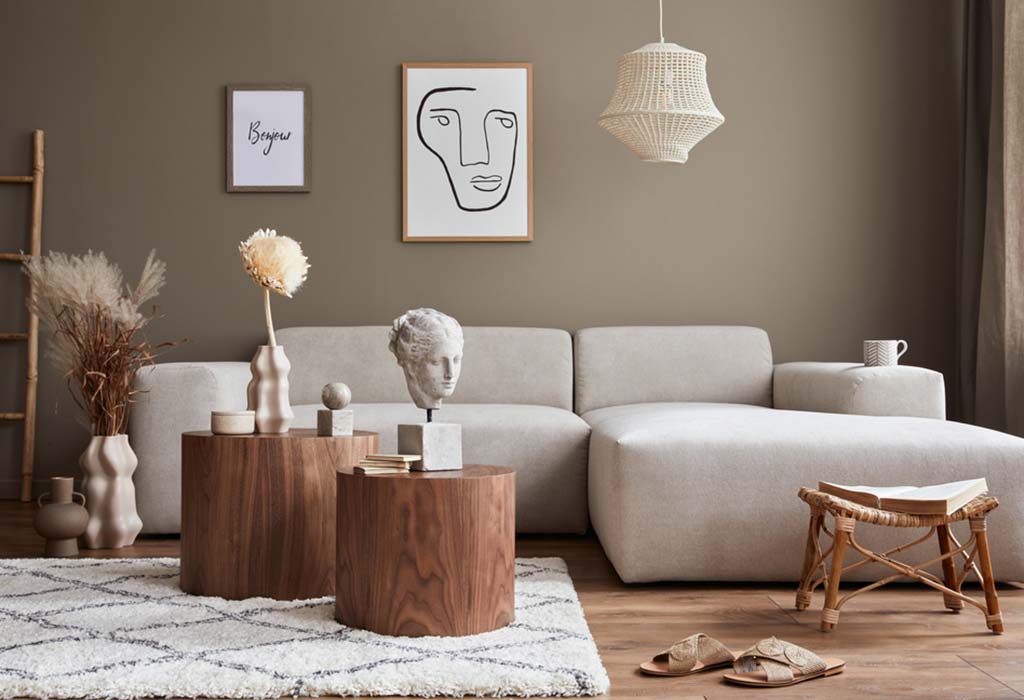 In this Article
Modern farmhouse decor is all about a vibrant mix of the old and new. It combines stark minimalism with country chic elements that celebrate individuality, freedom, and functionality. It is a nod to the past while achieving a balance between classic and the new. Here are some farmhouse decor ideas you can use for your home.
Best Farmhouse Decor Ideas for Your Living Room or Bedroom
You don't have to live on a farm or even in the countryside to give your home a farm-fresh look. Inspired by a farmhouse building, a farmhouse style decor is simple, warm traditional, and chic with a modern touch of style. To keep a farmhouse from looking too "country kitsch", there needs to be a balance of old and new. Whether you have a century-old house on acres of land or a newer house in an urban metropolis, a few basic design principles can just give it a sophisticated look with cosy farmhouse aesthetics.
Farmhouse style is the perfect blend of modern and rustic that is clean, minimal, and savvy yet homely. Modern farmhouse decor combines the sleek, clean lines of contemporary design to create a uniquely fresh take on the country living inspired style. Characterised by natural textures and materials, the modern farmhouse design movement can transport you back to simpler times with a Southern charm. Striking just the right balance of pastoral and refined, country yet eclectic, modern farmhouse decor emphasises comfort and casual living with sensibilities reflective of today's times.
From pared-back colour palettes to modern typographical art displays, these fabulous farmhouse decorating ideas bring with it a relaxed and soothing spirit that's inviting without a hint of pretension. While keeping in tune with nature, it always focuses on functionality. But, before you start any design project or update, planning is key.
Carefully survey your space and consider every element and detail like the flow through a room, lighting, furniture scale, and placement. Keep the focus on practicality and functionality. Furnishings and storage solutions should, therefore, take centre stage for farmhouse bedroom decor even before you begin to usher in decorative elements. Mix eras and elements so that your decor can radiate alluring features and plays of textures.
Colours create statements of the space. Hence, choose bright or neutral colours that emphasise rustiness. Look for interesting light fixtures, unique hardware, heirloom hand-me-downs, vintage accessories, and arty decorative add-ons with an eclectic vibe so that your farmhouse living room decor reflects your elegant taste in home interior design. For farmhouse dining rooms, worn, earthy, and vintage materials and understated designs need to be incorporated that bring home cosy rustic effervescence that trumps extravagance. In case you want the cute yet luxurious version of the old farm looks in your living room or bedroom, here are the best farmhouse decor ideas with a fresh spin on rustic elements and timeless appeal.
1. Vintage Furniture and Upholstery
Mix and match old-style furniture, like your new sofa with vintage side chairs and tables, an old chest paired with a new bed, or rewired vintage lamps in each room to lend character and bring some history into your home. Leather can be a great choice as sofa upholstery is farmhouse-style. Retro and contemporary woven fabrics for upholstery items can be used to match up with the vintage decorating schemes.
Cushion covers with typography prints, motifs or linen stripes, drapes with jacquard, chic floral, or tapestry prints or laces are perfect for bringing out the rustic feel of your bedroom or living room.
2. Reclaimed Wood
Whether old or new, reclaimed wood has an earthy fragrance and organic appeal. Old-weathered wood can be used on floors, walls, like furniture, and as shelving too high or vaulted ceilings to lend character and warmth. Old wood created of salvaged wood look striking and stylish, adding a natural feel to interior design while creating a charming country home atmosphere.
3. Neutral Colours on the Walls
To achieve a farmhouse look, go for neutral colours like soft beige, cream, or even grey. Avoid dark or bright colours, and try to keep the walls all within the same colour scheme to set a calm tone that helps blend everything together. A pure shade of white opens up a lot of avenues allowing you to customise the room with boho décor elements in terms of carpets, showpieces, paintings, and furniture.
4. Mix Old and New Elements
Mix old items with contemporary items to create a fresh yet laid-back vintage look. Incorporating the vintage and using it in a practical sense is a big factor in farmhouse style. Blending modern trends with inherited pieces and items that have sentimental importance is what makes our homes unique.
5. Wired Basket
Adding wired baskets with a distressed finish is a simple way to give a rustic farmhouse feel to your home. Try adding a few to the wall to keep plants or even using a large one to store soft toys or pillows in your living room.
6. Botanical Prints
Light and airy botanical wallpaper with vintage illustrations reflect the myriad colours of the natural world. A full range of florals or foliage prints hung sparingly in a small space such as a bathroom or a hallway look gorgeous without being imposing. They complement rooms of just about any colour, creating a show-stopping moment.
7. Farmhouse Light Fixtures
Creative vintage lighting can not only brighten up your days but change the vibe in any room without a lot of expense or time. Brass lantern style lights, old chandeliers, half chrome lights, or LED light bulbs create an ambient glow for your vintage lighting.
8. Paint Old Furniture
Freshen up your old worn-out furniture with a fresh coat of paint. However, keep in mind that some furniture is better left in its natural colour. Match them with the wall colour to bring coherence to the overall look. You can even lend a distressed finish to your existing furniture for a beautiful aged look.
9. Swing
No farmhouse décor is complete without a swing chair hanging on the front porch or living room. The seat can be of natural materials like cane or wood. Layer it up with plenty of cosy textures and cushions that would drive your stresses away easily.
10. Iron Bed
A retro-inspired wrought iron bed adds an unexpected touch of industrial charm to any bedroom. Its simple, sleek, lined, and raw design will complement rooms of any style and décor, while the sturdy construction will provide full support and comfort to the body and mattress.
11. Firewood
Even though Christmas is over, the rustic touch of lumber can liven up any entryway, front porch, bedroom, or living room. You can update an old fireplace with plenty of candles and votives on the mantelpiece to add to the ambience. Storing logs in a log basket can complete the cosy charm as you snuggle up in vintage armchairs placed near it.
12. Panelled Walls
Textured country-look panelling for the walls creates a 'cabin in the woods' feel that's lovely for a restful bedroom. A polished wooden finish, with vertical or horizontal stripes, gives your home a natural look at minimum expense.
13. A Ladder
A ladder can be used creatively to spruce up your rustic décor theme. Used both for storage and decoration, it can be adorned with potted plants, creeping vines, books, clothes, or accessories to this unconventional utility item.
14. Antique Items
Instead of shopping at the mall or typical box stores, try shopping for interesting antique items at the local antique shops and thrift stores that sell mass-produced items. Visit auctions for rare collectables and farm sales for diverse natural goods that can add personality and charm to your farmhouse décor.
15. Farmhouse Coffee Table
A heavy, well-built farmhouse coffee table overflowing with rustic charm can add substance and style to your living design, making it into a prime place to make memories with family and friends. Made with unfinished, reclaimed, or imperfect wood, it will stand the test of time and look visually striking. However, a modern farmhouse table with a lighter aesthetic finish can complement your traditional décor.
16. Barn Doors
Not only do barn doors cry out with rustic style, but they also look wonderfully organic and free up floor space. Moreover, they are an excellent alternative to a swinging door and safely glides along the track. Being incredibly stylish and versatile in design options, natural wood doors with metal hardware accents look great in any rustic, industrial, or nature-inspired setting.
17. Stone flooring
Stone flooring sets the tone for a rustic atmosphere in the living room or hallway. Cover it with intriguing antique rugs to soften and warm the hard surface. A high polish creates a luxurious, contemporary style while honed marbled surfaces look more traditional. Make sure they are easy to clean and have a slip-resistant finish for safer use. Porcelain tiles have a natural, rugged look that is perfect for creating industrial-style interiors.
18. Exposed Brick Walls
Your minimalist, rustic living experience is incomplete without exposed brick walls. Keep it simple to show off their original state, whether in stone or brick, to create an organic feel to your decor.
19. Add a Nook
Small rooms and secret spaces full of intrigue make up a country home. So, fill a deep window nook or alcove with a closet bench, bookshelves, and comfy cushions to create the same illusion with an enchanting place to escape to and enjoy the outdoor country views. This cosy space takes advantage of tall windows or an unused corner of the living room. A window seat within a large bedroom is the perfect place to relax and read books.
20. Vintage Signage
Vintage signage and typography have their own story and history, creating a one-of-a-kind look for modern farmhouse decor. Shop for genuine vintage plaques at flea markets or stencil your own heart-warming quotes on pieces of pallet wood. Hang up wall art in the bedroom, thankful-quotes in the living room, or against a shelf to make it a focal point of your room.
21. Exposed Ceiling Beams
Inspired by the look of a barn, exposed wood beams add drama and add a grand architectural detail to your home décor. Whether you call them vaulted ceilings, pitched ceilings, or cathedral ceilings, exposed ceiling beams bring a rustic yet elegant look to an existing home.
22. Open Cabinets
Minimalistic wooden open shelves or floating wooden shelves can be used to display books in your living room. Potted plants in your study, photo frames in your bedroom, and all kinds of vibrant collectable items can add to the charm. They not only open up small spaces but are practical and affordable, too.
23. Add Natural Elements to Your Home
Nature plays a great role in your farmhouse interiors, so recycle natural elements to add a cost-effective rustic charm to your house. Wooden crates can be reused as shelves, a tree branch with autumn leaves as a statement wall hanging in your bedroom, or a collage with dried flowers as wall art can calm your senses and make you feel in one with nature. Keeping indoor bulbs, or keeping low-maintenance potted plants like succulents, cactus, or just adorning your room with a fresh bouquet are ways to cheer up the room.
24. Picture Frames
Most farmhouses have a nostalgic feel about them. So, treasure your memories with family photos to personalise your style. Frame them with varying types of wood that add rustic sentimentality to your farmhouse living room décor.
25. A Large Dresser
A solution to every storage problem, a large dresser in distressed wood is a farmhouse-style staple that can be an heirloom piece for generations. Place it in the bedroom or living room and finish the country look by popping decorative vases, plenty of framed photos, house plants, candles, and antique glass jars on the shelves.
A love for farmhouse aesthetic shows no signs of waning. The rustic charm of such a décor compels individuals from all walks of life to bring it into their own space. Use creative ways to learn the nuances of this trend by embracing natural elements and celebrating the beauty of imperfections to perfect this stunning style.
Also Read:
Nature Inspired Home Decorating Ideas
Theme-based Decorating Ideas for Living Room
Best Joyful Spring Decor Ideas for Your Home