Stunning Backyard Ideas for Dogs to Keep Them Safe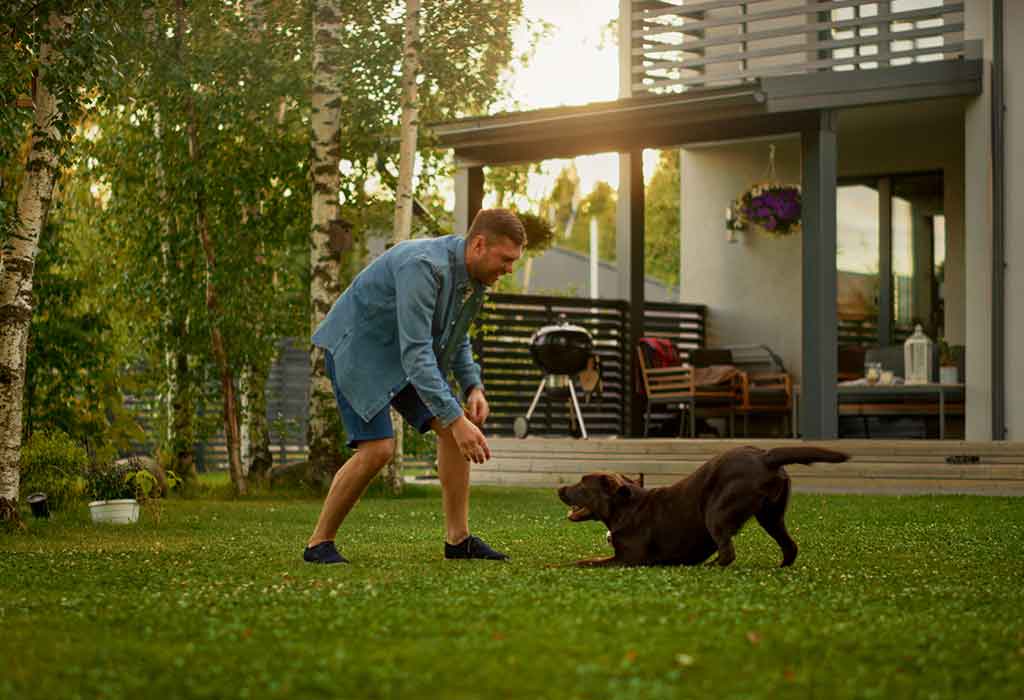 In this Article
Before you design a dog area in the backyard, keep in mind your dog's character, routines, and habits to create the perfect dog-friendly backyard. The below-given list of backyard dog area ideas to convert it into a dog-friendly paradise are sure to convince you to renovate your backyard even if you had never thought of it before.
Amazing Dog-Friendly Backyard Ideas
Dog-friendly backyard designs allow your furry playmate to play to their heart's content while staying within the boundaries of your yard. Below are some excellent design ideas that you can quickly implement.
1. Fencing
Keeping your dog safe within the premises of your backyard is essential. Fencing is one of the best small backyard ideas for dogs that you can replicate on a budget while making your backyard look classy. Ensure the fencing is sturdy to keep your dog inside and does match your landscape style. Your dog's head shouldn't get stuck between boards. Adding plants and creepers is a good idea to make it feel natural for your dog.
2. Shade & Shelter
A classic cozy or a modern dog house will never go out of fashion if you have a spacious backyard. For hot summer days, there needs to be enough shade and shelter for your dog. Additionally, chose the right kind of trees for your garden that is pet friendly to provide natural shade and give them respite from the scorching heat of the sun and allow them to nap, cool down, and rest.
3. Convenient Pathways
A well-defined pathway will keep your dog away from flower beds and other plants. While the paths make your backyard look gorgeous, they will encourage your dog to play, hunt, and explore areas free of any obstacles. They will find their unique corners and nooks to calm themselves. However, take care to use shock-absorbing, soft materials that will not harm their paws or joints.
4. Doggy Playground
Make sure there is enough place for your dog to play, run around and get tired. This will keep your dog happy and entertained when you are not everywhere at home. If you do not have enough backyard space, then get tunnels, balance beams, agility rings as fun obstacle paths to use all their energy.
5. Drinking Spot
Dogs do need to drink water when they are playing outside, and a source of clean drinking water is crucial. A drinking spot, hence, is an important aspect. While you can put fresh water in a bowl, using a pet fountain makes it easier for you and your dog to quench their thirst quickly.
6. Dining Area
It's an open secret that your dog loves to enjoy their snacks and meals. While having a dining area for yourself, setting up a dining space for your dogs is a good idea too. In good weather conditions, it will allow your pet to dine with you outside. This will help them keep off from your table and chairs. Building a platform to keep food and water bowls is a good idea.
7. Sandpit Area For Digging
Like it or not, dogs love digging. It's a great addition to the backyard designs for dogs. Make a space in your backyard for your dog to dig and bury toys and bones. This simple DIY dog area in the backyard is a fantastic way to satisfy their urge to dig and not spoil your yard's rest. You can use this space to hide stuff and reward & praise them when they dig it out.
8. Glass Dome Peep
Having a glass dome peep added to your backyard fence is an excellent idea. You can easily install it in wood, drywall, vinyl, and other materials. It will provide them a safe view of the outdoors and alleviate your dog's curiosity within the restricted fences. It will help prevent your overly curious dog from jumping over the fences. It's an excellent way to keep them entertained when you are out and also expanding their horizon.
9. Dog Shower
Your dog loves to play wild and dirty in the backyard to the best of its ability. Adding an outdoor dog shower will prevent muddy paw tracks inside your house and save you a lot of time cleaning indoors. Give your dog a good shower before they head inside.
10. Toxin-Free Landscape
The landscape of your backyard needs to be toxin-free. Avoid plants that are dangerous for your dongs to eat. If eaten, plants like chamomile, peppermint, and valerian herbs will keep your dog healthy and happy and prevent it from barking continuously. The materials used for the landscape should be easy to walk on, not get too hot for their footpads. Chose smooth pebbles, flat rocks, bricks, Bermuda, or fescue grass.
Your backyard is a haven for your dog. Use the above stunning backyard dog area ideas to make it an ultimate relaxation area for this furry family member of yours. It's an excellent place for them to breathe in the fresh air, exercise, play and keep their mind occupied.
Also Read:
Essential Dog Commands You Can Teach Your Pup
Best Guard Dogs Breeds in The World
Easy Steps to Groom Your Dog at Home