Step-by-step Guide to Apply Henna (Mehendi) on Hair for Beginners
Henna is a natural plant-based dye commonly used to colour hair. Henna powder is used to make a henna paste along with other ingredients to be put on hair. It offers several benefits for the hair including neutralising dandruff, scalp nourishment and boosting hair growth. Applying henna on hair can be a bit cumbersome as it tends to leave reddish-brown stains. However, that's nothing when compared to the damage inflicted by chemical dyes on hair. Pure henna provides only orange-reddish tones, but other things can be added to get diverse colours.
12 Amazing Benefits of Henna for Hair
For centuries, women have tapped this scented herbal plant's magical properties to beautify their tresses. Before smearing henna on the hair, ensure your hair is oil-free. Putting henna on an oily scalp may not produce the desired results. Some of the benefits of using henna powder for your hair can include the following:
1. Advances Hair Growth
The natural abilities of henna can stimulate hair growth. Most people may like to know how to use henna for hair growth. Henna powder can be employed to form an essential oil which can encourage hair growth. Simply boil gingelly oil and henna powder together for about 10 minutes, and apply this oil three times every week for optimum results.
2. Lessens Hair Fall
Henna, when used in combination with mustard oil, can be a useful solution for hair fall. Boil some mustard oil along with a few henna leaves for about 7 to 8 minutes. Massage this oil into the scalp and hair twice a week to prevent hair from falling.
3. Conditions the Hair
Henna can provide deep conditioning to the hair and scalp, thereby making it grow faster and leaving it feeling gorgeous. All you have to do this blend sufficient henna powder into a normal tea decoction to make a thick paste. Add some lemon juice and curd to the mixture. Spread this paste on the hair and wash off after an hour.
4. Prevents the Occurrence of Dandruff
Regular use of henna on hair can not only cure dandruff but also stop it from recurring. For this, make a paste out of soaked methi seeds, mustard oil and henna powder. Spread on this paste on the scalp and hair and wash it off after about 40 minutes. Remember to condition afterwards.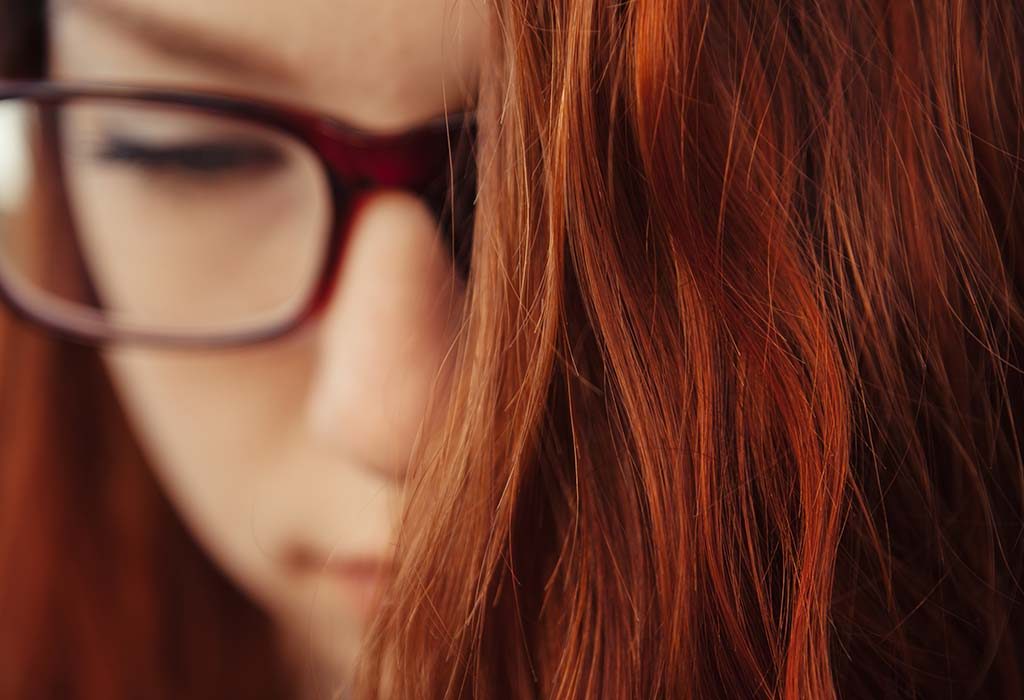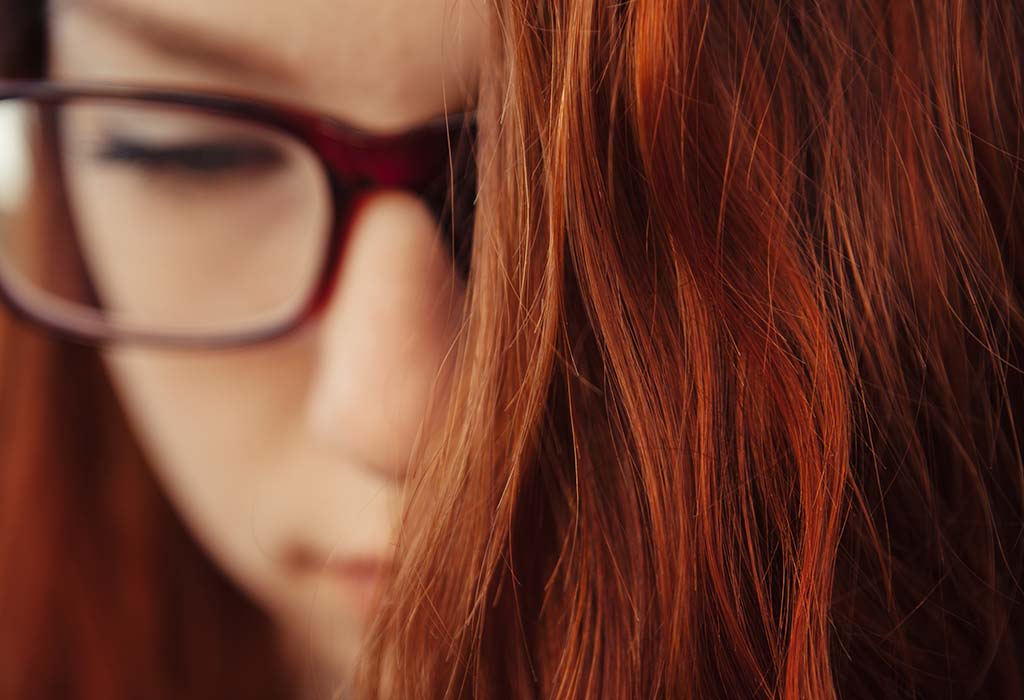 5. Arrests Scalp Itchiness
Henna's antimicrobial and anti-fungal qualities can soothe and cool the scalp which may help in controlling scalp itching. Just grind henna leaves with some neem and tulsi leaves and little water to create a smooth paste. Smear it on the scalp and rinse it off after 40 minutes for a better and healthier scalp.
6. Natural Hair Dye
Henna is a safer substitute for synthetic hair dyes which are full of chemicals. It is a herbal plant and not ink. It has no bleaching elements which can lighten the hair tone. Thus, it is non-damaging for the hair. You can make a mix of henna powder, honey and egg and soak it in an iron bowl for a richer, deeper colour. Be sure to put this mix only on the hair strands and not on the scalp as it may dry it out. Also, adequately oil your hair later to thwart drying.
7. Repairs Split Ends
Dry and spoiled hair are often susceptible to split ends which can further damage the hair. Henna can interrupt this vicious cycle by nourishing and intensely conditioning the hair.
Prepare a mixture of henna powder, an egg and avocado oil. Add some water if it appears too thick. Apply this mixture on your hair, making sure to cover every strand. Leave it on for about two hours before washing it off with warm water.
8. Maintains pH Balance
Henna can help restore the natural acidic balance of the scalp by keeping it free of bacteria, fungus or dandruff thus preventing hair loss. It may also assist in removing oil and dirt from the scalp keeping the hair cuticle healthy and closed in comparison to chemical-base products.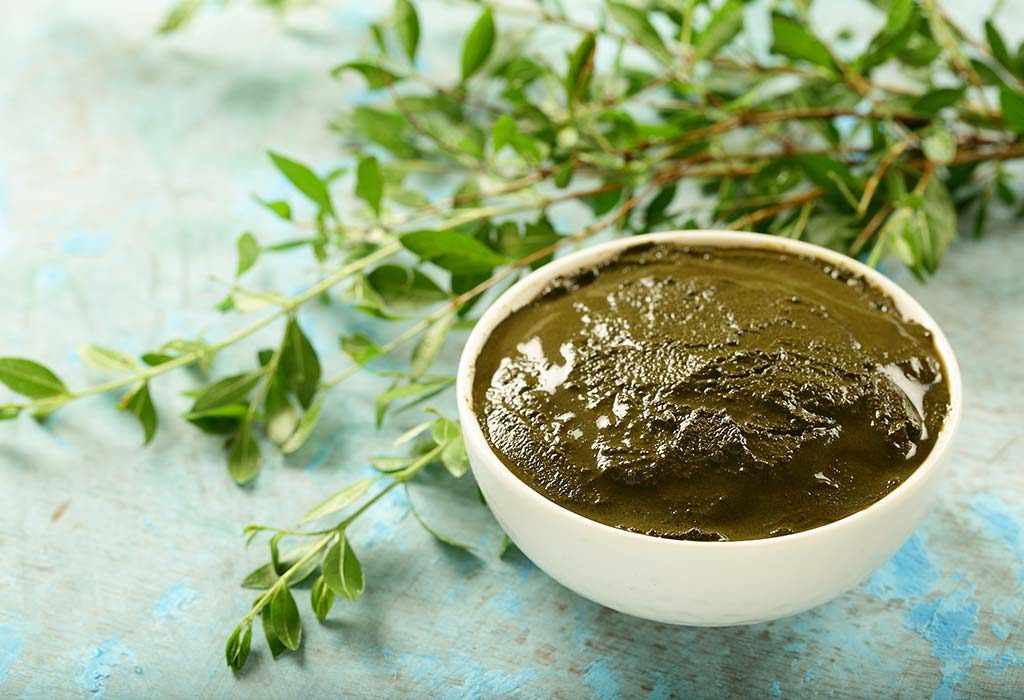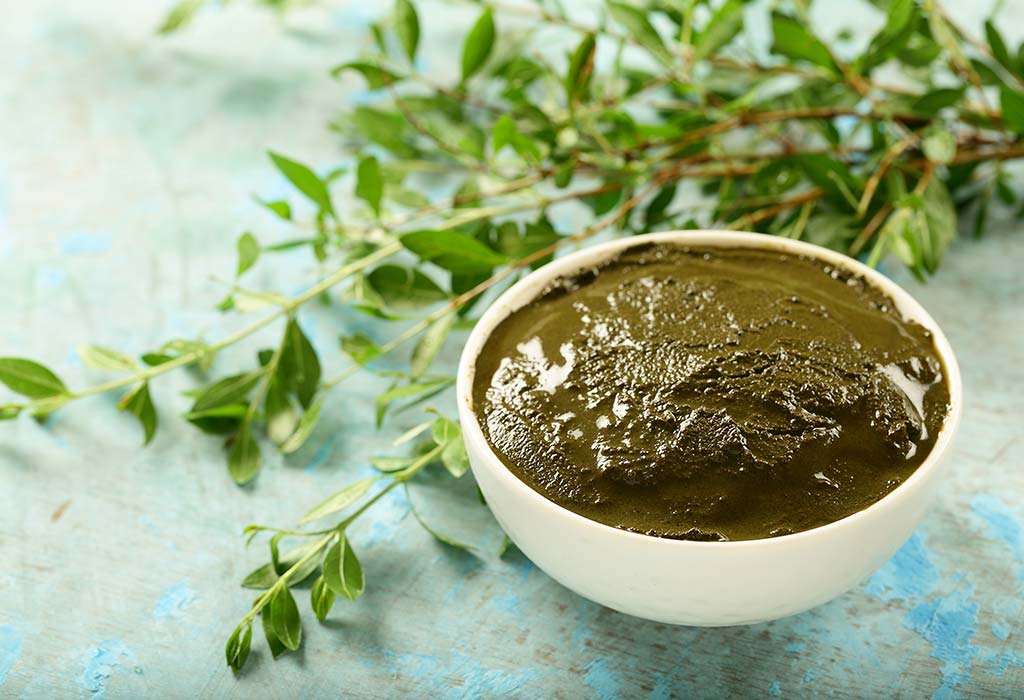 9. Makes Hair Lustrous
Henna does not only enhance hair growth but also adds more volume to it by making it thicker, stronger and well-nourished. Merely soak henna powder in some black tea overnight. Then squeeze lemon juice into this hair pack. You may add little curd or an egg to this mix. Cover all your locks with this paste for about 30 minutes before rinsing it off with warm water to get shiny hair instantly.
10. Makes Hair Soft
Henna with its nourishing abilities can turn damaged, dry, unhealthy hair into smooth, soft and manageable tresses. Only blend a mashed banana with henna which has been soaked overnight in water to form a thick paste. This banana-henna conditioner can be a substitute to your regular conditioner. Apply this mix onto your hair and keep it for 15 minutes. Rinse it off with cold water to get glossy and radiant hair.
11. Advantageous for Oily Scalp
The oily scalp can attract dirt easily, generate more dandruff as the sebum glands tend to clog the roots of the hair, which in turn causes excessive hair loss and dull looking hair. A pack made by mixing henna and multani mitti can aid in tackling all the common problems of an oily scalp, thereby fostering healthy hair. After applying the hair mask, wrap your head with a towel. Allow the mask to dry before washing it off with your regular shampoo.
12. Beneficial for Dry Hair
Dry hair looks frizzy and lifeless owing to the loss of natural hair oils. You can pump some life and vitality back into limp hair by applying a hair mask made of henna, olive oil and warm coconut milk. Keep in mind that the measure of henna should be twofold of olive oil. Spread over the mask evenly on your scalp and hair and leave it on for an hour or so. Wash off with shampoo and use conditioner afterwards.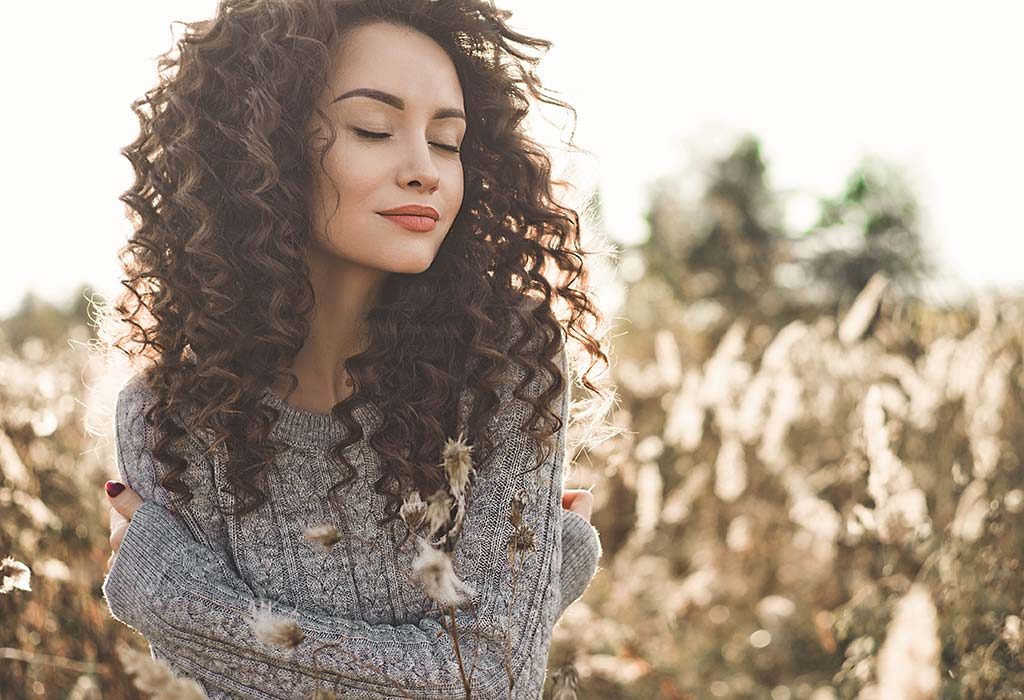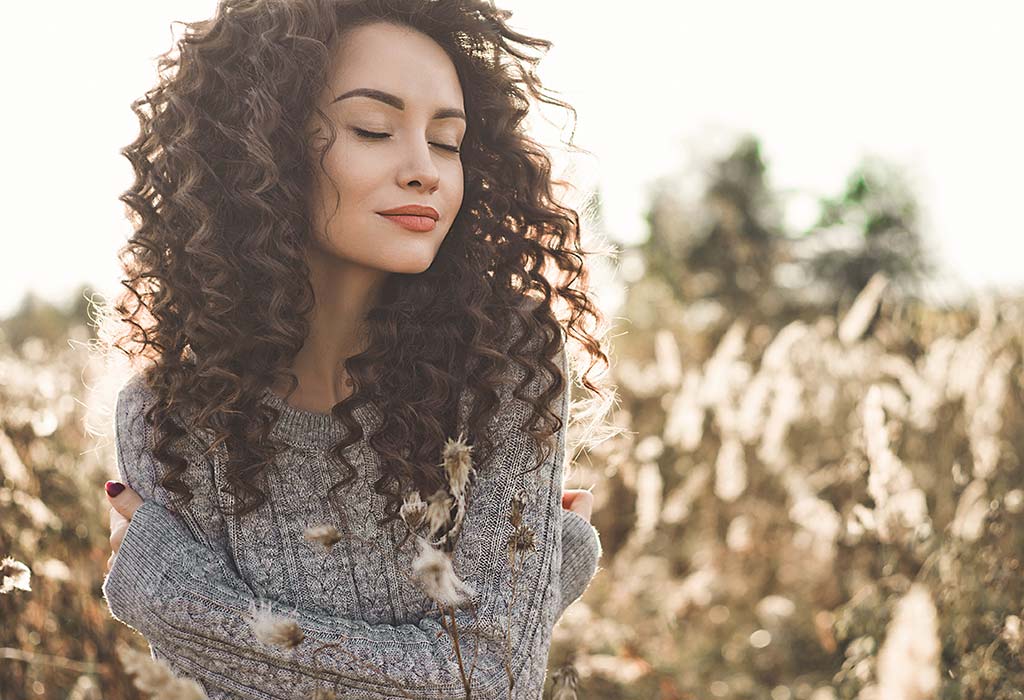 How to Apply Henna (Mehendi) on Hair
Most people may commonly ask how to use henna for hair or how to mix henna for hair. Applying henna on hair can be somewhat messy. But you can always take simple precautions to avoid staining your forehead, ears or surroundings. The key to putting on henna is mainly about its preparation as the powder ought to be mixed and allowed to sit for a few hours before application. Therefore, ensure to prepare the henna mask well in advance. You can follow the mentioned steps to use henna for hair:
1. Apply Coconut Oil
Rub on some coconut oil, petroleum jelly or body butter onto your forehead, neck and ears before starting to put the henna pack on your head to avoid it from leaving stain marks. You can also opt for a headband to protect your face.
2. Shampoo Your Hair
Before applying henna, you need to clean your hair. Use a mild shampoo and towel dry. But don't use a conditioner as it can foil henna to penetrate the roots properly. Straighten your hair by combing with a brush to get rid of all the knots and tangles. You can also split your hair into small segments for ease of application.
3. Prepare the Henna Pack
Mix the henna properly with your preferred ingredients like tea decoction, coconut milk, mashed banana, curd, etc. making sure that the paste is smooth with no lumps. Also, alter the consistency as per your requirement so that it is neither too thick nor too runny.
4. Begin Right
Start applying the henna pack from the top of your head and then gradually moving down to cover the rest of the hair strands.
5. Applying the Henna
You may prefer to wear rubber gloves or wrap your hands with a plastic cover for applying henna on your hair to avoid spoiling them. Be sure to spread the pack uniformly not leaving any hair strands.
6. Loop Hair in a Bun
After you are done applying the henna pack to your crown area, draw the hair together to twirl in a nice bun and set it at your head's centre.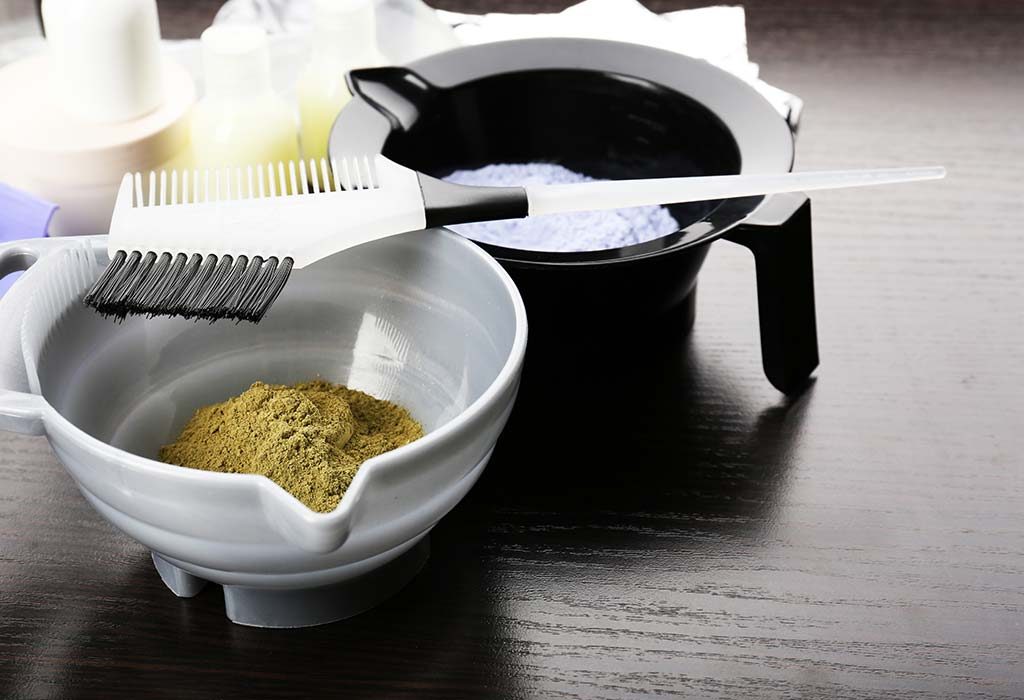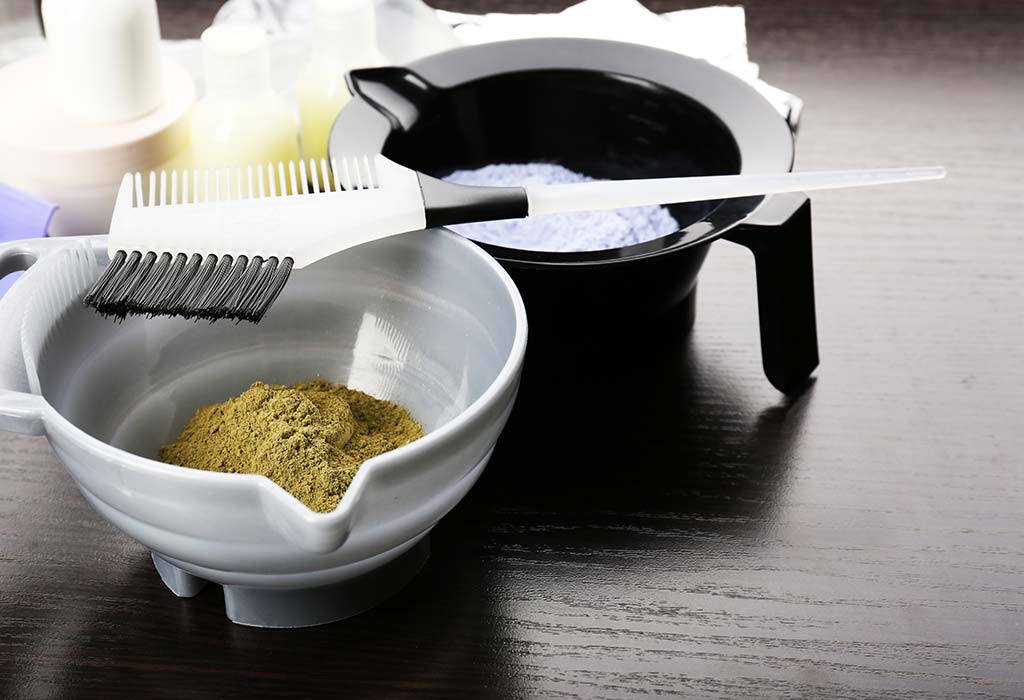 7. Move to the Sides
Next, begin putting the pack on both sides of your hair. Take in only a small section of hair at a time and evenly spread the paste.
8. Add to the Same Bun
After spreading the pack on the side hair, twirl them into the same bun that you have set at the crown portion of your head. Give a light pat to the bun so that the newly added strands stick properly to the prevailing bun.
9. Shift Towards the Forehead
Now begin to smear the pack on the hair near the forehead. Coat one layer and keep repeating the application. Gather the remaining strands after covering them with the paste.
10. Cover the Entire Head
Make sure you do not leave out any area and suitably cover the complete head including hair on the neck region or at the forehead borderline.
11. Wrap Your Head
Run your hand over your entire application after you are finished to smoothen the henna pack. Wrap a plastic sheet or bag over your head to avert any probable dripping or staining.
12. Leave It On
Leave the henna pack for about two to three hours. Rinse it off thoroughly with running water.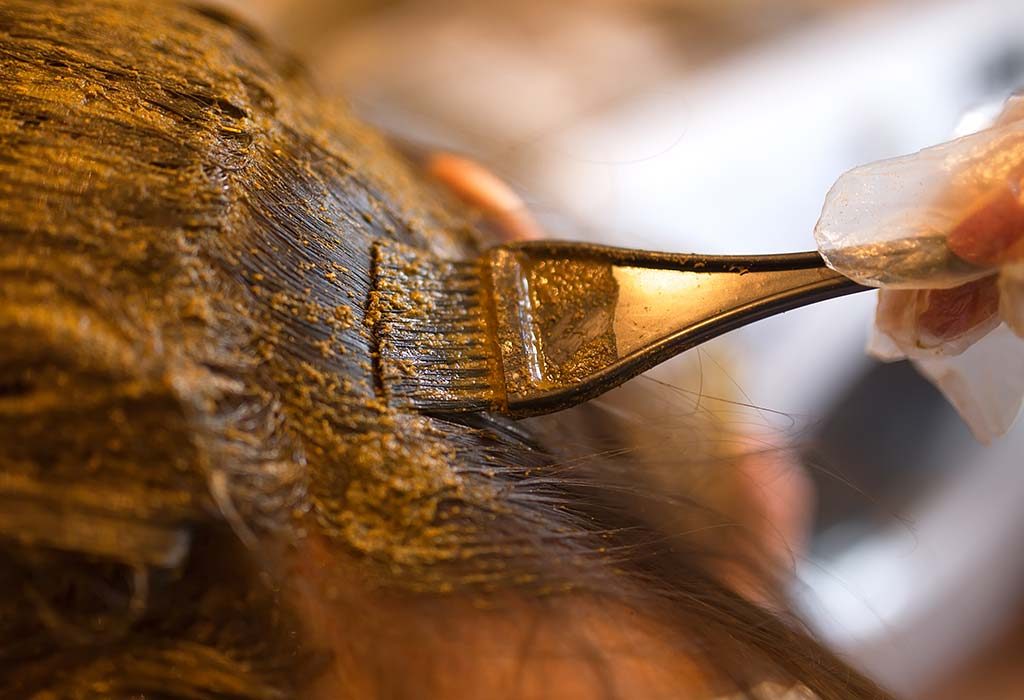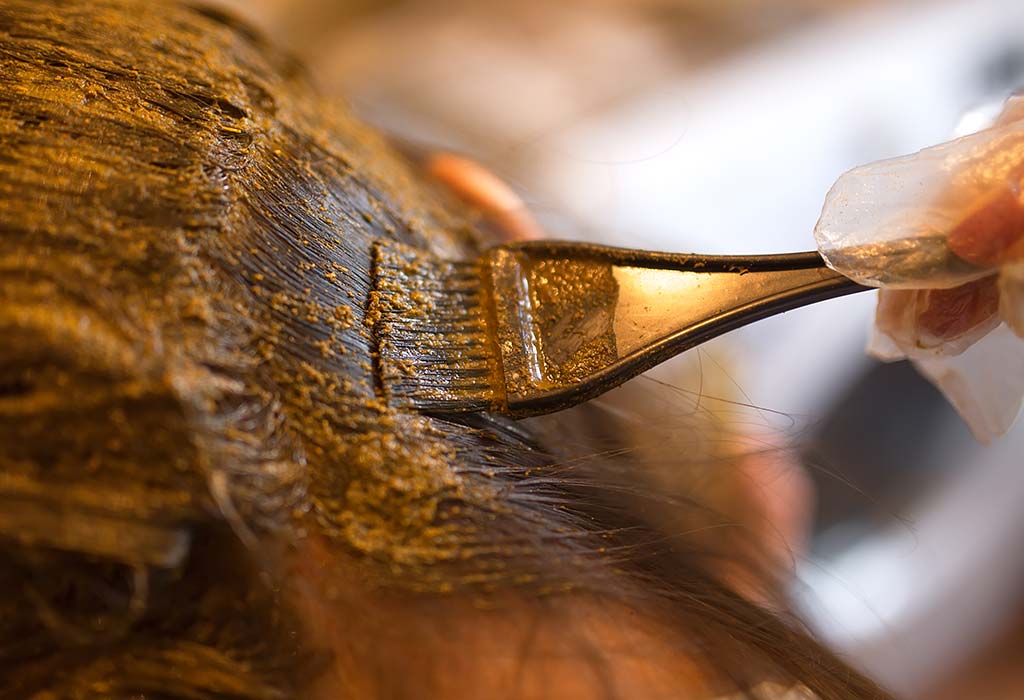 FAQs
Some frequently asked questions are:
1. Henna vs Hair Colour – Which Is Better?
Pure and natural henna is safer and better than commercial hair colours. It is not damaging like chemical dyes. Moreover, the tannin components in henna bind with the cuticles of the hair, leaving them stronger. It also helps to knock off dandruff, head lice and infusing the hair with an astonishing shine.
2. Are There Any Side Effects of Henna Hair Dye?
Henna is considered safe for most people. However, few people may be allergic to henna. It may bear well to do a patch test of the henna application on a discreet body part like the back of one of the ears to determine if it suits you or not.
Henna may arguably be the most wonderful hair and beauty item that India has made known to the world. Applying henna to hair can be a smooth process by taking note of a few things. Your precious locks are bound to gain from this valuable herbal plant. Just ensure that you choose authentic, organic henna.
Shower Mistakes That Can Damage Your Hair & Skin
How to Take Care of Your Hair Daily
Delicious Treats for Your Hair