6 Nutritious Steamed Food Recipes That You Can Make for Your Family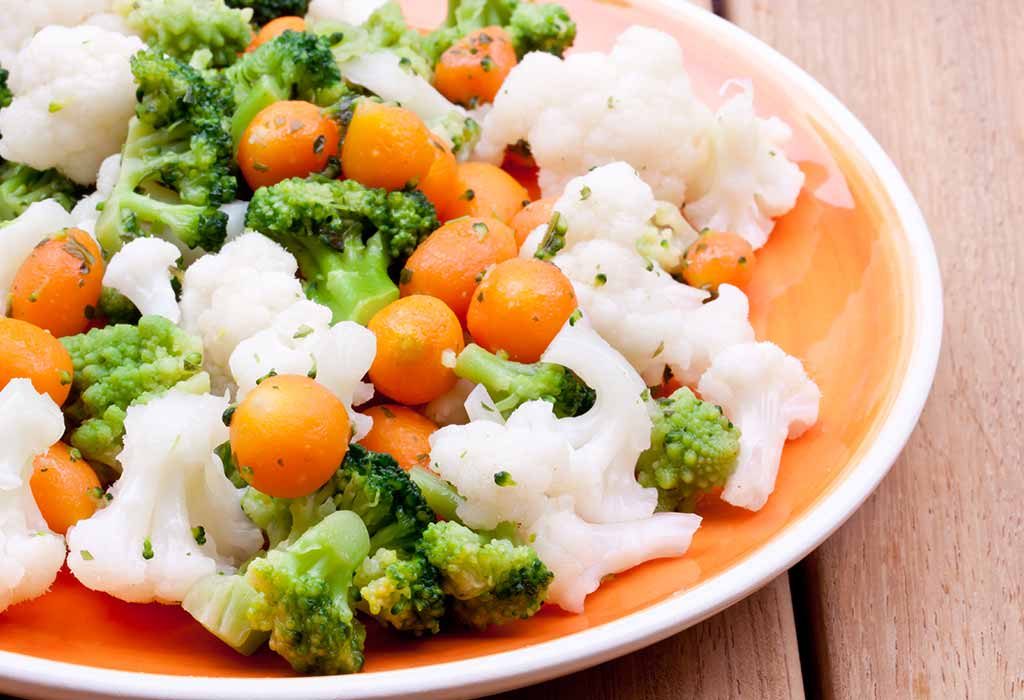 Our nutritionists, doctors, and elders always tell us to follow a healthy lifestyle. We also know it well that we should eat nutritious food and give up junk food if we want to stay healthy and fit. Processed foods contain preservatives, sugars, and unhealthy calories, and eating home-cooked food is the best bet if we want to stay healthy, but eating steamed food can be healthier. Steaming food is the simplest way to cook food. There are several other benefits of eating steamed food which we have discussed in this article.
How is Steamed Food Beneficial for Your Health?
Steamed food has many health benefits which are listed below:
1. It Helps Lower Cholesterol Levels
Steaming foods like lamb and pork can remove their fat content. It is difficult to separate the fat from the meat by other methods of cooking like grilling, frying, or roasting. Eating steamed food, which is devoid of fats, means less calorie intake, which in turn can control your cholesterol levels. Also, since steaming does not require the use of oil, you have a healthier and lighter meal on the table. It is a wonderful idea to include steamed foods in your weight loss diet.
2. It Helps Preserve the Colour, Flavour, and Fibre
Steaming is a method of cooking which helps retain the original flavour, colour, and texture of the vegetable as closely as possible. What you get is the entire nutritive value of the vegetable along with its rich colour and texture. Adding spices to the water could lend some additional flavours too.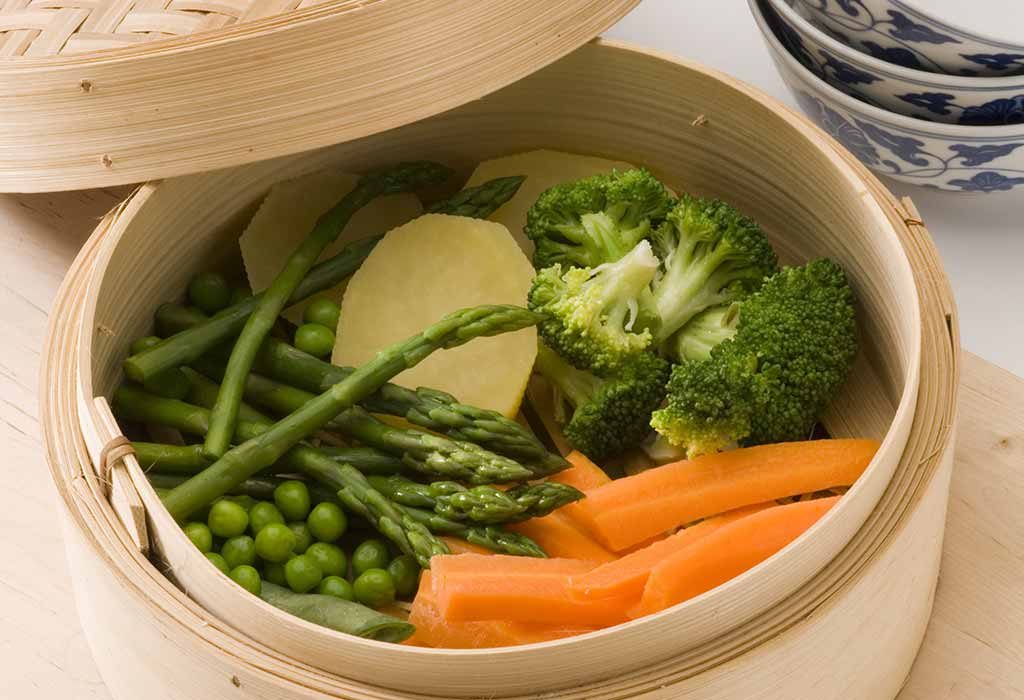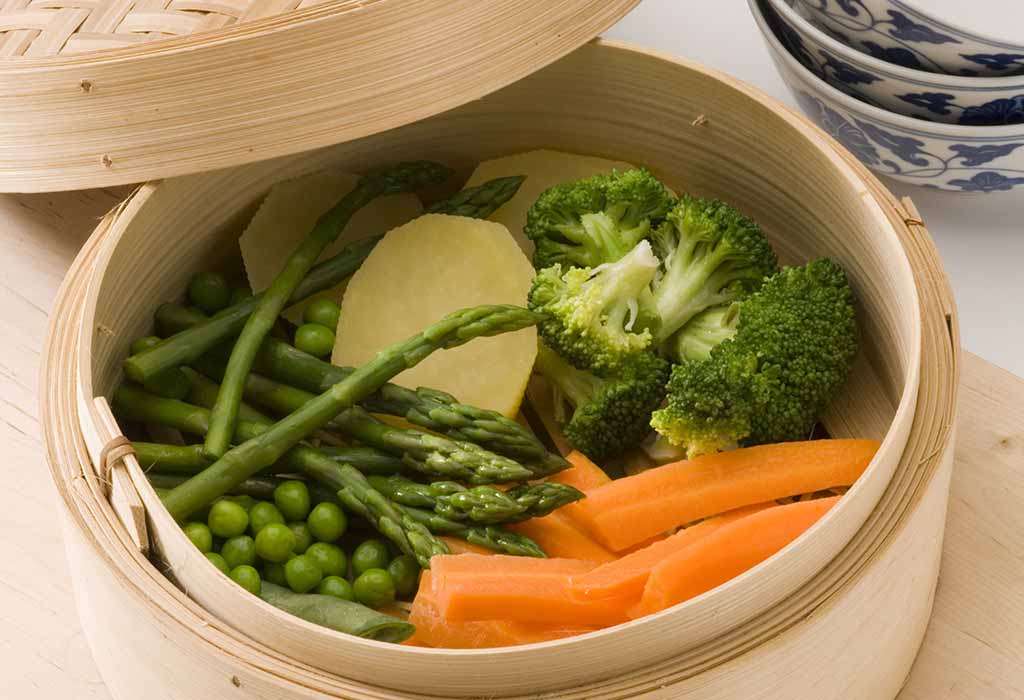 3. It Helps Retain Micronutrients
Conventional cooking methods tend to drain a vegetable of its vitamin and mineral content. Steaming ensures that biotin, riboflavin, pantothenic acid, Vitamin C, B12, niacin, thiamine, and vitamin B are retained in the vegetable. Also, minerals like calcium, potassium, phosphorous, and zinc remain intact when you steam the vegetables.
4. It is a Simple Way of Cooking
Steaming food by stacking layers over each other can help you save precious time in the kitchen. It is also much simpler because there isn't a lot of preparation involved and you can get most of it done with a single heat source.
Tips and Tricks to Steam Your Food
Don't think that steamed food is boring and bland. You can add a little punch to your steamed food with a few handy tips:
1. Try the Classic Taste
Add a dash of olive oil, salt, and peppercorns in a pan and toss the veggies in it. Then steam in a steamer. Be sure to use extra virgin oil for a good flavour.
2. Use Herbs
You can add whole parsley, thyme, rosemary, basil, or lavender to the food before steaming. Remove them before serving the dish. Steaming chicken this way can make it absolutely flavoursome.
3. Sweet Tooth Cooking
To enhance the flavour of naturally sweet vegetables, you can add a bit of balsamic vinegar or red wine to the food before steaming. You could do this for steaming fish and meats too.
4. Make it Citrusy
Add a dash of lemon juice to your steamed food to get a unique flavour. You could use lemon slices while steaming vegetables to get the same effect too.
5. Make it Exotic
Mix in a little soy sauce, sesame seeds, and some white pepper to your steamed food to give it an exotic flavour.
Healthy and Tasty Steamed Food Recipes that You Can Try at Home
Here are some dishes with the recipes that you can try at home. Steamed food too can taste yummy so try them on your own:
1. Steamed Fish
This is a simple yet classic recipe for you to start with your steamed food diet.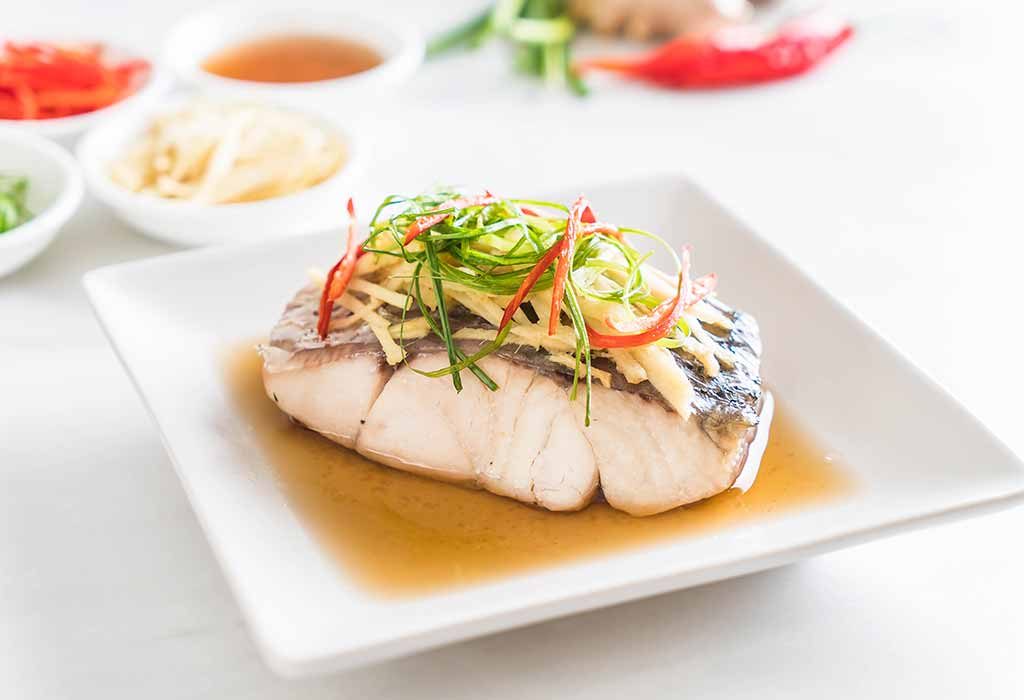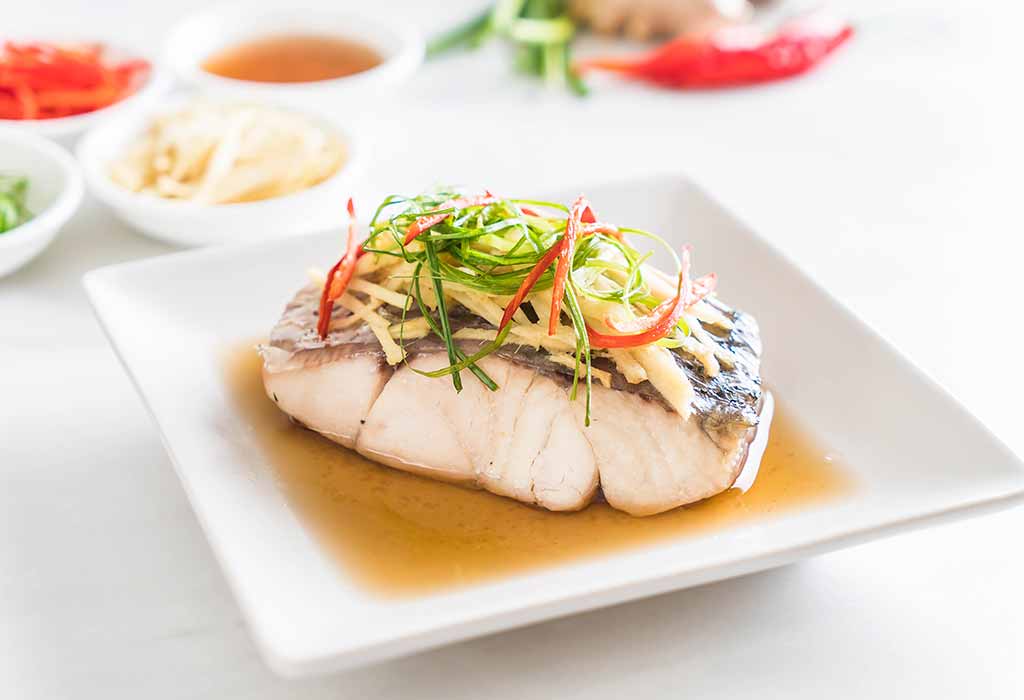 Ingredients
Medium-sized Fish – 1
Ginger strips
Soaked black mushrooms
Light Soy sauce – 2 tablespoons
Sesame oil – 1 teaspoon
Oyster Sauce – 1 teaspoon
Salt and pepper as per taste
Sliced stalk of spring onion
Time
Preparation time: 20 minutes
Cooking Time: 10 Minutes
Servings
This recipe serves 2 portions.
Method
Wash and clean the fish and put it on a steaming tray.
Add seasonings like salt and pepper.
Mix the oyster sauce, sesame oil, and soy sauce together.
Heat a pan and lightly stir fry the mushrooms.
Add the sauce mix and stir.
Pour this mix over the fish and add ginger slices.
Steam the fish for 10 minutes and remove when cooked.
Garnish with spring onions and serve.
2. Steamed Prawns in Garlic Sauce
This lip-smacking recipe is a healthy way to eat seafood.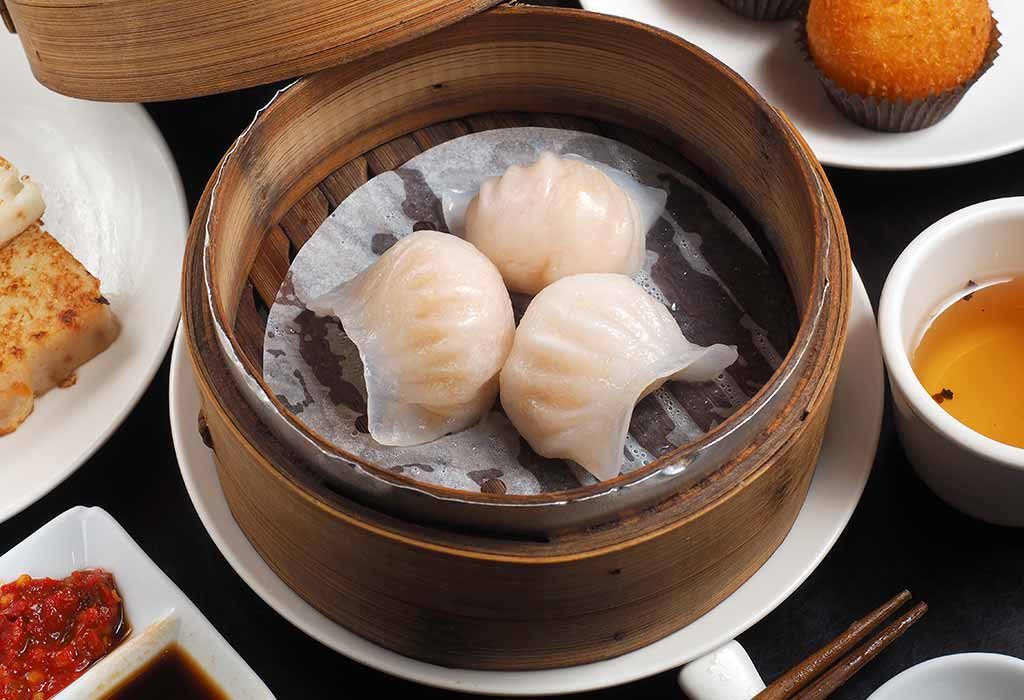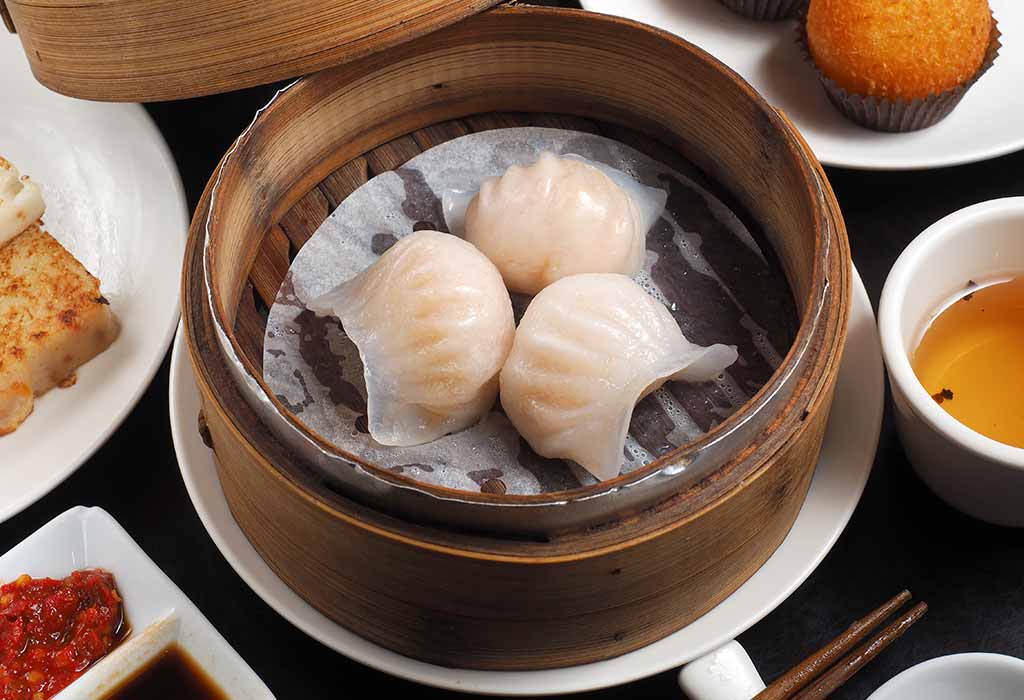 Ingredients
Tiger prawns – 4
Garlic – 1 cup
Vegetable oil – 1 teaspoon
Spring onions – chopped
Cooking Time
Preparation time: 10 minutes
Cooking time: 15 minutes
Servings
This recipe serves 4 portions.
Method
Slice the prawns.
Finely chop garlic and sauté in oil.
Coat the prawns well with the garlic sauce.
Place in a steamer and cook for 10 minutes.
Garnish with chopped spring onions and serve warm.
3. Steamed Lemon Garlic Chicken
You can steam chicken breasts and serve it in dinner.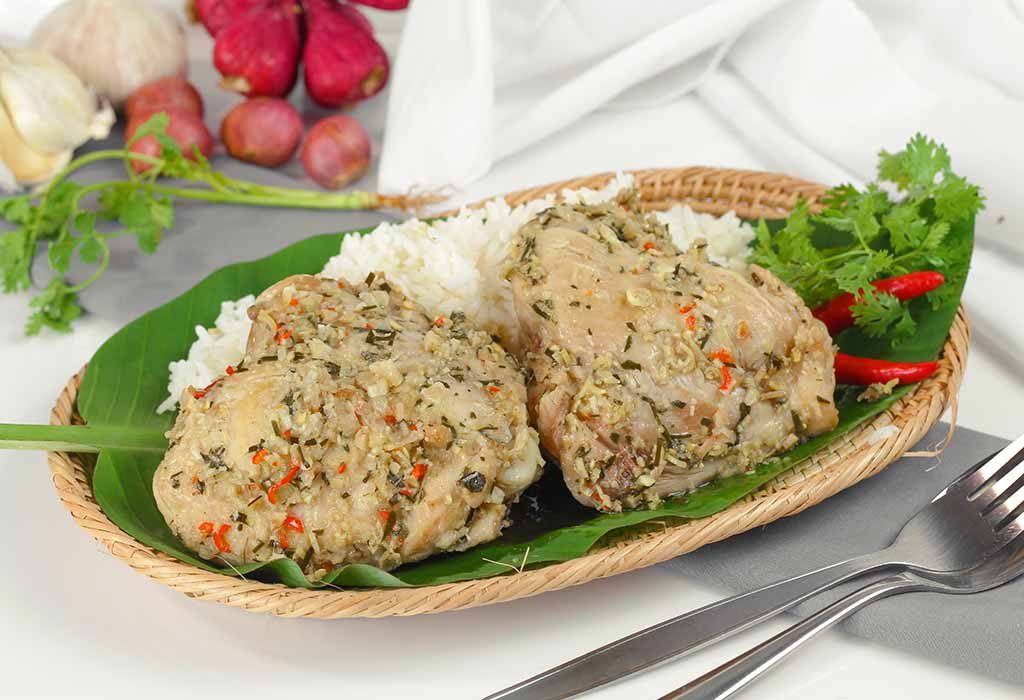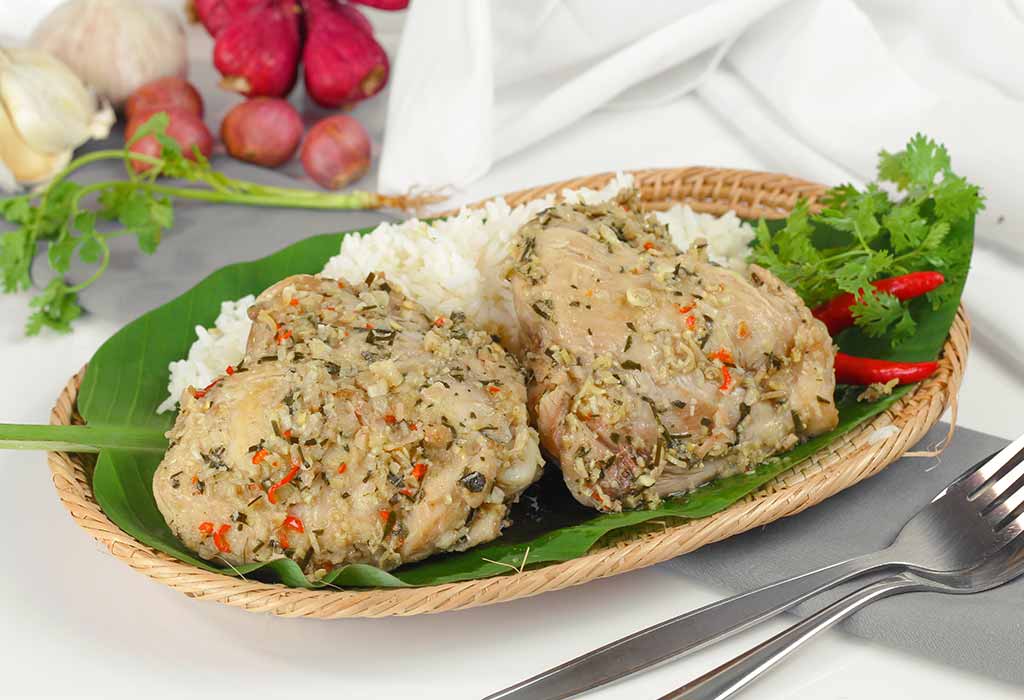 Ingredients
Single breasts of chicken – 1
Cloves of garlic – 2
Lemon – 1
Springs of fresh thyme
Rock salt to taste
Black pepper
Chilli flakes
Total Cook Time
Preparation time: 10 minutes
Cooking time: 10 minutes
Servings
This recipe serves 2 portions.
Method
Prepare the steamer.
Mince the garlic and mix it with salt, pepper, and chilli flakes.
Season both portions of the chicken breast.
Add lemon zest over both chicken breasts and sprinkle with thyme.
Spray a bit of oil over the chicken and steam for 10 minutes or until cooked.
Serve with baby potatoes or kale.
4. Patra
This is one of the classic steamed food recipes of Indian origin. It is healthy and yummy!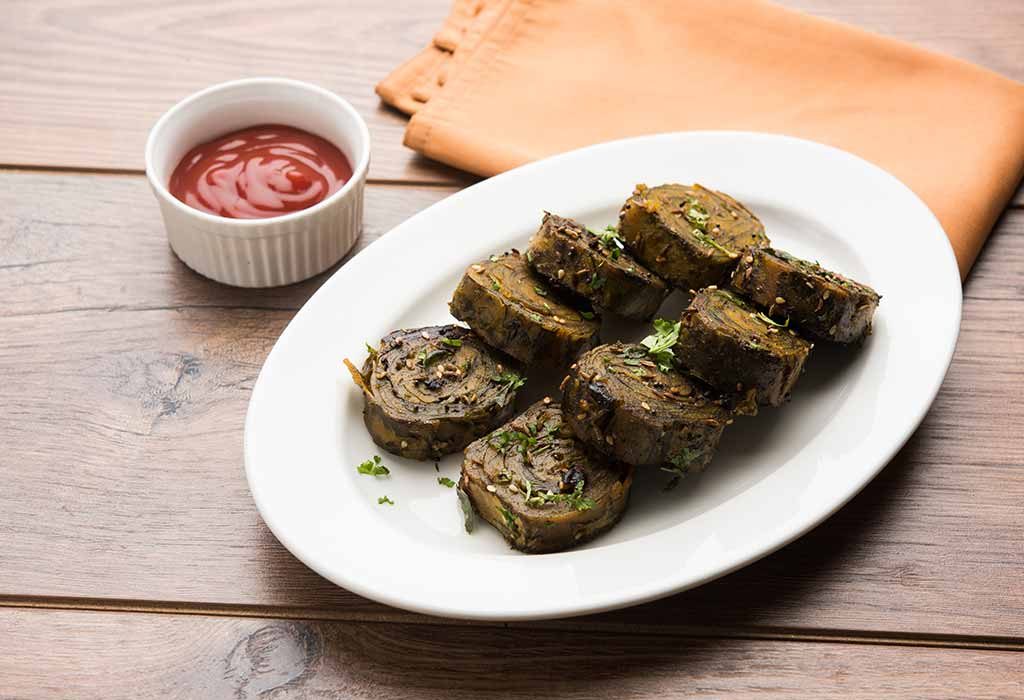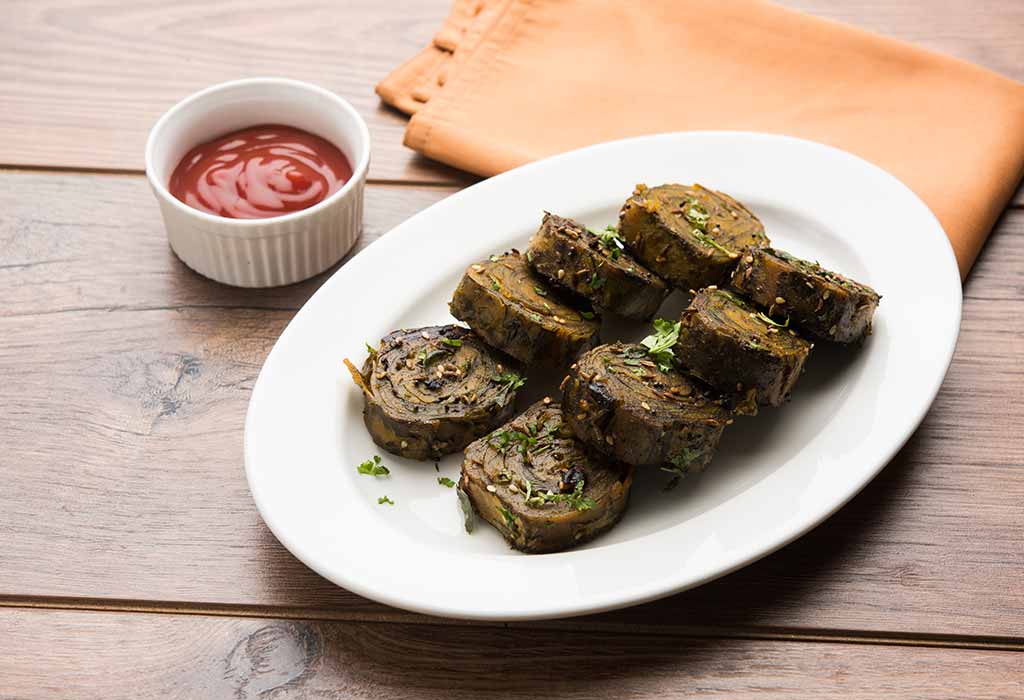 Ingredients
Batter
Gram flour- 1 cup
Tamarind paste – 1/2 teaspoon
Chili powder – 2 teaspoons
Asafoetida – A pinch
Roasted cumin – A teaspoon
Sugar – ½ teaspoon
Tempering
Oil – 20 ml
Mustard seeds – 1/2 teaspoon
Sesame Seeds – 1/2 teaspoon
Cooking Time
Preparation time: 10 minutes
Cooking Time: 40 minutes
Servings
You will get 5 portions from this recipe.
Method
Wash the leaves thoroughly and keep aside.
Mix all the other ingredients required to make the batter.
Place the leaf on the table and smooth it out. Spread a layer of batter on the leaf and cover it with another leaf.
Now spread another thin layer on the second leaf and cover. Repeat till you have used all the leaves up.
Fold in the sides of the leaves, and roll it in lengthwise. Make a tight roll.
Steam the rolls for 30 mins.
Cool and cut into slices.
Temper the seeds and pour it over the slices of patra.
5. Bhapaa Aloo
Steamed food recipes are vegetarian in nature are not that hard to find. Indian food has a host of steamed foods like bhapaa aloo which you can serve with roti or rice.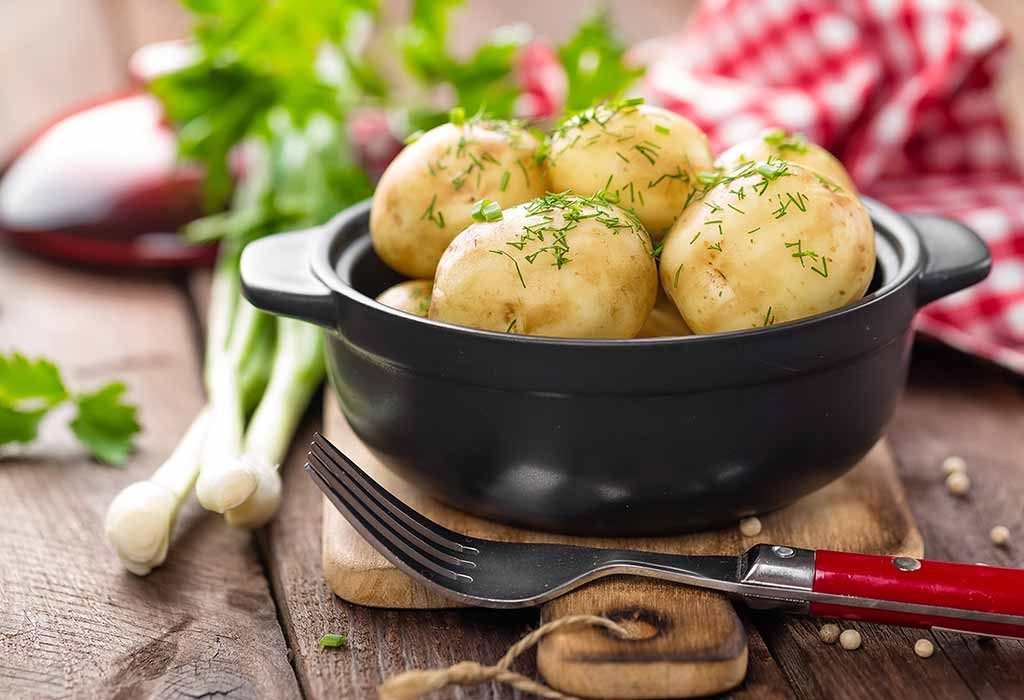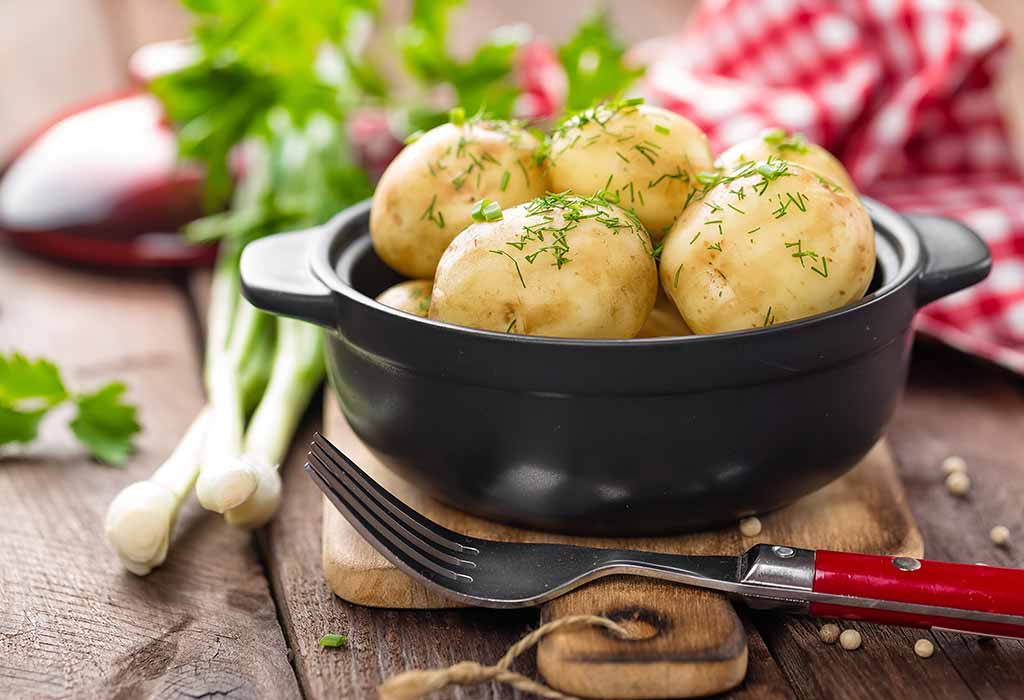 Ingredients
Small potatoes – 200 grams
Mustard oil -2 teaspoon
5 spice mix- ½ teaspoon
Dry red chilis – 2
Mustard paste – ½ teaspoon
Hung curd-1 teaspoon
Desiccated coconut paste – ½ teaspoon spoon
Green chilli paste
A pinch of turmeric powder
Lime juice – 2 teaspoons
Banana leaves – 2
Cooking Time
Preparation time: 10 minutes
Cooking time: 40 minutes
Servings
Method
Peel and wash the potatoes and boil them partially.
Heat oil and add the 5-spice mix with red chilis to it. Pour the mix over the potatoes and let it rest.
Prepare a marinade with mustard paste, green chilli paste, coconut paste, curd, and turmeric powder.
Add the potatoes to the marinade.
Add salt, lemon juice, and mix once more.
Place the potatoes on a steel plate, place a banana leaf and steam for 6-10 minutes.
6. Steamed Vegetables
You can have steamed vegetables for breakfast or any time you want.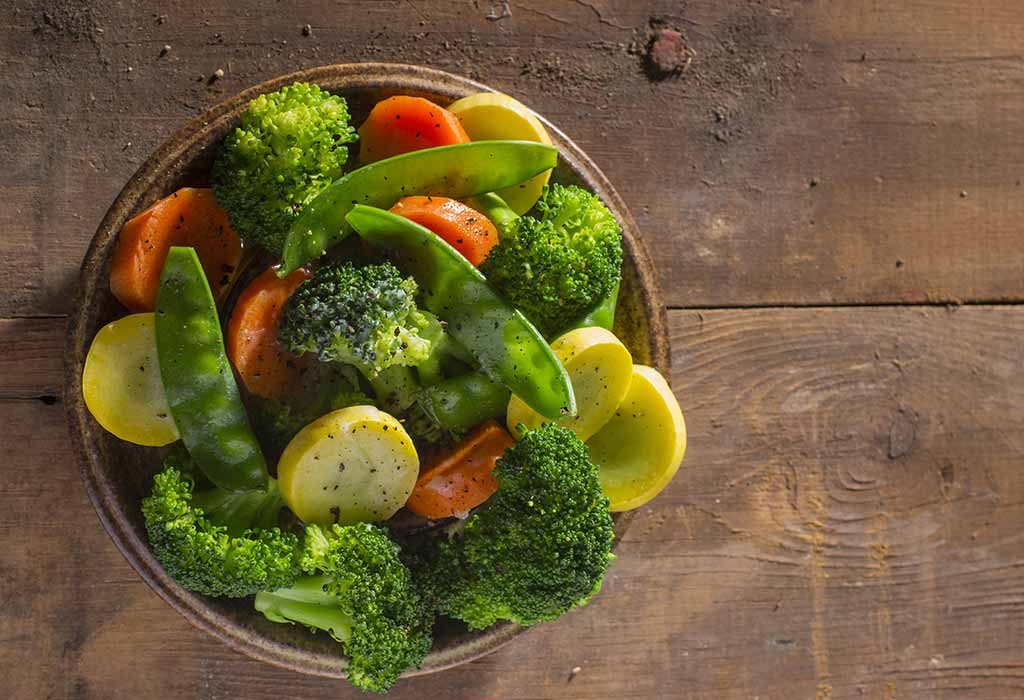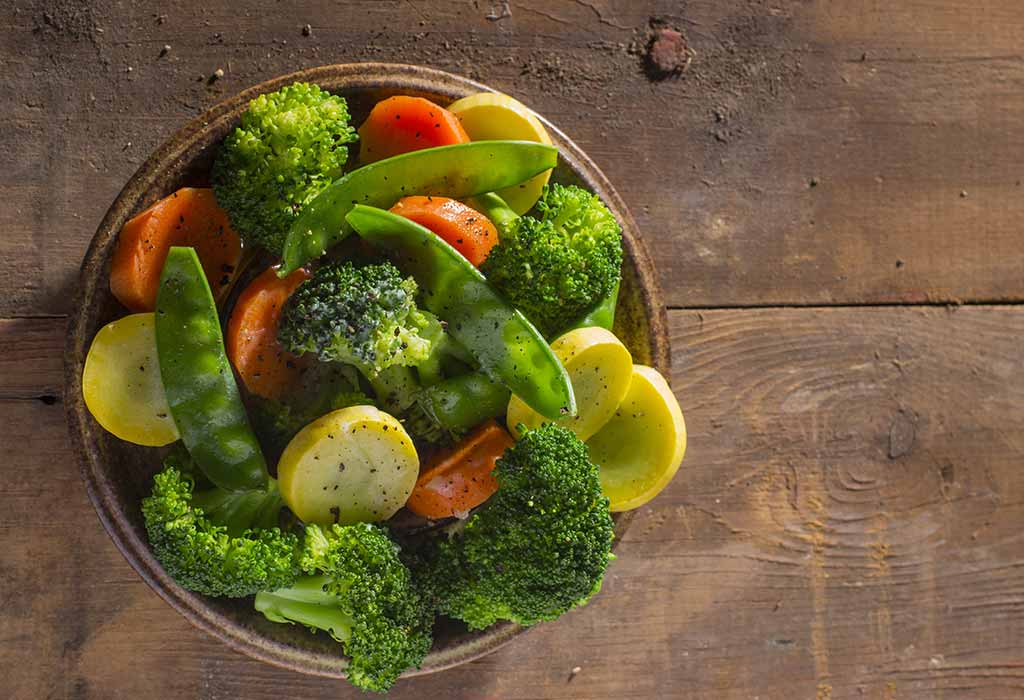 Ingredients
Carrot sliced thinly -1
Broccoli florets – 1 cup
Cauliflower florets – 1 cup
Mushrooms – 1 cup
Lemon juice – 2 teaspoons
Butter – 1 tablespoon
Salt and pepper
Cooking Time
Preparation time: 20 minutes
Cooking time: 10 minutes
Servings
This recipe serves 2 portions.
Method
Cut all the vegetables and wash them.
Steam all the vegetables with salt for 10 minutes.
Remove and set aside.
In a pan, heat the butter.
Toss the vegetables in the butter and sprinkle pepper on it.
Add lime juice and mix well before serving.
FAQs
Some questions about steamed food are discussed below:
1. Is Steamed Food Healthier Than Boiled Food?
Steamed food retains flavour, fibre, nutrition, and texture up to 81% while boiled food retains only 34% of flavonoids and nutrients. Hence, it is better to consume steam food.
2. What Are Some Common Foods That Can Be Steamed?
Common foods that can be steamed are:
Green leafy vegetables, momos, fruits.
Idlis, Dhokla, Patra, and pulses.
Eggs, chicken, salmon, and other meat.
3. How Long Should You Steam Vegetables?
All vegetables will have different cooking times depending on their thickness and size. Below we have mentioned some of the common vegetables and the time they take to get steamed:
Asparagus – 8 to10 minutes
Beans – 5 to7 minutes
Beetroot – 40 to 60 minutes
Bok choy stalks – 6 minutes
Bok choy leaves – 2 minutes
Broccoli florets – 5 minutes
Cauliflower florets – 5 minutes
Sliced Carrots – 4 to 5 minutes
Peas – 5 minutes
Spinach- 5 minutes
4. Which Kinds of Steamers Can You Use for Steaming Food?
The most popular types of steamers available are:
Metal collapsible steamers
Metal insert steamers
Bamboo steamers
Complicated cooking recipes deter people from making efforts and trying out new recipes. Steamed food comes to the rescue as it can be cooked easily and tastes delicious. So start on those steamed food recipes and eat your way to health.
Also Read:
How to Make Sugar Free Kaju Katli
Homemade Sugar Free Ice Cream Recipes
Healthy and Tasty Dry Fruit Recipes