St. Nicholas Day – History, Celebration and Facts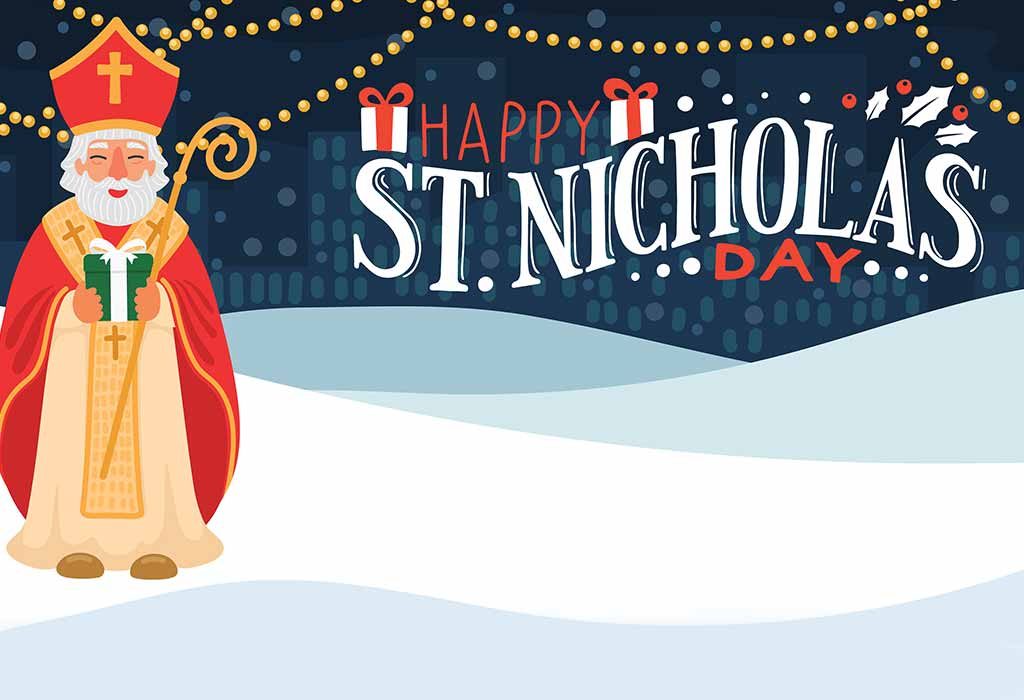 Santa Claus is known for his jolly nature couple with benevolence. Each of us wants a piece of Santa even after we have become adults. St Nicholas was a noble saint who was renowned for his acts of kindness and good deeds. In fact, legend has it that Santa Claus and Father Christmas, famously, celebrated in America are actually figures who derive their qualities and attributes from this saintly figure. Popular as a Christian saint across Europe and known to be a devout Christian, there is a day that is celebrated in his honour. Read on to find out more about the history, facts, celebrations and St Nicholas's day tradition if you are a devout Christian and would like to follow them.
Who Was St. Nicholas
Saint Nicholas was a third-century saint and hailed from Patar, a place located on the southeastern coast of Turkey. He was officiated as a bishop in Greece in the 4th century. He was a saint who patronised for noble causes and helped school children, clergymen, travellers, sailors and thieves. He believed in showing gratitude and acts of kindness. This led him to sell all his possessions and distributed all his wealth to the poor. During the third century, it was believed that a father who wished to get his daughters married had to pay large sums of dowry. He once left shoes to dry by the fire as he had no dowry to offer for his girls. It is believed that St Nicholas made gold appear in their shoes drying by the fire on three separate occasions. Such was the personality of St Nicholas. A kind soul whose sole aim was to dedicate his whole life to the sick and those who are suffering. St Nicholas was buried in a tomb in Myra which is believed to have released water with healing powers. This is called the Manna of Saint Nicholas.
When Is St. Nicholas Day Celebrated?
December 6th, St Nicholas Day is observed widely in Europe with children and family following several traditions for days before leading up to the final day. The day is also known as Feast Day and is more of religious observance. The day holds a lot of significance for children as they eagerly await gifts hidden in their shoes. In fact, it is this tradition that led stockings to be hung up by the Christmas tree on Christmas for Santa to fill them up with goodies and gifts.
History of St. Nicholas Day
Saint Nicholas Day or Saint Nick Day is celebrated to honor the kind saint for his simple and generous acts of kindness. He believed in living life for others and making others happy. A few things to know about the history behind Saint Nicholas and why it is celebrated:
Saint Nicholas was born during the Roman Empire and to wealthy parents.
His parents died when he was very young and they left him a great amount of wealth.
He was a devout Christian from a very young age.
He spent all his inherited wealth giving anonymous gifts to those in need.
He died on December 6th and that is when the day is celebrated in his honour.
The history of shoes or stockings being left out by the fireplace on this day stems from the story of him leaving bags of gold for a man and his three daughters so that they could get married and would be eventually saved from being pushed into prostitution.
How Is St. Nicholas Day Celebrated?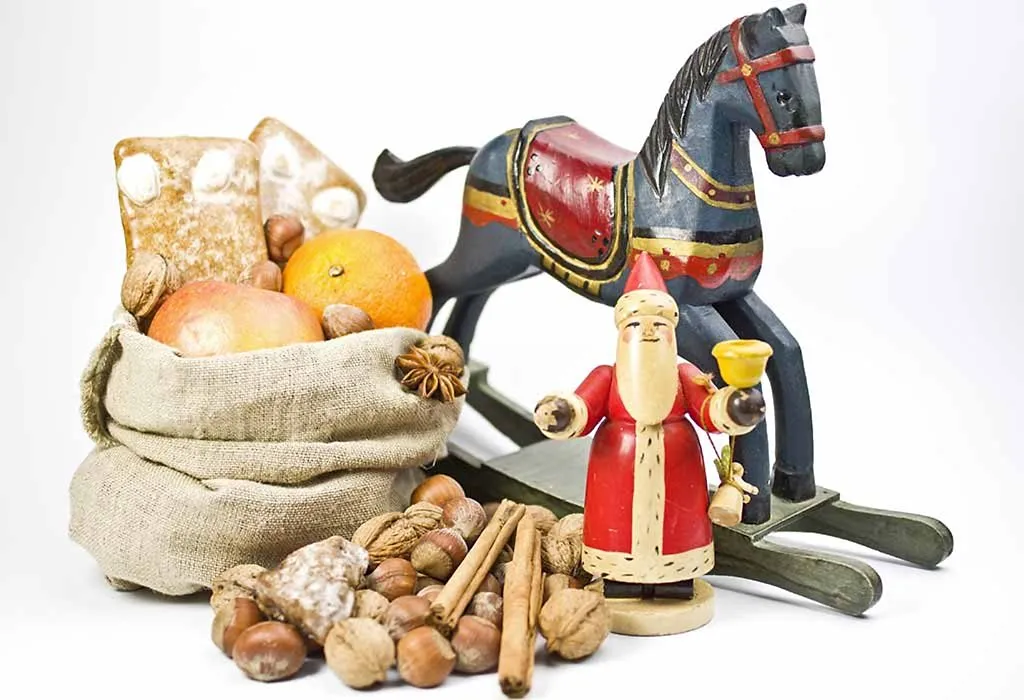 St Nicholas Feast Day is a day to celebrate good qualities like kindness, generosity, gratitude and selflessnesses. A good bishop known for helping others, the day is celebrated in several ways across the globe. You could adapt from this mix of celebrations from around the world:
1. Leaving boots in front of the fireplace
On the night of December 5th, the eve of St Nicholas Day, shoes or boots is left in the hallway by the fireplace. Kids leave them to expect gifts like coins (signifying money given by the saint), healthy treats like nuts, chocolates or even oranges (believed to have been given by the saint to children at this time of the year.) in some parts, sticks or a bag of salt are left for kids to know that they have not behaved well that year.
2. Gifts for unmarried women
In Italy, St Nicholas Day, gifts are not just for little ones. Unmarried women attend a special mass which gets them to turn a column seven times to change their destiny to meet the man of their dreams. It also recognises that St Nicholas believed in helping children and protecting the lives of virgin women who could be sold to a brothel if their family did not have money to offer as dowry.
3. Performing random acts of kindness
Generosity is a synonym for St Nicholas and another way to celebrate the day is to perform random acts of kindness. There are several ways to do this:
Drop off grocery or gift cards to families in need
Distribute wrapped gifts and clothes to underprivileged and impoverished families
Pay utility bills of families anonymously.
Distribute gifts for foster programs
There are so many ingenious ways to do this and one can just brainstorm for a list of them.
4. Feasting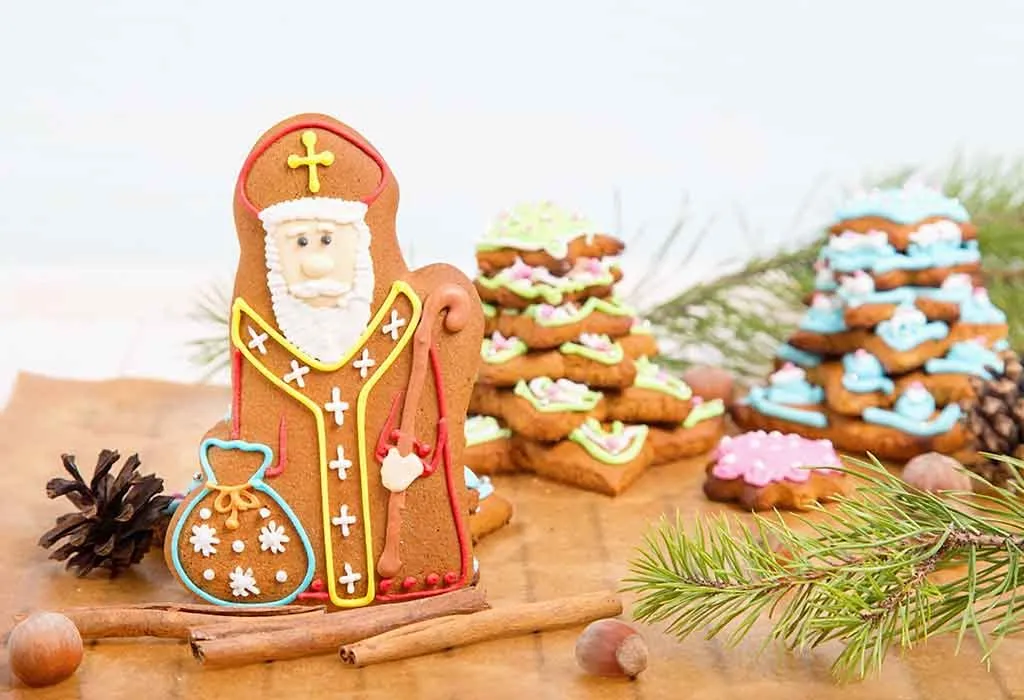 Just like Thanksgiving and Christmas, many families get together to have a meal. In the Netherlands, St Nicholas eve is celebrated by exchanging gifts and a big feast. It is called Sinterklaasavond (Sinetklass evening). The menu is a traditional spread with bread, St Nicholas shaped cookies, Bishop's wine and a special main dish reserved for holidays. In France, it is pork with mustard and apples. In Germany, it is German pancakes or Pfannkuchen. Of course, there are pizzas, soups, pastries to celebrate it worldwide.
5. A travelling statue of St Nicholas
Started off as fun, a small statue of Saint Nicholas or a statue of an angel could be left on someone's doorstep with a gift for the family. Touched by the spirit of the anonymous person it will kick off a dominoes effect of continuing the generous act to revive the spirit of humanity.
6. A visit by Krampus, clove-footed companion of St Nicholas
Krampus is a menacing figure who accompanies Saint Nicholas in several countries to punish children who misbehave. Popular in the Czech Republic, Austria, Germany, Slovenia, Hungary he is a half-man and half-goat with traits of a demon, beast and a devil. Krampus is known to leave coal in the shoes of children on Saint Nicholas Day and in some parts of Europe, Krampus goes visiting misbehaving children to motivate to straighten up!
St. Nicholas Facts for Kids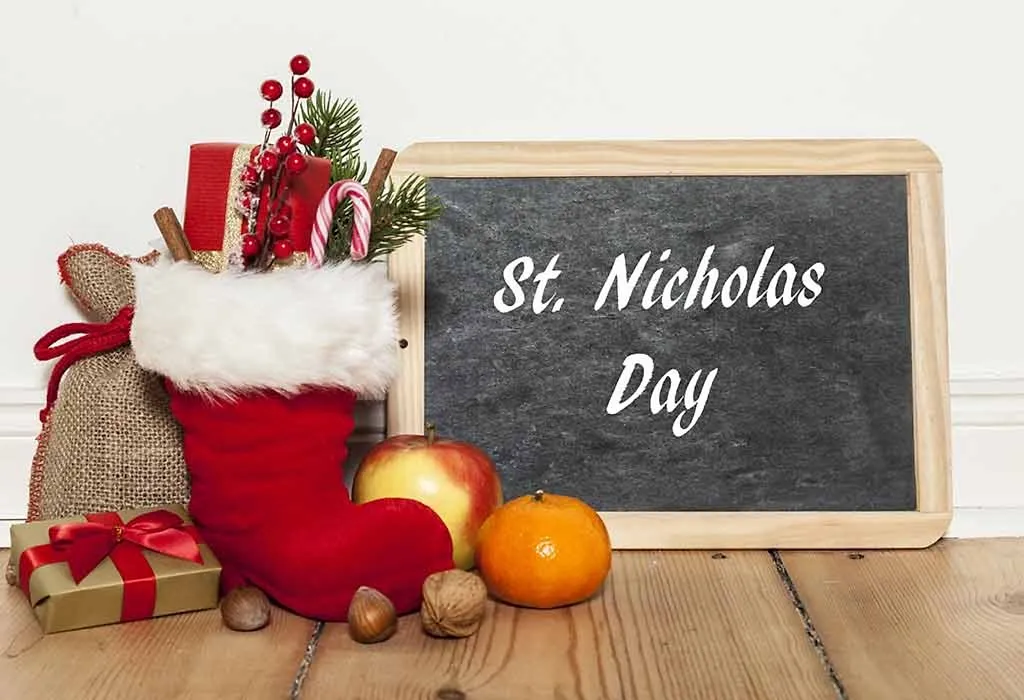 A few fun facts about St Nicholas that kids will love. Knowing these facts, kids could celebrate his life by learning about the noble deeds he did and follow the path.
Born to rich parents, Saint Nicholas lost them at a very young age.
As a little boy, he shared his toys and gifts with his friends. His rich parents bought a lot of gifts for him and he shared all of them with his friends.
He was always looking to make people happy and gave all his riches away after the death of his parents.
He always looked after children and poor families.
He helped a father to get his daughters married by leaving bags of gold in their shoes without their knowledge. The father caught Saint Nicholas as he was leaving coins for his last daughter. This is when Saint Nicholas started coming in the garb of Santa Claus a legend that is celebrated all over the world over Christmas.
Once when Saint Nicholas was on his way to the Holy Land, they were hit by a terrible storm. The tides were high, the wind was strong and the boat was split in half. When everyone was worried about dying, Saint Nicholas said a special prayer. He said "Oh my God, we need your help. Please calm this storm." Something told him to stand up and tell the wind to stop blowing and stop raining. The storm calmed down just like when Jesus did it with Peter and his apostles.
Early Dutch settlers brought their beloved Sinterklass with them to America. This character eventually evolved into the cultural and lovable symbol of Santa Claus as we all know him today. Celebrating Saint Nicholas Day on December 6th is one way of reviving the spirit and also celebrating the characteristics of a noble person. It is a great way to retain the fun, revel in generosity without eclipsing the birth of Jesus Christ which is all about celebrating Christmas.