Small Walk-in Closet Ideas That Are Visually Appealing and Affordable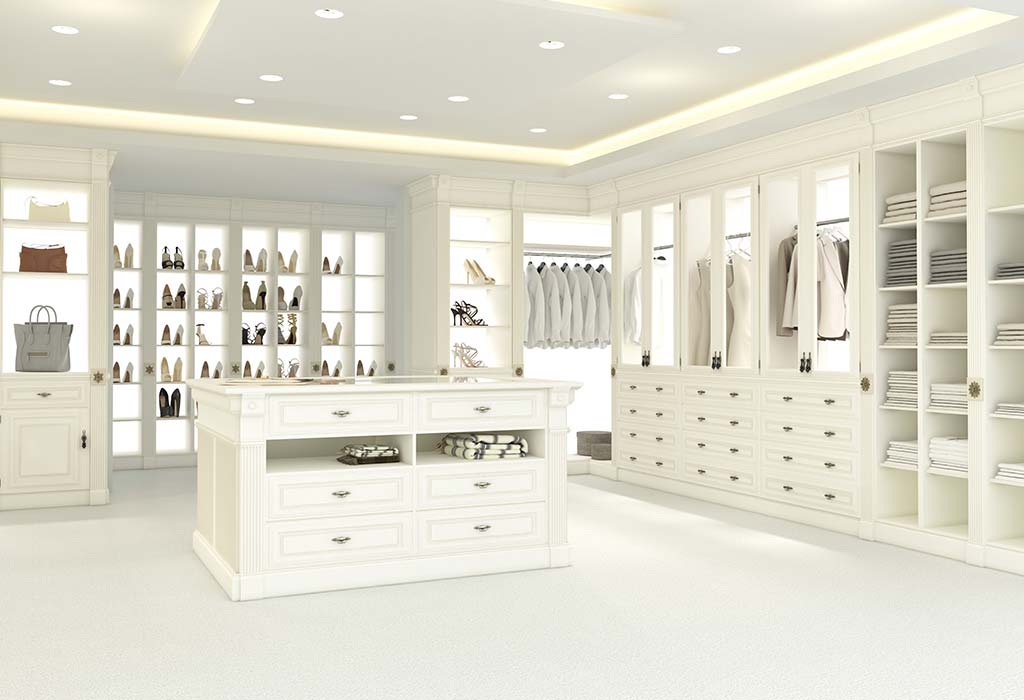 In this Article
Walk-in closets allow you to organize and display all your clothes and accessories efficiently. While a small closet has lesser space, proper planning and organization with space-savvy strategies and repurposed furnishings can make it immensely functional. When designing a walk-in closet, including layout, storage space, color palette, and decor, there's a lot to consider. These walk-in closet ideas for small spaces will help you optimize every square inch of your room and offer purposeful storage solutions.
Unique Small Walk-in Closet Ideas
A walk-in closet offers an easy storage solution for those who need space for organizing and storing clothes, bags, shoes, or other miscellaneous accessories. You may feel that a walk-in closet is more of a waste of space, especially since their size makes them prone to cluttering and chaos. However, while large ones can become private dressing rooms encompassing the idea of privacy, a chic small walk-in closet is a practical addition that adds a dose of luxury to any home. These closets are built into the walls, allowing you to utilize every inch of the closet by assigning space to your clothing and accessories.
Unfortunately, due to the space constraints in big cities, owning a walk-in closet can be just a dream. On the other hand, a custom walk-in closet is a relatively easy investment in its own right that can boost your home's security and value. Depending on its style or purpose, a small walk-in closet is cheaper, easier to install, and easier to upgrade. It forces you to be more minimalistic and purge your wardrobe of unnecessary items. You can maximize its potential with beautiful finishes, attractive accent pieces, and practical lighting installations that focus on showcasing clothing rather than simply storing it.
Racks, rods, drawers, and bins can break your design into compartments and dramatically increase the storage capacity of a modern small walk-in closet. Try different storage techniques to create order. Narrow small walk-in closet ideas work best in any non-standard-shaped space. This custom design incorporates one long wall of the deep closet. Here is a curated list of some of the most stunning tiny walk-in closet ideas that are easy to maintain and compact enough to keep your belongings organized, even in a small house.
1. Organize By Type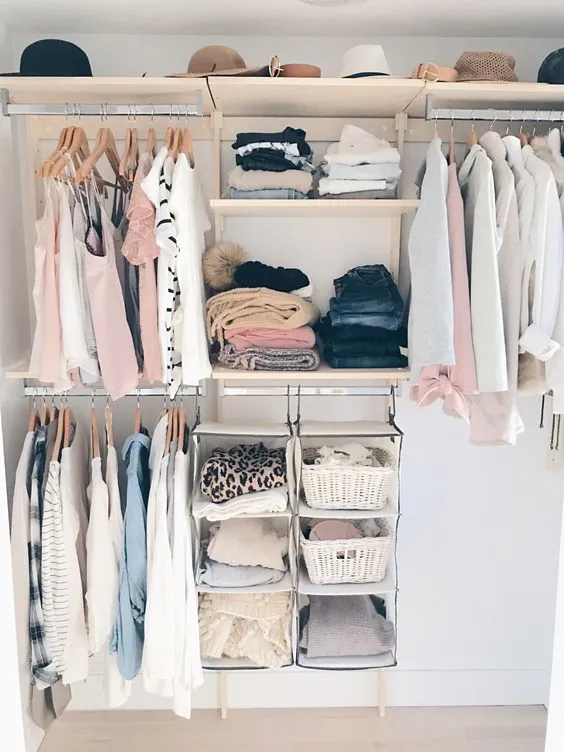 Dedicate either side of the closet for a specific purpose. While the right side can feature two separate nooks and drawers for jewelry, handbags, and additional accessories, the left side may have cabinets, cubbies, and shelves carved out for sweaters and shoes. Smaller folded garments and other miscellaneous items can be put inside brightly colored boxes to avoid a cluttered look.
2. Double Hang Clothes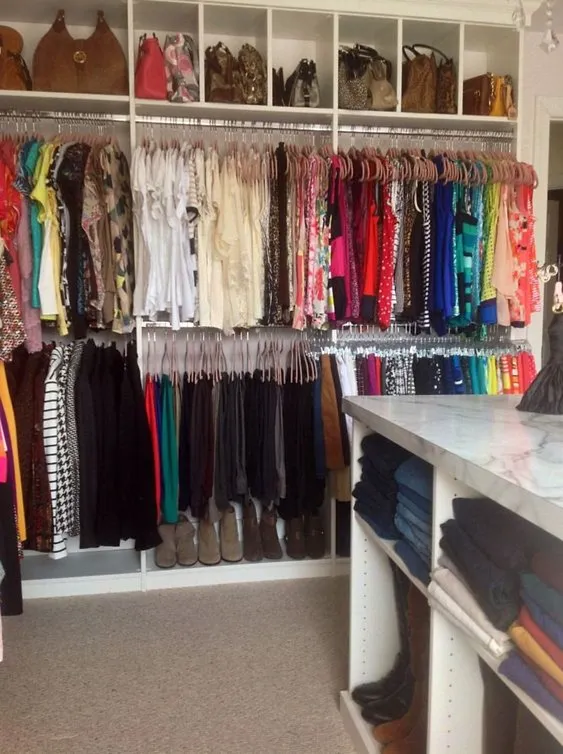 Increase your closet space by double hanging your clothes on rods installed on racks one over the other. Folding your bottoms twice or thrice over a hanger can help to save space.
3. Paint The Walls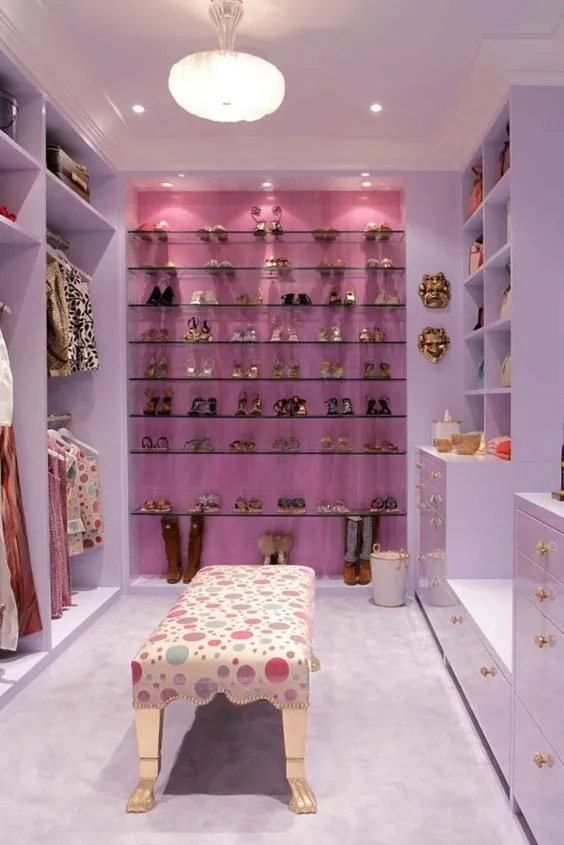 Even if it's a smaller and more private section of your house, your closet is the perfect place to experiment with contrast or vibrant colors and wallpapers that make a statement.
4. Divide The Closet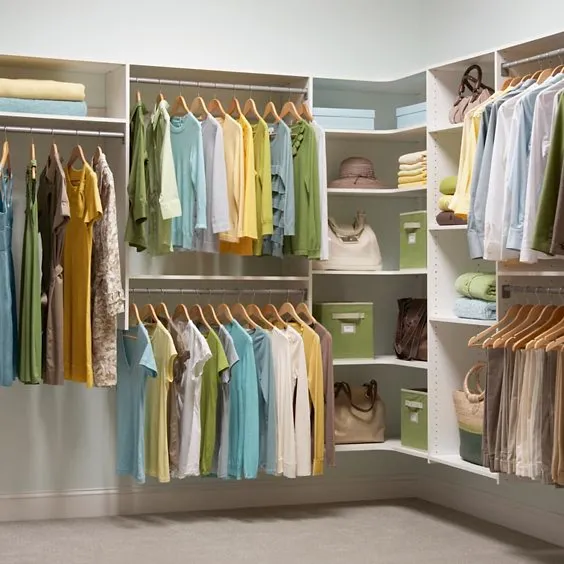 Divide the space of your closet based on the needs of the people using it. You can confine the belongings of each person to their assigned wall to create a natural boundary. A built-in dresser, peninsula, closet hutch, or island can easily separate and buffer the space within a shared closet across the longest wall.
5. Pull-out Racks & Shoe Organizer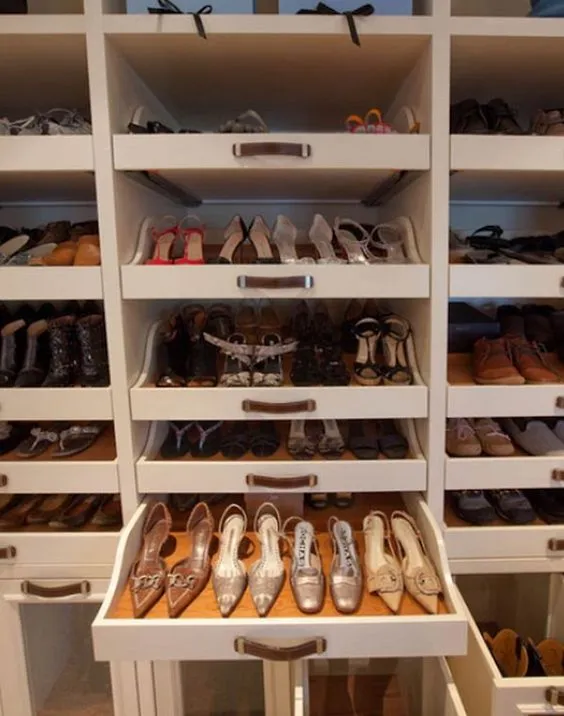 Store your favorite shoes and neckties on shelves or pull-out racks that slide or rotate. Put scarves and belts on slide-out racks to increase usage. Multiple racks installed against a wall or a closet panel can be best for a large collection. Although shelves offer the best space for shoes, the 360° Organizer Shoe Spinner, which reaches the ceiling, makes the best choice for an overwhelming collection.
6. Stylish Accents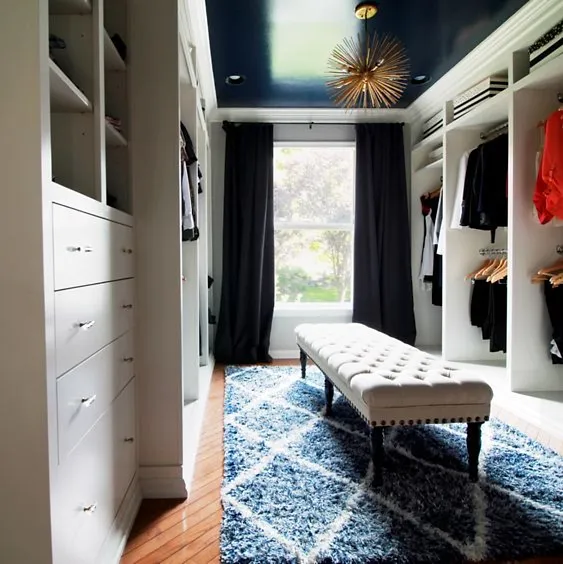 A beautiful chandelier can turn a dark closet into a bright and inviting dressing area. Cover the walls or door with patterned wallpaper. An ornately framed mirror, a fur stool, drapes, and a colored rug can add accents, while a mini art gallery wall can finish things off in style.
7. Display Cabinets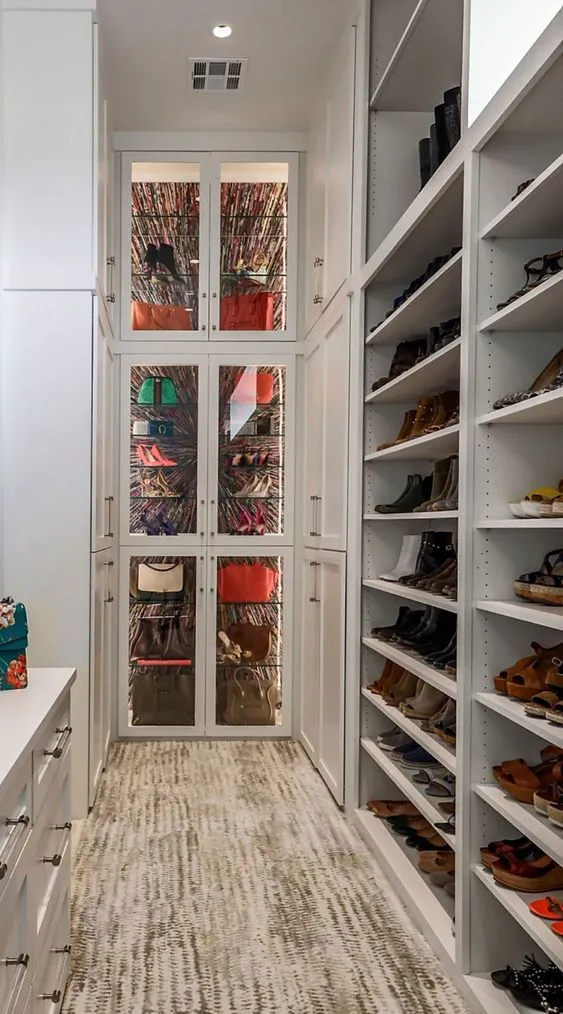 Display cabinets with doors that sport glass panels rather than solid wooden doors allow the space to feel airier and more spacious. The transparent glasses force you to stay organized.
8. Use Open Storage For Easy Access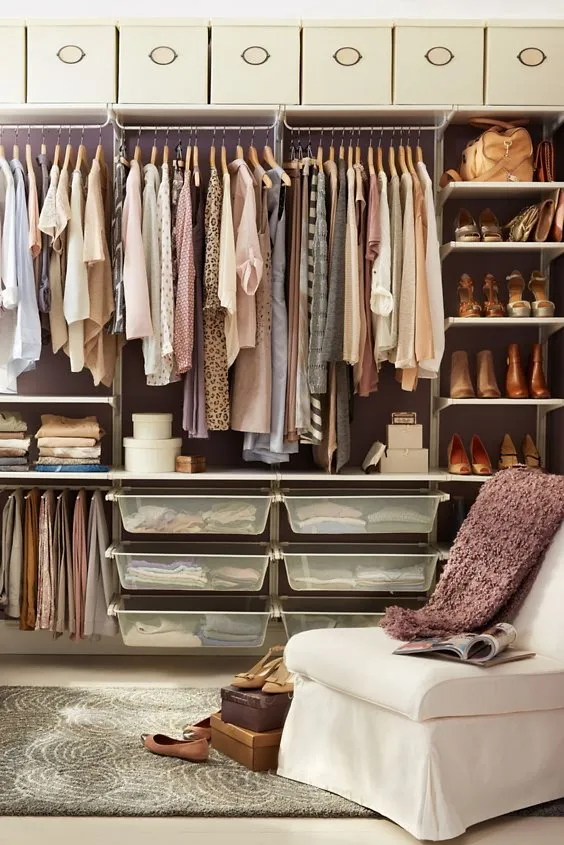 Arrange every single item in a proper, reachable place while organizing a small walk-in closet. Neatly stored folded items on shelves need to be within view so that you can quickly put things away and pull together an outfit in a hurry. Keep your out-of-season clothes in labeled bins that are not directly visible but are within your reach.
9. Use Furniture Inside A Small Walk-in Closet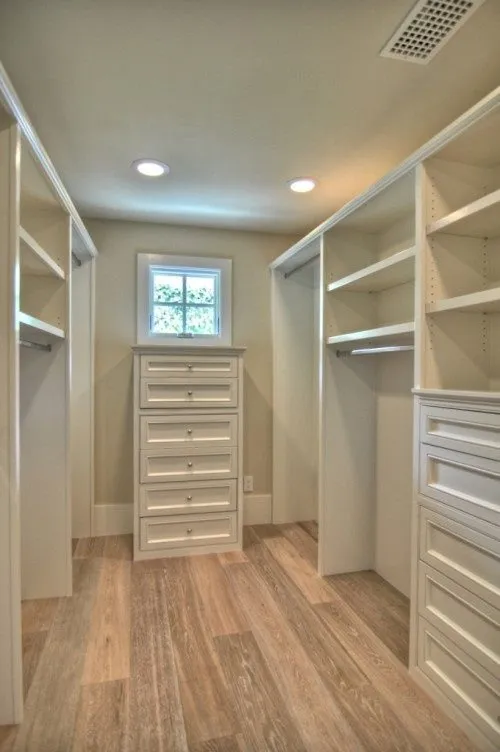 Simple small walk-in closet designs can incorporate dressers and small wardrobes to meet your needs. A chest of drawers within a built-in framework can house glass shelves and two hanging compartments.
10. Additional Lighting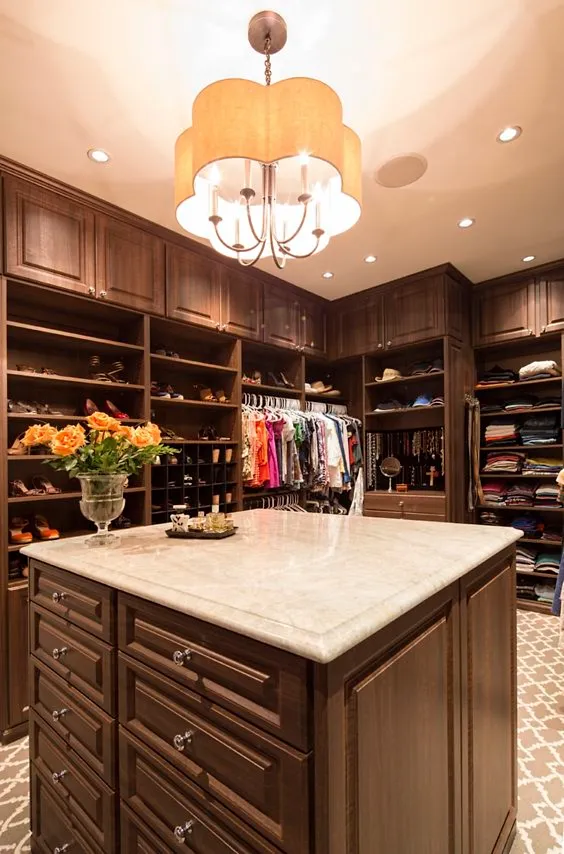 Spotlighting is a practical way to enhance your walk-in closet. Repurposing vintage light fixtures or adding glam chandeliers can contribute to the décor scheme. The under-cabinet lights provide extra task lighting to make it easier to see while you pick out an outfit.
11. Island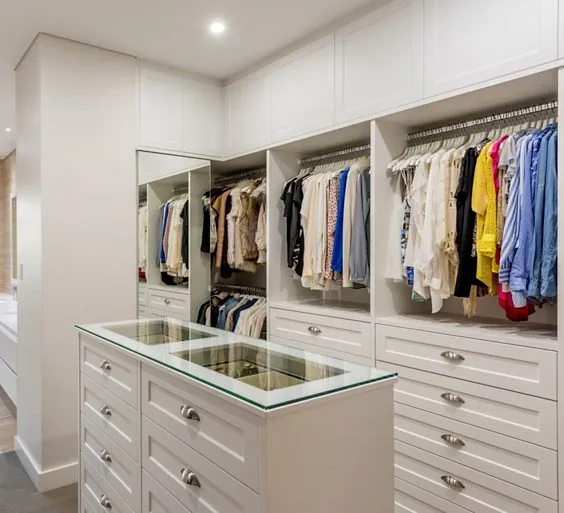 A single or double-sided island can be used not just for storage but as a surface for folding your clothes. Leave a minimum of 36-inches of space on all sides to walk freely around the closet island and access its storage. Various types of drawer organizers, pull-out shelves, and built-in ironing boards can add to its accessories.
Each individual's style makes them unique. So, count everything that needs to go into the closet after accessing each person's type and quantity of storage. An efficient storage plan of a small walk-in closet can reduce stress, streamline your clothes, and get rid of any unnecessary energy due to a cluttered mess every morning before you kick start your day.
Also Read:
Simple Ways to Organize Your Child's Closet
Easy Steps to Clean and Organize Your Closet
Best Way to Organize Your Clothes in a Closet