Singer Shreya Ghoshal Is Expecting Her First Child With Husband Shiladitya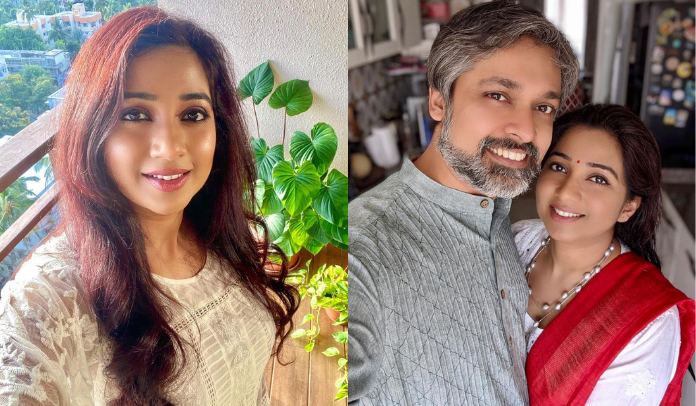 Shreya Ghoshal, the melody queen of Bollywood, is expecting her first child with her entrepreneur husband Shiladitya Mukhopadhyaya. The Bairi piya singer took to social media to share her pregnancy news with her fans.
Sharing a picture of herself dressed in blue and cradling her baby bump, Shreya wrote, "Baby #Shreyaditya is on its way! @shiladitya and me are thrilled to share this news with you all. Need all your love and blessings as we prepare ourselves for this new chapter in our lives."
Shiladitya also shared his beautiful wife's picture on his Instagram handle, and expressed his excitement on starting a new chapter with her. His post said, "Cannot wait to cherish this bundle of excitement coming up in our lives and a whole new experience to share with @shreyaghoshal."
Congratulatory messages started pouring in from friends and fans since the popular singer shared her pregnancy news. Shreya's close friends, Shekhar Ravjiani and Shantanu Moitra, and other famous personalities of the Indian music industry congratulated the couple.
Shreya Ghoshal tied the knot with her childhood sweetheart Shiladitya in a private ceremony in 2015. The couple celebrated their sixth-anniversary last month. Sharing a picture of herself and Shiladitya, Shreya wrote, "Happy 6th anniversary to us #Shreyaditya. Every time you walk into the room, I still get butterflies. I love you @shiladitya." Take a look at the picture for yourself!
Due to the lockdown in 2020, Shreya could not continue with her music tours around the world, but that didn't prevent the singer from experimenting with different genres of music and releasing new songs. The four-time National Film Awards winner released a new song titled 'Angana Morey' on 3rd February 2021. She teamed up with her talented brother, Soumyadeep Ghoshal, to compose and produce this electronic-pop song, and in less than a month, the song has become popular among her fans.
Over the years, Shreya Ghoshal has cemented her place in the hearts of both young and old with her mesmerising voice. Though she keeps experimenting with different kinds of singing and music styles, her fans love her for her classic songs like Piyu bole, Silsila ye chahat ka, and Dola re, to name a few.
After the singer's recent announcement of upcoming happiness, we might just be treated to a new song in the form of a lullaby in the coming months! Shreya and Shiladitya will embark on their parenthood journey in a few months, and we wish them good health and lots of love, laughter, and music, as they expect the arrival of baby #Shreyaditya!