6 Saree Blouse Substitutes to Try This Wedding Season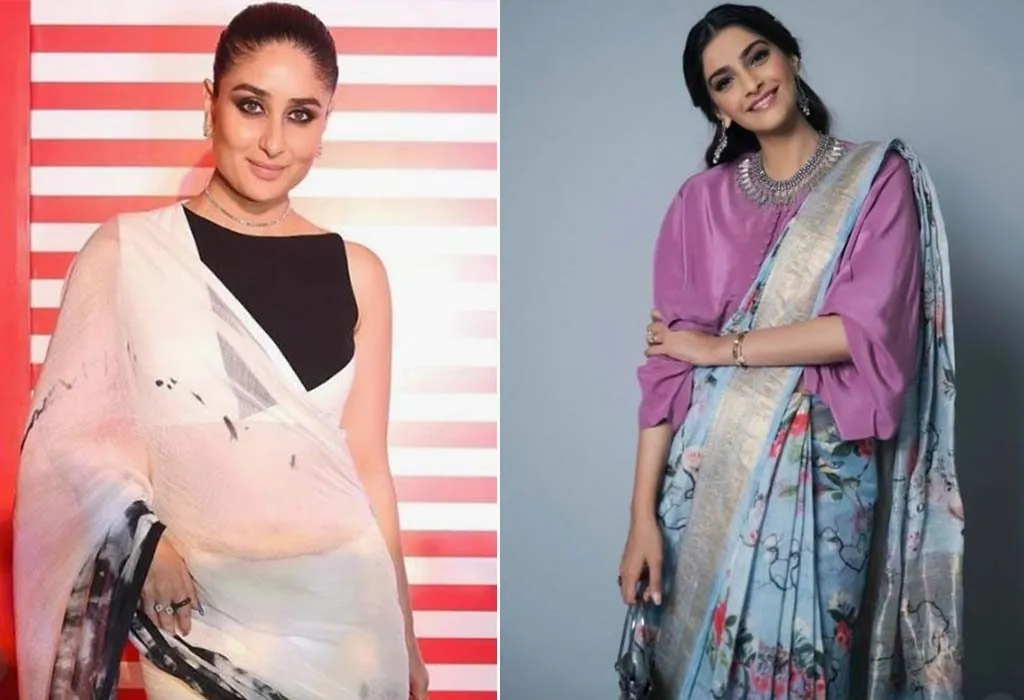 In this Article
The wedding season calls for plenty of celebrations, and festivities and fashion will be on everyone's mind! The classic saree is most ladies' all-time favourite choice to wear to weddings and other functions, and you're sure to look glam and gorgeous with the right drapes and crisp pleats. But why not shake things up a bit when it comes to the 'support staff'? Yup, we're talking about the almighty blouse that can either make or break your entire saree look! Traditional blouses will, of course, never go out of style. But if you want to make a statement, have heads turn your way, and be the talk of the town (or the party, rather!), these 6 saree blouse substitutes are going to do just that for you!
6 Tops You Can Wear As a Saree Blouse
Some of them may seem tame, some may seem quite 'out there'; but there's no doubt that these unconventional blouse choices are sure to amp up and jazz up your saree look!
1. Crop Tops
The first on the list is probably the easiest swap you can make when it comes to your saree blouses. Crop tops are in the same vein as traditional blouses when it comes to length, but the different designs and patterns of various crop tops are what will make them stand out when used as blouses. Be it a casual top or a lacy one, these are the easiest options you can choose when you want to repeat wearing the same saree but not have it look exactly the same as the previous time you've worn it!
2. Shirts
Yes, the classic button-down shirt that fits like a dream and screams sophistication. Shirt blouses are perfect for anyone who isn't keen on revealing too much skin, but would love to experiment with different trends. While crisp, solid-coloured shirts will be the safe way to go, you can also try pairing a minimalistic saree with a bold shirt (with dramatic sleeves or details) and matching accessories to make it look more festive. Don on a chic belt for added oomph!
3. Fitted Sweaters/ Mid-length Kurtis
Want to go Indo-Western but remain more loyal to the 'Indo' aspect of the concept? Trade your shirt blouses in for a fitted top which you can accessorise with gorgeous jewellery or a mid-length kurti to keep it colourful and ethnic.
4. Peplum Tops
With fabric that gathers at the waist, cinching it in and defining it well, peplum tops are great for drawing attention away from your hips. To ensure that it complements your saree perfectly, your pleats on the bottom need to come together without flaring out too much, almost akin to how a mermaid tail looks! Of course, don't make it so form-fitting that you'd barely be able to walk; just don't let the pleats billow out too much, giving you an unflattering flare-on-flare look!
5. Off-shoulder Tops
A trend that's still raging and will make sure you nail that unconventional saree look, this top is perfect to show off your sexy shoulders! You can really go minimal with the bare skin with cold shoulder sleeves, or go all out with a completely off-shoulder blouse (almost like a tube top), but the results are going to be gorgeous, either way!
6. Jacket/Blazer Blouse
This option may be apt for braving the winter chill in style, but that doesn't mean you can't rock the jacket/blazer blouse for events all year round – a fancy shrug would also do the trick! In fact, this style could be your saviour if you're attending a function held in an auditorium with the air conditioner turned way up! Jokes aside, this style looks incredibly classy and sophisticated, and can elevate your whole look. Keep your hairstyle and accessories minimalistic and let the blouse do all the talking.
If you're a lover of all things traditional and ethnic but would either like to break out of your comfort zone a little bit or give your conventional look a makeover, then these options are what you need to try. To ensure that your look speaks volumes about your personal style, choose a blouse style that you're comfortable in but looks like you have pushed the envelope a little.
If 'classy and minimalist' is how you like it, choose a well-fitted blouse and accessorise it with statement jewellery, gorgeous belts, and classy clutches. If 'bold and beautiful' is your mantra, go all out with peek-a-boo sleeves, daring slits and cuts, or contrasting crop tops.
Whatever be the style you choose, make sure you carry it off with confidence; that will be the difference between making a style statement or looking like you accidentally wore the wrong blouse with your saree!
Also Read:
Fabulous Blouse Designs to Complement Your Saree
Different Types of Indian Sarees from Different States
Different Styles of Wearing Saree Pallu