Sameera Reddy Shares Picture of Her Baby Girl- Here's a Quick Glimpse of Her Pregnancy Journey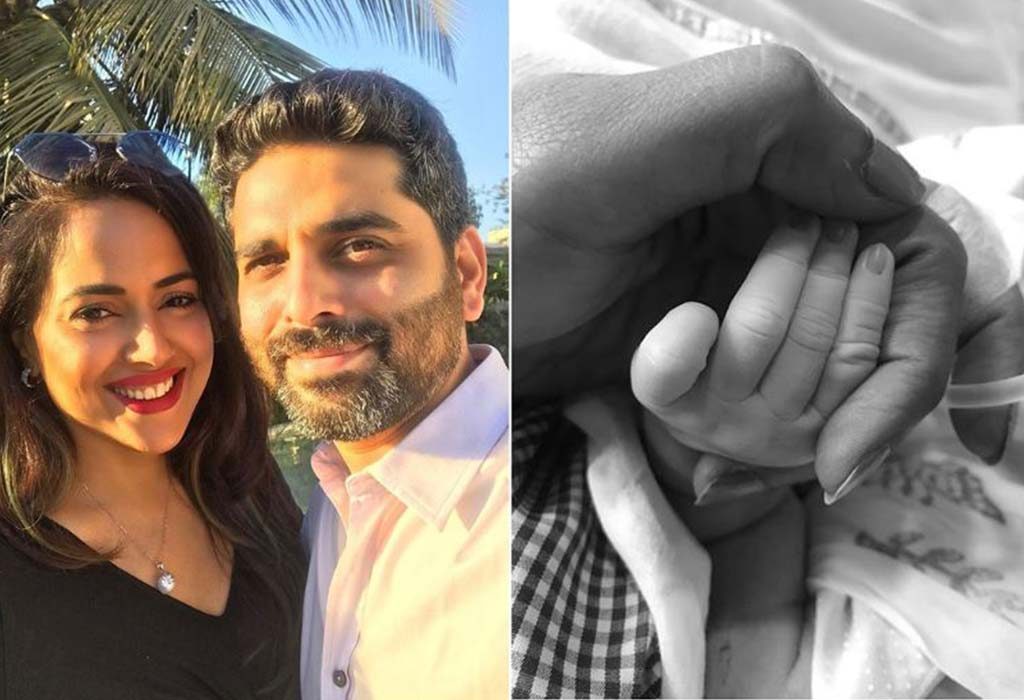 Sameera Reddy and her businessman husband, Akshai Varde, welcomed a new addition to their family this morning – a baby girl! This is the happy couple's second child together and they couldn't be happier!
https://www.instagram.com/p/BzzyjWZH1uJ/
Sameera, who insists on keeping things real about pregnancy and motherhood, has become an inspiration for all mommies-to-be. The new mommy shared an exclusive picture on her Instagram handle to announce the news.
Right from speaking out about postpartum depression to dealing with excessive weight gain and health issues during her first pregnancy, Sameera has come a long way. Learning from her previous experience with pregnancy, Sameera was more open to sharing pictures and seemed happier and more confident, this time around. Her smile says it all!!
https://www.instagram.com/p/Bv3a_ljnj7o/
A popular face in Bollywood, as well as South Indian films, Sameera rose to fame, but subsequently seemed to shy away from the limelight after her first pregnancy.
Sameera on Postpartum Depression and Body Image Issues
In an interview, Sameera shared her experience after pregnancy, dealing with weight gain and battling depression. She says, "My insecurities became too big and I grew quiet. I stopped stepping out, because I feared that people will judge me. It became stressful to be in the public eye at that time." She also mentioned that these issues stemmed from being unprepared for the changes that pregnancy brings. The second time around, she was more accepting of herself and wholeheartedly embraced her pregnancy, which clearly showed in her presence on and off social media.
Here's a glimpse of her talk with the popular, Miss Malini, on the same subject!
https://www.instagram.com/p/BxeaxIvHkqB/
Pregnancy Highlights
With Sameera being more than eager to share snippets of her second pregnancy, we've put together some of our favourite pregnancy posts of the glowing actress.
Announcing Her Pregnancy!
Sameera announced her pregnancy to the world, with a cute picture of her bump.
https://www.instagram.com/p/BtxqvlgHVL5/
Wholeheartedly being a water baby or aquaholic, as she calls it, Sameera found swimming to be not just a hobby, but also therapy during her pregnancy.
https://www.instagram.com/p/BxMb-p6nuHV/
She rightly says every girl needs a tribe, and here's a lovely picture of Sameera's squad during her Godh Bharai.
https://www.instagram.com/p/By7K-_enRPO/
Speaking of the Godh Bharai, here's an adorable picture of the family, during the ceremony.
https://www.instagram.com/p/By4kM5TH1ko/
The family set off for a getaway to, you guessed it, GOA, to celebrate the (then) upcoming baby. Here's a heartwarming pic of the actress with her son, Hans.
https://www.instagram.com/p/ByUhcvJHu5q/
Sameera is also behind the #ImperfectlyPerfect trend making waves all over social media, where she urges women to love their bodies. From posting pictures of an underwater shoot celebrating her bump to sharing videos without any makeup, she aims to spread empowerment and love to women all over the world.
https://www.instagram.com/p/BzuqBUiHNcV/
We wish the new parents happiness, joy, and good health! One thing for sure, is that with Sameera as her mom, the little one will have all the confidence she needs to make her mark in our world!