9 Romantic Movies to Watch during Valentine's Week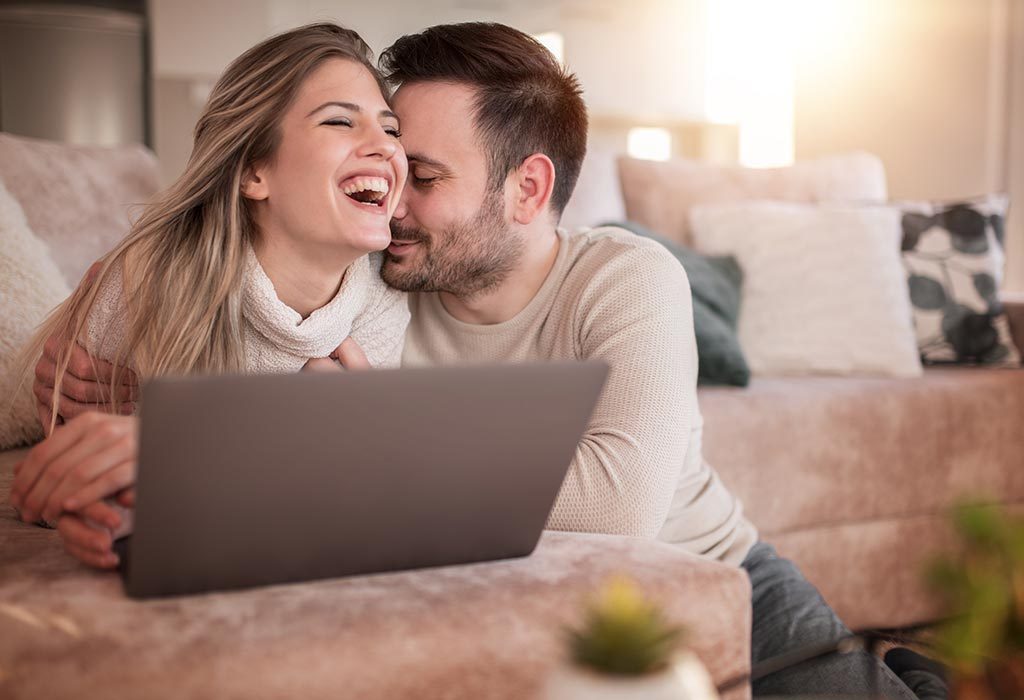 In this Article
Why do we watch every love story Bollywood has ever made? Because there's something about romantic movies that gets us all eager and excited! Although they are over in three odd hours, watching movies is when you can cosy up to your hubby and give a boost to the existing love in your marital relationship. So, search for these Hindi romantic movies online, put your baby to sleep, and enjoy some quality time with your significant other.
Bollywood Movies That Are a Must-watch for Married Couples

Reel is often as "real" as it can get. These movies seem to have been made for Valentine's week as they explore the various facets of relationships with relatable characters and a well-written storyline.
1. Honeymoon Travels Pvt. Ltd.
Starring: Kay Kay Menon, Raima Sen, Boman Irani, Shabana Azmi, Amisha Patel, Abhay Deol
Running Time: 119 Minutes
Honeymoon Travels Pvt. Ltd is the story of six married couples who have set out on their honeymoon to Goa on the same cruise ship. As their vacay goes by, each couple learns new things about their own relationship. Some people are shown to reveal new aspects of their personality; past challenges and issues crop up; but they all finally return home with a stronger bond than before the honeymoon. One of the couples, Partho and Milly Sen caught our interest in particular. While Milly seems like a traditional Bengali girl, Partho discovers that she is an expert in martial arts when she takes on a pack of goons all by herself! This romantic movie will fondly remind you of your own honeymoon and let you relive those moments.
2. Tanu Weds Manu Returns
Starring: Kangana Ranaut, R. Madhavan, Jimmy Sheirgill, Swara Bhaskar
Running Time: 128 minutes
This popular romantic movie is a sequel to Tanu Weds Manu. While the first movie was about Manu wooing Tanu and marrying her, the second one is about disagreements that pop up in marriages after a few years. Tanu Weds Manu Returns opens with both the partners filing for a divorce. Tanu leaves London and returns to her parents' home in Kanpur, Uttar Pradesh. She gets back with her ex-boyfriend Raja. Meanwhile, Manu spots Tanu's lookalike Kusum at Delhi University. With a desire to move on, he asks Kusum's family for her hand in marriage. Tanu, along with Raja, reaches the wedding venue and there, she realises how much she still loves her husband. The film stresses the importance of communication and adjustment to keep the bond strong even years after marriage.
3. Love Aaj Kal
Starring: Deepika Padukone, Saif Ali Khan, Rishi Kapoor
Running Time: 129 minutes
Love Aaj Kal is a love story set in two generations. Over the years, the process of meeting, wooing, dating, and marrying has changed a lot. The film shows how marital relationships are less strong nowadays, and thus, require more effort from both partners to keep the love alive. Even though Veer-Harleen and Jai-Meera face issues getting and staying married, true love, indeed, is shown to find its way back.
4. Akaash Vani
Starring: Kartik Aaryan, Nushrat Bharucha
Running Time: 149 minutes
Akaash Vani is a romantic film about college friendships, love, and a not-so-sweet marital relationship. This love story has an underlying and recurring theme of parents choosing a suitor for their daughter. Vani initially resigns to her fate of living with an abusive husband, but ultimately goes against everyone to be with Akaash who had never stopped loving her, right from their college days. A classic example of how women are breaking the stereotype, it will get you teary-eyed and also some cute promises from your better half!
5. 2 States: The Story of My Marriage
Starring: Arjun Kapoor, Alia Bhatt, Ronit Roy, Amrita Singh, Revathi
Running Time: 149 minutes
2 States is a film based on a book of the same name. The film is about how Krish (based on Chetan Bhagat's character in the book), a Punjabi, goes into depression because he couldn't marry his IIM-A classmate, Ananya, who hails from Tamil Nadu. The story is also inspired by Bhagat's own tale of marrying someone from outside his state and the struggles they had to go through to have their relationship accepted. The film is quite realistic, as in India, a marriage is not just between two individuals but between two families. It has both, funny and sentimental scenes, and is more relatable to partners who belong to different states.
6. Dum Laga Ke Haisha
Starring: Ayushmann Khurana, Bhumi Pednekar
Running Time: 110 minutes
Dum Laga Ke Haisha is the story of an overweight Sandhya and a school drop-out Prem who get married due to parental pressure. Prem dislikes the match from the very beginning and does everything to be away from his wife, hurting Sandhya in the process. Things take a turn for the worse, but a forced six months of living together gives rise to love in their hearts. Prem is challenged to a "Dum Lagao" contest by a fellow business competitor. On the day of the contest, he surprisingly bears the weight of his wife on his shoulders, overcomes all the obstacles placed in their path and wins the race. Love gives strength – that's what the climax of this romantic movie portrays.
7. Rehna Hai Tere Dil Mein
Starring: R. Madhavan, Diya Mirza, Saif Ali Khan
Running Time: 168 minutes
A love story from the early 2000s, Rehna Hai Tere Dil Mein is a film about a college rivalry that turns into a 'suitor rivalry' after a few years. Maddy and Sam are college students who hate each other. A few years down the line, they fall in love with the same girl and want to marry her. Love triangles are always bittersweet, and so is this romantic film.
8. Rab Ne Bana Di Jodi
Starring: Shah Rukh Khan, Anushka Sharma
Running Time: 164 minutes
Although the film starts off on a somewhat unrealistic note, Rab Ne Bana Di Jodi is the story of how Surinder puts his heart into winning the love and affection of his wife, Taani. He changes himself for her, in terms of his physical appearance, his name (Raj) and his personality, such that Taani doesn't recognise him when they partner up for a dance competition. However, things get complicated when Taani slowly starts developing feelings for Raj, his alter identity. The movie then deals with Taani's dilemma of choosing between the man she's married to or the man she's falling in love with. This film beautifully shows the real struggles of an arranged marriage and that both partners should adapt to one another to experience marital bliss.
9. Socha Na Tha
Starring: Abhay Deol, Ayesha Takia
Running Time: 157 minutes
Socha Na Tha is the story of Viren who refuses to marry Aditi as he is in love with his girlfriend, Karen. However, they meet, interact, and gradually start developing feelings for each other. A real take on love and romance, this is one romantic film for those who don't believe in love at first sight.
After having a baby, partners tend to focus less on each other. Movies are an excellent way to come closer to your spouse once again, and what better time to make a start than Valentine's week!
Also Read:
DIY Valentines Day Craft Ideas for Kids
Easy Valentine's Day Games for Children
Amazing Valentine's Day Gift Ideas for Your Daughter