Raw Mango Benefits – 12 Reasons to Add Green Mango (Kairi) to Your Diet In Summer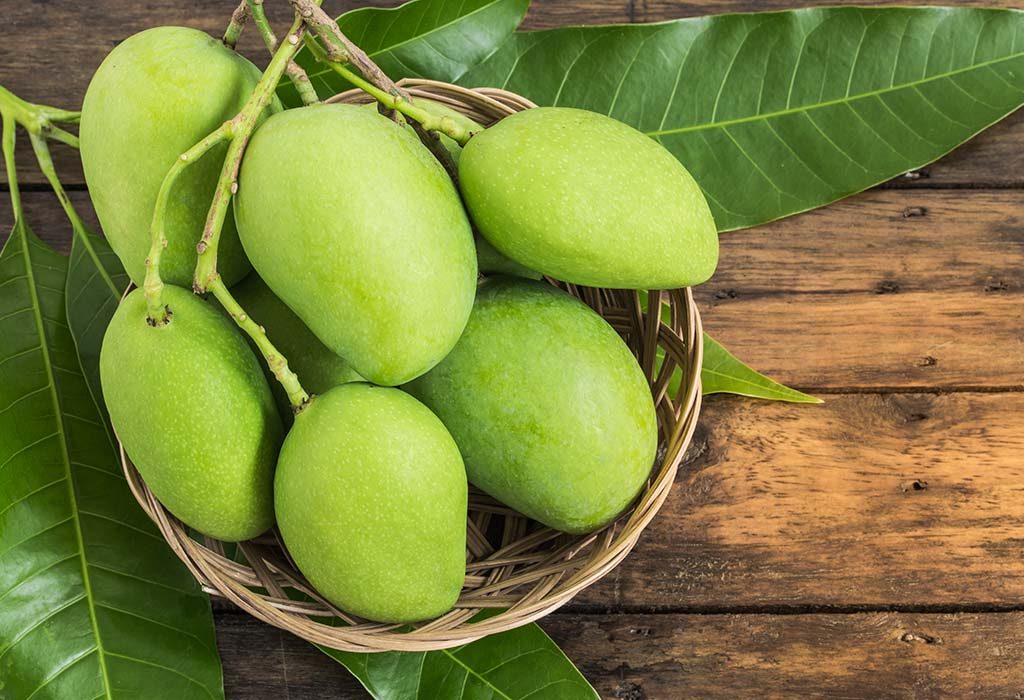 There's a reason raw mangoes make us think fondly of summers in India. Hailed as the king of fruits, these are a powerhouse of nutrition and very high in Vitamin C too. Mangoes are available in various colours around the world but the green ones are essential for treating digestive problems and losing weight. Below, we'll discuss the nutritional content of raw mangoes, its health benefits, and various other things you need to know.
Nutritional Value of Raw Mango
Below is the nutritional content in 100 grams of diced raw mango.
| | |
| --- | --- |
| Nutrients | Value |
| Energy | 60 kcal |
| Protein | 0.5 g |
| Fat | 0.3 g |
| Carbs | 17 g |
| Vitamin C | 27.7 mg |
| Vitamin A | 0.2 mg |
| Folate | 14 mcg |
| Vitamin B6 | 0.1 mg |
| Vitamin K | 4.2 mcg |
Health Benefits of Raw Mangoes That You Didn't Know
Following are some of the health benefits of eating raw mangoes that most people don't know about.
1. Helps Weight Loss
Raw mango boosts your metabolism thus helping you burn more calories. Since the mangoes are raw and not ripe, they are also lower in calories and contain less sugar, making them perfect for diabetics.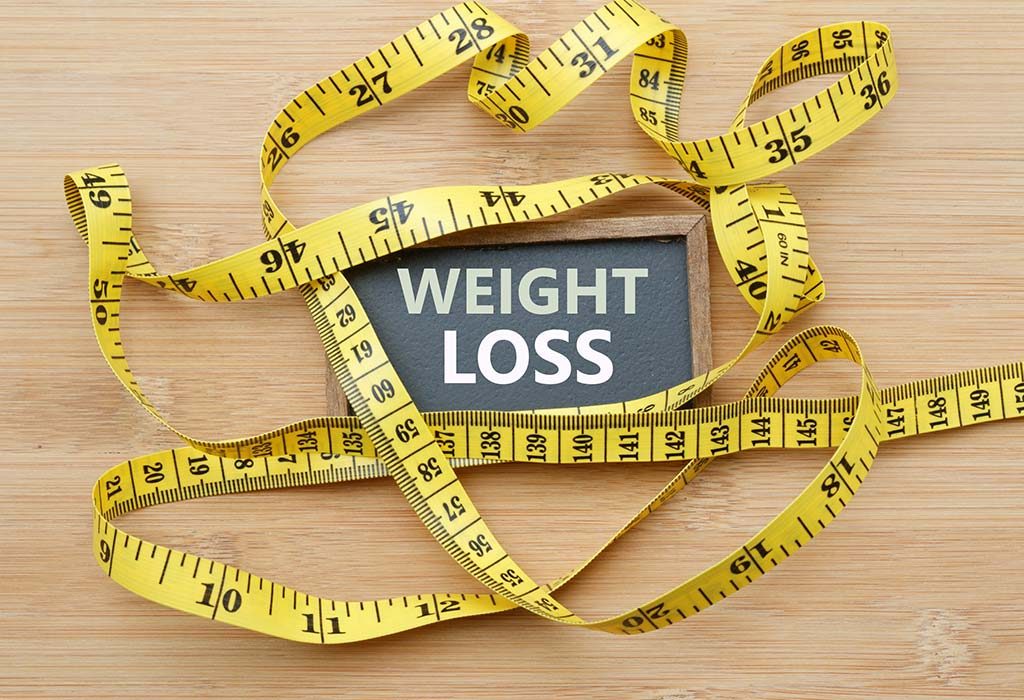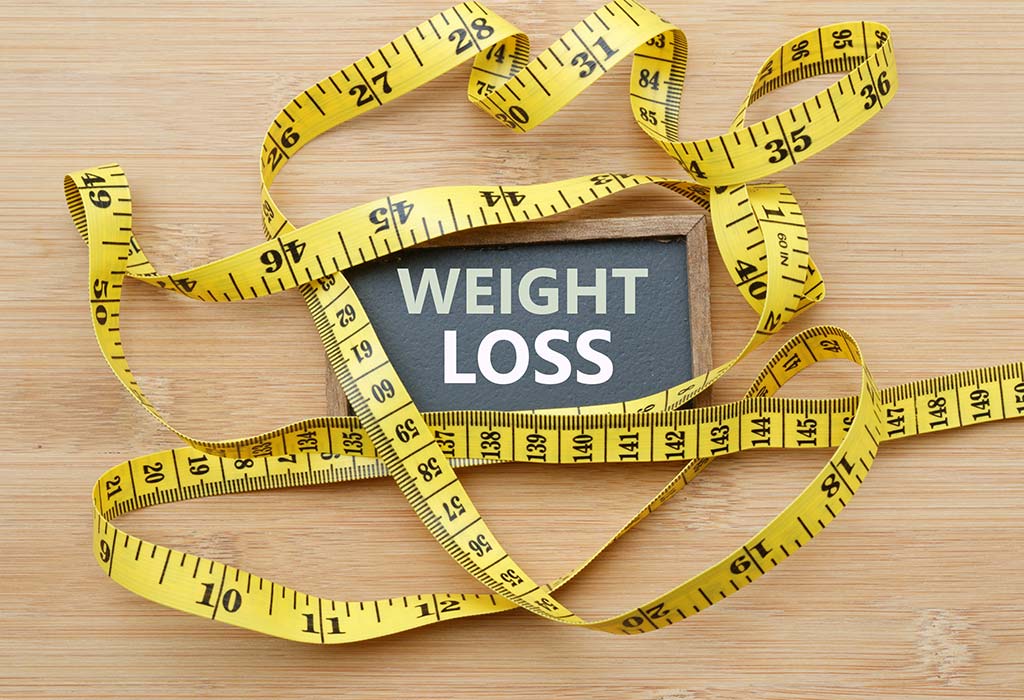 2. Prevents Dehydration
Electrolyte imbalances in summer lead to dehydration in the body. Raw mango replenishes the reserves of sodium chloride and iron which are known to leak out through sweat when you indulge in intense cardio or HIIT workouts.
3. Treats Stomach Disorders
Raw mango treats a variety of stomach problems and disorders like constipation, bloating, chronic dyspepsia, indigestion, and even cures morning sickness.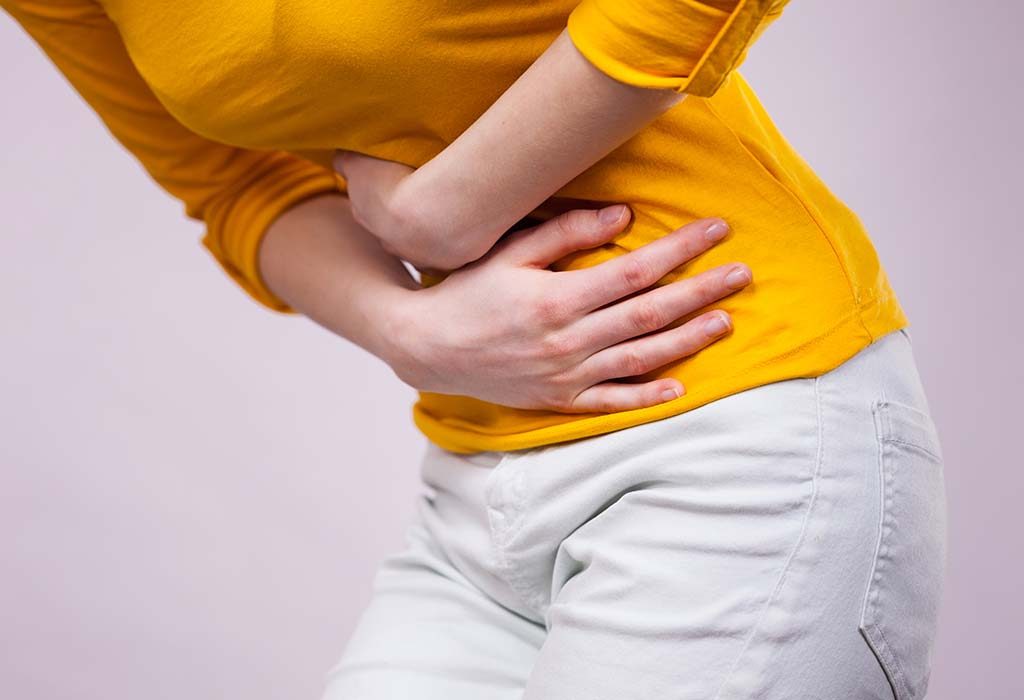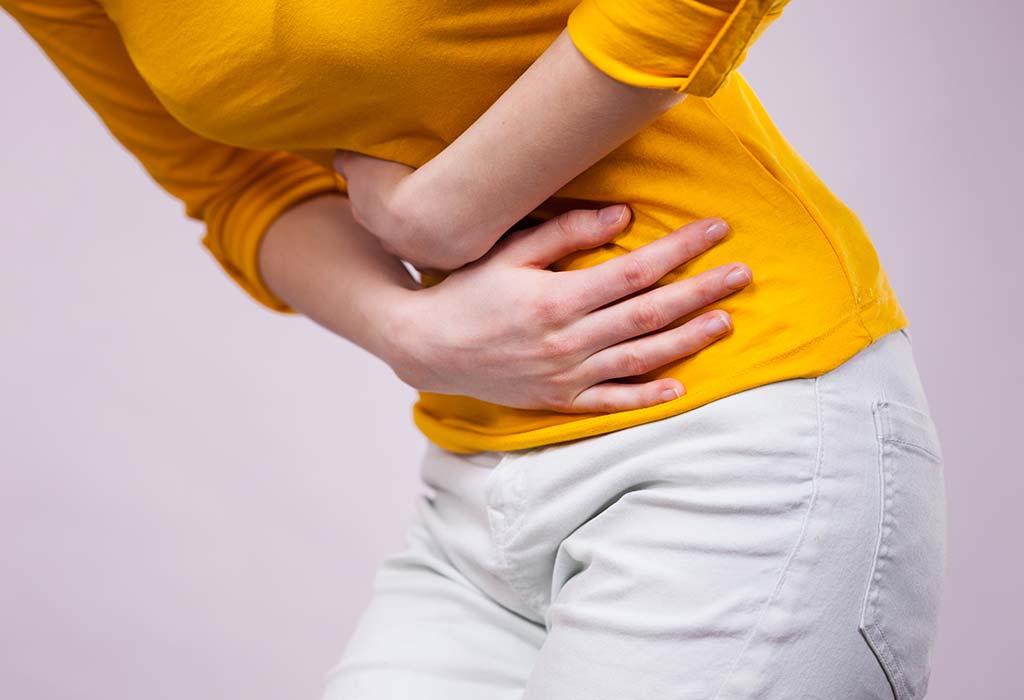 4. Detoxifies Your Liver
Raw mango cleanses the liver and promotes the secretion of bile acid. To make the most of its detoxification effects, you can have it as a salad.
5. High in Vitamin C
Raw mangoes are high in Vitamin C. If that's not enough, they are also high in Vitamin A, calcium, and magnesium which are useful for releasing toxins from your body and promoting healthy bowel movements in the process.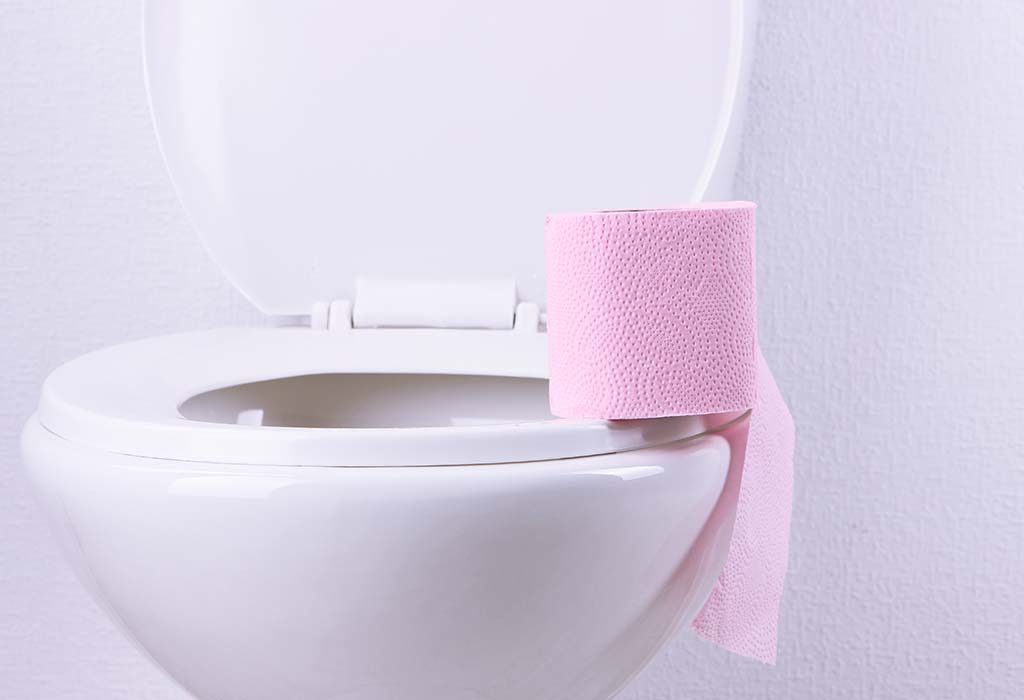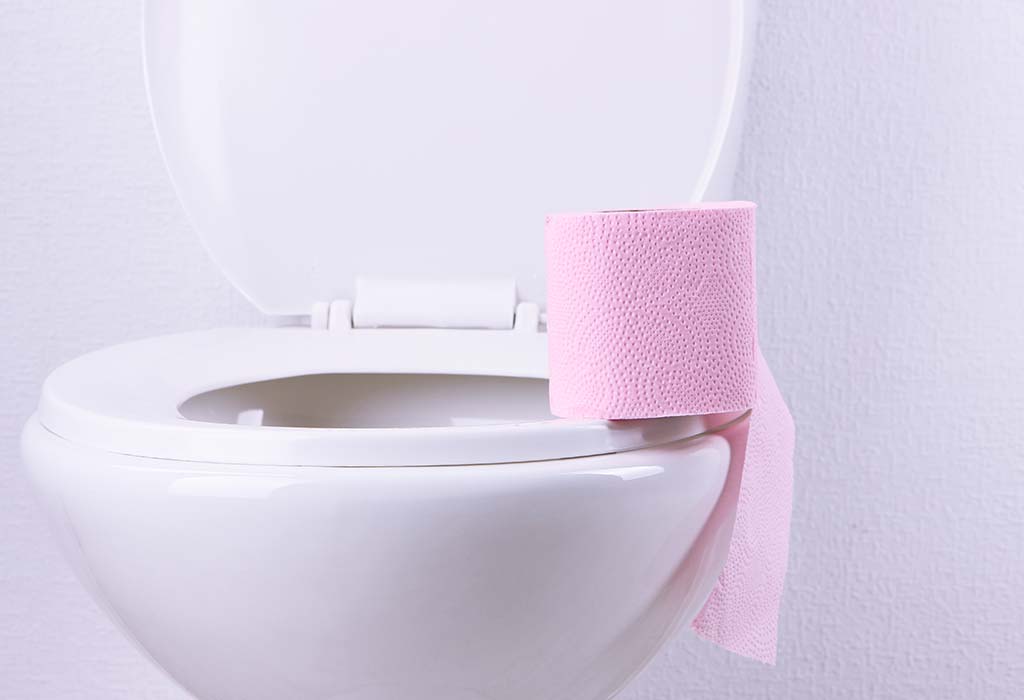 6. Boosts Cardiovascular Health
Raw mangoes are high in niacin which is responsible for regulating your cholesterol levels. Healthy cholesterol levels equate to a lower risk of early mortality from lifestyle or chronic conditions like diabetes, heart disease, stroke, and heart attacks. Besides this, niacin also boosts your blood circulation and gives your heart a pick-me-up, making sure it beats normally and stays in good shape.
7. Good for Your Teeth
Did you know that raw mangoes are good for your teeth? They eliminate bad breath, prevent bleeding of the gums, and also minimize the risk of tooth decay. If you want strong and shiny teeth, start chewing on some raw mangoes today.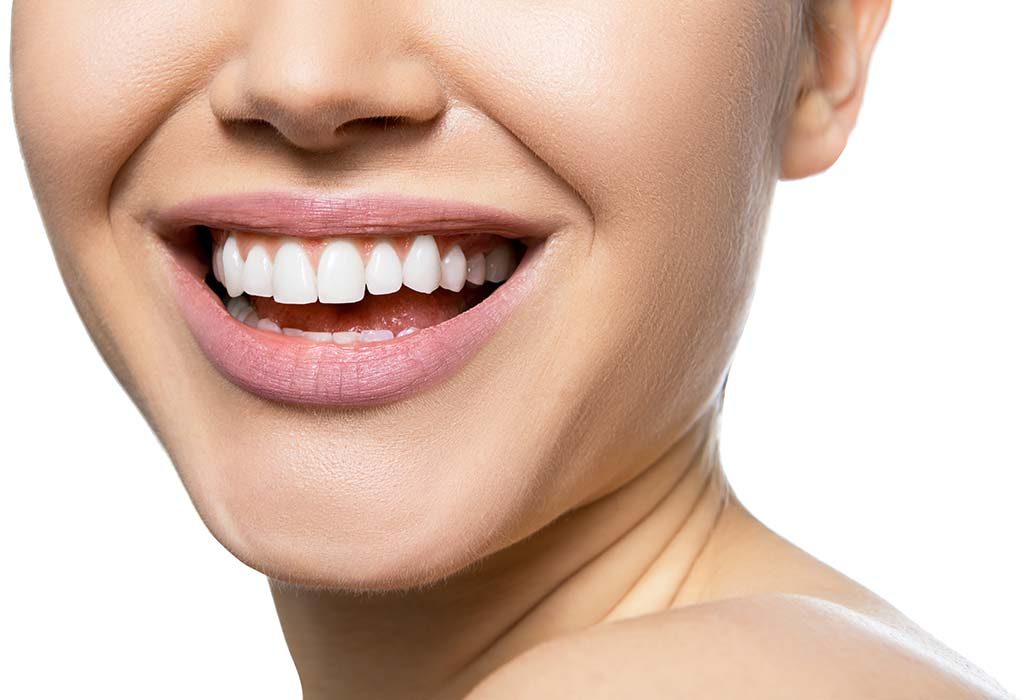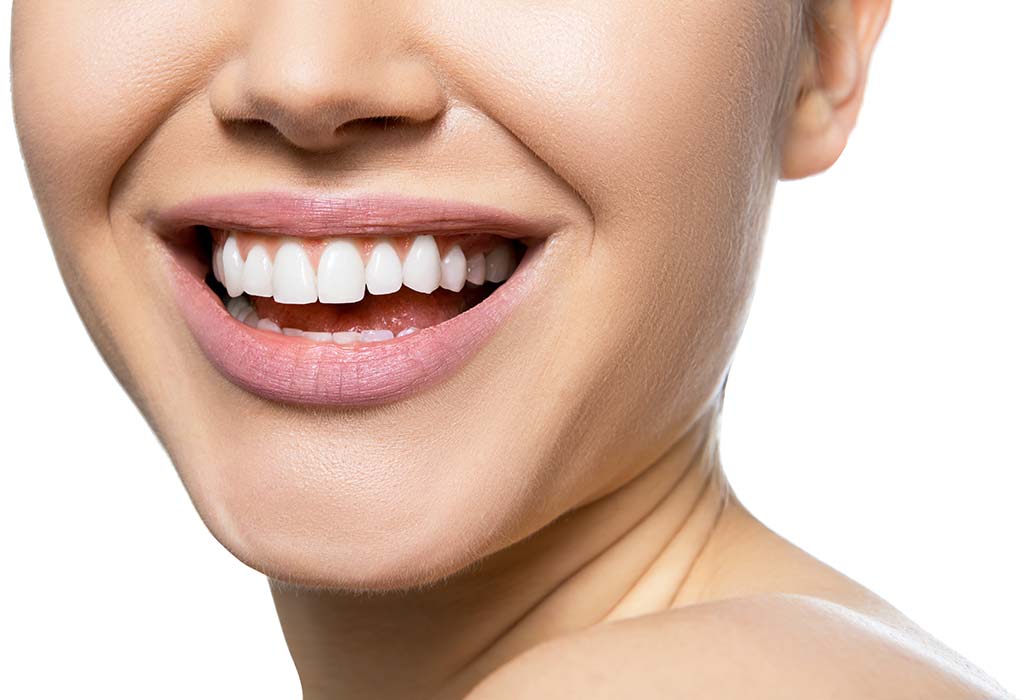 8. Safe Pregnancy Snack
One of the benefits of eating raw mango during pregnancy is that it's safe to eat. You can refer to the nutrition table above to see what nutrients it supplies pregnant women with. It can also make your delivery easier.
9. Good for the Skin and Hair
Raw mangoes are good for the skin and hair because of their Vitamin A content. Vitamin C enables collagen synthesis which is responsible for healthy ageing, hair, and skin.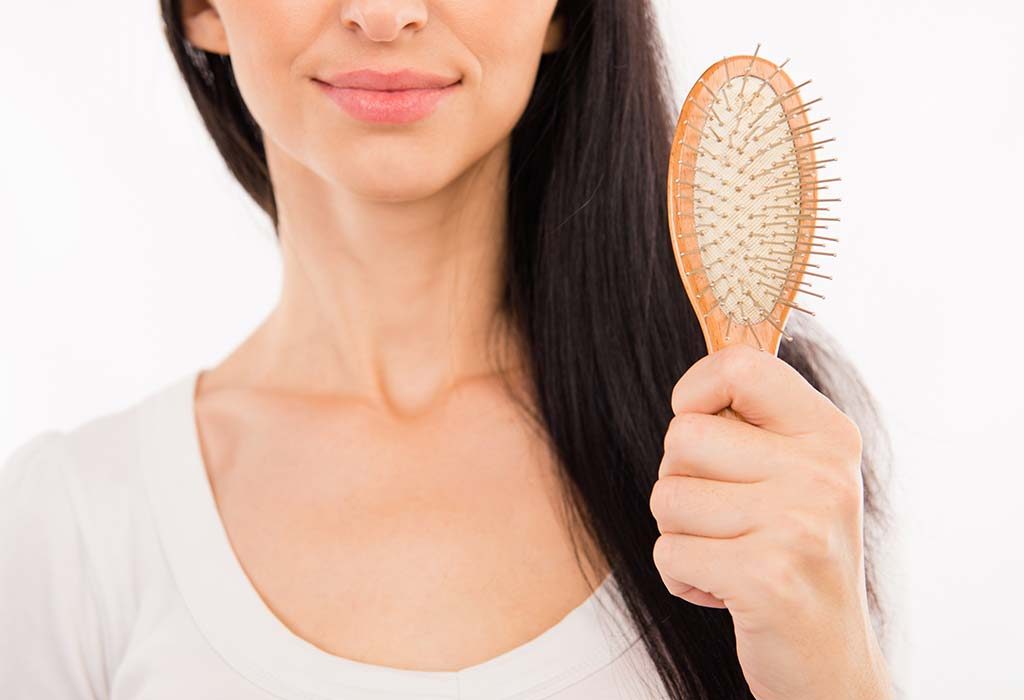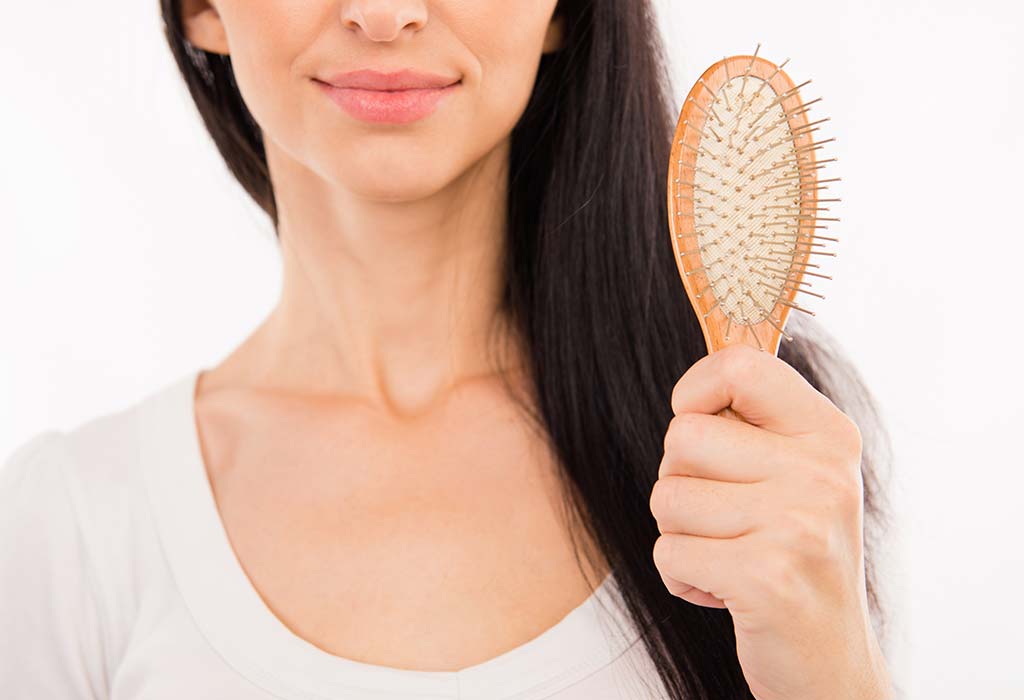 10. Good Source of Fiber
Raw mangoes are a good source of plant-based fibre. Getting enough fibre every day will boost your immunity, lower hypertension, and keep your colon functioning well.
11. Prevents Macular Degeneration
Raw mangoes contain an antioxidant known as zeaxanthin which is required for optimal vision health. It filters out harmful UV rays and helps protect against age-related macular degeneration.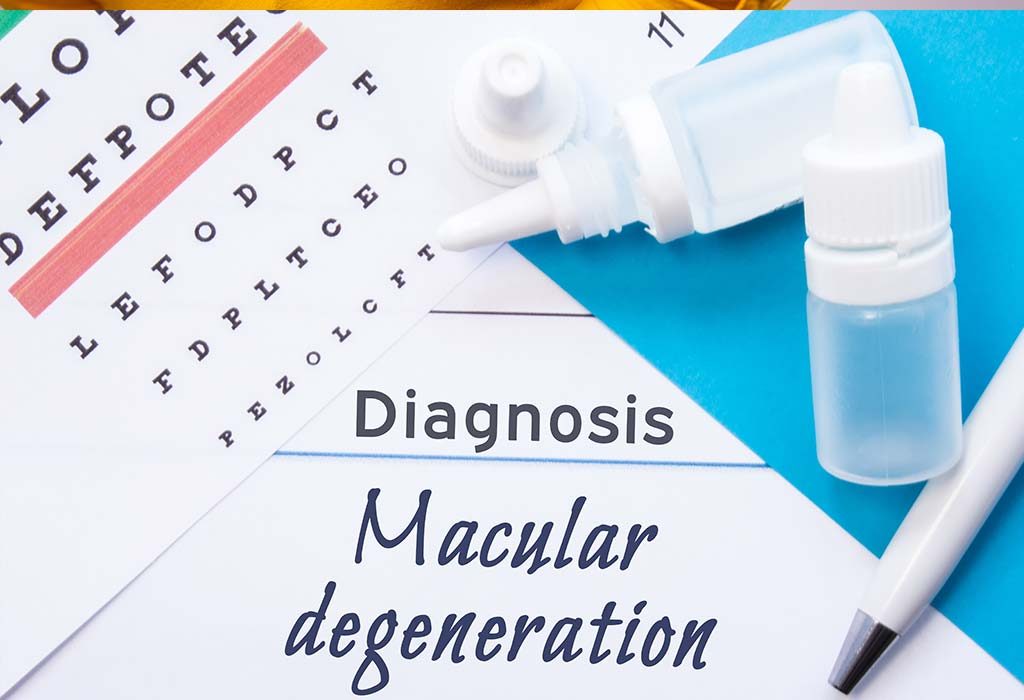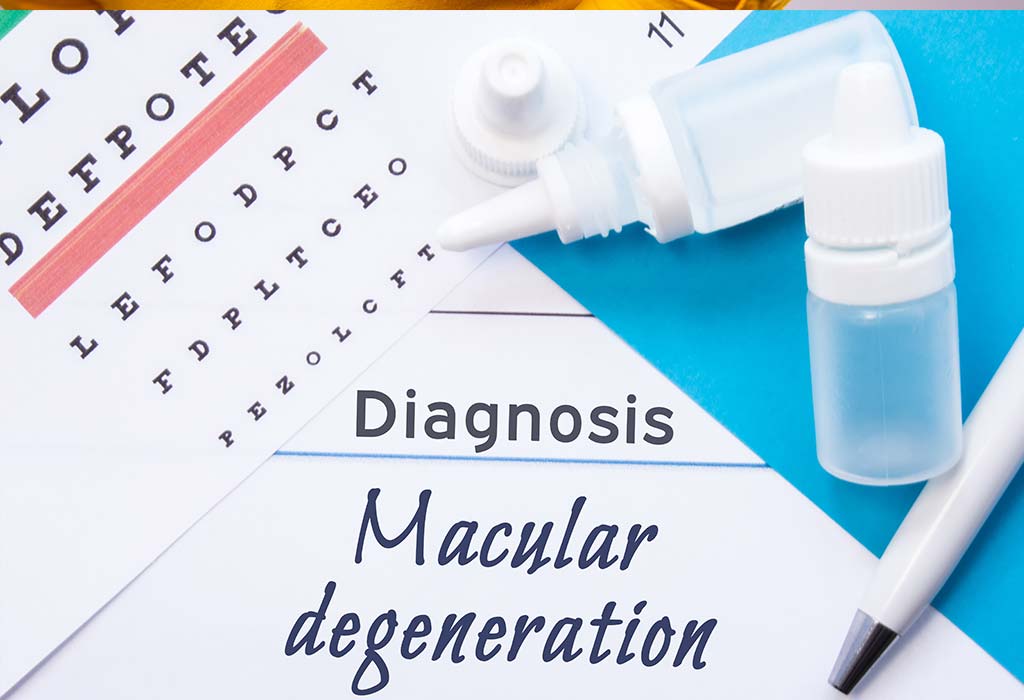 12. Lowers Your Risk of Cancer
Raw mangoes are high in beta-carotene and a study by the Harvard School of Public Health's Department of Nutrition shows that it helps in protecting one against prostate cancer.
Are There Any Disadvantages of Eating Green Mangoes?
Eating too many raw mangoes can cause indigestion, and irritation in the throat. Make sure you don't eat raw mangoes until you drain out the sap.
5 Easy Raw Mango Recipes
Craving for some kaccha aam? Here are a couple of healthy recipes to help you enjoy that.
1. Raw Mango and Sweet Corn Salad
Sweet corn and raw mango make for a terrific salad. Here's how you make it.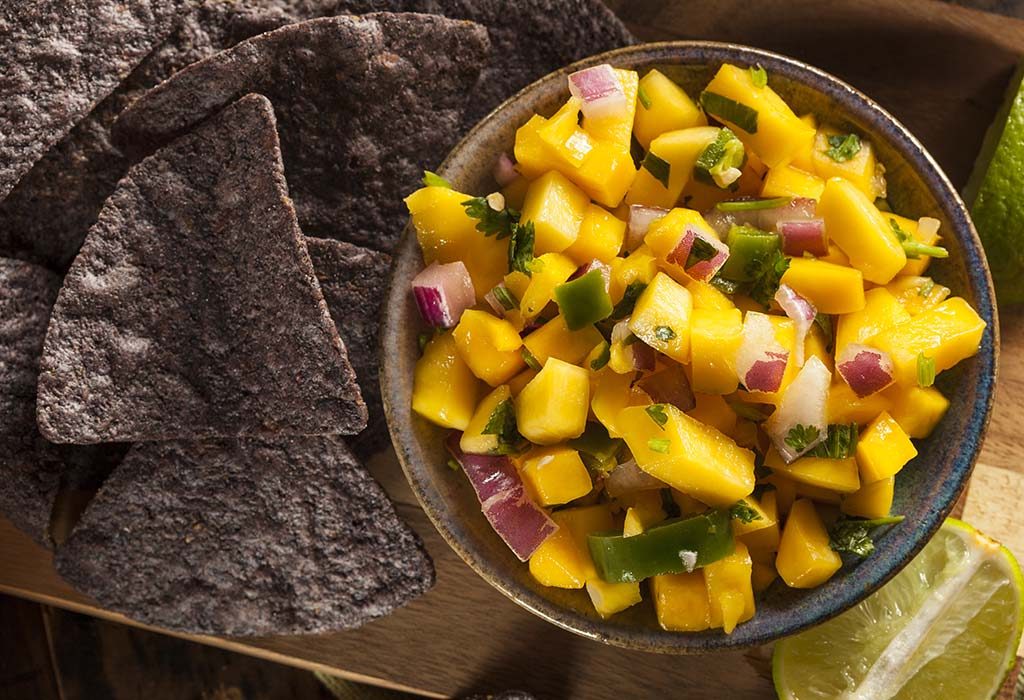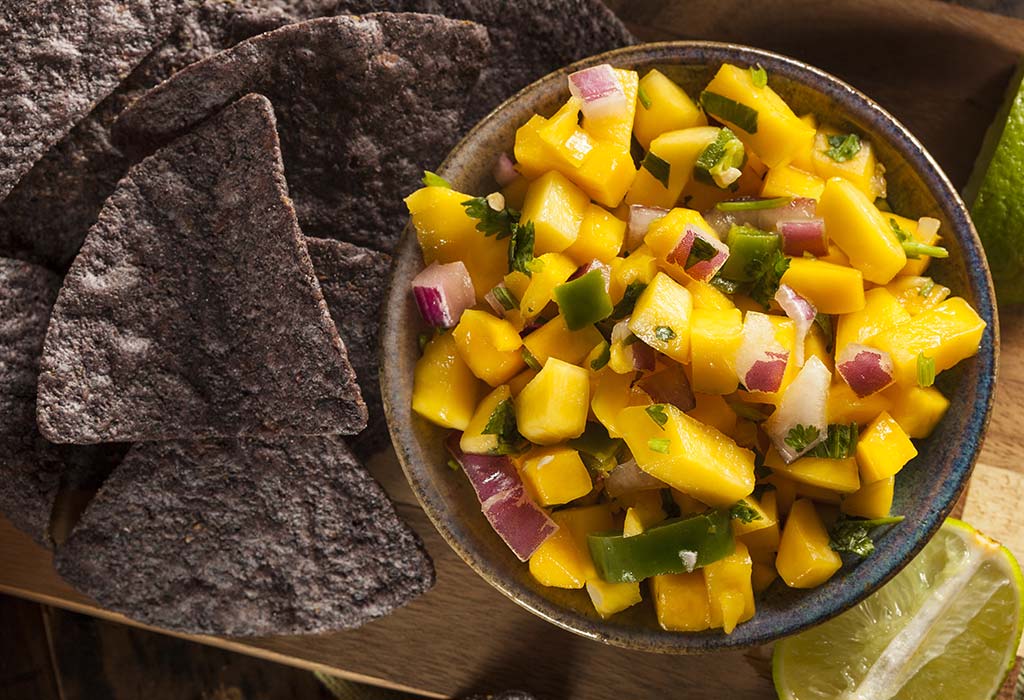 Ingredients:
Sweet corn kernels – 1 cup
Onions – 1 tablespoon
Chopped spring onions – 3 tablespoons
Red bell pepper – 1/2 nos
Diced raw mangoes – 1 tablespoon
Cherry tomatoes – 6 nos
Diced pineapple – 1 tablespoon
Coriander leaves – 1 teaspoon
Basil leaves – 4
Lemon juice – 2 teaspoons
Olive oil – 1 tablespoon
Salt to taste
Directions:
Blanch the corn kernels by boiling in water but make sure they are tender and not overcooked.
Dice all the vegetable ingredients into small pieces.
Mix well and use the salt and spices for the seasoning.
2. Raw Mango Rasam
Craving for rice dishes? Don't forget to add this raw mango rasam to them!
Ingredients:
Raw mango – 1 no
Salt to taste
Curry leaves – 10-12 nos
Red chilli – 2-3 nos
Coriander powder – 1 teaspoon
Cumin powder – 1 teaspoon
Mustard seeds – 1/2 teaspoon
Turmeric powder – 1/2 teaspoon
Black pepper powder – 1/2 teaspoon
Lemon juice – 1 tablespoon
Coriander leaves – 5 sprigs
Ghee – 1/2 teaspoon
Cumin seeds – 1 teaspoon
Hing – a pinch
Garlic – 3 cloves
Jaggery – 1 tablespoon
Directions:
Wash the mangoes and slit them.
Take a pan and heat 3 cups of water.
Add the mangoes and cook till they soften.
Once the mangoes cool down, mash them and discard the skin.
Add red chillies, turmeric powder, salt and jaggery to the mango pulp and bring the mixture to a boil.
Let it simmer for 3-4 minutes. By now, the rasam should have a watery consistency.
Heat oil in a pan and add hing, mustard seeds and curry leaves, and let them splutter.
Serve hot.
3. Raw Mango Rice
Now that your raw mango rasam is ready, it's time to make the rice. Here's how you do it.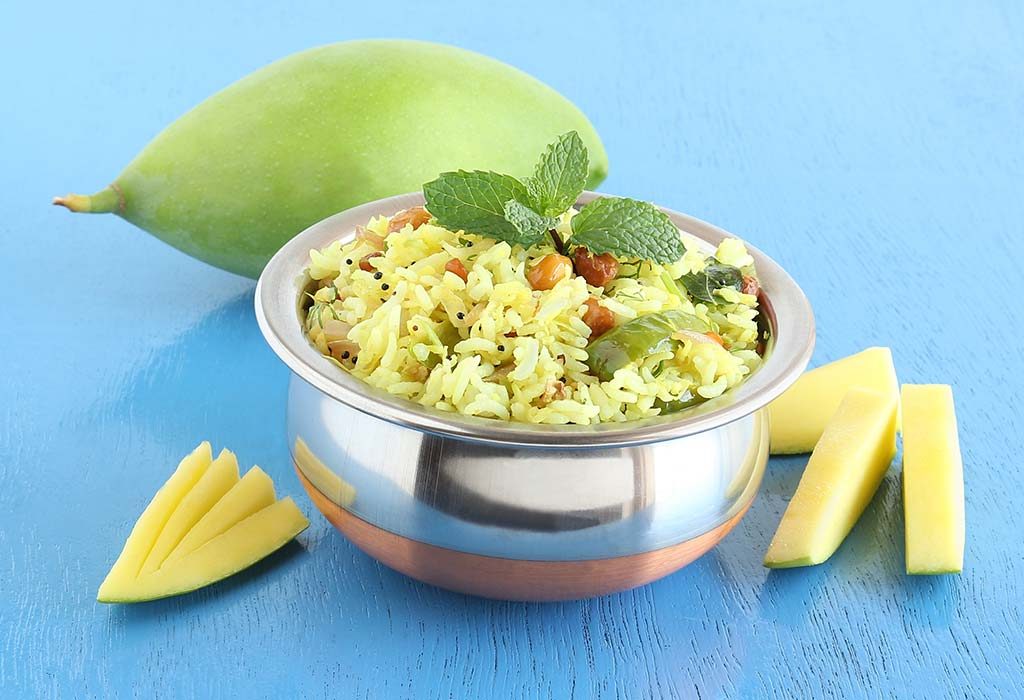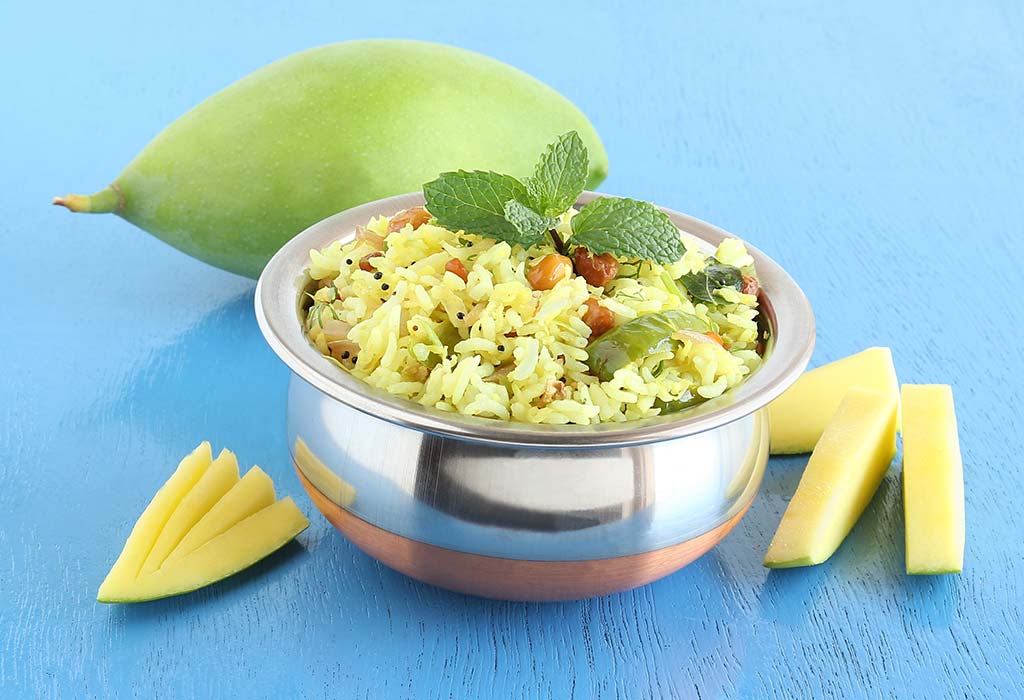 Ingredients:
Cooked rice – 1 cup
Raw mangoes (grated) – 1/2 cup
Mustard seeds – 1/2 teaspoon
Urad dal – 1/2 teaspoon
Chana dal – 1/2 teaspoon
Groundnuts – 1 teaspoon
Green chillies – 2 nos
Curry leaves – a few
Turmeric powder – 1/4 teaspoon
Sesame oil – 3 teaspoons
Salt to taste
Hing – a pinch
Directions:
Pour the mustard seeds and sesame oil in a pan. Mix in urad dal, chana dal, and green chillies with the curry leaves, hing, and turmeric powder.
Set aside the grated raw mangoes.
Make the rice and let it cool down.
Add in the grated mangoes and the tempering, combining the ingredients well.
Serve fresh with the raw mango rasam.
4. Aam Panna
Aam panna is a refreshing beverage that's perfect for the summers. Here's how you make it.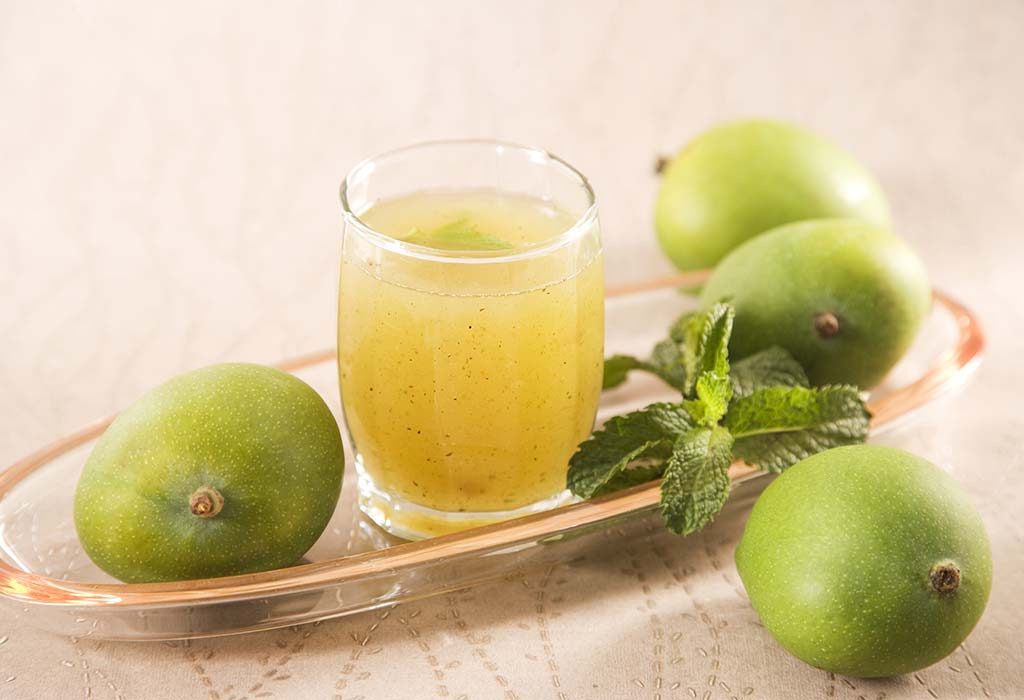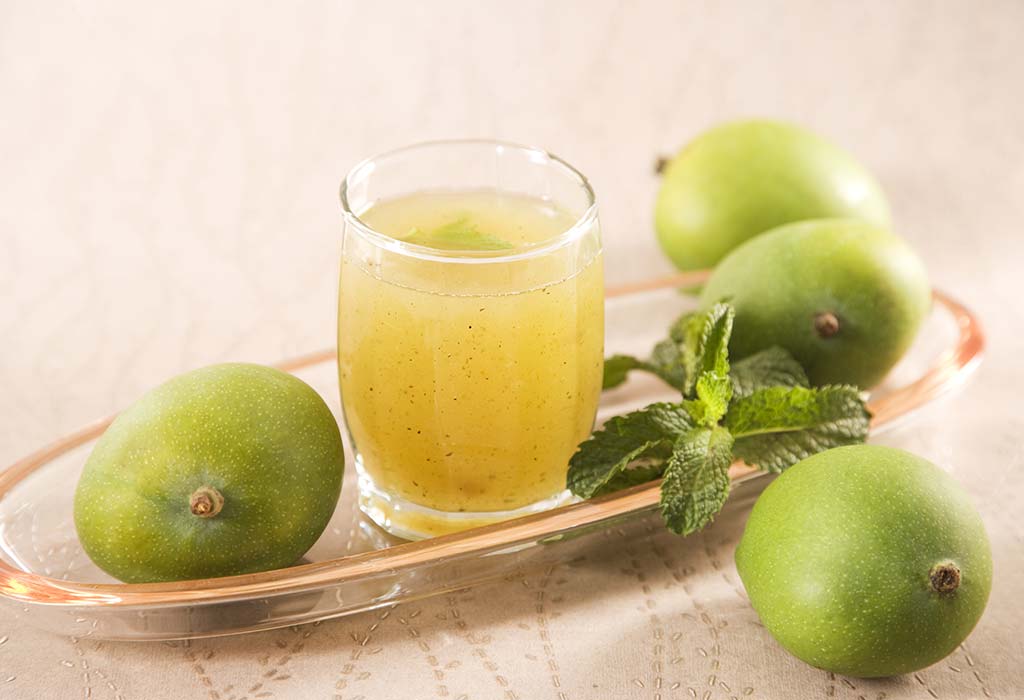 Ingredients:
Green mangoes – 500 grams
Sugar – 1/2 cup
Salt to taste
Black rock salt – 2 teaspoons
Cumin seeds (roasted and powdered) – 2 teaspoons
Mint leaves (finely chopped) – 2 tablespoons
Water – 2 cups
Directions:
Boil the raw mangoes till its skin colour changes.
Let it cool and extract the pulp.
Put the ingredients in a blender and add water.
Blend well and serve in glasses with ice cubes added to the drink.
5. Raw Mango Fish Curry
Raw mango fish curry pairs well with brown rice. More about the recipe below.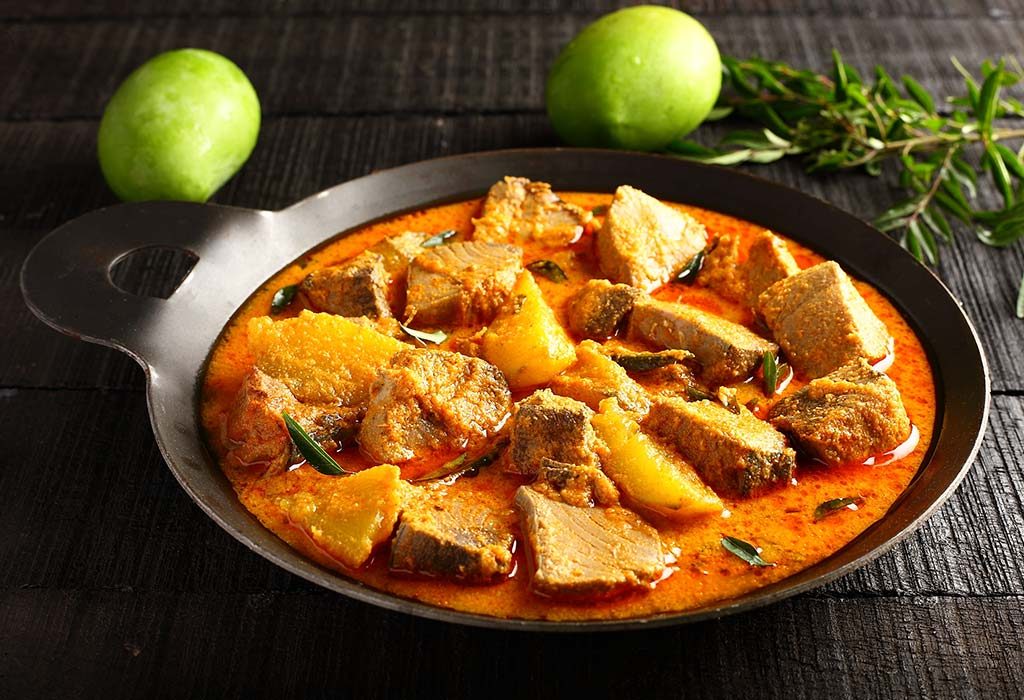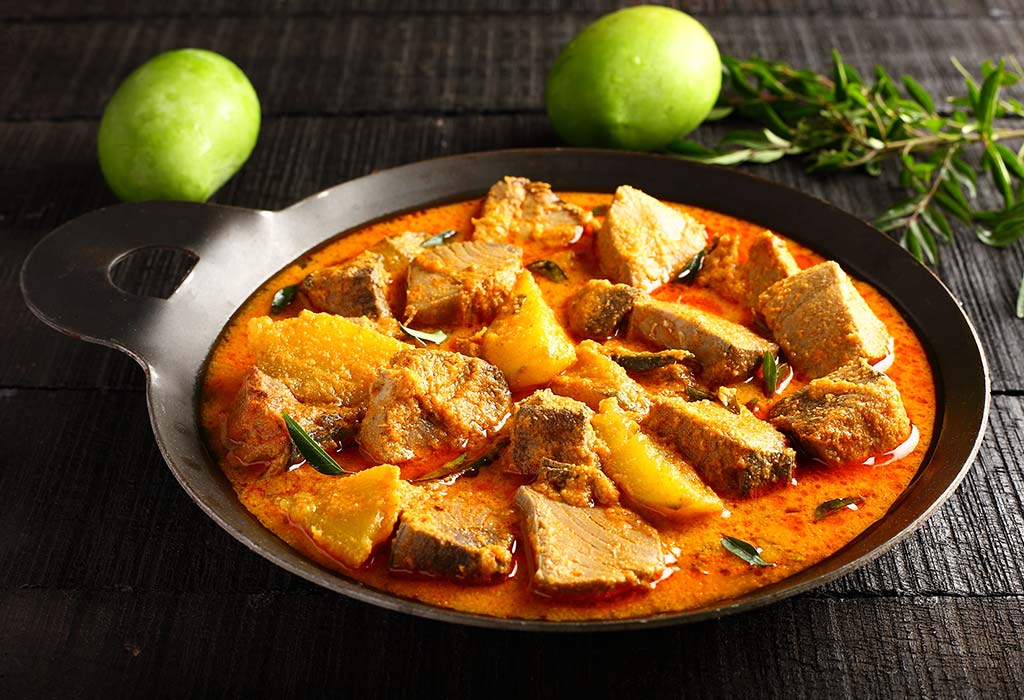 Ingredients:
Skinless pomfret fillet – 900 grams
Coconut oil – 1/2 cup
Small onions – 250 grams
Green chillis (chopped) – 3 tablespoons
Ginger (chopped) – 5 tablespoons
Degi mirch powder – 2 tablespoons
Turmeric powder – 1 tablespoon
Raw mangoes (diced) – 300 grams
Salt
Curry leaves – 10
Coconut cream – 1.2 litres
Coconut milk powder – 5 tablespoons
Brown rice – 1 cup
Directions:
Clean the fish and cut it into equal-sized pieces.
Make the curry by heating coconut oil in a pan and adding the onions, green chillies and ginger.
Fry for a while and add the powdered spices,
Remove from heat, add water and cook again with masala.
Add diced raw mangoes, salt, curry leaves, and cook till the mangoes become tender.
After the masala cooks, add coconut cream to milk, simmering and stirring well.
Add fish to this mix and simmer until cooked,
Add the seasoning and serve fresh with brown rice.
FAQs
Is Raw Mango Good For Diabetes?
Yes. If you're asking "Can a diabetic eat raw mangoes?", then the answer is yes, however, only in moderation. Raw mangoes have lower sugar content than ripe ones, but they still have sugar.
Raw mangoes are good for you. Just make sure you don't overeat to make the most out of their health benefits.
Health Benefits of Drinking Lemon Juice in Water
Mediterranean Meal Plan and Why It Works
Healthy Foods You Should Not Be Eating At All
?>