Pretty Window Flower Box Ideas For Your Home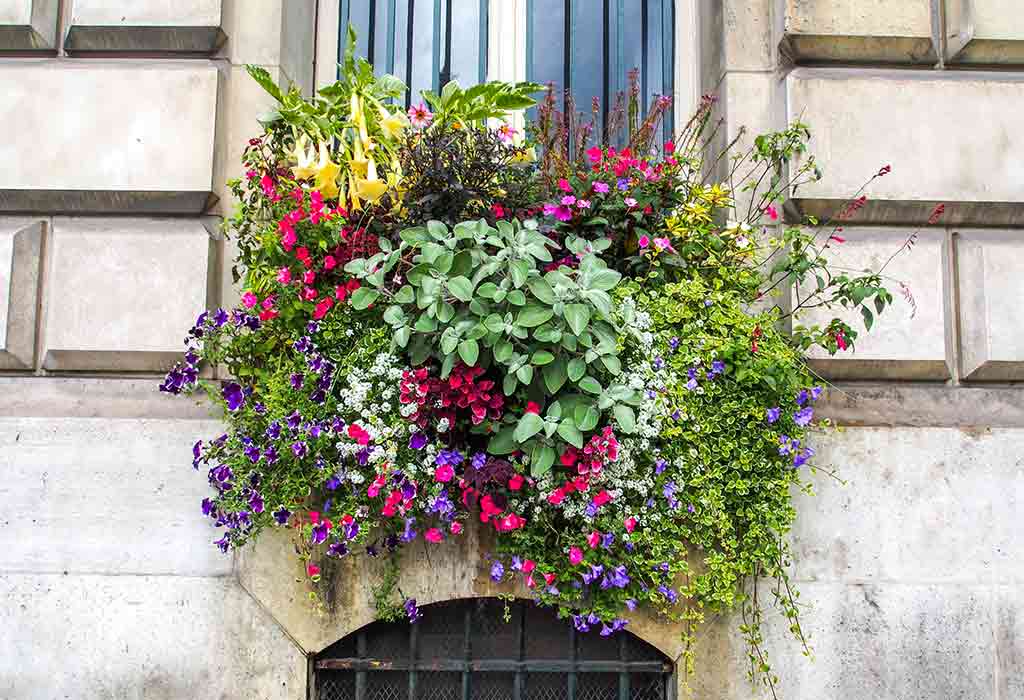 In this Article
Flower arrangements are a simple and effective way to amplify the welcome setting of any given space. Window flower boxes loaded with luscious leaves and flowers represent the beauty of an entire house and make a fragrant style statement.
Lovely Window Box Ideas with Floral Arrangements
Arranging flowers is an expression of creativity and a highly valued art form. Window flower boxes combine a planter or box and live plants, flowers, or herbs and provide a miniature garden feel to your home exterior. You can choose window box designs as per the season. Small flower boxes work well with identical windows with narrow gaps. A long line of flower boxes or a large single box is ideal for a big wide balcony. Several identical windows would need a selection of large individual boxes. As a general rule, keep tall plants in the back, medium plants in the middle, and cascading trailing plants in the front. Manufactured window boxes come in various styles and materials, including wood, resin, plastic, and metal wire. Choose colors appropriate for the season while creating an arrangement. Here are some gorgeous flower box ideas to brighten up your home.
1. Autumn Blooms
The best fall window box ideas help decorate with innovative use of easily available materials representing the changing season. Kale and bronze orange mums combined with other plants such as grasses, ornamental peppers, or leatherleaf sage generally work well. In addition, small gourds and pumpkins can be used as filler to get the fall flair for your window boxes.
2. Christmas Cheer
Christmas window box ideas are ideal to accentuate your home's curb appeal in the harsh winter months. Use ferns, perennial flowers in red and white, evergreens, wreaths, poinsettias, Christmas decorations, magnolia leaves, twinkle lights, and holly to get the perfect holiday look.
3. Bright and Sunny
Window box ideas for summer normally involve Petunias, the summer workhorse. These vibrant heat-resistant flowers are available in various shades and spill out of the box in sweet exuberance.
4. Green Indoors
Indoor flower boxes make your home feel connected to nature. A flower box made out of shipping pallets can act as an adorable indoor succulent garden. When combined with Mason Jars with herb plants, a decorative box with dried Hydrangeas, or vertical wall planters, the pallet box makes one of the brightest indoor window planter ideas.
5. Spring Blooms
Bring even the dullest façade to life with vibrant spring window box ideas. Shades of gray with flowers such as hydrangeas to spiller can create a dramatic visual. Alternatively, eye-catchy tulips, pansies, and daffodils in your window box can create a springtime look.
6. Cold Season Flowers
These practical winter flower box ideas can add a festive spin to your window. A mix of deep green shrubs as the backdrop, colorful flowers, and foliage will create a nice flower box. Use a silver and white color scheme with white violas and millers and red nandina berries to create a lovely dressy appearance.
7. Indoor Flower Box
You can make repurposed wooden boxes into hanging flower boxes secured with sisal rope to bring outside. You can also plant succulents like aloe Vera and houseleeks in them for beautification.
8. Picket Fence Window Box
Affordable and durable, these unique window boxes distinguished by vertical boards add personality to your windows. Paint the cedar fence planks in white for a classy look.
9. Antique Drawer Window Boxes
You can upcycle antique dresser drawer window boxes to add a vintage flair to the front of your home. Lend them a distressed white finish to bring out a fresh country feel.
10. Standing Pallet Window Box
Instead of drilling holes, place cascading flower pallet planter boxes repurposed to add a hint of nature in front of your empty windows.
11. Galvanized Herb Garden Flower Box
Any galvanized tub or bucket can be easily converted into a window box planter by drilling drainage holes on the bottom. Fill them with fresh herbs like basil, oregano, and mint to use as ingredients for your next meal preparation.
12. Dry Twig Flower Boxes
The prettiest flower boxes can be made at home using dry twigs, upcycled containers, and plywood frames. You can use dried reeds for decorating them creatively.
13. Rustic Pastel Flower Box
The dry brush paint technique can give a flower box a rustic and weathered look. Consider arranging it with roses, delphinium, hydrangea, eustomas, wildflowers, and herbs for a country-style décor.
14. Wood Flower Box
Wooden flower boxes can be painted and customized to any size and shape to go well with all architectural styles. Adding a metal or plastic liner improves the lifespan of the wooden box. Hardwoods such as cedar, teak, cypress, and redwood are ideal for this type of flower boxes to lend your window a beautiful look.
15. Metal Flower Box
Metal window flower boxes are trendy enough to fit the design of any modern house. They are strong, durable, won't rot, and are not subject to insect damage. Although rusting can be an issue, choose rustproof and lightweight window boxes made of aluminum.
16. PVC
PVC window boxes and planters are versatile flower boxes painted and customized to make them rot-free and insect-resistant. These specific window flower boxes and the planter do not warp or crack during winter freezes.
17. Fiber Glass Flower Box
Fiberglass planters are durable, boast commercial-grade construction, and are available in a vast choice of colors that make them most suitable for interior and exterior landscaping.
18. Vintage Tool Box
Pull out any vintage toolbox sitting in the garage to give it a water-down wash and transform it into a cute herb planter or flower box filled with Pansies or Spanish moss.
19. Edible Box
In case you love edible greens, grow them on the kitchen window. Vining cherry tomatoes and mini pepper plants act as colorful and tasty anchors for a window box bursting with marigolds and herbs.
20. Sea- Side Window Box
Hardy plants that withstand never-ending sun, wind, and salt spray can be chosen for your window box next to the sea. It can feature the white Armeria maritima 'Alba' with Festuca glauca 'Sea Urchin' and Artemisia 'Nana.'
Add fresh potting soil to the box and mix it with existing soil before planting flowers, grasses, bulbs, or succulents to ensure they thrive well and last long. The bottom of the window boxes must have holes to allow for water drainage. So, whether you're an urban dweller with limited garden space or a suburbanite looking to liven up your facade, a window flower box could be the perfect touch to enhance the look and feel of your home.
Also Read:
Balcony Décor Ideas
Nature Inspired Home Décor Ideas
Ideas to Decorate Home With Flowers