Pretty Perennial Shade Plants That Will Fill Your Home Garden with Color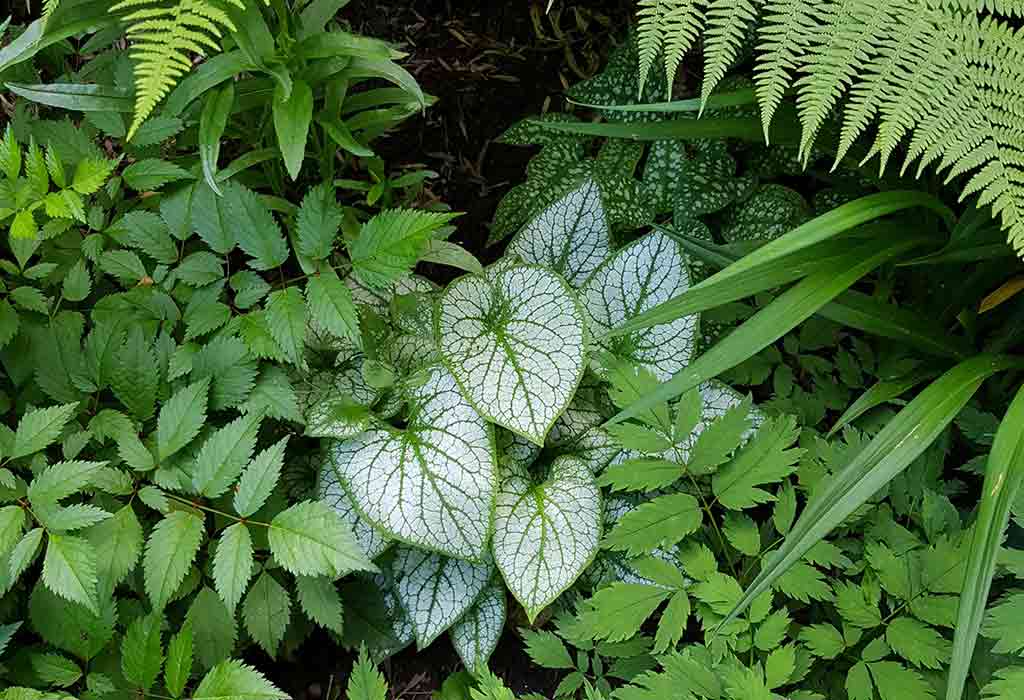 Any not-so-sunny areas of your landscape can catch the attention of neighbors or guests with the fantastic blooms and foliage of perennial shade plants. While some of these plants can thrive even in deep shade, others may grow well in full sun while enjoying the relief of partial shade in summers.
Perennial Plants That Will Brighten up The Shady Areas of Your Garden
Although most shade-loving options are foliage plants, several perennial flowers for the shade can add aesthetic value to your garden. When the garden catalogs are released every year, and the nurseries begin stocking up plants, gardeners start counting on maximizing the blooms for their buck. You don't necessarily have to grow only foliage just because your garden lacks sunlight, or you don't have to settle for just a few weeks of bloom. Shade-loving perennials are adaptive to very little sunlight. Since the canopies of larger trees and shrubs block the maximum amount of sunrays from reaching the forest floor, understory plants utilize the very little light that they receive for photosynthesizing and reproduction. Similarly, the taller fences, trees, buildings, and other structures often create a shady spot in the home garden, where it seems nothing will grow. Almost all gardens and backyards can get fully or partially shaded at some point during the daylight hours due to several factors that affect the amount and quality of the shaded parts. There are many choices when it comes to low light part shade perennials that look just as unique and beautiful as their sunny counterparts. There are three types of shade in your garden: Part sun perennials grown in partial shade that receives sunlight for only part of the day, between 3 to 6 hours each day. Dappled shade is found in areas where the branches and leaves of deciduous trees block out some sunlight. Plants in this spot usually receive about 3 hours of sun per day. Full shade practically receives no sunlight due to the presence of a sun-blocking wall or structure for the entire day. Here are some of the best Perennial flowers for the shade that can cheer you and your darkened nooks and crannies with their beauty:
1. Brunnera
This low-growing, hardy herbaceous perennial provides good ground cover and produces attractive dense clumps of foliage. In spring, the sky blue shaded flowers of Brunnera add welcome sparkle to any shaded gardens.
Types
Brunnera Macrophylla "Hadspen Cream'
Brunnera Macrophylla "Alexander's Great'
Brunnera M.Jack Frost,
Brunnera M. 'looking Glass',
Brunnera 'Diane's Gold'
Light
Full to part shade
Water
Evenly moist, well-drained soil
Zone
3-8
Size
Up to 2 feet tall
2. Ajuga
This top-notch shade perennial is grown mainly for its attractive leaves and blue flowers that bloom in the spring. It makes a low, tough groundcover and grows outward with creeping stems.
Types
Blueberry Muffin, Catlin's Giant, Burgundy Glow, Chocolate chip, Toffee Chip, Purple Brocade, Black Scallop
Light
Full to part shade
Water
Evenly moist, well-drained soil
Zone
3-9
Size
Up to 6 inches tall
3. Bleeding Heart
This favorite shade of perennials produces pink or white heart-shaped flowers that hang from elegant, arching stems in late spring and early summer.
Types
Lamprocapnos spectabilis -'Alba,' 'Gold Heart,' 'White Gold,' 'Amore Pink,' 'Valentine.'
Light
Full to part shade
Water
Evenly moist, well-drained soil
Zone
3-9
Size
Up to 3 feet tall
4. Lungwort
The lungwort is an attractive flowering shade plant that features silvery, lung-shaped spots on the foliage. The leaves will look good all season long and complement the clusters of white, pink, or blue flowers in spring.
Types
Pulmonaria Excalibur, Pulmonaria Officinalis 'Sissinghurst White', Pulmonaria' Spilled Milk", Pulmonaria 'Roy Davidson,' Pulmonaria 'Smokey Blue.'
Light
Full shade, part sun, or full sun
Water
Evenly moist, well-drained soil
Zone
4-8
Size
Up to 12 inches tall
5. Hellebore
It is commonly known as 'Lenten rose,' from the rose-like flowers that appear in early spring around the Christian observance of Lent. The "blooms" last for several months, from February until May, and the foliage is evergreen except for the coldest regions.
Types
Syncarpus, Griphopus, Chenopus, Helleborastrum, Helleborus
Light
Full to part shade
Water
Tolerates dry spells, though it does best with regular moisture
Zone
4-8
Size
Up to 12 inches tall
6. Astilbe
This shade-loving perennial can brighten shady parts of gardens with the brilliant plume-colored flower held high above the attractive, deep green foliage.
Types
Chinese Astilbe, Maggie Daley, Astilbe Sprite, Astilbe Fanal, Japansese Astilbe, Irrlicht Astilbe
Light
Part shade
Size
Up to 3 feet tall
Water
Evenly moist, well-drained soil
Zone
4-8
Size
Up to 3 feet tall
7. Jack-In-The-Pulpit
This woodland plant is a perennial for shade. Jack-in-the-pulpit produces a brightly colored bunch of red berries that look equally rewarding.
Types
Arisaema triphyllum, Arisaema triphyllum 'Black Jack,' Arisaema triphyllum 'Starburst,' Arisaema quinetum, Arisaema dracontium, Arisaema saxatile, Arisaema Yunnanese, Arisaema dracontium, Arisaema tortuosum, Arisaema serratum, Japanese Cobra Lily
Light
Partial shade to full shade
Size
6-12 inches
Water
Moist, humusy Soil
Zone
4-9
8. Bunchberry
Bunchberry is a straight, low-growing plant that often forms colonies. It is ideal for dappled shade and works well in naturalized areas and along shaded pathways.
Types
Bunchberry Dogwood, Dwarf Dogwood, Canadian Bunchberry, Dogwood Bunchberry, Pudding Berry, Crackerberry, Creeping Dogwood, and Dwarf Cornel.
Light
Shade
Size
Reaches only 6 to 12 inches
Water
Moist acidic soil
Zone
2-7
9. Leopard Plant
While it is grouped with other shade perennials, this versatile perennial can stand little sunlight if watered enough. It can also be grown in spots that are too wet for many other plants to handle.
Types
Farfugium japonicum, Farfugium hiberniflorum.
Light
Partial to full shade
Size
Moderate growing; reaches 3 to 4 ft. tall, up to 3 ft. wide.
Water
Organically rich soil that stays moist
Zone
4-8
10. Roger's Flower
The striking flowers of this plant add an element of architecture to your landscape with its massive palm-shaped thick leaves that have a coarsely toothed edge.
Types
aesculifolia, R. Henrici, R. pinnata, R. podophylla, R. sambucifolia
Light
Part Sun, Sun
Size
3-8 feet
Water
Moist and rich in humus
Zone
5-7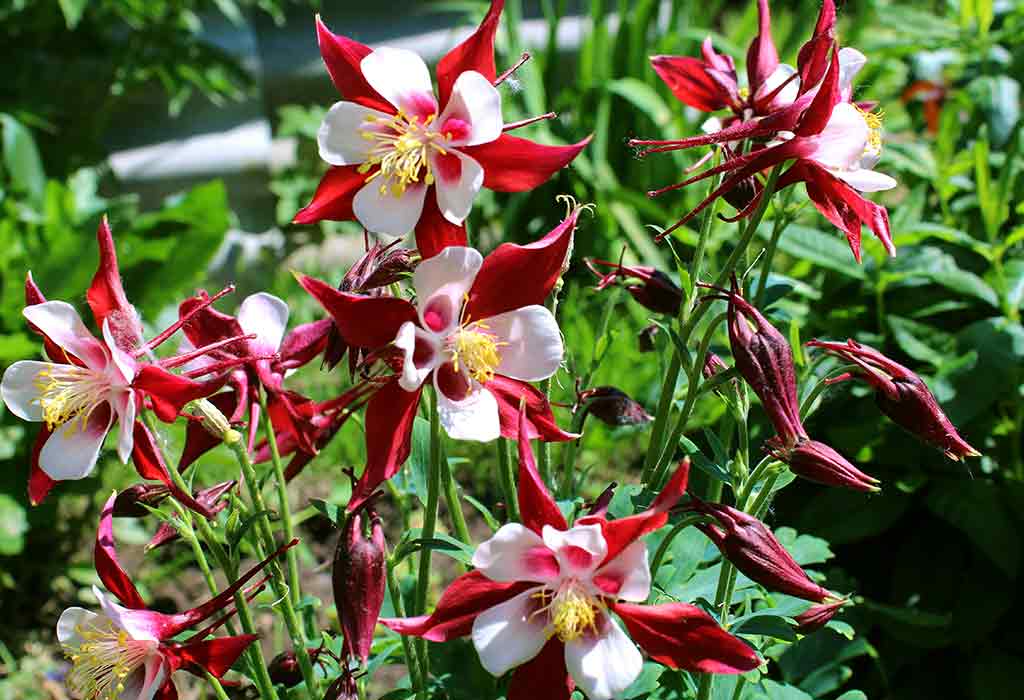 11. Columbine
Columbines are one of the popular Red flower perennials that are herbaceous perennials found in meadows, woodlands, and in higher altitudes. The ones with colored blooms may be the best choice for shaded spots, where they brighten up gloomy areas.
Types
Aquilegia alpine, Aquilegia atrata, Aquilegia caerulea, Aquilegia vulgaris, Aquilegia McKana, Aquilegia Canadensis, Aquilegia x hybrid, Aquilegia flabellate, Aquilegia chrysantha, Aquilegia pubescens
Light
Full to partial shade
Size
3 to 4 feet
Water
Well-drained soil amended with compost
Zone
3-9
12. Spotted Deadnettle
Deadnettle is a very nice landscape plant that looks good due to its colorful foliage and flowers. This ground cover with silver foliage can help brighten shady areas and make them seem less gloomy.
Types
Album' (white form), 'Anne Greenaway,' 'Aureum' (yellow-leaved), Beacon Silver' (silver leaves), Cannon's Gold' (gold leaves), 'Chequers' (vigorous, silver-striped leaves),' Purple Dragon' has unusually purple snapdragon-type flowers 'Red Nancy' (silver leaves with green margins) 'Roseum' (leaves with a central silver stripe)'Sterling Silver' (silver leaves) 'White Nancy'
Light
Full sun to partial shade
Size
3 to 12 inches tall
Water
Well-drained, with average moisture and fertility needs
Zone
4-8
13. Spiderwort
Spiderwort or Tradescantia is a part shade and not a deep shade plant. It makes for very low-maintenance houseplants that are ideal for beginner gardeners. They are also available in a dazzling array of unique cultivars.
Types
Burgundy, Green Glow, Lilac, Baby Bunny Bellies, white Velvet, Green Ghost, Tricolour, Moses In The Cradle, Nanouk
Light
Partial Shade To Full Sun
Size
2 feet tall
Water
Moist, well-drained, and acidic soil
Zone
4-9
14. Viola
These perennial plants are often recommended for ground cover, as they spread fast to make large flowering clumps under shrubs, notably roses, with which they match extremely well.
Types
Penny Purple Picotee, Johnny Jump-Up, Sand Violet, and others
Light
Part to full shade
Size
4-10 Inches
Water
Rich, moist, well-draining soil
Zone
3-8
15. Monkshood
Monkshood is a perennial flower that loves full sun but is fine in partial shade. Its deep purple-blue blooms can last up to two months in late summer, appearing atop 5- to 6-foot stalks.
Types
Arendsii' Monkshood, 'Bicolor' Monkshood
Light
Full sun to part shade
Size
3-8 feet
Water
Rich, moist, well-drained
Zone
3 to 7
16. Black Cohosh
Black Cohosh is a perfect perennial flower for the shade that blooms well even with little direct sunlight. The dense foliage gives rise to even taller stalks of bottle brush-shaped clusters of white flowers.
Types
Actaea racemosa, the black cohosh, black bugbane, black snakeroot, or fairy candle
Light
Part shade to full shade
Size
18-22 Inches
Water
Average, medium-moisture
Zone
3-8
17. False Spirea
Spireas (Spiraea) are low-maintenance flowering shrubs that add showy clusters of flowers to the garden. Many varieties of these plants grow best in part shade but can also tolerate full sun or even full shade.
Types
Bridal wreath spireas or shrubby spireas.
Light
Full sun to part shade
Size
6 inches to 5 feet
Water
Loamy, medium moisture, well-drained
Zone
3-8
18. Barrenwort
Barrenwort is an underused perennial that tolerates dry shade. The groundcover blooms in spring in red, orange, yellow, pink, purple, or white shades.
Types
Epimedium x versicolor Sulphureum, Epimedium rubrum, Epimedium grandiflorum, Epimedium pubigerum, Epimedium x warleyense, Epimedium x purralchium, Epimedium x youngianum 'Nieveum'
Light
Full to part shade
Size
Up to 12 inches tall
Water
Tolerates dry spells but does best with regular watering
Zone
5-9
19. Lilyturf
Loved for its grassy foliage and spikes of blue or white flowers in late summer. Lilyturf is easy to maintain, and it produces white and blue flowers on dense tufts of broadly grassy leaves that are often striped.
Types
'Lilac Beauty' lilyturf, Variegated lilyturf
Light
Full shade, part sun, or full sun
Size
Up to 12 inches tall
Water
Tolerates drought well but grows best with regular watering
Zone
5-10
20. Primrose
Primroses are famous perennials that are a staple in cottage gardens. Its bright blooms grow on the sturdy stalks of its deep green foliage in early spring. Although it can handle some amount of sun in the spring, they need the least partial shade in the height of summer.
Types
Oenothera Speciosa, Primula Baltic Amber, Primula Belarina Cobalt Blue, Primula Vialii, Primula Denticulata, Primula Gold-Laced, Primula Romance, Primula Auricula, Primula Zebra Blue and others.
Light
Part shade to full shade
Size
up to 20 inches tall
Water
Rich, moist, well-drained
Zone
2-8
Before planting your shaded spots, it's important to take some time to observe the shade conditions in your particular locale. Depending on the structures in and around your garden and the orientation of your home, the quality of shade will vary. Southern exposures will be sunny at most times of the day, while western exposures will be shaded in the morning and be brightly lighted by the afternoon.
Also Read:
Bedroom Plants That Will Keep You Fresh & Active
Best Indoor Air-purifying Plants For Home
Types of Soils Which Are Best for Plant Growth