Pretty Dresses to Wear to a Fall Wedding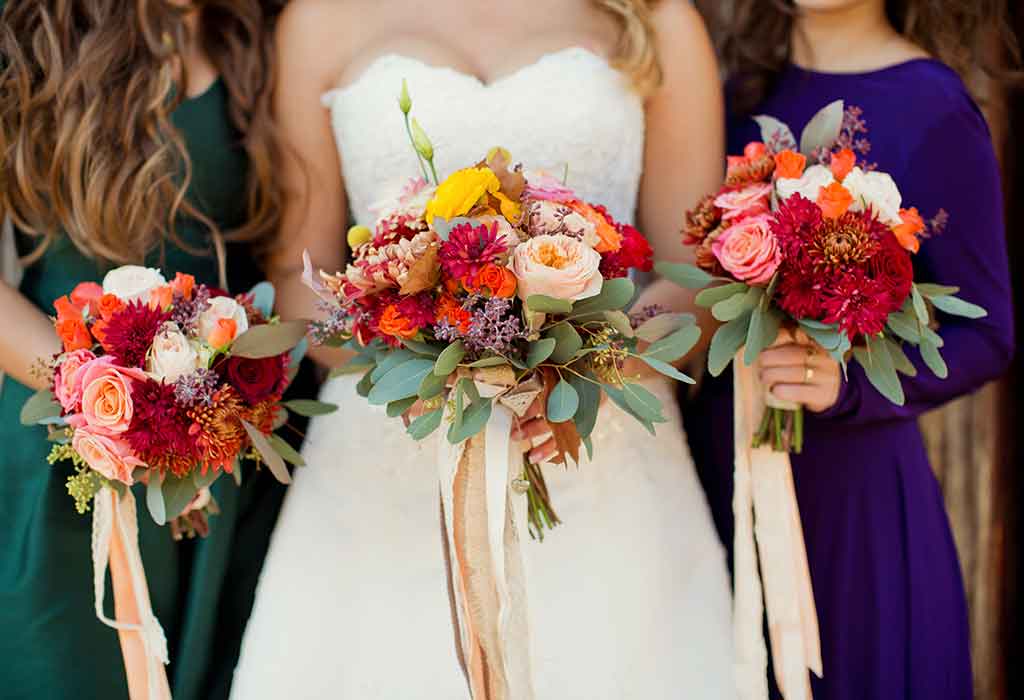 In this Article
Weddings are the times to make special memories with your loved ones and celebrate in full zest and enthusiasm. There is an air of excitement at parties, and you want to be part of the euphoria and fun. Although it's exciting to think about attending a fall wedding, the challenge is finding something aesthetic to wear. You want to look your best, but at the same time, don't want to overdo it.
Fall brings a slight chill in the air with it, which means inky florals, mixed textures, and colorful palettes stand out best. We've done our best to compile a list of the best outfit ideas for your upcoming fall wedding event. If you're attending as a guest and are questioning your outfit choices, this post is just for you!
Best Outfit Ideas for Guests to Wear at a Fall Wedding
Finding the right dress doesn't have to be a chore, and if it's your first time going to a fall wedding circuit, this list will have you covered. Pick a few ideas, experiment with them, and go with what works for you. Every dress on this list is unique and gives plenty of room to play with. You'll be looking fab in no time, and these outfits will give your fall wedding wardrobe a huge upgrade.
1. Monique Lhuillier Lace Puff Sleeve Dress
The Monique Lhullier Lace puff sleeve dress is an excellent choice to wear to fall weddings and celebrations. It features a stunning corded lace design and feminine puff sleeves, which will bring out your inner diva. There is also a zipper hidden in the back.
2. Bodycon Mermaid Dress
Stand out on the wedding day with this drop-dead gorgeous bodycon Mermaid dress. It will make heads turn with its spaghetti straps and deep V-neck. If you're attending a casual seaside wedding in the fall, wearing black is more than acceptable, and you don't have to worry.
3. Strapless Jewel Toned Bridesmaid Dress
If you're trying to keep your fall wedding attire light and simple, a jewel-toned wedding dress is just what you should go for. You can pair it with nude heels and gold jewelry for a dramatic flair.
4. Women's Floral Maxi Dress
Simple and elegant, a floral maxi dress for women with a long hemline never disappoints. The belt lets you adjust the fit, and you can go for a polka dot print if you don't prefer flowers.
5. Dusty Pink Corset Midi Dress
Handcrafted using Tull and made with an elegant lace design, this Dusty Pink Corset Midi dress is meant for special occasions. Wear it to a fall wedding as a guest, and this tight yet stunning fit will make you stand out in the crowd.
6. Midi Slip Dress
In a hurry and can't decide what to wear? Enjoy an effortless ensemble with this stunning black midi slip dress. It drapes over the body elegantly and will easily turn you into a fashion diva.
7. Polka Dot Wrap Maxi Dress
A timeless classic, this Polka Dot Wrap Maxi Dress goes well with a clutch and kitten heels. It offers contemporary sophistication, and the cute polka dot design gives a nice feminine touch. You'll win a few hearts when you wear this to a fall wedding.
8. Chiffon Clip Long Sleeve Faux Wrap Maxi Dress
The striking tie belt cascades down to the skirt, and there is a back zip closure on this dress. It's perfect for wearing to parties, fall weddings, and any casual gatherings. Long sleeves lend you comfort, and the textured tonal blooms are the highlight of this Tahari handcrafted look. This is considered to be one of the best fall wedding guest dresses with sleeves.
9. Neon Chuck on Midi Dress
A budget-friendly dress for those who want to shop but make no compromises. This neon chuck on midi dress has a cute round neckline with a ruched waist. There is a keyhole back and many quirky details that make it a fun flaunt.
10. Ruffled Lace Black and White Mini Dress
There is nothing more elegant than this ruffled lace black and white mini dress. It is sleeveless and flaunts the contours of women's bodies well. For those who want to show off their form, this is an excellent choice. And the lace styling makes it a cute attire to wear to fall weddings. Your friends will be impressed, and the blend of black and white never disappoints.
11. Women's Blue Cap Sleeve Romper
If you're not the dressing type and enjoy going casual, then this cap sleeve romper is for you. This wide-leg jumpsuit with a button and loop closure comes with a zipper on the back. Complete your style statement by complementing the look with a pair of glam earrings.
12. Mac Duggal Sleeveless Fit and Flare Cocktail Dress
A playful circular skirt with much flair, this pretty fit and flare fall cocktail dress for wedding parties is just what you need for any occasion that requires a bit of dancing with loved ones. Get ready to impress your friends with its stunning V-neck and the seamed bustline with a wide fitted midriff that makes it an attire fit for royalty.
13. Zebra Print Linen Midi Dress
For ladies trying to make a bold style statement at a fall wedding party, the Zebra Print Midi Dress is just what they need to stand out. It is best accented with nude heels, a clutch, and the high neckline with tie cuffs makes it simply glamorous.
14. Carissima Ivory Lace Sheath Dress
Embrace the seasonal tan and wear this beautiful ivory lace sheath dress to your next fall wedding event. It has a cute pattern, and the sleeves run down elegantly to the elbows, making it a simple and quirky fit.
15. Halter Neck Laguna
If you're on a quest to find the perfect October wedding guest dress, look no further. Try out this halter neck Laguna crepe body-con dress, which offers a form-flattering look and adds instant appeal with its halter sheath. The dynamic design is sure to make eyes gaze in amazement.
You can pair these fall wedding guest dresses with light jackets or cardigans and accentuate them with your favorite accessories. Jewelry and handbags often go best with them, but go with whatever your heart desires when it comes to making the most. These are definitely among the top crowd-pleasers in the list of fall wedding outfit ideas. So make your choice and steal hearts at the next fall wedding.
Also Read:
Checklist for a Destination Wedding
Must-Have Makeup Essentials for Any Wedding Season
Stylish Outfits Ideas for a Weekend Party