Popular TV Actor Anita Hassanandani Welcomes a Baby Boy With Husband Rohit Reddy!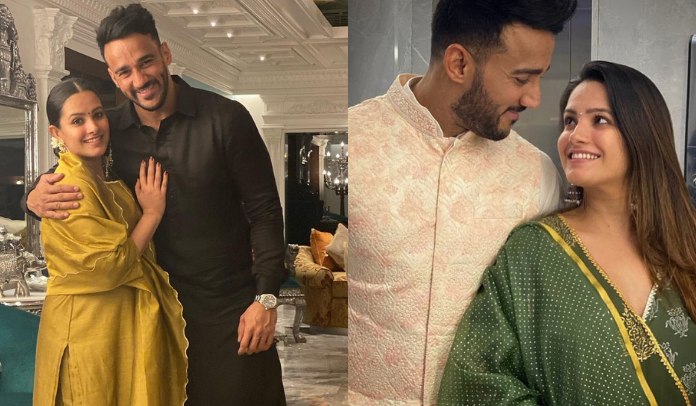 Television actor Anita Hassanandani and her husband Rohit Reddy have become parents for the first time as they welcomed their baby boy on 9th February. The proud father took to Instagram to convey the good news. Sharing an adorable photo of himself with Anita, he captioned it, "Oh Boy!"
Check out his post below:
As soon as he shared the news, congratulatory messages started pouring in from the couple's friends and colleagues. Close friend Ekta Kapoor even posted a video on her Instagram story declaring the birth of Anita Hassanandani's little boy the second-best moment of her life!
Anita had announced her pregnancy in October last year via a video where she shared shots from the couple's engagement and the exchange of wedding vows. Rohit was seen kissing Anita's baby bump at one point in the video.
The couple had tied the knot in Goa in 2013 after dating for a couple of years. Anita had once said that they were never pressured by their respective families to have kids. However, it was only after participating in a dance reality show that they felt they were ready to embrace parenthood. And with the lockdown in place last year, the timing seemed absolutely perfect, as they got to spend a lot of time with each other. The lockdown sure seemed like a blessing, as the couple's fans got to see glimpses of Anita's pregnancy journey. Take a look for yourselves!
Anita has been an inspiration to women planning for a baby after 35. She admitted being initially anxious about getting pregnant in her late 30s. She had said, "The age factor did play on my mind. Many people told me that it's going to be tough, it overwhelms you. But once I conceived naturally, I realised that age is just a number. You need to be mentally and physically fit for everything to fall in place. Today, Rohit and I feel well-settled — we are financially and mentally in a place where we are ready to have a child."
Similar to Anita and Rohit, there are many couples for whom having children in their 30s seems to be a great idea, as by then they are usually well-settled, and feel ready, both financially and mentally. However, pregnancy in later years can bring about certain complications, as you must have heard.
But, that said, if you think you're ready for the new responsibility, you can try and make changes in your lifestyle to increase your chances of conception and having a healthy pregnancy. And, just like Anita said, if you're physically and mentally fit, things might fall into place for you as well!
Anita and Rohit have embraced parenthood for the first time. It's going to be a ride full of ups and downs, filled with moments of excitement and anxiety, but they're surely going to love it nonetheless. We send the new parents our heartiest congratulations, and wish them a wonderful time with their little one!