Over The Top Christmas Light Displays in The USA
In this Article
No matter how harsh the weather may be during the holiday season, the Christmas cheer felt by people will not be dimmed. Homes are cleaned and decorated, gifts are bought, wrapped, and stored away for Christmas Eve, and there is always a feast to plan.
However, one of the most beautiful things about Christmas time is the lights! Homes, shopping malls, and other public spaces are all lit up, providing a beautiful vision for passers to stop and enjoy. Seeing the Christmas lights up and shining confirms that Christmas is finally here! Taking in the festive lights leaves people with a warm feeling and a bounce in their steps.
There are locations around the US where you can have a truly magical experience as you walk or drive through the bedazzling displays, taking in everything there is to see. These festive light displays often come with much more holiday cheer than simply displays, where you can enjoy a wide variety of festive treats and indulge in other fun activities. It's time to take the family on a trip to visit one of the best holiday light displays in the country, so go through the list of the best Christmas light displays in the USA and plan out your trip to the most exciting and dazzling light shows around.
Dazzling Christmas Light Shows in the United States
The lights and creative displays that come up around the holidays make the time of the year feel so wonderfully magical. Here are some of the over-the-top Christmas light displays that you will find across the USA:
1. Glendale, Arizona
The largest Christmas display of lights in the state is called Glendale Glitters. Here you get free admission and can witness a Holiday Wonderland that covers 16 historic streets. A giant Christmas tree, around 1.6 million lights, and carriages drawn by horses to complete the magical experience.
2. St. Augustine, Florida
St. Augustine holds the Nights of Lights festival every year. Lighting up around three million lights from mid-November to the end of January, this old settlement shares holiday cheer. Admission is free, and you can either opt to enjoy the sights on foot, horse-drawn carriage, pedicab, or by boat.
3. Lewiston, Idaho
The white winter landscape of this city is lit up with bright holiday lights for the season. From the trees to the houses, the Locomotive Park shines its holiday cheer on all those around.
4. Great Bend, Kansas
The town of Great Bend features impressive displays during its annual Trail of Lights. In this little town, Jack Kilby Square, Veteran's Park, and Brit Spaugh Park all showcase beautiful and creative works, most of which were created by employees of the parks. Entertainment in an ice-skating rink is also a fun option, and the kids can sit on Santa's lap at the Santa House.
5. Baltimore, Maryland
In Hampden, strings of festive lights light up with festive cheer. The residents also join in and decorate their homes with unique holiday displays. It is great fun to take a walk and enjoy the different decorations put up at this time of the year.
6. Woodland Hills, California
It has been around sixty years since the homeowners on Oxnard, and Lubao Streets decided to get together and create an incredible display of Christmas lights. Each home across the length of eight blocks puts up its own Christmas lights displays, earning the title of the "Candy Cane Lane." With a friendly competitive spirit, the displays keep getting more beautiful and over-the-top each year.
7. Danvers, Massachusetts
It has become a holiday tradition for a resident in Danvers to turn Arthur Street into a magical holiday display. Here you can find decorations of Santa being pulled by his reindeer in his sleigh, the nativity scene, see gingerbread men lining an electric waterfall, and a beautiful river flowing gently between the homes.
8. Portland, Oregon
If you take a walk to the Grotto during the holiday season, you will be greeted with the sight of Yuletide festivities. Attractive outdoor Christmas lights form the primary attraction everywhere, and concerts are held to entertain the visitors.
9. Brooklyn, New York
Drop by Dyker Heights neighborhood during the holiday season, where you will be greeted by some lovely homemade holiday displays that are lit up in celebration. Gaze upon window sills decorated with glowing fairy lights, colorful bulbs fixed to trees, and creative displays perched on the rooftops. The residents go all out to make their streets look festive, warm, and inviting.
10. Natchitoches, Louisiana
This small town in Louisiana is the place to be during the Christmas season! There are displays all over town, and they hold their Festival of Lights on the 5th of December.
11. Leavenworth, Washington
If you want to see around half a million lights twinkling on buildings, trees, and other structures, you need to take a trip to the quaint little town in the center of Leavenworth.
12. Bernville, Pennsylvania
If you want to have a complete holiday village experience, visit Koziar's Christmas Village. The outdoor attractions are so bright that they can be seen from miles away.
13. Caldwell, Idaho
The Winter Wonderland Festival is an annual attraction that lasts until the 15th of January. The festival is a great place to visit if you have not had your fill of holiday cheer.
14. Syracuse, New York
At Onondaga Lake Park, you will find over two miles of twinkling lights that you can drive through and enjoy.
15. Charleston, South Caroline
This drive-through spans three miles around the lakeside. You will be able to enjoy Christmas lights, carols and experience the usual Christmas festivities.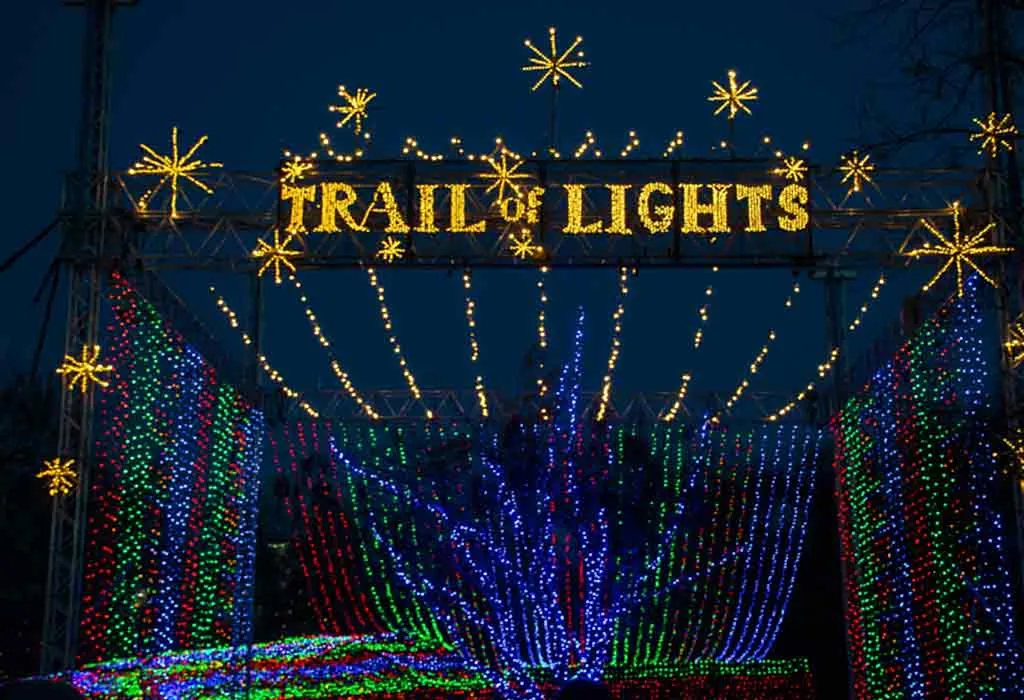 16. Austin, Texas
The Trail of Lights is a fun event that features around forty festive displays, a giant Ferris wheel, and around two million lights!
17. Lexington, Kentucky
The Kentucky Horse Park is decorated with beautiful holiday lights and even has animated scenes that you can enjoy from your car as you drive through to view the displays.
18. Las Vegas, Nevada
Drive down to the Las Vegas Motor Speedway to view the holiday light displays. It spreads out over 2.5 miles and has a few tunnels containing twinkling bulbs, ensuring you have the most exciting and festive car ride of the season.
19. Philadelphia, Pennsylvania
The Longwood Gardens, located just outside Philadelphia, is the perfect place to visit for a magical Christmas light display. They even offer an Open-Air Fountain show, the ultimate unison of dancing water and elegant lights.
20. Branson, Missouri
If you are in the Midwest at this time of the year, you can head to the Silver Dollar City Theme Park and enjoy some of the most beautiful holiday light displays.
21. Louisville, Kentucky
With 17 miles of brightly lit passageways, you can enjoy the most interesting underground light display from your car at the Louisville Mega Cavern. The Lights Under Louisville will take you around half an hour to complete.
22. Duluth, Minnesota
The Bentleyville Tour of Lights is a walk-through holiday extravaganza that displays more than four million lights. The park spread across 20 acres is located adjacent to Lake Superior.
23. Theodore, Alabama
Sitting along the banks of the Fowl River are Bellingrath Gardens and Home. A Magic Christmas in Lights show is held annually, featuring around three million lights illuminating 15 different scenes. You can also tour the home and gardens and learn about the lives of its former owners. It is held from the 27th of November to the 3rd of January.
24. Clifton, Ohio
Putting up four million lights is no easy task, but Clifton Mill in Ohio does precisely that each year! Beautiful Christmas lights illuminate almost everything at this location, complete with a waterfall made of lights!
25. Boothbay, Maine
The holiday season makes the Maine Botanical Gardens even prettier when they have their Gardens Aglow display. In the upper houses and gardens, over 650,000 lights are put up to make the event extra magical.
26. New Haven, Connecticut
The Fantasy of Lights is a phenomenal display at the Lighthouse Point Park in New Haven. Here, thousands of lights illuminate the start of the twenty-minute drive-through. There are around 58 animated displays of light, ranging from Santa Claus to sea serpents. It is truly a magical experience.
27. Pine Mountain, Georgia
The Fantasy in Lights exhibition is held at Callaway Resort and Gardens and is highly recommended by those there. It is even better if you stay for a night to enjoy the fun! The gardens are lit with colorful displays, and you can even visit the Enchanted Rainbow Forest, where rippling lights shine down from the branches of trees. You can even attend one of the shows that combine music with the lights. The event is a drive-through one, but there is always the option of taking the tour on the Jolly Trolley.
28. Murrells Inlet, South Carolina
The Brookgreen Gardens hosts the 'Nights of a Thousand Candles' every year during the Christmas season. The event's name is not just for show, as the display includes over a thousand lit candles. These are accompanied by electric lights that are strung up to make the entire avenue look magical.
29. Denver, Colorado
Denver Botanic Gardens hosts two events in two locations to spread holiday cheer through dazzling light displays. On York Street, the event is known as Blossoms of Light, where those who visit will be able to walk through pretty garden foliage that has been set aglow with lights. In Littleton, at Chatfield Farms, Denver Botanic Gardens hosts the second-holiday event – Trail of Lights. Here, you will find two paths with different lengths that have access to a children's park along with two lit tunnels.
30. Pigeon Forge, Tennessee
The Pigeon Forge Winterfest stays open for a very long time, opening around mid-November and ending in mid-February. Here, you will find gorgeous displays all around town and get to watch family-friendly holiday-themed shows. You even have the option of going through the event in your car if you prefer it.
Christmas is a magical time of the year, and the feeling is made tangible with the different, creative, and over-the-top Christmas light displays held across the country each year. Visiting the Christmas light displays with the family will provide you with an excellent opportunity to bond and share beautiful experiences. So, gather the family as you go through the list to pick a place suited to everyone's taste. With the change in environment, a happy family, and some brilliant Christmas light displays, you will find yourselves having one of the most memorable holidays of your lifetime.
Also Read:
Merry Christmas Memes Ideas
Christmas Cake Decoration Ideas
Christmas Decoration Ideas for Home