No Carve Pumpkin Decorating Ideas That Anyone Can Make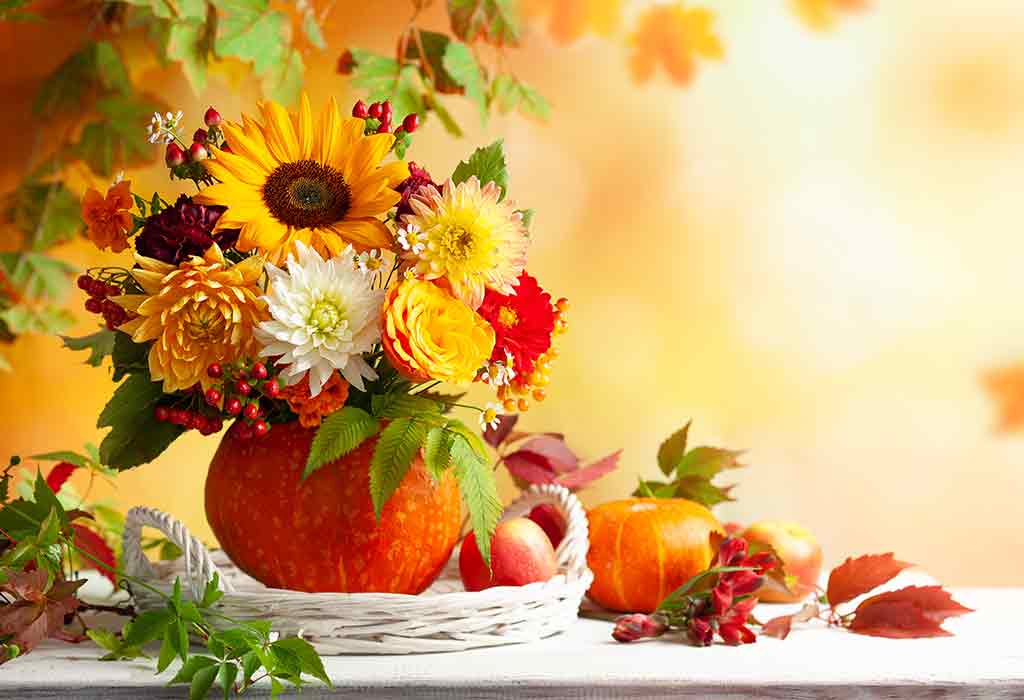 In this Article
People in Ireland began carving demonic faces out of turnips to scare away evil Jack, who tricked the devil out of stealing his soul. Legend has it that Jack O'Lantern would reappear every year on Halloween. After Irish immigrants migrated to the U.S., they began carving jack-o'-lanterns from pumpkins, as these were extensively cultivated in the region and associated with bounty and affluence. Since almost every household has a carved pumpkin on its stoop by October end, this spooky staple can make your thoughtfully designed space feel special. However, nobody wants to handle a rotten pumpkin the next day.
Thus, no-carve pumpkins or faux gourds are a better alternative. You can decorate them artistically with paint, decoupage, glitter, and other seasonal tricks to give them a spooky, stylish, cute, or playful makeover. From being painted, marbled, etched, glued, electrified, or adorned with dainty succulents, some amount of creativity can go a long way in turning your pumpkin into something enviably chic.
Creative No-carve Pumpkin Ideas
A statement color scheme always adds to the beauty of your home by complementing the rest of the décor. Take a cue from any of your favorite fairy tales, a famous horror film, a cult classic, or even a sweet treat to design a pumpkin that can raise the bar for your pumpkin fest. Moreover, since no sawing or cutting is involved, the pumpkins last much longer and can be stored to redecorate the following year. So skip out on the pumpkin clean-up this year and keep your fingers safe from sharp tools. You can use any fancy accessory, inexpensive material, and recycled product to bring your pumpkins to life.
So, take a trip to your craft closet and flex your DIY skills to make your front porch stand out in the neighborhood. Use these easy no-carve pumpkin ideas and create an army of gorgeous pumpkins that epitomize the charm of Halloween without the effort of carving. Listed are some of the most creative pumpkin decorating ideas without carving to inspire your personalized craft.
1. Silver or Golden Leaf Pumpkins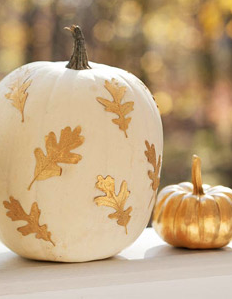 Since maple is associated with fall, shimmering maple leaves would look great on blue-hued or white-painted pumpkins. You can spray paint on fake or real leaves of different sizes to appear silver or golden. Once dry, spray adhesive on the back of the leaves and attach to the sides of the pumpkins.
2. Pom Pom Pumpkins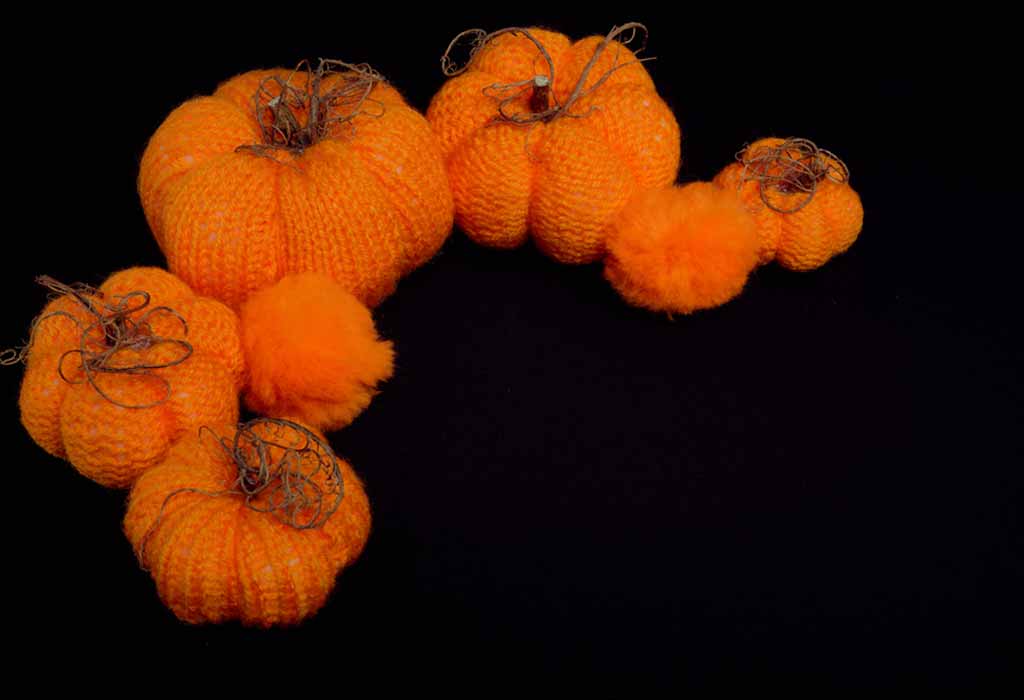 Pom-poms are fluffy accessories that add a fun pop of color and texture to your pumpkin decoration. Make use of leftover yardage to make pom-pom eyes with spray paint. Stick the smaller pom-poms as a row of eyes to give your pumpkins a whimsical look this year.
3. Pun-Kins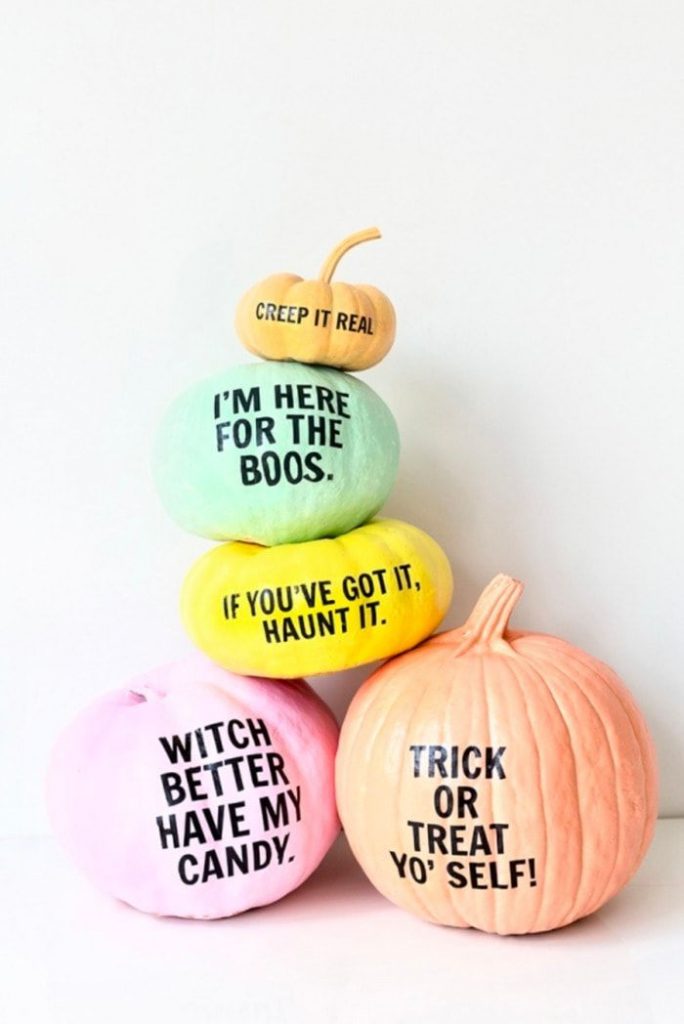 The word pumpkin has a practically BUILT-IN pun in it. So, DIY some hilarious, silly, or clever puns on your pumpkins that are sure to tickle the funny bones and make your guests think a little.
4. Hedgehog Pumpkins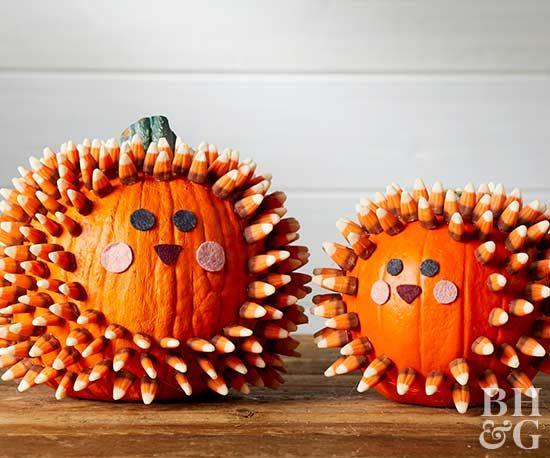 This prickly friend looks super cute, just like a real hedgehog. Using only felt, candy, glue, and a faux pumpkin, it can be brought to life in a snap. Chocolate candy corns are glued around a cute felt face until the entire pumpkin is covered, leaving only the bottom free so that your hedgehog can easily grace the front porch.
5. Animal Pumpkins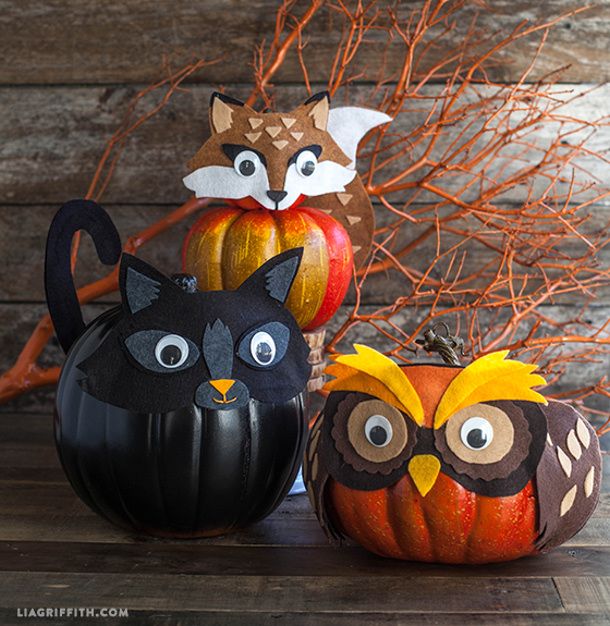 Trick your neighbors by making your pumpkins look like a round black cat, a chubby horned owl, or a sly orange fox without wielding the knife. Build little animal faces with whiskers using felt and pipe cleaners, or place a stem for an adorable elephant. Prop these friendly woodland animal pumpkins on covered cans and use felt or cardboard to add arms, legs, and a tail.
6. Botanical Pumpkins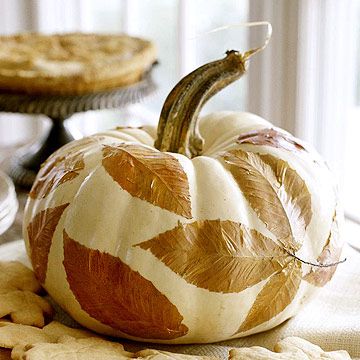 Pick plants or dry leaves from your backyard to cover an old newspaper. Paste the paper around the pumpkin to complete its earthy, organic design. Make sure to display this pumpkin indoors to protect it from unpredictable weather.
7. Office Supply Pumpkin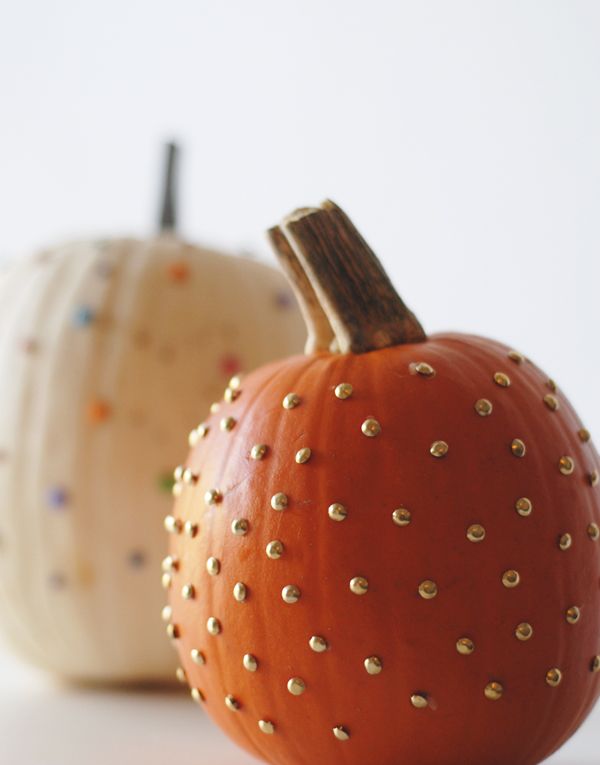 If you've got some extra office supplies, fix them around the pumpkin to make this gold-studded beauty. The best part is – you can customize it to match your style and personality. Switch out the color, sizes of the pumpkin, or the design of the studs. Once you finalize the pattern, push those studs in. Black pumpkin with gold studs or white pumpkin with a smattering of bling will look strikingly beautiful.
8. Donut Pumpkin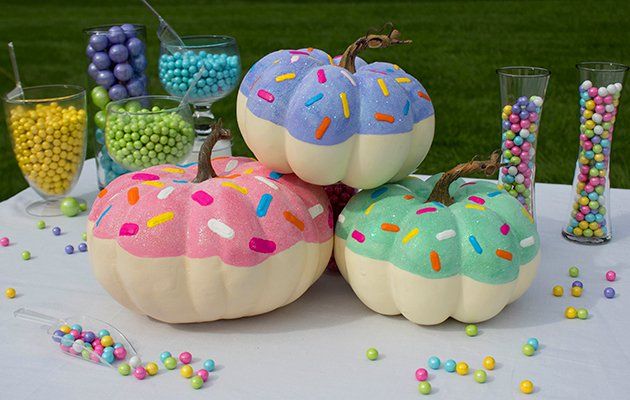 Grab a few small and stout pumpkins, mix a paint color of choice and paint the top half, leaving a wavy edge to look like icing. Paint the top with puffy paint colors in a random pattern to make it like frosting. On top of that sprinkle confetti or real sprinkles. These tempting treats make excellent décor for birthday parties and autumn baby showers.
9. Dried Flowers Pumpkin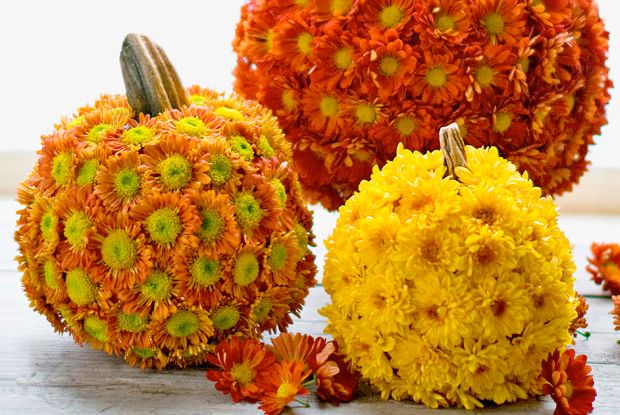 A pumpkin covered in beautiful dried blooms will match the colors of your fall décor and capture attention as a table centerpiece. Take a few bright dried flowers and adhere them to a pumpkin surface with glue. You can use an assortment of strawflowers in classic fall hues like crimson, orange, and yellow, or finish it with a real stem to add the perfect natural touch.
10. Temporary Tattoo Pumpkin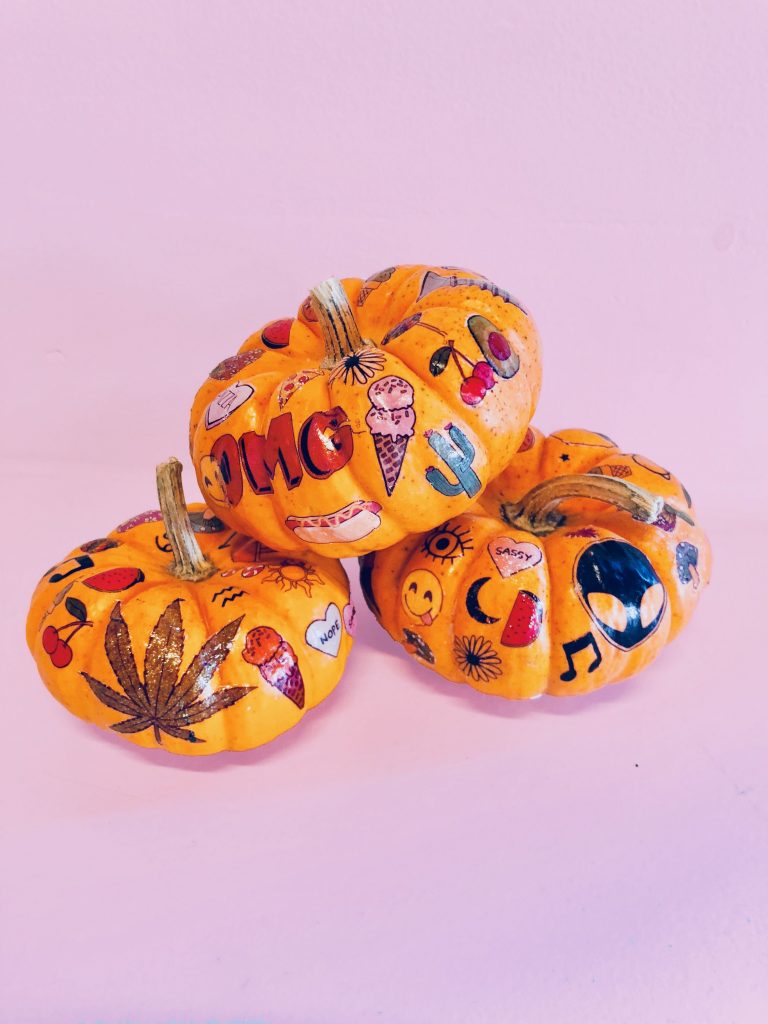 A pumpkin tattoo is a comprehensive way to ring in fall and put a modern twist on your scary no-carve pumpkin ideas. All you need is temporary tattoos and a little water to turn ordinary pumpkins into ghastly creations. Place the wet cloth over the back of the tattoo and hold firmly for few seconds. Then carefully peel the paper off to reveal the tattoo to transfer the image successfully. Spooky tattoo designs correlating from jolly to satanic forces on a faux pumpkin will last months and truly emulate the holiday spirit.
11. Lacy Pumpkins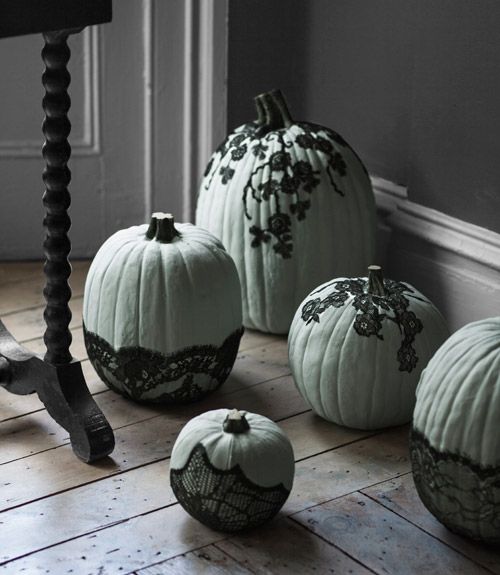 Lace embellishments on pumpkins look delightfully ghoulish. Start by painting the pumpkin a light color and pasting a cut-out of a black doily on the bottom or top of the dried surface. Choose pumpkins with shallow ridges as stockings cling best to a smooth surface. You can spray white lace with orange and yellow paint to create an intricate design instantly.
Encouraging kids to get involved in such no-carving pumpkin design projects on Halloween will help exercise their creativity. You can also enjoy some bonding time as a family. The best part is that age-appropriate crafting without tools doesn't involve any unwanted injuries. So, let them have a blast making their own and bring their imagination to life.
Also Read:
Spooky Basket Ideas for Halloween
Halloween Hocus Pocus Costumes Ideas
How to Celebrate Halloween with Family at Home