9 New Ways to Style the Classic Kurta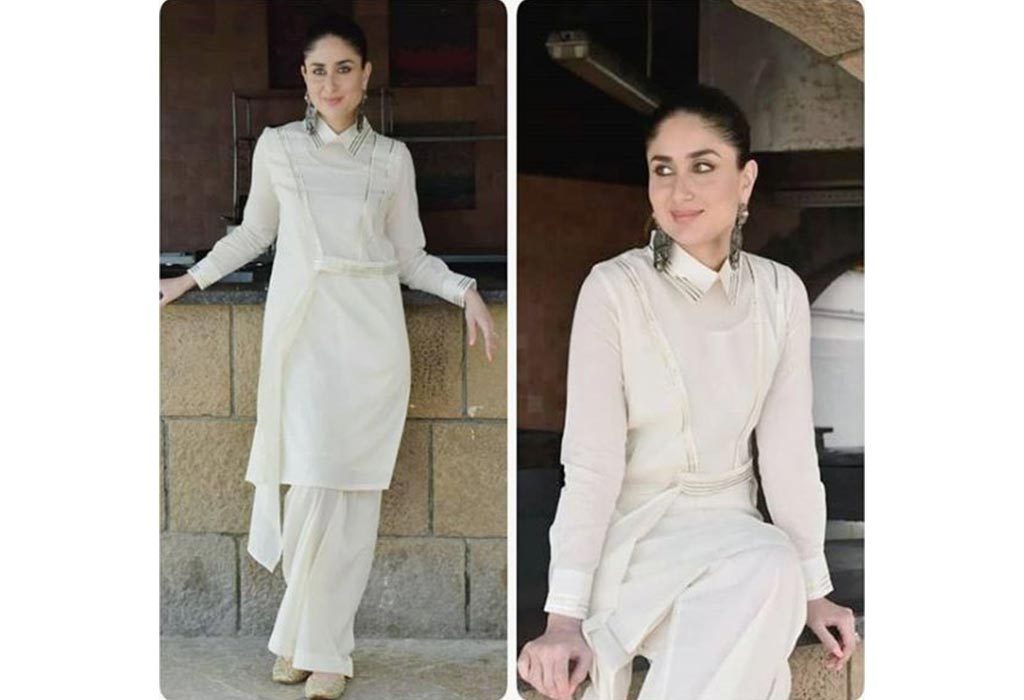 In this Article
Let's be honest – kurtas are our go-to clothes when we're looking for some comfort. Be it the chilly winters or steamy summers, you need only slip into a kurta for all the comfort you need to deal with the weather. Traditionally, most of us mommies are used to pairing our kurtas with a pair of solid leggings or a matching salwar. But ladies, there are more than a million ways in which you can style your daily kurtas; you need only give it a try! Here are a few easy ways!
9 Unique Ways to Style Your Kurta
No doubt, nothing matches the level of comfort that a kurta has to offer. Available in a variety of shades, materials and styles, every mommy owns more than one of these beauties. If you have a wardrobe full of kurtas and you're having a hard time looking for new styles, here are a few tips to aid your dilemma.
1. Consider Jackets
Gone are the days when women willingly wore a nude-coloured sweater over a kurta for style! If you're looking for unique ways to style your kurta, a jacket is ideal! Irrespective of whether it is a cloak-like long jacket, a cropped jacket, or a western, sleeveless jacket – it will give your outfit the 'kick' you seek! All you need to do is contrast a bright coloured jacket with a short or long kurta, and you're good to go!
2. Pave the Way for Ripped Jeans
Ripped jeans just don't seem to go out of style. If you're looking for something classy with a kiss of Indian, wear a kurta with a pair of ripped jeans. It's easy to carry and is quite the combination of sophistication and street-side boldness. A dark, bright kurta and a pair of sky blue jeans work well when you're looking to step out for a movie or a casual lunch with friends.
3. Say Hello to Skirts
Long, flared, printed or strong – skirts paired with kurtas are never disappointing! This combination is ideal for occasions where you seek a classy, out of the ordinary look; not to mention the comfort that comes out of this combination! Slip into a long kurta, something with slits, and pair it with a floor-length skirt in contrast – the ideal outfit for weddings or family get-togethers! For a casual look, you can opt for pastel wrap-arounds, and wear them with printed kurtas. Voila!
4. Palazzo Your Way Through
Honestly, palazzos turned out to be a genius invention for those looking for a break from the routine leggings and salwars. They are classy, comfortable and easy to carry! A kurta paired with a palazzo is the go-to outfit of most working women. When you're working for eight hours straight, pencil jeans or leggings don't spell comfort as good as palazzos! You can wear a simple kurti with a plain palazzo, and yet look stylish as ever!
5. Experiment With the Bare Look
Long kurtas and anarkali-like kurtis come with the advantage of length. This means that on the days when you just can't make up your mind, you have the opportunity of wearing nothing below your kurti (except a pair of cycling shorts, obviously). Just treat it as a mid-length dress – perfect for hot summers, and even weddings if your kurta is well embellished! A pair of high heels with a long, bright kurta can team up to make a stylish outfit for you!
6. Give Cigarette Pants a Try
Step out of the traditional salwar and give these cigarette pants a try! Trust us, they are the perfect partner for your kurta if you're experimenting with the 'Indo-western' style. The stylish fitting of cigarette pants will give your outfit a formal, elegant look. A little bling on your kurta and a pair of these beauties can effortlessly jazz up your ethnic look. If you don't own a pair of these already, we suggest you get one custom made in cotton and style them up with short kurtas. You're bound to fall in love with them instantly!
7. Jazz-up With Dhoti Pants
Don't believe in love at first sight? Get a pair of shining dhoti pants with pleats. These beauties have made their way back from the 80s, and are in fact a popular garment wore by men! Honestly, pairing them with a kurta and calling the outfit 'classy' would be an understatement. And why stop at kurtas? With a pair of these, you can create a million looks for yourself. Dhoti pants with a cropped top is just one example. Go figure!
8. Say 'Yes' to Shararas
This traditional Pakistani attire has managed to make its way into a million Indian closets and hearts, no doubt. Shararas look way too good with short kurtas and are super trendy. There's no secret behind why most celebs are giving these a try! You should too; they look super stylish with short kurtas. A nice, short kurta with a pair of shararas that say 'bling' are ideal for weddings and festive occasions. They look as good as lehengas, but with a twist!
9. Try Pairing Jeans & a Stole
For your daily look, there's nothing better than jeans and a stole to accessorize a kurta. Irrespective of the colour and the length, these two accessories are enough to jazz up even the most simple kurta in your closet. Besides, there are hundreds of ways to carry a stole – single side, around the neck, and as a scarf. A kurta with a pair of jeans and a stole is a classy Indo-western combination, minus the effort of carrying baggy salwars!
Now that you have quite some styles up your sleeve, why don't you give these a try and jazz up your routine kurtas? Know it for a fact that kurtas are going to trend forever. You just need the right accessories and the will to experiment with a variety of styles to keep your look classy!
Also Read:
Trendy Hairstyles You Need to Rock This Year
Different Types of Salwar that You Must Own
Simple Hacks to Convert Old Clothes into New Clothes