Nature-Inspired Outdoor Shower Ideas for Your Home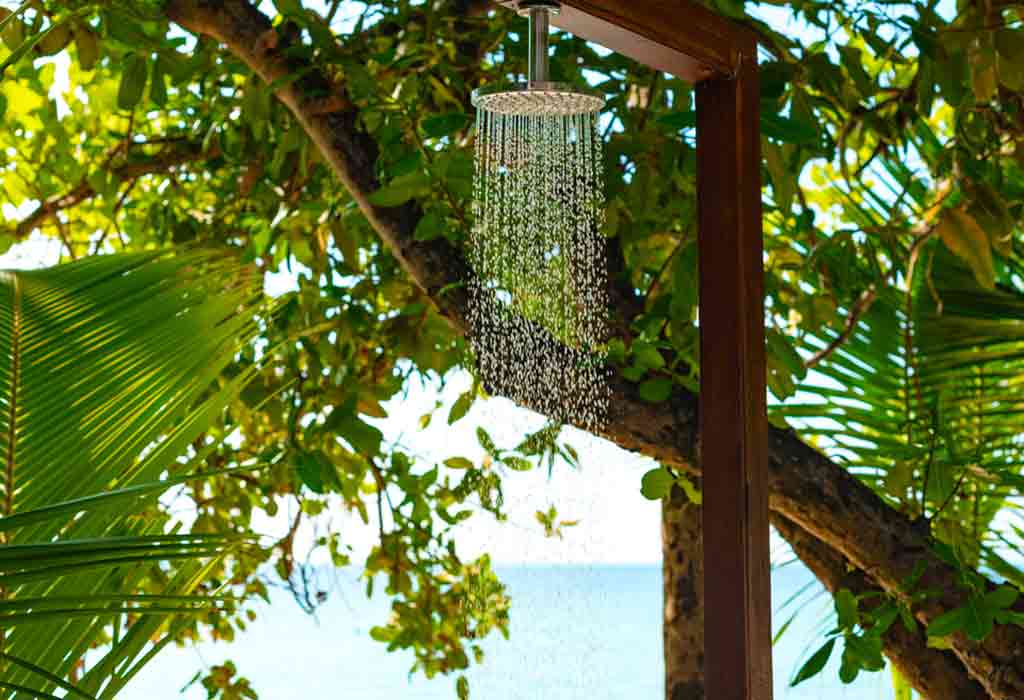 In this Article
Outdoor showers inspired by nature are the ideal complement for everyone who appreciates outdoor activities. If you prefer having a designated area to wash off after swimming or simply want to avoid filthy foot (and maybe paw) imprints entering your home following a day spent outdoors, maintaining outdoor showers is an incredibly beneficial feature to retain. For other ideas, peruse our collection of the most imaginative outside shower ideas and designs.
Marvelous Outdoor Shower Ideas and Designs
When the warm weather arrives, you can't help but become enthusiastic about swimming in your backyard pool or washing your troubles away in the soothing outdoor showers. It's so simple to go down to the local indoor pool store or even your favorite internet retailer to get an outdoor shower enclosure when the real thing is right in front of you. What can you do to spruce up your yard?
Use the 11 tropical outdoor shower ideas and designs listed here to convert your indoor environment into a pleasant sanctuary that feels like the poolside oasis that it is!
1. Redesign an Alleyway
You can convert the alley behind your garage into an elegant outdoor shower enclosure without breaking the bank. Apart from being a cost-effective option, a prefabricated section offers various design options that enable you to create a truly unique showering experience. A custom enclosure is the most excellent option, as it allows you to enjoy the ideal bathing experience in the privacy of your own home.
2. Scandinavian Look for a Spa-like Feeling
Incorporating Scandinavian design features is an exciting and unusual way to create a spa-like outdoor shower. Clean lines and geometric shapes have an enduring aesthetic that may be easily incorporated into your design.
Begin by determining the location of your glass tile and stone panels. Then, before you finish designing your outdoor shower's appearance, you can incorporate other elements such as your color scheme, lighting, and bathroom fixtures. By making tiny tweaks during the design process, you can obtain the appearance of a spa without breaking the bank.
3. Moroccan-inspired Teal Tile Work Super Glam
Moroccan-inspired teal tile work is an excellent method to create a stylish and efficient outdoor shower area. Moroccan-inspired tiles are highly sought after by interior designers due to their vibrant colors used throughout the home to develop spectacular aesthetic effects. Everything in your bathroom, from Moroccan-inspired bathroom faucets and showerheads to Moroccan-inspired shower surrounds, should be functional and aesthetically pleasing.
4. Plants Are a Great Add-on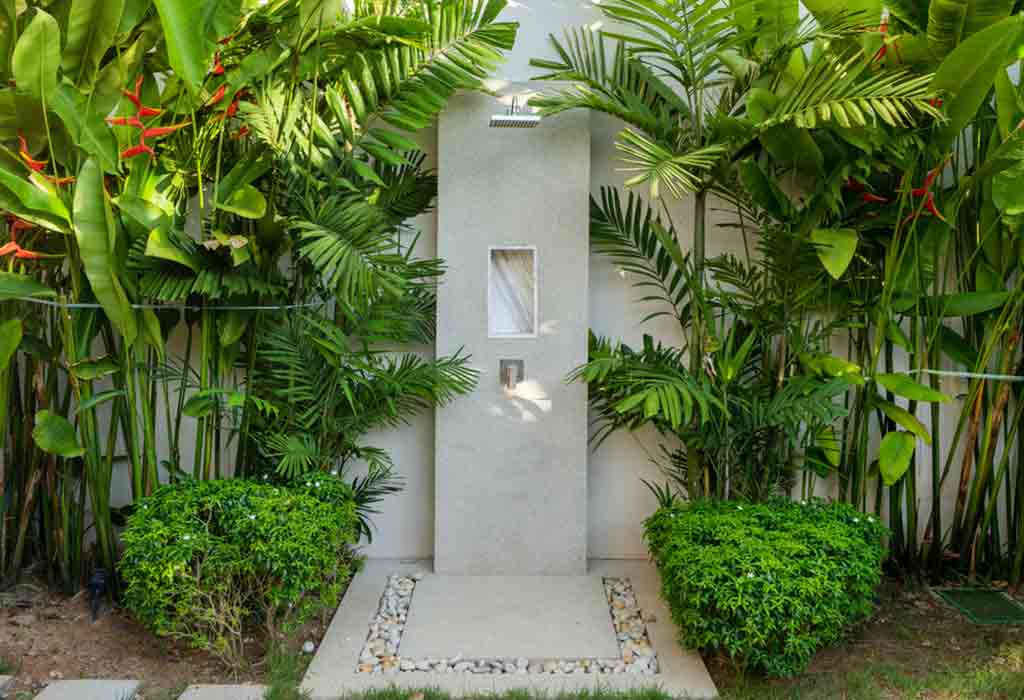 Plants are an excellent way to enhance the décor of any outdoor shower. It's lovely to involve the entire family in creating a sanctuary away from the hustle and bustle of everyday life while also brightening the outdoors and infusing the design with Nature-inspired elements.
5. Camp-like Effect Outdoor Showers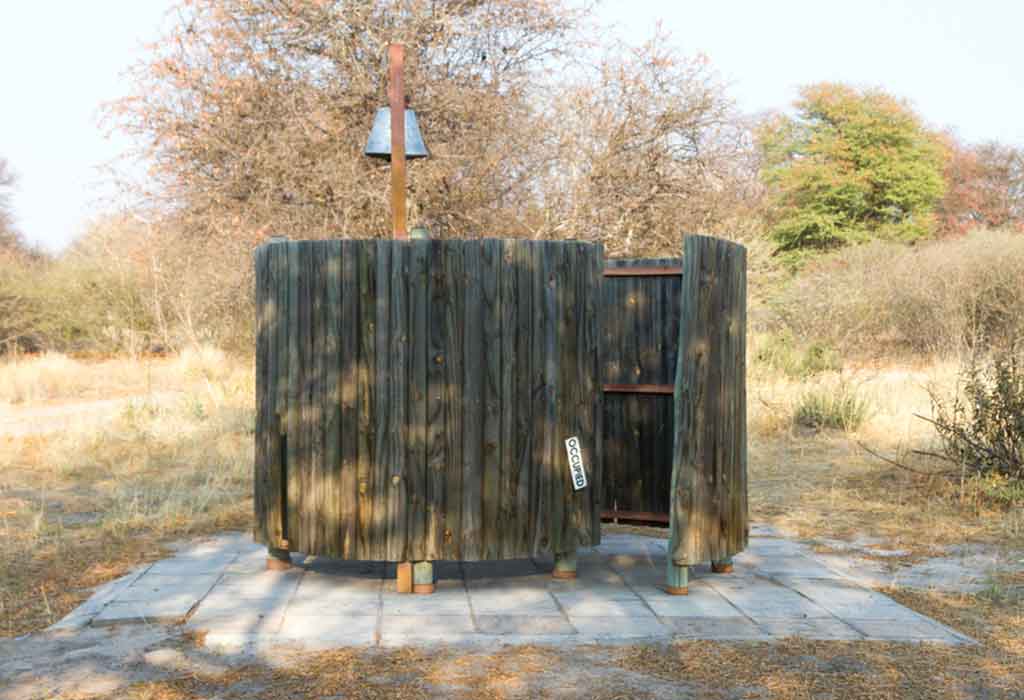 Outdoor showers are great for recreating the sense of a camp shower in the comfort of your own home. On the side of your house, you may build an outdoor shower enclosure to create a private shower for yourself or your family. You may construct an elegant shower stall with bespoke doors, a marble shower surround, and a shower bench in a lovely wood finish. There is so much you can do to transform your bathroom into a paradise that it's tough to grasp!
6. Outdoor Shower With Pebble Floor and Sunlight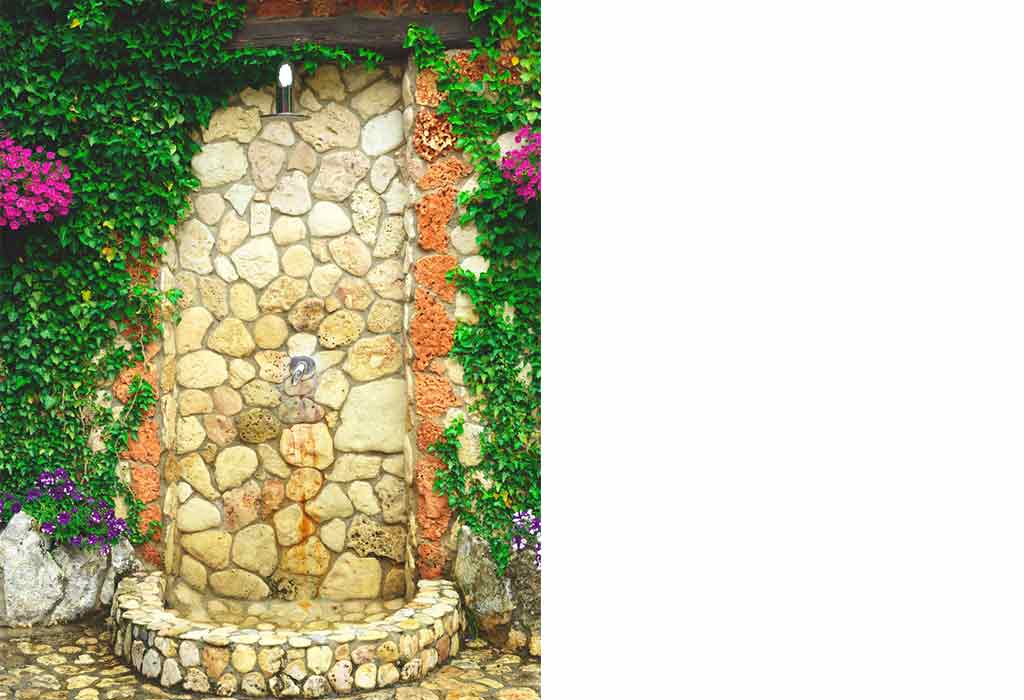 While you're looking for a creative way to spruce up your patio or deck, you can't go wrong with one of the other outdoor showers available. Modern showers are now available in every design and offer advanced conveniences that surprise even the most fastidious homeowners. If you're searching for lovely and functional backyard outdoor shower ideas, these pebble-filled outdoor showers provide a unique touch to any backyard or patio. To enhance the mood of your backyard, outdoor showers with stones are a beautiful idea.
7. Dual Rain Shower
An outdoor dual rain shower complements the décor of any home beautifully. It doubles your bathing space and, best of all, is quite affordable. It is the perfect match for any home and is bound to please the senses. Take a relaxing bath while gazing out the window at your backyard. Additionally, this type of shower enclosure may provide privacy while also benefiting in water waste reduction, which is cost-effective and environmentally promising.
8. Try an 'Industrial' Outdoor Shower Look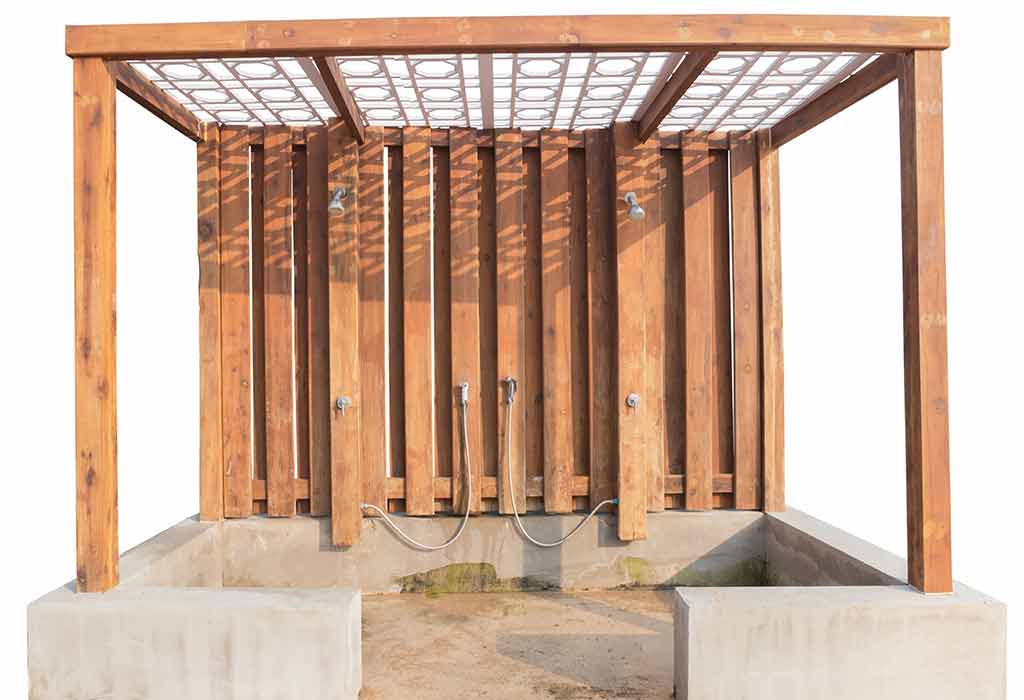 There are numerous rustic outdoor shower ideas to enhance the appearance of a property. Include an industrial style into your outdoor shower ideas to create a more uniform and professional appearance. Along with the same, the hinged enclosure is an ideal choice for the typical American household looking for an easy-to-install shower.
9. Retro Steampunk-style Outdoor Showers
Showers inspired by steampunk are becoming increasingly trendy in bathroom design, and there are numerous ways to make your own. Outdoor showers for home décor are a stylish and exciting way to update your bathroom.
There are numerous advantages to using this type of unit; they are inexpensive, simple to install and maintain (provided you choose the right kind of shower flooring), and can be magnificent additions to any home. Almost any design feature, such as antique vintage lights, hand-carved wood embellishments, and unique tile patterns, can be included with a bit of effort.
10. Indoor-outdoor Shower Gives You the Best of Both Worlds
When you have an indoor-outdoor shower, there is no need to deal with the bother of heading outside to use the restroom. Indoor-outdoor showers offer various advantages. Showering generally in the privacy and comfort of your own home is possible. Additionally, take advantage of outdoor showers' improved water flow and heated amenities immediately following your beach activities. Numerous outdoor shower enclosure ideas incorporate a bench that allows for simultaneous bathing by two or more persons. Thus, there is no reason why you should not have an indoor-outdoor shower in your house, replete with all of these fantastic features and a shower head that is customized to your preferences and needs.
11. Gold and Black Outdoor Shower Complements the Home Décor
An outdoor shower in gold and black may be an excellent addition to any bathroom. They can be used to improve any design concept and elevate the sophistication and modernity of a room. This gold and black shower offer the illusion of a hidden place while seamlessly integrating with the rest of the house.
Outdoor showers are available in a range of finishes. You may easily DIY your shower with a few basic fixtures, or you can create a spa-worthy paradise that rivals any indoor shower. Consider some of the nature-inspired outdoor shower ideas for further inspiration, and transform your living spaces!
Also Read:
Best Bathroom Shower Tiles Ideas
Lovely Nature Inspired Home Decorating Ideas