Modern Lighting Ideas To Shine Your Dining Space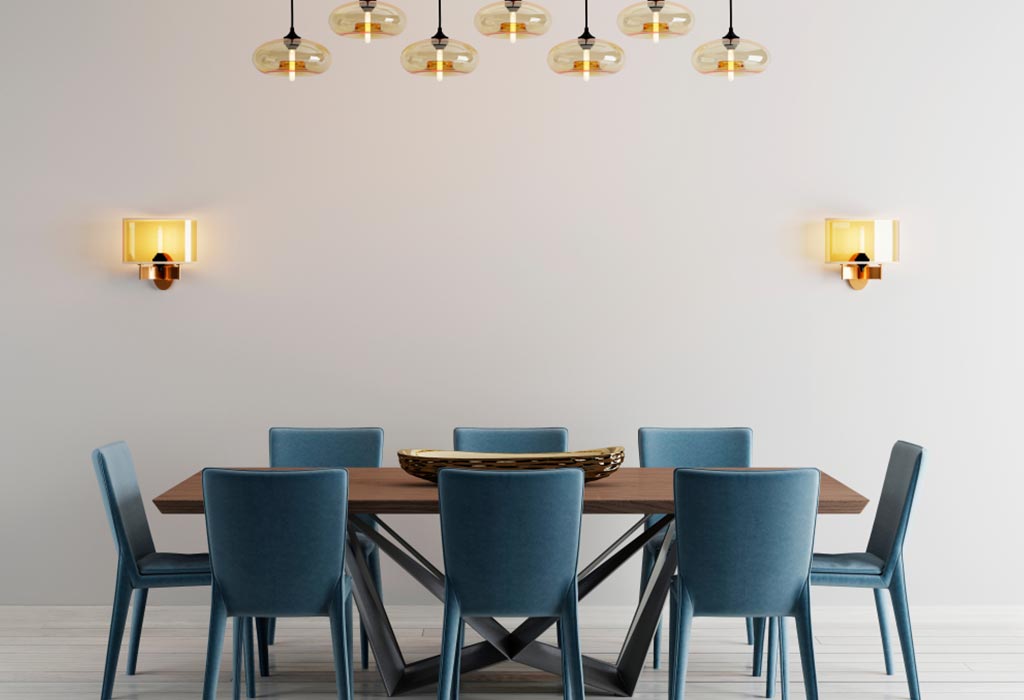 In this Article
Your dining room is a special place in your home. It is the dining space where you spend memorable times with friends and family, enjoying food over conversations. So, obviously, you want your dining space to shine! To make your existing dining space look brighter and more unique, you don't need to introduce significant architectural changes or new furniture. All you need to rev up your dining space is beautiful lighting. Perfect lighting can make a simple place look extraordinary, while bad lighting can make beautiful furniture appear dull. So, to enhance your dining space décor, get the perfect light fixtures that set the mood while improving the look of your room. Replace the standard light fixtures with stylish and modern lighting ideas to instantly transform the look of your dining space. We have several attractive lighting ideas to help you choose the perfect light to illuminate your dining space. The lighting ideas range from modern dining room chandeliers to stylish pendant lights to oversized designer lights that will brighten up your dining space.
Attractive Dining Room Lighting Ideas
Suitable lighting is a crucial element for enhancing the décor of every well-designed or modest dining room. Your dining space gets a stylish top-off with an elegant hanging fixture. Here are some attractive dining room lighting ideas to brighten up your dining room:
1. Double Drum Lights
Choose double light fixtures instead of single lights to illuminate a large dining area or table. A pair of drum shade pendant lights are perfect for a rectangular dining area. Drum shades perfectly illuminate open dining spaces as they occupy the visual volume of the room.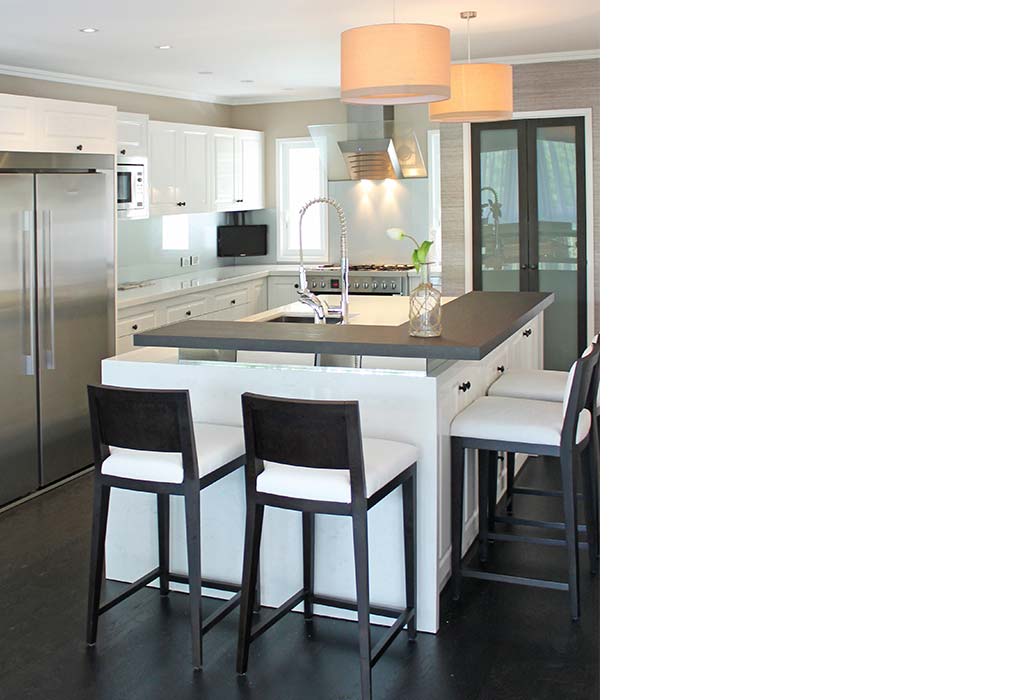 2. Contemporary Gold Light Fixture
To brighten up a minimalistic dining space, go for a large-sized gold-accented overhanging light. A maximalist light fixture is one of the most popular small dining room lighting ideas. The stylish modern design with a gold finish will cast a glow to enhance the visual appeal. A gold finish light is a perfect idea to make an elegant statement in your dining room.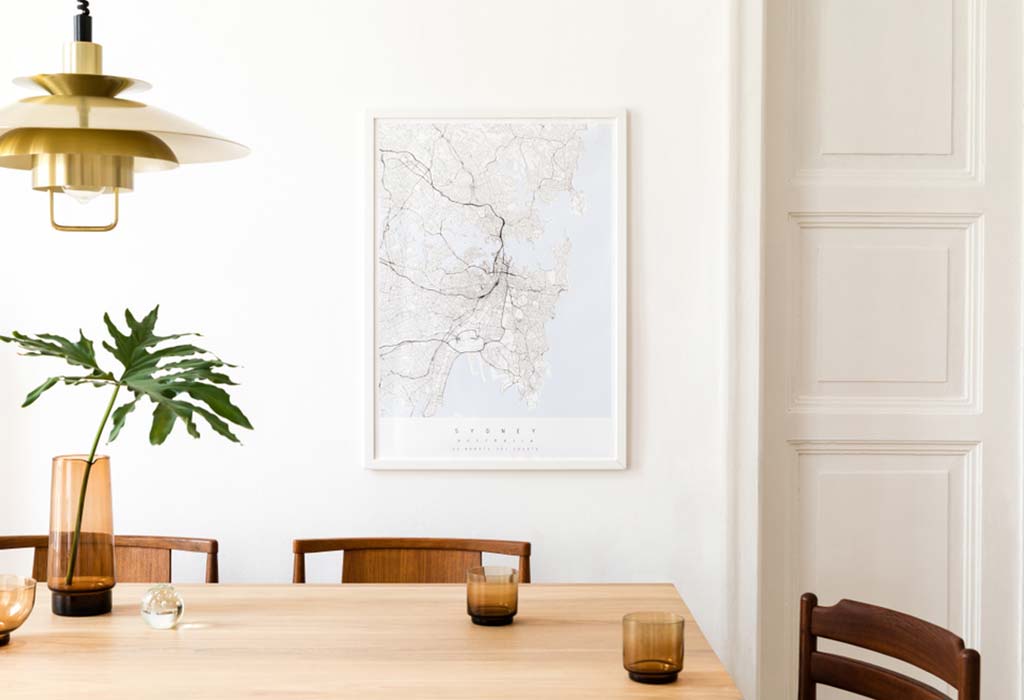 3. In The Middle Light Fixture
If you are looking for simple yet elegant dining table lighting ideas, go for a single hanging light fixture in a simple pattern. The simple light fixture hanging in the dining room center will make a bold statement by placing it right over the dining table. To ensure your light fixture is securely installed above the dining table, screw a heavy-duty hook in the center of the room and place your table under it.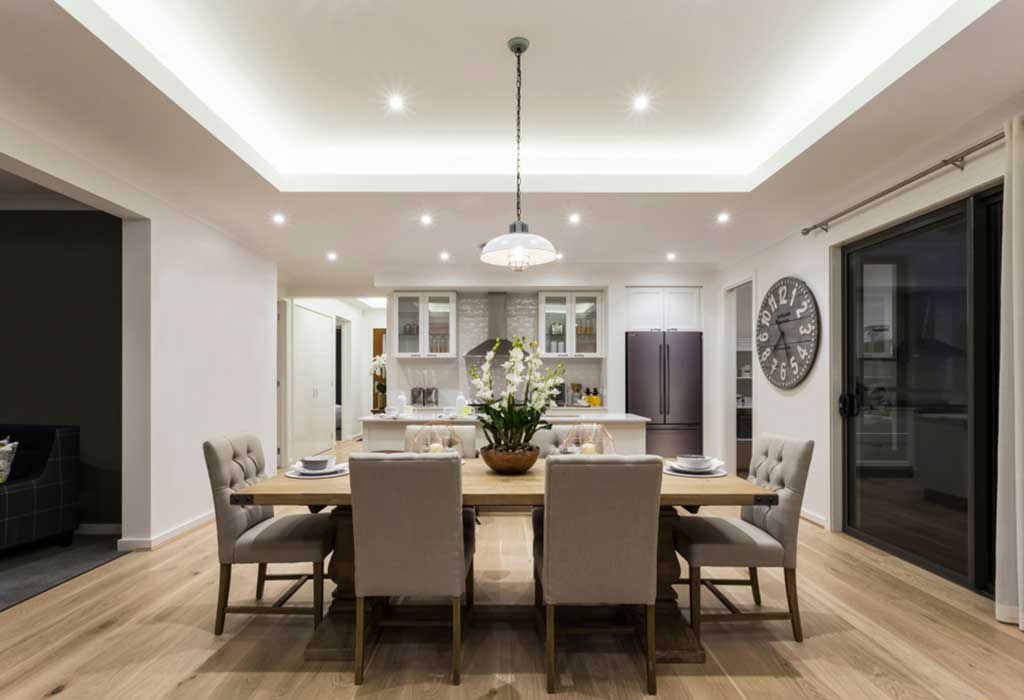 4. On The Floor Light Stand
You can easily amp up your dining room décor with a unique modern light fixture. Dining rooms generally have ceiling light fixtures. So instead of the tried-and-common ceiling light, get a large floor lamp. A modern light fixture dining room has an elegant appeal with maximum functionality. A unique style floor lamp with a drum shade will add a modern edge to your simple dining space. The light from the floor lamp will be reflected on the ceiling and the table, setting the mood!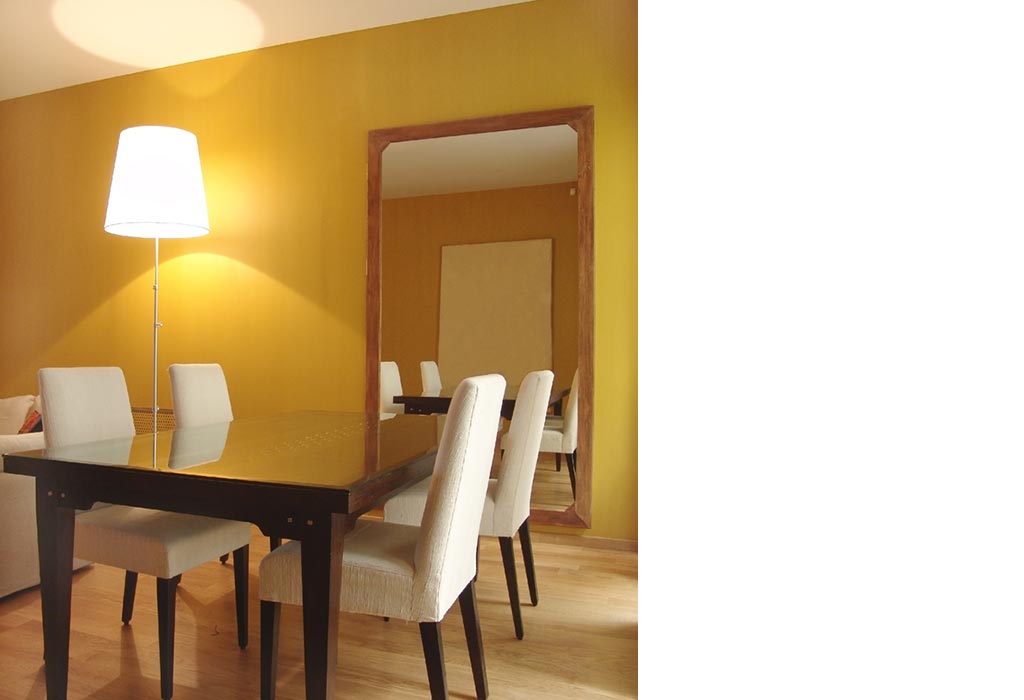 5. Mixed Shape Light Fixtures
It's not essential to have all your lights in the same shape when going for multiple light fixtures for your dining space. You can create a contemporary style by merging different shapes and sizes of pendant lights. This mixed light fixtures scheme adds a nice touch for a modern home with streamlined furnishings and a neutral color scheme. The different shaped light cast by each pendant creates a unique glow on the table.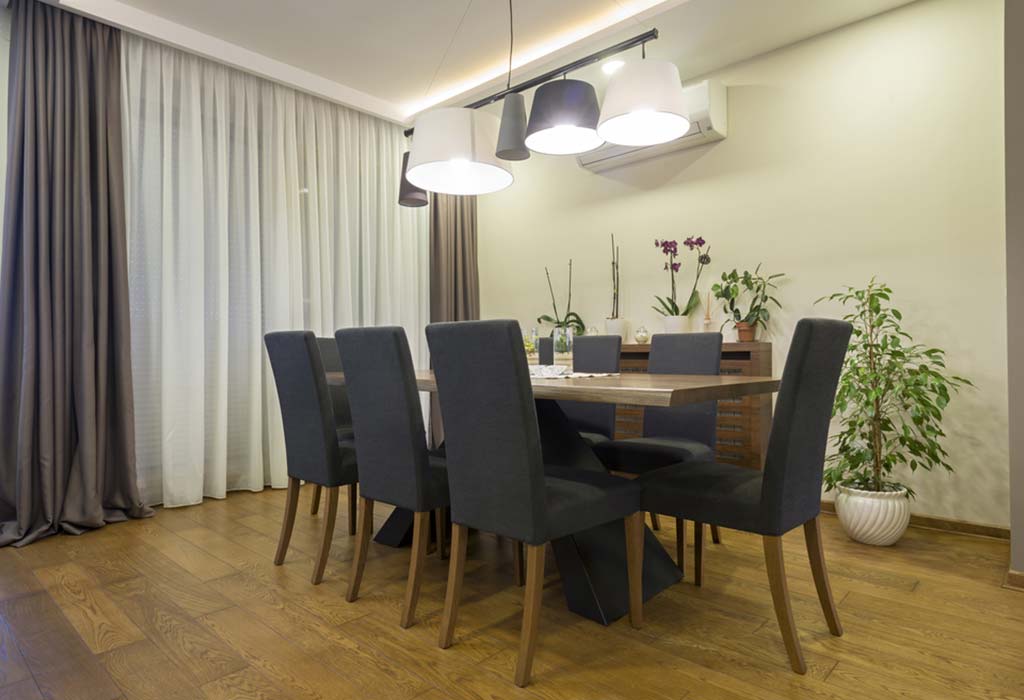 6. Simple Horizontal Light Fixture
Instead of going for a bold light fixture, choose a light fixture that compliments your dining room décor. Sometimes, not making for a statement fixture works well for a contemporary cohesive-looking décor. The sleek dining table in a minimalistic dining space will look too formal with a chandelier, and a single pendant light will not be enough for the table. So a horizontal light fixture with multiple light bulbs is just right. It will cast a diffused light on the whole table, elevating the ambiance of the room.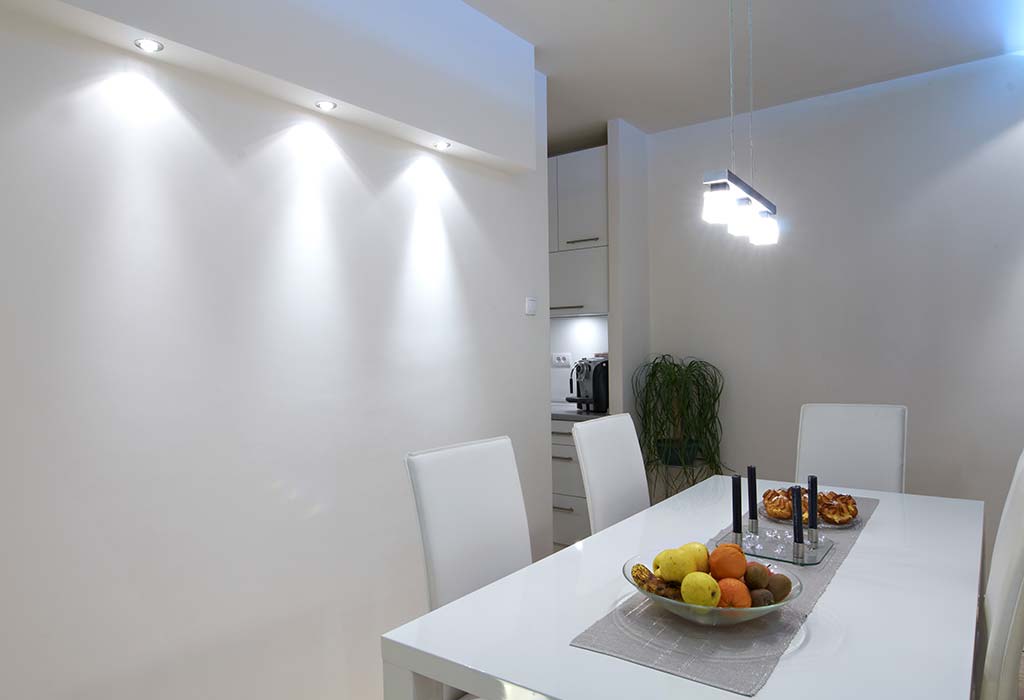 7. Rustic Light Fixture
For an open space craftsman-style living room, a sleek light fixture will look out of place, and a single or small light fixture will not be sufficient for a large space. To complement the dining space, go for a rustic oversized light fixture. This horizontal and large iron light fixture with candle lights fits perfectly with the rustic yet modern décor.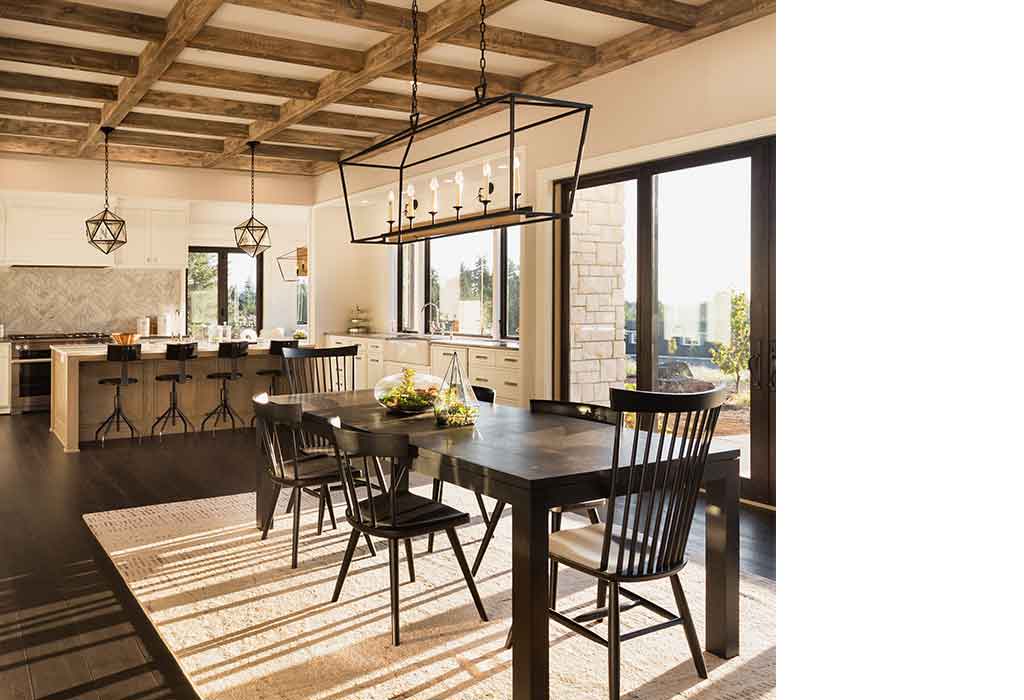 8. Big Light Fixture
Sometimes instead of style, the size is enough to create an impact! Instead of a light fixture studded with crystals or having an elaborate design, go for a simple but big light fixture. This upturned wagon-wheel light fixture with naked bulbs and thick rope hangs is enough to create a statement in a contemporary dining room.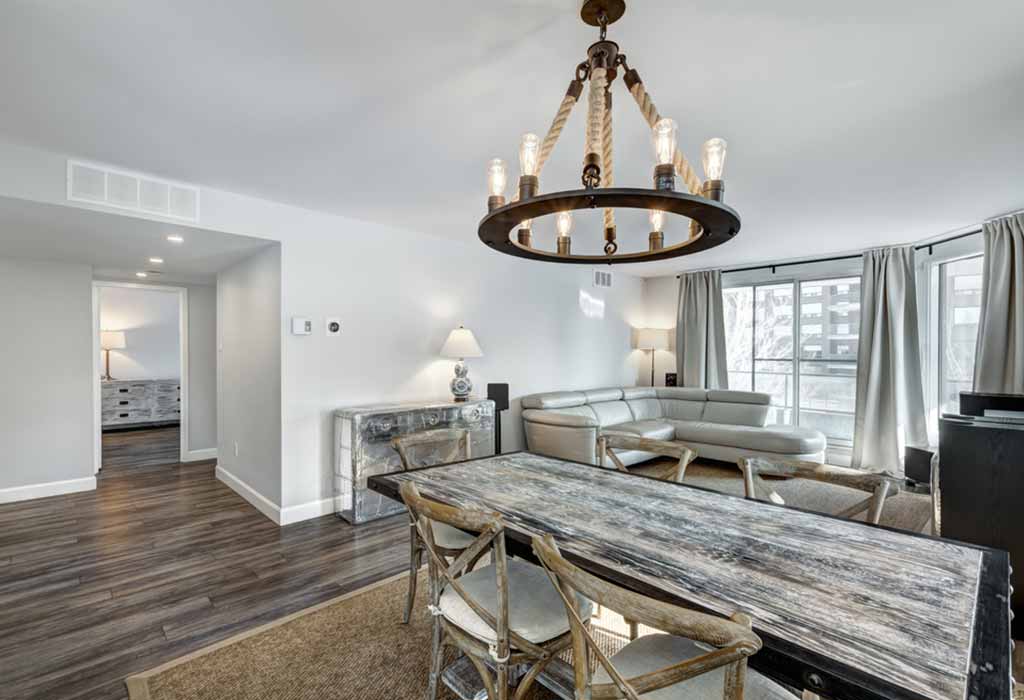 9. Double up The Glamour
When thinking of a light fixture for your luxurious dining room, don't stop at one chandelier. Double up the glamour quotient with two chandeliers. Crystal beaded chandeliers will add to the art deco aesthetics of your dining room.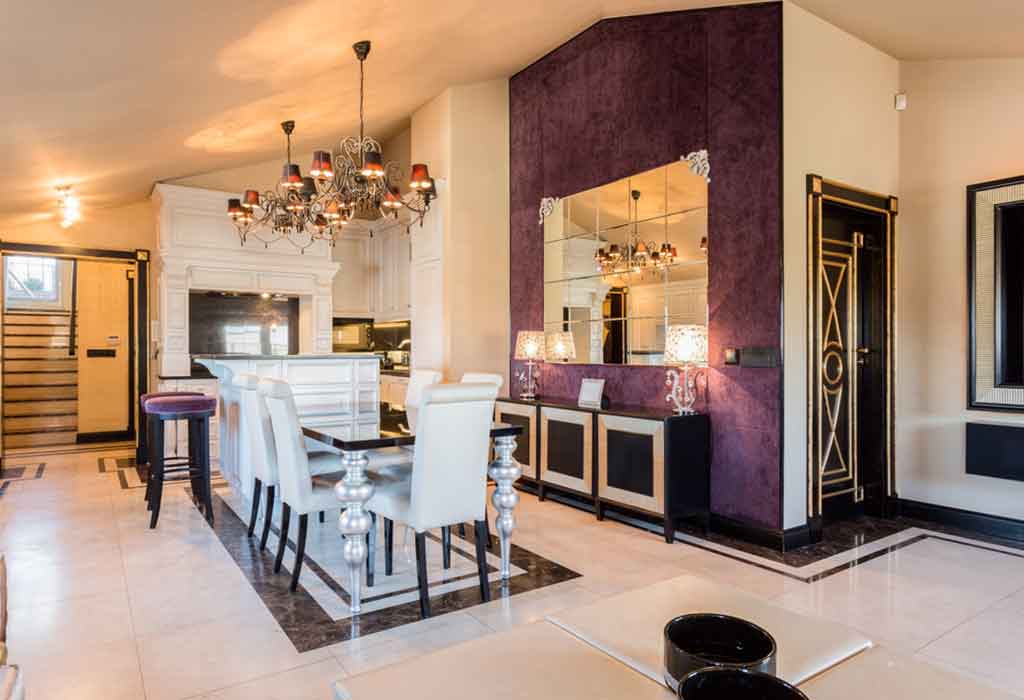 10. Nature-Inspired Light Fixture
To bring a touch of nature to your modern dining space, get a nature-inspired light fixture. This large light fixture inspired by antlers gives a rustic look to any dining space. This light fixture goes well with wooden flooring and a simple wooden dining table.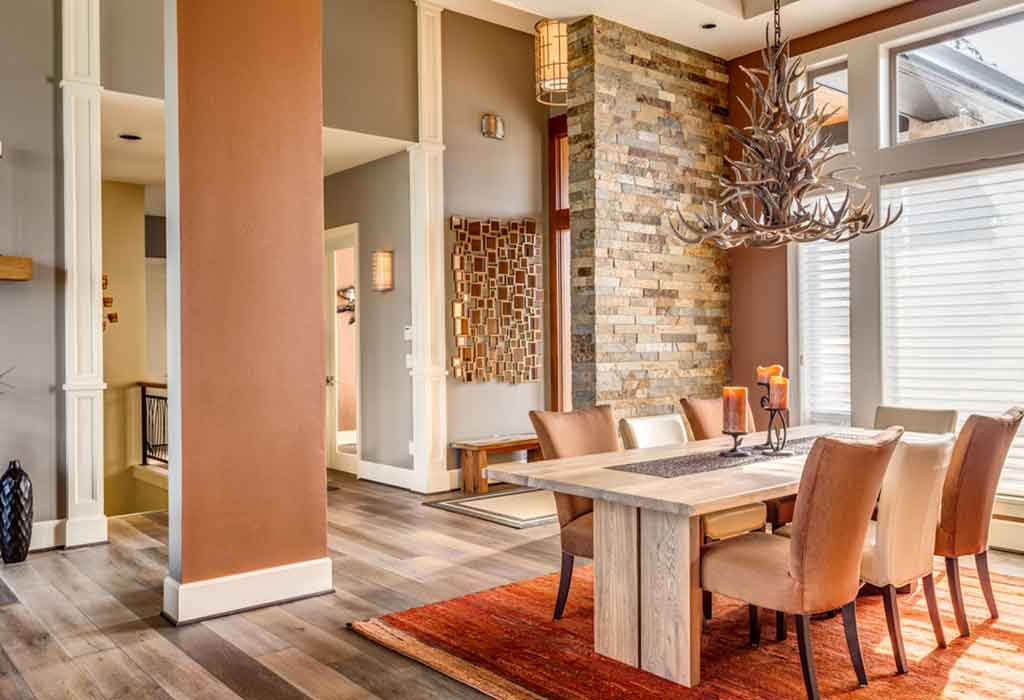 11. Metallic Bubble Chandelier
Go for an unusual metallic bubble chandelier to add a stylish light fixture to an elegant dining room. The bold light fixture with metal orbs will make your dining space look whimsical and stylish.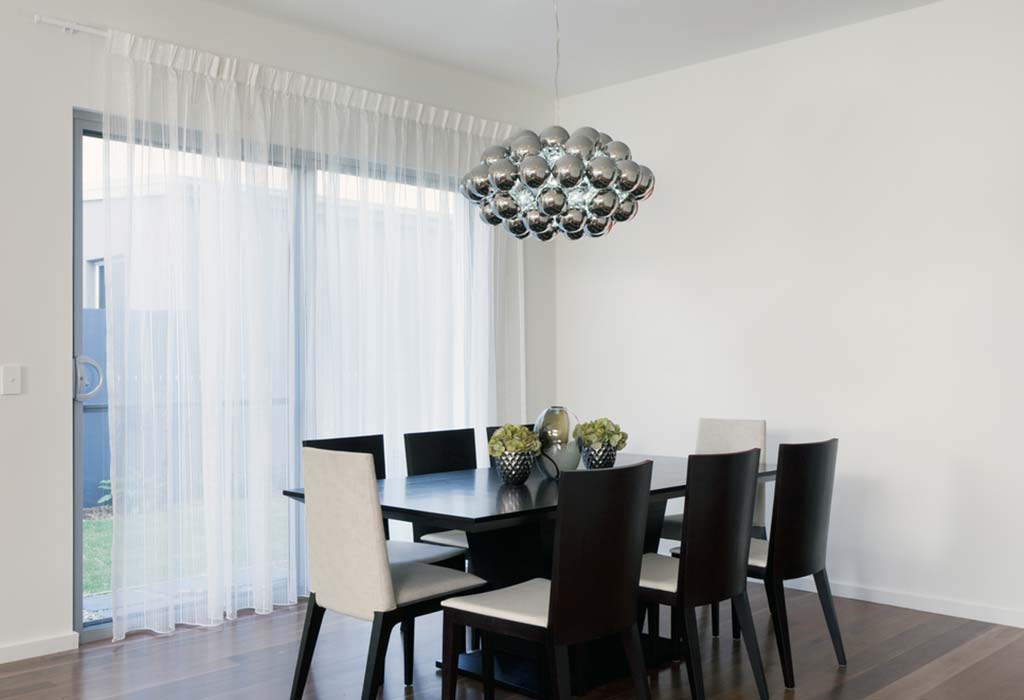 12. Small Light Fixtures
A huge ceiling light may overshadow the dining room décor. To highlight the decor without overpowering it, go for multiple small pendant lights. The black pendant lights enhance the black décor since their cast light is evenly distributed on the entire table.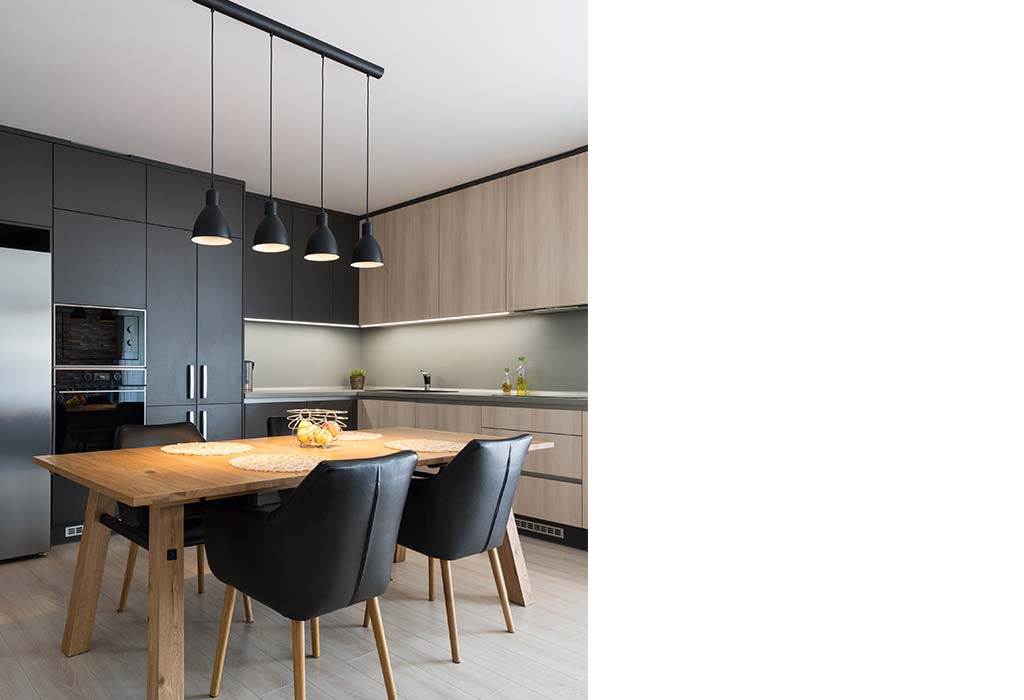 13. Color-Coordinated Light Fixture
To amp up the décor of your dining space, go for color-coordinated large pendant lights. Pendant lights in the same color as the decor of your dining space create a cohesive interior without shifting the focus from your stylish dining table.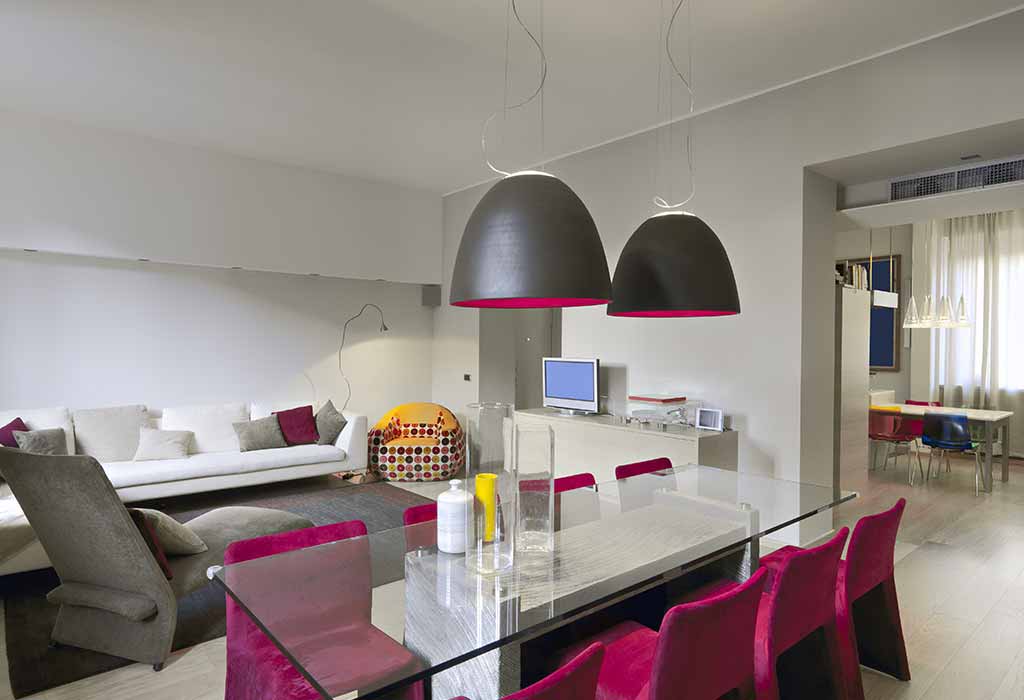 14. Wall Light Fixture
Dining room wall lighting ideas also work well for small minimalistic dining tables. The upturned wall light fixtures complement the white walls. Wall lights maintain the aesthetics of the dining room, while the glow cast on the walls adds to the simple ambiance of the room.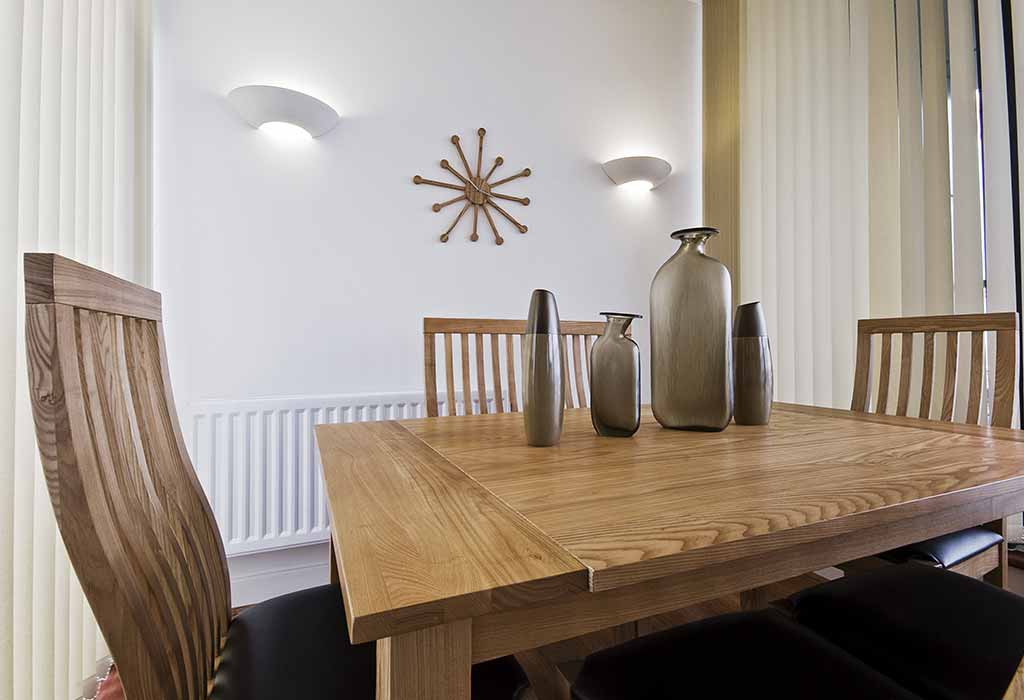 15. Over-Sized Floor Lamp
Add a statement light piece to your modern open dining space to create an impact. Going for a floor lamp is ideal when you don't want to make any structural changes to your dining space but still want to brighten up the room. One of the most unique dining table lamp ideas is an oversized study table-style floor lamp. The large size lamp lights up the dining space and works as a statement décor piece too.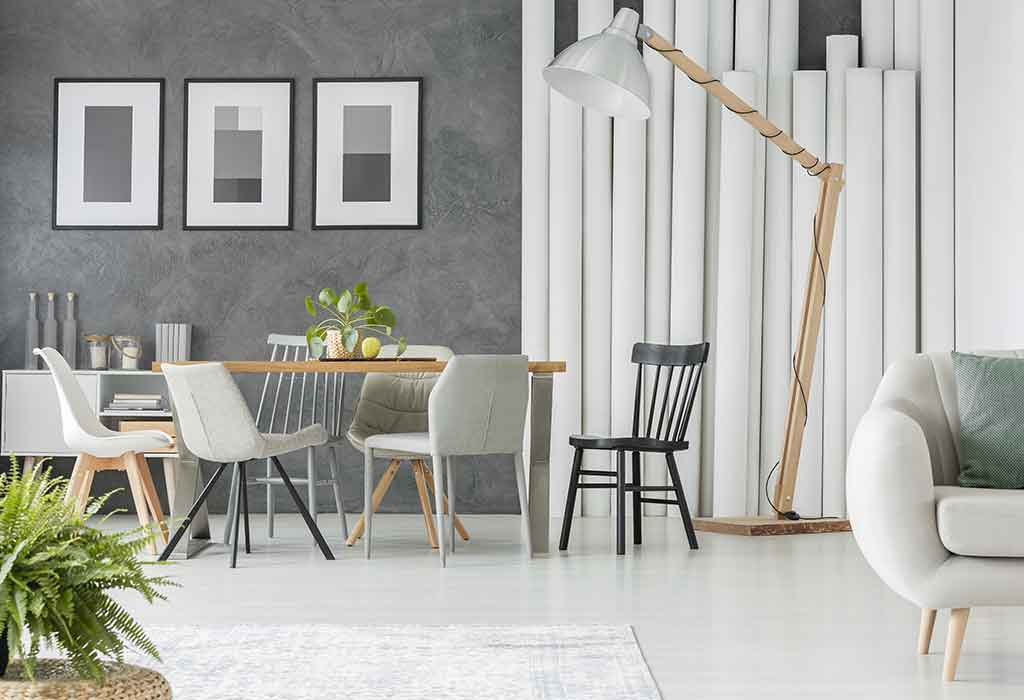 You can effortlessly light up your dining room with any of these modern lighting ideas. A stylish light fixture not just illuminates your dining space but also enhances your décor and makes it shine!
Also Read:
Fabulous Outdoor Dining Room Design Ideas
Best Sunroom Decor Ideas for a Bright and Beautiful Space
Best Patio Cover Ideas to Style Your Outdoor Space