9 Jewellery Gifts for Your Wife That'll Make Her Fall in Love with You All Over Again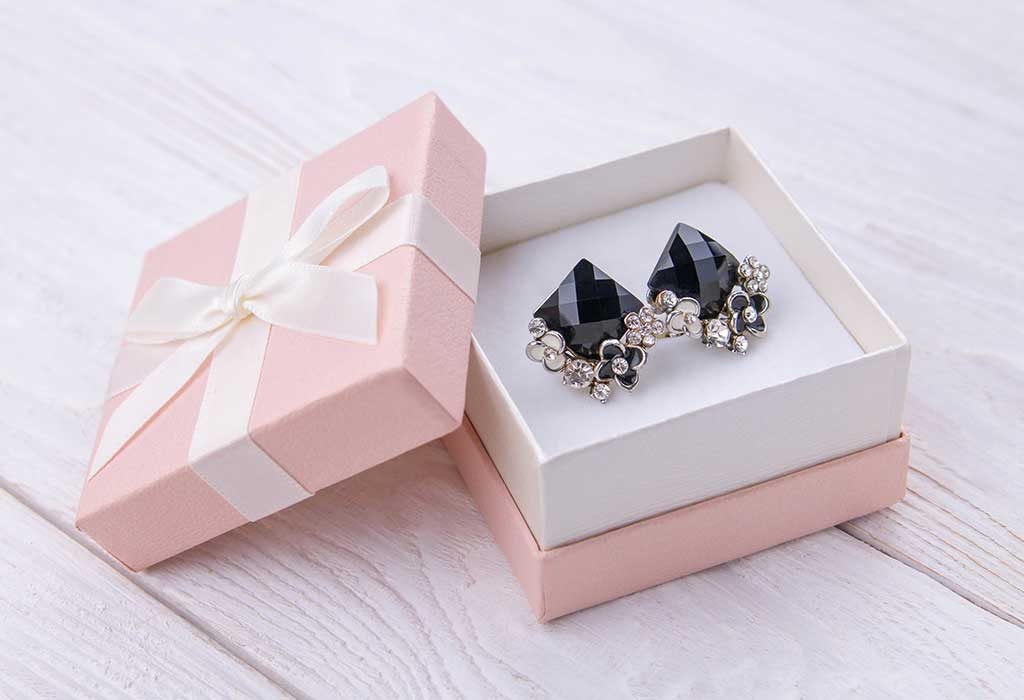 In this Article
Women love jewellery, and there is no lie in this statement. They may not wear big jhumkas, chunky necklaces, or chandbalis every single day, but that does not mean they won't like to own these glittering pieces. Whether it is diamond, yellow gold, black metal, or rose gold – women love them all! In fact, jewellery is one of the most wonderful gifts that a man can give his wife. If you are looking to buy jewellery for your wife, we know it will be hard for you to settle on one thing. With so many options available out there, it can be downright confusing for you (especially, if you are hearing terms like 'rose gold' or 'sterling silver' for the first time!). We have some suggestions that you might want to consider!
9 Jewellery Gifts for Your Wife That She'll Love to Own
Before you buy any piece of jewellery for your wife, settle on a metal, and for that, you may want to take a sneak-peek into your wife's jewellery collection – just to find out what she likes (play it safe!). The most popular choices when it comes to metals are yellow gold, silver, rose gold, and black metal – and these would be your best bets if you don't know what your wife would like.
1. Pendant Necklaces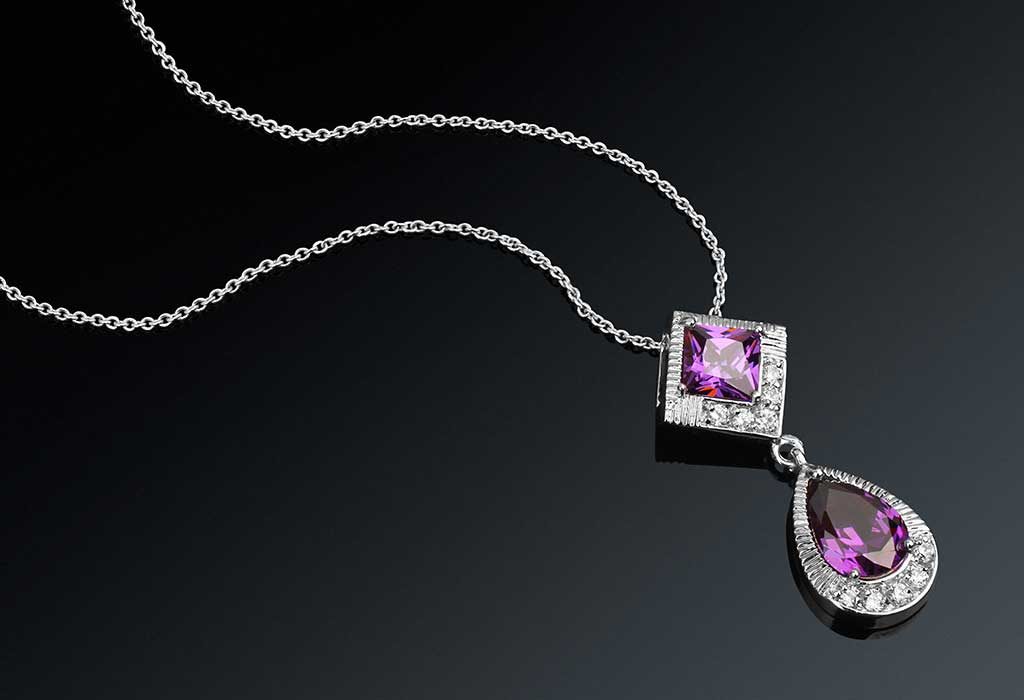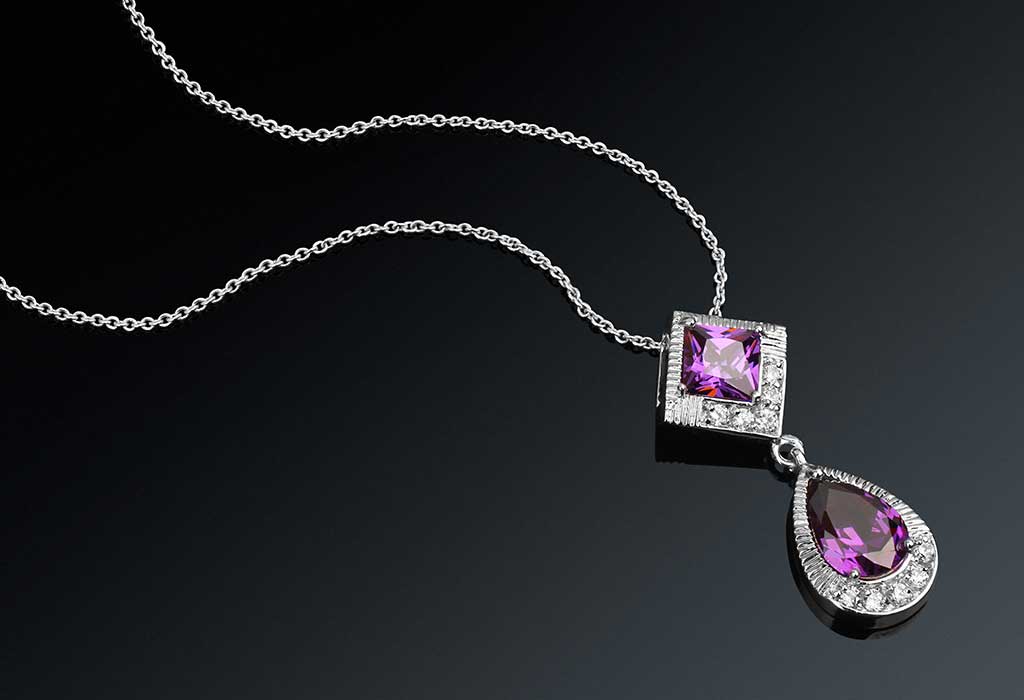 Whether it's your wife's birthday, your anniversary, or any other occasion, you can gift a pendant necklace to your wife – she will love it without a doubt! If your wife prefers minimalist jewellery, one thing that you can gift her without having second thoughts is a sleek pendant necklace. You can also buy her a single chain with 2-3 pendants of different shapes, which she can wear alternatively. She'll thank you for such a utilitarian gift!
Journey necklaces that feature a series of graduating gemstones are also in trend. The pendant's design symbolises special moments or the journey of someone's life, which will have sentimental value – it's also a worthy purchase for your wife, we must say! If you want to get it customised, then now is the right time, because you will find plenty of designs. You can get your wife's name inscribed on the pendant or a special message written to her on the pendant – she's sure to love it!
2. Kundan Jewellery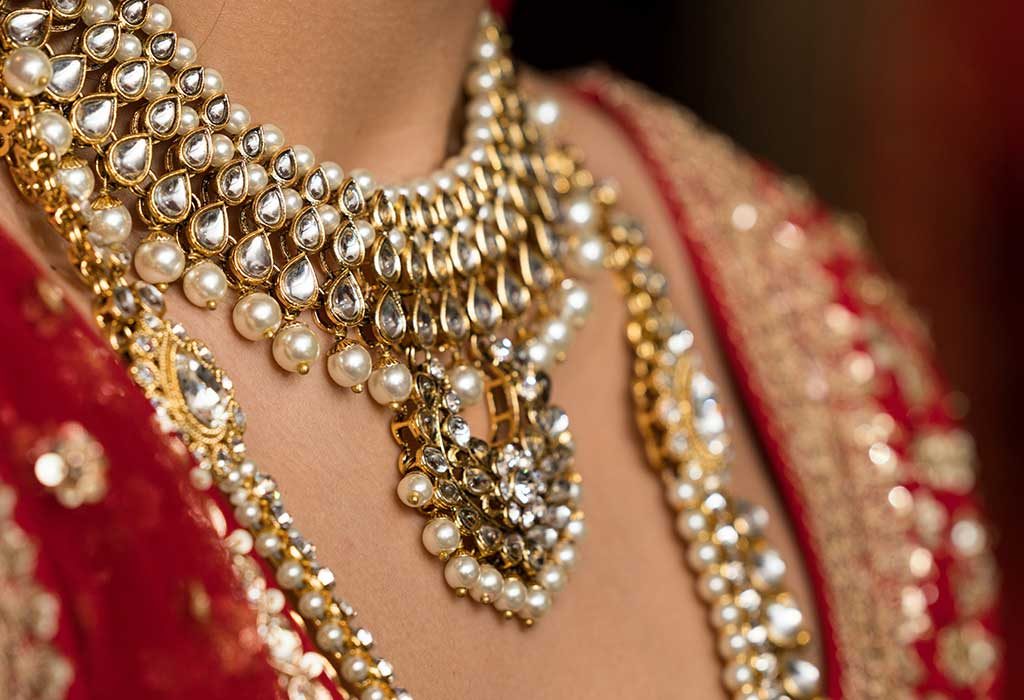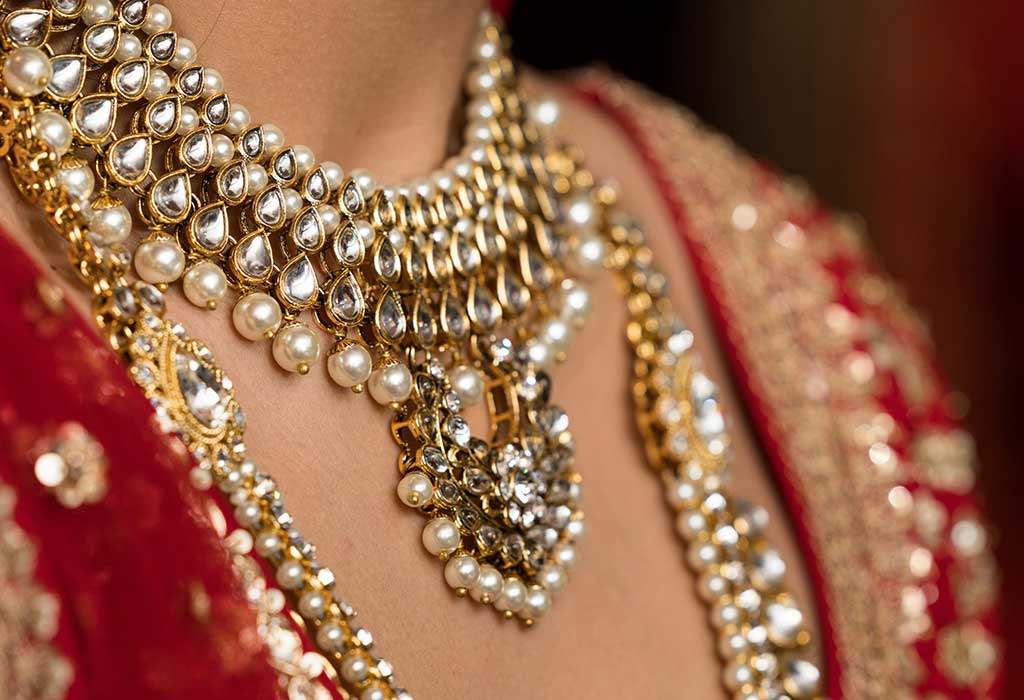 Wearing kundan jewellery is a BIG trend in India, and women are no longer shying away from wearing elaborate neckpieces or earrings even in casual settings. Kundan jewellery is a traditional form of Indian gemstone jewellery in which glass pieces are embedded into a gold foil. Kundan jewellery emerged from the royal courts of Rajasthan and Gujarat; no doubt, it gives the wearer quite a regal look. Kundan jewellery is available in various intricate designs, and apart from kundan necklaces, you can also buy kundan earrings, maang tika, bangles, rings, and anklets. How about buying an entire kundan set for your wife to surprise her?
3. Chokers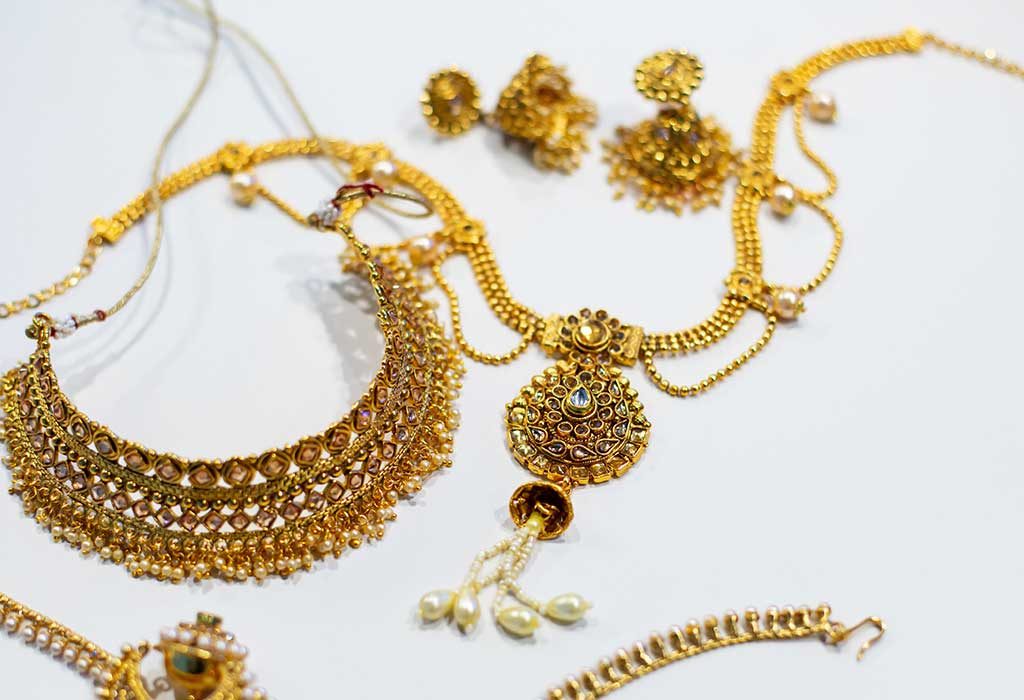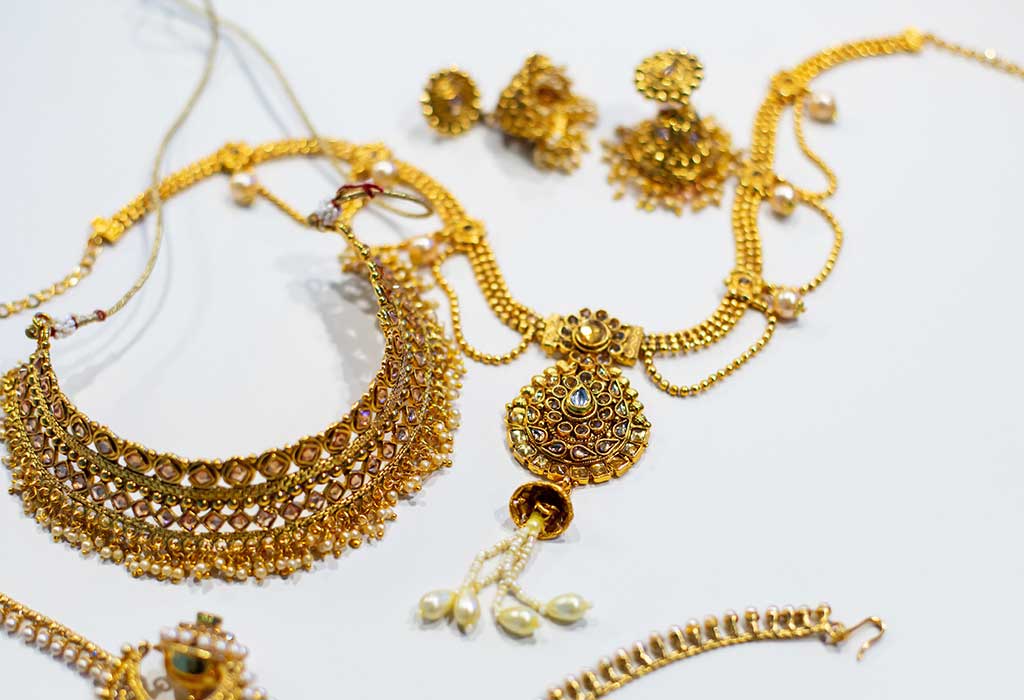 Choker neck pieces are back in fashion, and it seems as if they are here to stay for long. So go ahead and buy one for your wife – you can't go wrong with it. Traditional choker neck pieces look resplendent with Indian ensembles. They are available in metal, leather, and can be embedded with rhinestones, and so on, and they add panache to any look. If you want to play it safe, buy a minimalist gold or silver choker necklace; but if you think your wife would love to experiment with elaborate designs, you can get her something on those lines as well. This statement jewellery piece is trending majorly and can be worn with both Indian and semi-formal outfits; so don't doubt your choices, your wife is sure to make use of the necklace, one way or the other. And given the popularity of chokers these days, you will have plenty of options to choose from!
4. Stud Earrings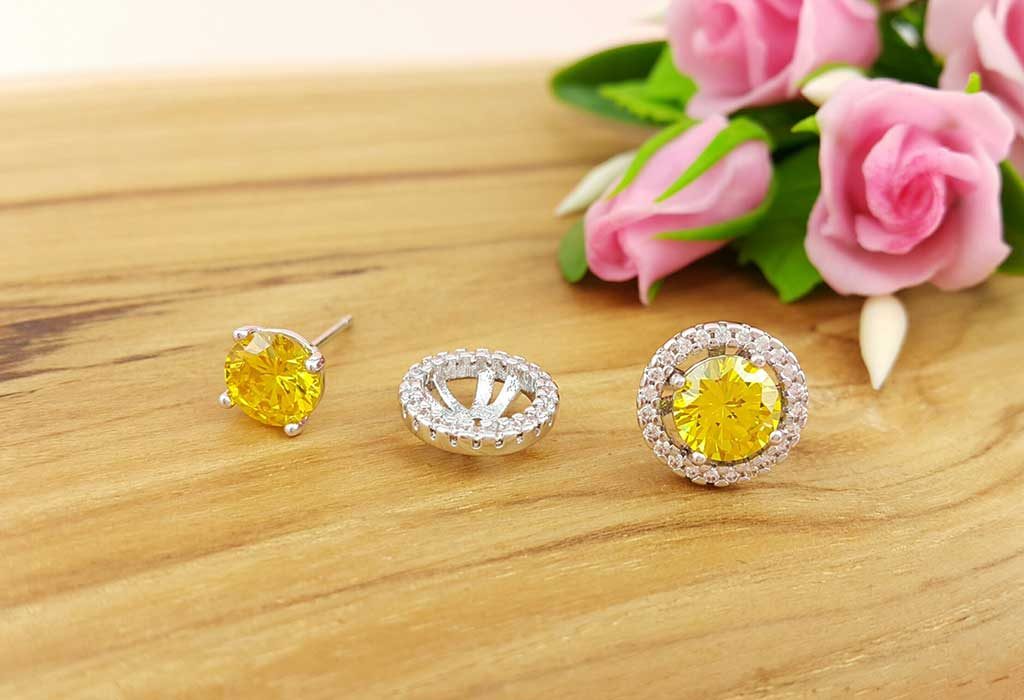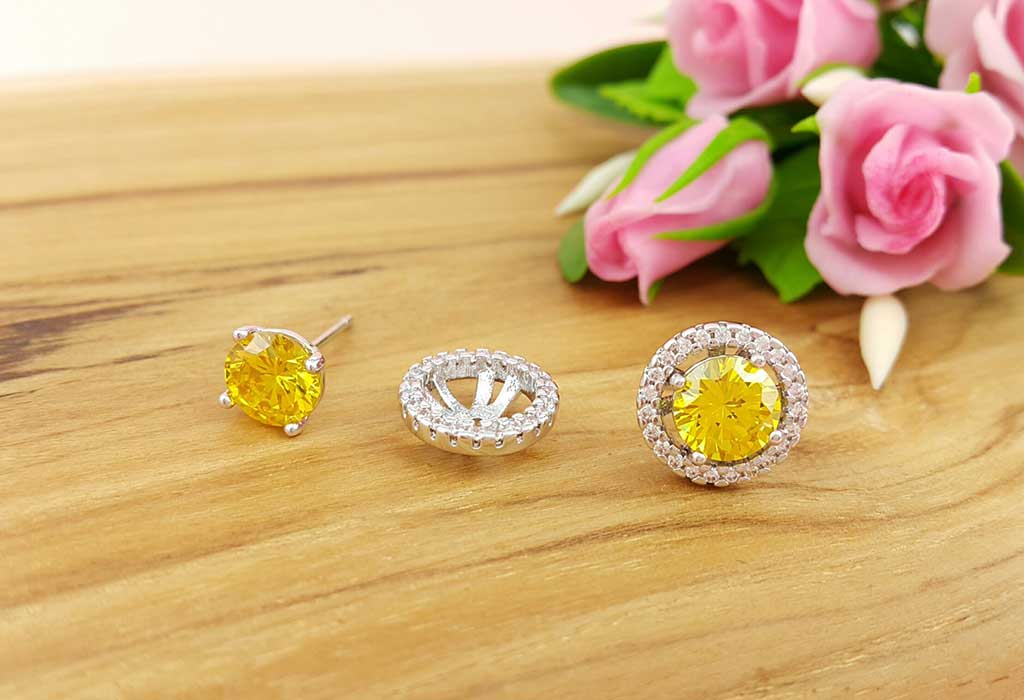 A woman can never have enough pairs of stud earrings. Stud earrings are timeless jewellery staples and something that your wife can pair with any casual outfit. You will find ample designs in studs too. From flat-knots to ball-shaped to heart-shaped studs, the options are endless. They are available in various metals like sterling silver, rose gold, yellow gold, white gold, and also come embedded with diamonds, pearls, and other gemstones. So ask your wife's friends and siblings what kind of studs she would like, and get it for her.
5. Charm Bracelets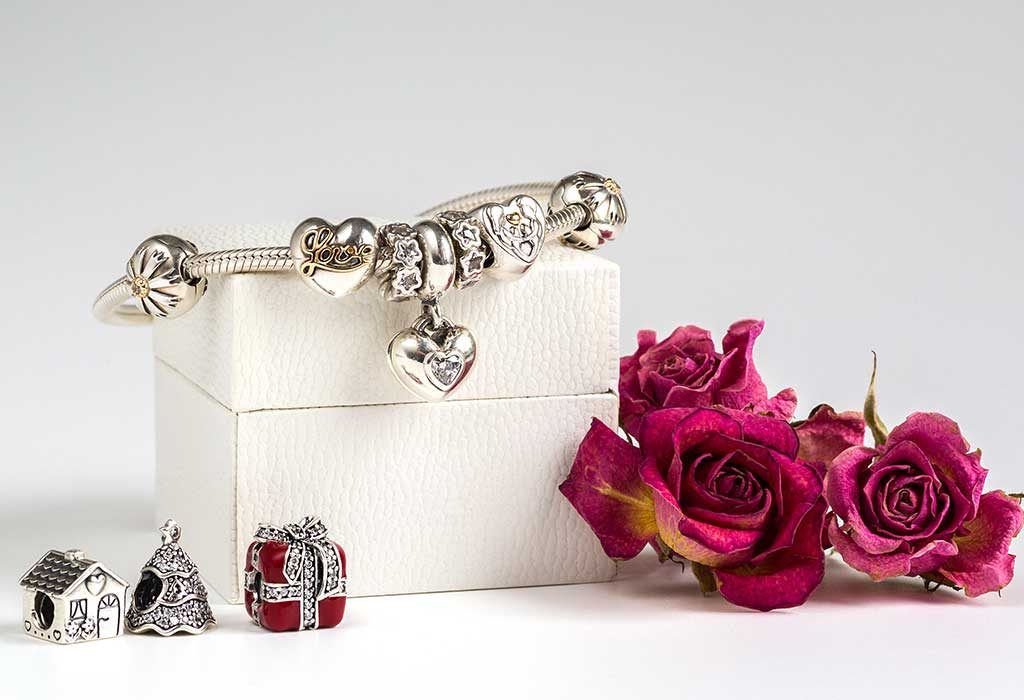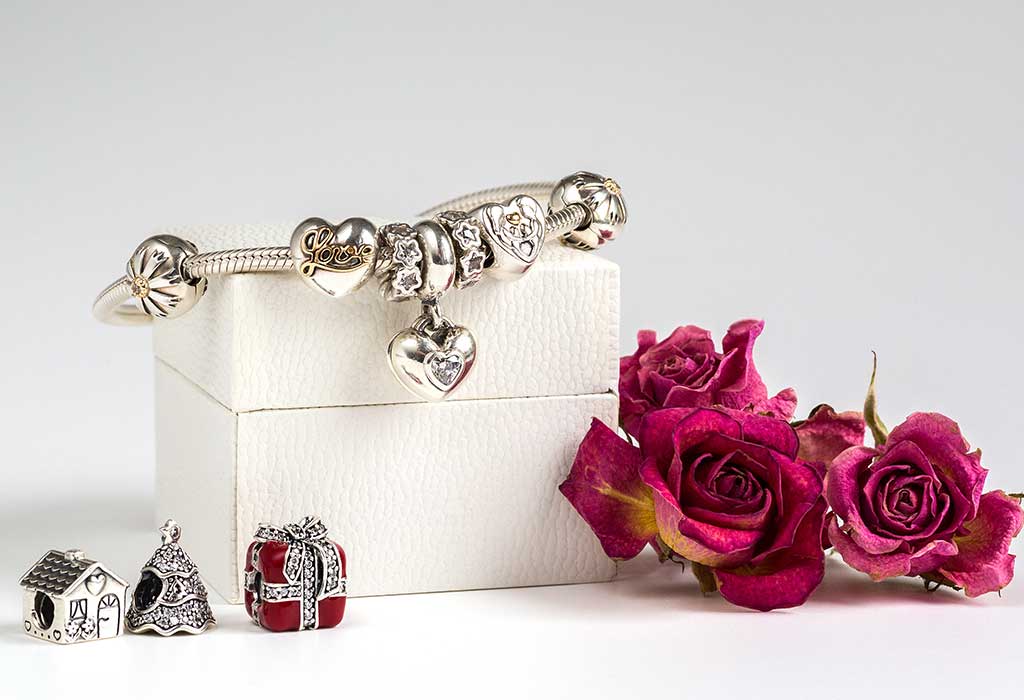 If you are looking for customised jewellery for your wife, we suggest that you go for charm bracelets. Charm bracelets have small trinkets or ornaments dangling from them, which are called 'charms'. These 'charms' basically have the wearers' sentiment attached to them. On different occasions or on reaching different milestones, charms are added as a memory. And we have three words for charm bracelets – cute, elegant, and stylish! They are available in different metals – yellow gold, rose gold, sterling silver, rhodium-plated, etc.
6. Gemstone Jewellery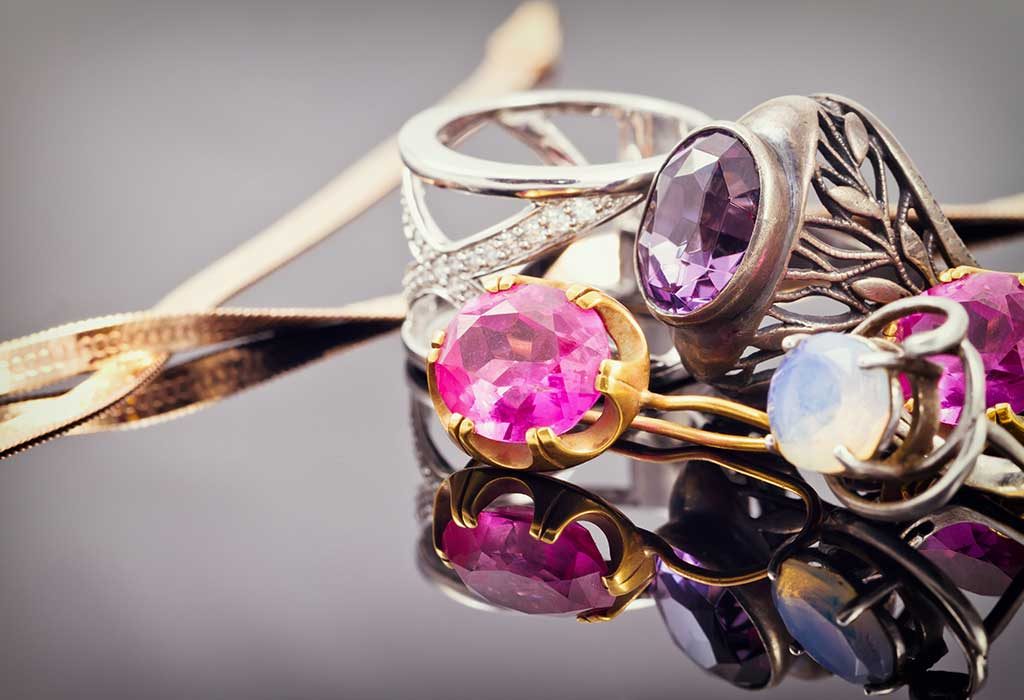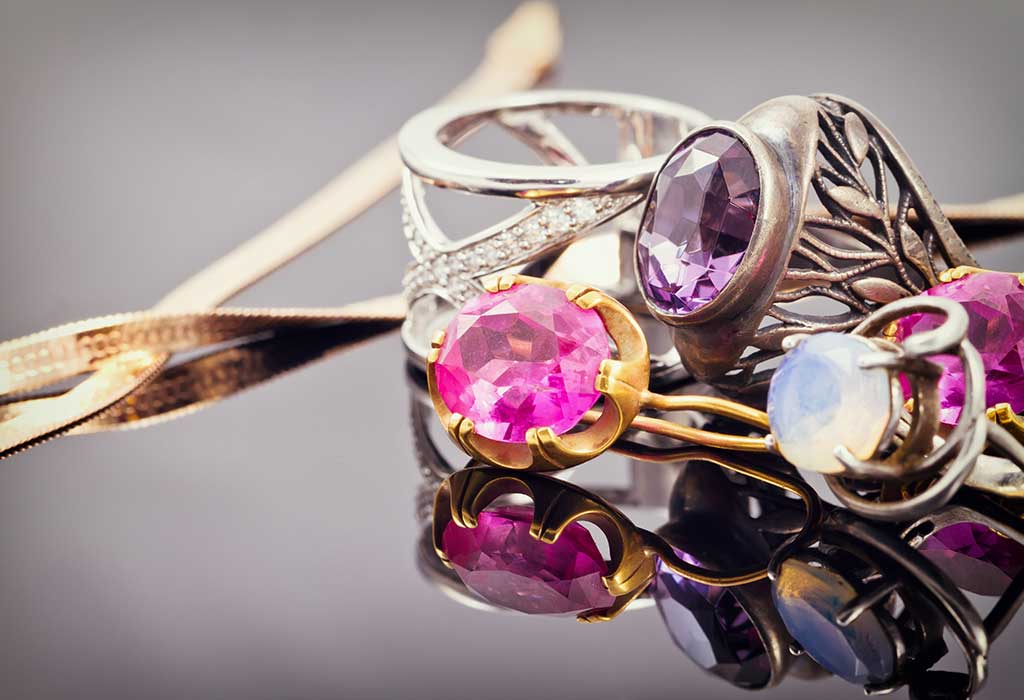 Gemstone jewellery is exquisite, and a gemstone can transform a plain jewellery item into an attractive one. And why would a woman not want to own a piece of gemstone jewellery? It is pretty perfect! You can buy gemstone rings, earrings, or even pendants. You can go the extra mile and get your wife jewellery pieces embedded with her birthstone. She will not only love it, but will also take pride in the fact that you know her gemstone i.e small details about her – and yes, that will definitely matter to her!
7. Anklets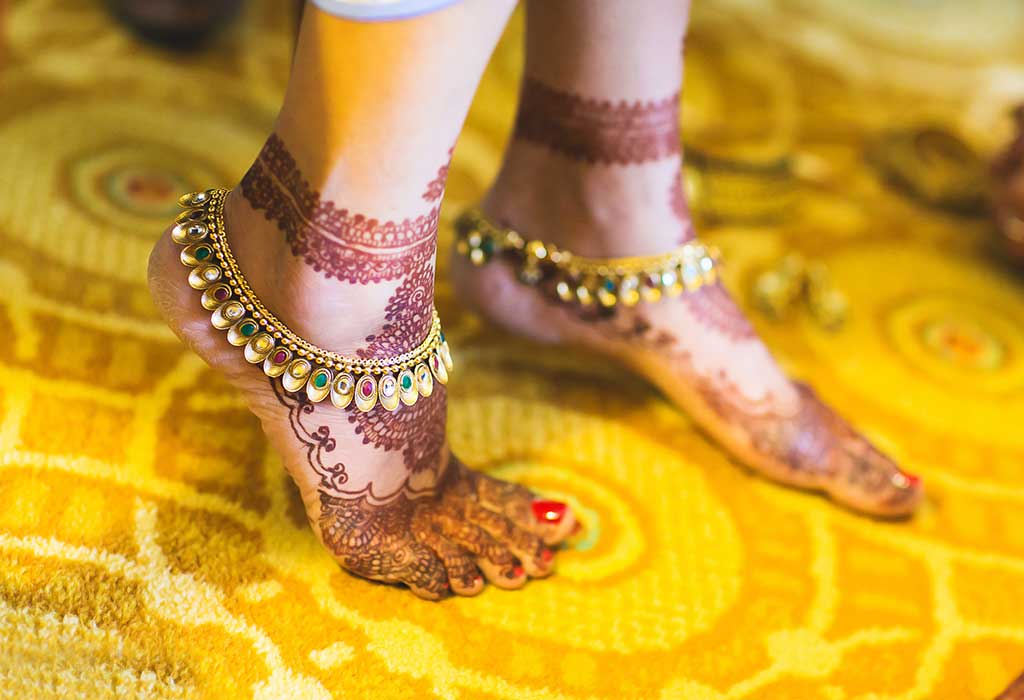 Your wife may not wear anklets every single day of the year, but she'd love to receive them as gifts (especially from you)! But don't go for a traditional pair of silver anklets, because they are not trending – not at the moment! Look for intricate and sleek designs. Gold, silver, and rose gold anklets are 'in'. Along with that, kundan anklets, anklets with danglers, multilayered anklets, and lace anklets are also drawing the attention of most women. Keep your wife's choice in your mind and head out for some anklet shopping!
8. Solitaire Jewellery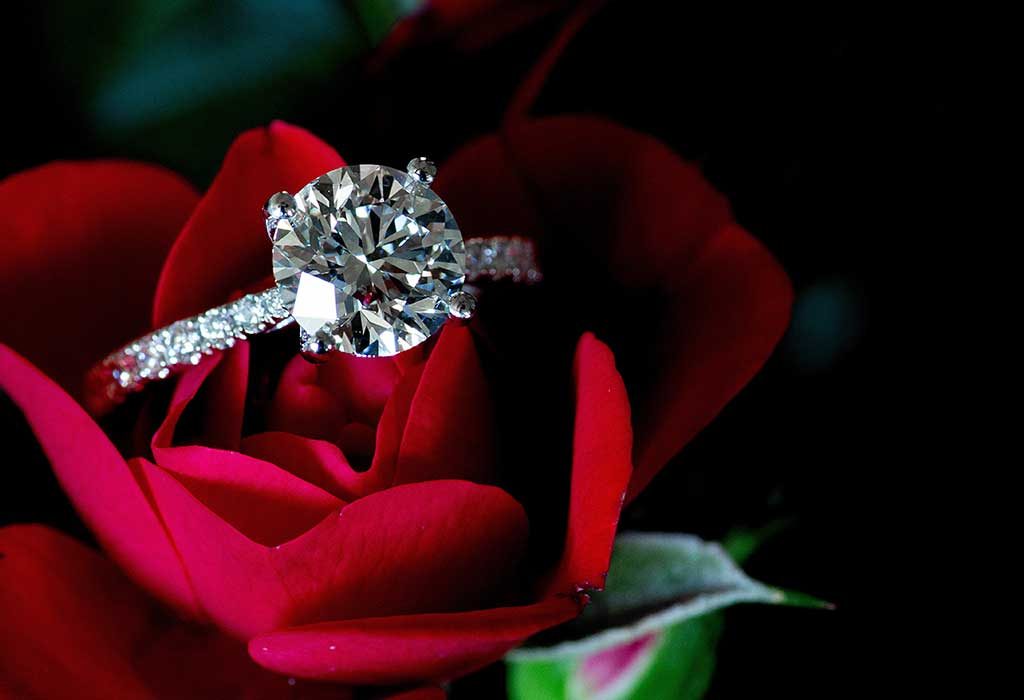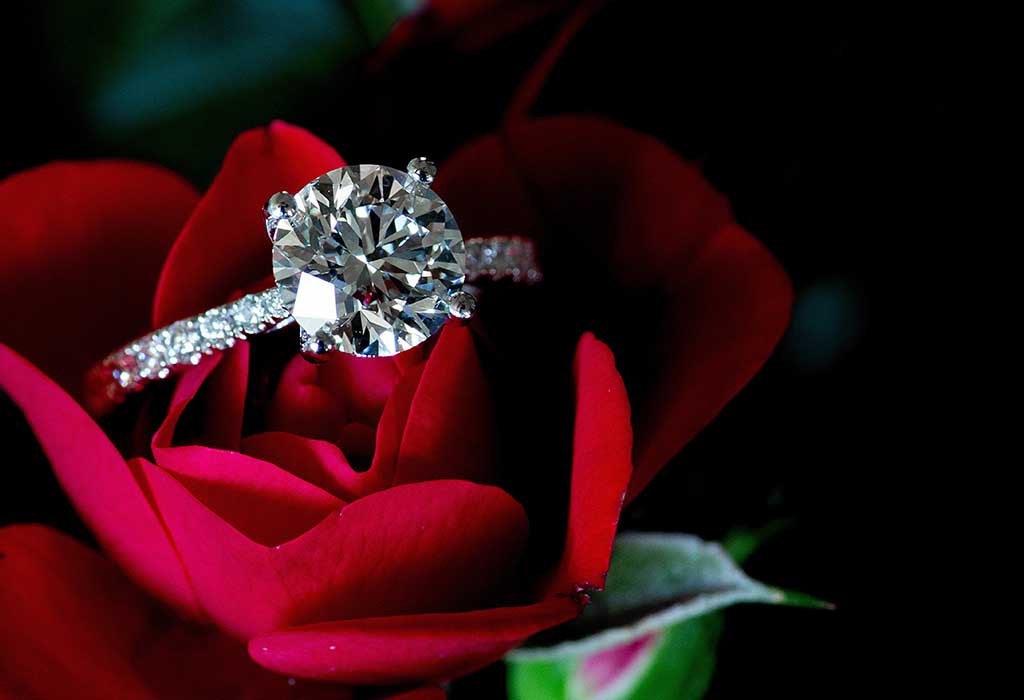 Gifting your lady solitaire jewellery will literally have her 'sparkling' with tears of joy! Solitaires are a big investment, so keep it for the bigger milestones of her life, like your first or tenth wedding anniversary or your wife's 30th or 35th birthday! You can buy diamond necklaces, rings, or even earrings. You can even choose an elegant diamond pendant with a yellow gold chain – a classic combination of modern and traditional! And yes, on receiving diamonds as gifts, your wife will surely fall in love with you all over again!
9. Love Bracelets
The next on our list is a love bracelet, which is relatively new in India. Available in silver and gold-plated material, this bracelet will look chic, and your wife will appreciate your unique choice. In love bracelets, 'I love you' is engraved into the 'love stone' in different languages, and on pressing a key on the bracelet, the name/message is displayed on the wall where the stone is pointing at. It could be a perfect gift for your tech-savvy wife!
These are some traditional and trending pieces of jewellery that you can buy for your wife. Receiving a beautiful piece of jewellery from you will make her day, not because you bought her a gift, but because you invested time in finding the right piece of jewellery for her. Your simple act of love will let her know how much you love and appreciate her. A small piece of jewellery can make her feel special; so go ahead and gift the woman of your life a small package of love!
Also Read:
Amazing Birthday Surprise Ideas for Your Wife
Romantic Love Messages for Wife
Ways to Make Valentine's Day Wonderful for Your Wife