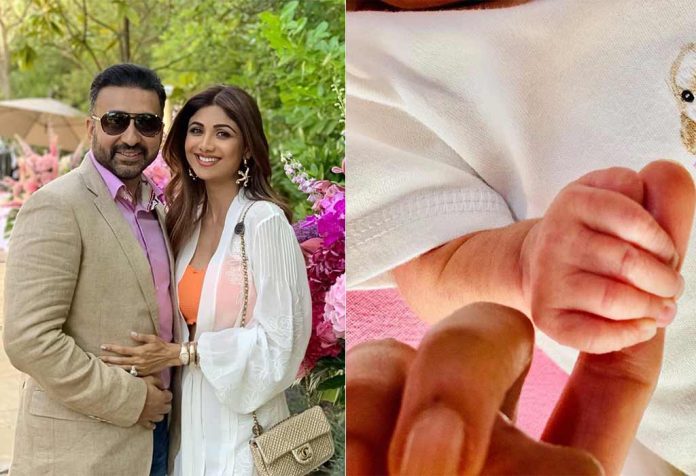 The joy of welcoming a child – holding those tiny fingers and looking into those innocent eyes – cannot be explained. If you're a mom or a dad, you know what we are talking about. You've lived those moments too. Whether it's your first child or second child, you celebrate their arrival with levels of enthusiasm you never thought were possible!
And our B-Town couple Shilpa Shetty Kundra and Raj Kundra are experiencing this joy all over again as they welcomed their second child, baby girl Samisha on February 15th. The second-time mommy Shilpa took to Instagram to announce the birth of her baby girl. We're loving the little one's name! Take a look at Shilpa's post here to understand what it means –
Source: https://www.instagram.com/p/B80Uq2RB3yj/
While it has been doing the rounds that baby Samisha entered the world via surrogacy, the couple hasn't made an official claim about whether this is true yet. Regardless of whether it was surrogacy or adoption, we couldn't be happier for the new parents!
Shilpa's birth announcement is definitely heartfelt! Here's what she wrote, "Om Shri Ganeshaya Namah. Our prayers have been answered with a miracle… With gratitude in our hearts, we are thrilled to announce the arrival of our little Angel, Samisha Shetty Kundra.
Born: February 15, 2020
Junior SSK in the house
'Sa' in Sanskrit is "to have", and 'Misha' in Russian stands for "someone like God".
You personify this name – our Goddess Laxmi, and complete our family. ⠀⠀⠀⠀⠀⠀⠀⠀⠀ ⠀⠀⠀
Please bestow our angel with all your love and blessings
Ecstatic parents:
Raj and Shilpa Shetty Kundra
Overjoyed brother:
Viaan-Raj Kundra"
Isn't that a wonderful announcement? And what a meaningful name indeed!
The actor's businessman-husband Raj Kundra also shared the news of the newest addition to his family on his Instagram handle. Here's what he wrote, "I can't express how happy I am to announce the newest member of our family Samisha Shetty Kundra, blessed with a baby girl #gratitude"
Source: https://www.instagram.com/p/B80VsM1ADrt/?utm_source=ig_embed
Congratulatory messages have been flooding in from fans and the who's-who of Bollywood since the couple announced the happy news. Filmmaker and choreographer Farah Khan Kunder, who happens to be Shilpa's close friend, revealed to the world that she was already let in on the secret by the couple earlier and bestowed her blessings on the baby. Here's what she wrote, "Thank God♥couldn't hold the secret much longer. bless bless & bless"
Samisha is Shilpa and Raj's second child. The couple got married in a grand ceremony in 2009 and welcomed their first child Viaan Raj Kundra in 2012. Shilpa has been a doting mother to her son Viaan ever since, giving us some major #momgoals! Not to mention how she managed to become the epitome of the phrase "hot mama"! Take a look at some of her pictures to see what we're talking about!
Source: https://www.instagram.com/p/B3uVtYkAC9N/
Source: https://www.instagram.com/p/B6x8mLYhpO_/
Source: https://www.instagram.com/p/B41t4Z3BaSs/
On the work front, Shilpa Shetty Kundra is set to make a comeback to Hindi movies with Sabbir Khan's movie 'Nikamma'. We wish her all the best for her upcoming projects!
As of now, Shilpa and Raj are enjoying the "new parent" phase all over again. Our heartiest congratulations to them as they embark on their memorable journey to sleepless nights once again!