How to Keep a Christmas Tree Fresh for a Long Time
Finding the perfect Christmas tree may be almost as much joy as opening a package of gifts during the holiday shopping season. A natural evergreen would give a festive and fragrant touch to your home, but most trees only survive a few weeks rather than months. The damp stems and branches will dry, and the needles will change color from a brilliant dark green to a brownish hue before falling to the ground. If you are meticulous in your tree selection, preparation, and care, you may extend the life of your tree and keep it looking beautiful for much longer, possibly even into the new year.
How Long Does a Fresh Christmas Tree Last
If you choose a healthy tree, it should survive for approximately four to six weeks, which should be perfectly sufficient to get you through the holiday season.
One can be assured about a tree's well-being by going to the shadiest region of the farm if you want to avoid picking one sitting in the sun. You must choose a plant with green needles rather than brown needles to ensure a healthy plant. Touching the branches should result in malleable needles that do not fall off the branches. When you lift the tree and lower the trunk to the ground, you should notice that only a few green needles fall off. It is also possible that the type of tree makes a difference. Non-drop trees, such as the Nordmann Fir, are more likely to retain their appearance and shape for a more extended period.
Ways to Make Your Christmas Tree Last Longer
Your home would undoubtedly be more festive and fragrant with an evergreen, but most trees only endure a couple of weeks. Eventually, the damp stem and branches will dry out, and the needles will change color from a vivid dark green to a brownish color before falling off. It's possible to preserve a fresh-cut Christmas tree for longer by being meticulous in its selection and upkeep.
1. Begin with a brand-new tree
When selecting your tree, you'll want to keep a few things in mind to ensure that your tree remains green throughout December. How to make a Christmas tree survive longer is primarily dependent on starting with a healthy tree.
2. Health
You should choose a tree that appears to be in good physical health, even if it seems to be common sense to some. These trees are more likely to last you through the Christmas season than other types of trees.
3. Make a brand-new cut
Many tree farms and home and garden centers will provide you fresh Xmas trees that you can cut into smaller sizes and take home with you. Starting with a half-inch to one-inch cut from the bottom of your tree's trunk, you can get the perfect size for a tree that will fit in your home. Making a straight cut now will make putting your tree in the stand considerably easier later on down the road.
4. Transportation
Proper transportation is vital to extend the life of a Christmas tree. If you are too rough with your tree, it will cause the needles to drop prematurely, creating a mess and leaving empty spaces in its lush canopy of leaves. The majority of trees are bundled in netting, which helps to keep their more delicate limbs secure during the transportation process. If your tree does not come with a blanket, consider wrapping it in an old blanket to keep it secure and restricted until it arrives at its destination. You should place the trunk end of your tree at the front of the car if you're transporting it on the roof. This will prevent the needles from blowing off throughout the procedure.
5. Water your tree
For those who are curious about keeping a holiday decoration fresh and vibrant for an extended period, the easy answer is water. You should water a fresh-cut Christmas tree every day for the first two weeks after being cut down. Trees absorb the most water during this time of year, which is why purchasing fresh-cut Christmas trees is so crucial.
6. Trim the tree's trunk
When purchasing a Christmas tree, be sure that the seller makes a fresh cut straight across the base of the trunk to aid with water absorption before paying the bill. This gets rid of any dried-over resin that might be preventing the tree from absorbing water properly. If you aren't going to put your tree up right away when you get home, set it in a bucket of water when you arrive home. Natural trees should always be stored in an unheated garage or sheltered from natural elements, such as wind and cold temperatures.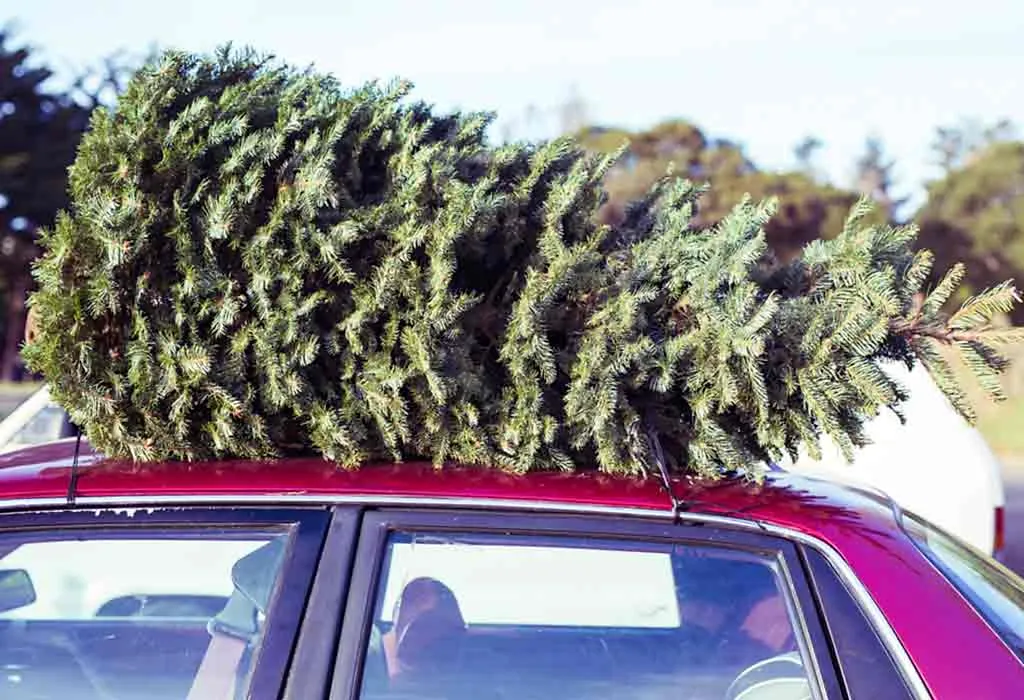 7. Carefully take it out
Remove the trunk from the car and cut another one-inch piece off the bottom when you're ready to carry it inside. Once inside, set it on a solid platform that can hold at least one gallon of water.
8. Wilt-stop
Wilt-Stop is a plant-protection spray that can help your Christmas greenery maintain its vibrant color throughout the holiday season and beyond. It keeps moisture from escaping from your tree's needles by forming a protective layer on the surface of the needles. This will keep your tree's appearance fresh and prevent it from dropping needles early. It is created from pine tree resin, which means that it is a safe and non-toxic solution to extend the life of your Christmas tree's needles. Additionally, you may use Wilt-Stop for any other festive foliage around your home, like wreaths and garlands, in addition to your Christmas tree.
9. When it comes to recycling your Christmas tree
Many counties and towns provide Christmas tree pick-up services; however, there are various options for repurposing and recycling your Christmas tree in the following year.
10. Shelter for the wildlife in the backyard
Take your Christmas tree outside once you're finished with it this winter to provide a little more protection from the cold for the birds, chipmunks, and other garden critters. For rabbits and other small animals, you can lean it up against a fence or another tree, or you can lay it on its side to give a haven. Place it far enough away from your house so no animals will attempt to enter your warm home.
11. Make your tree fit for mulch
With a garden, you may use the roots of your perennials to keep them warm throughout the colder months by putting your Christmas tree in the garden. There are two methods for using branches as mulch, neither of which necessitates the use of a wood chipper or shredder. Simply clipping a few short branches off a tree and placing them on top of the soil around your perennials will suffice to provide adequate protection. This will help to keep the roots warm throughout the winter. It is possible to utilize pine needles to help protect your plants while retaining moisture in your soil. Simply cut a branch and shake or brush the needles off with a clean cloth. If they don't come off readily, leave your tree outside for another day without water until they do.
12. Keep the Christmas tree away from radiators and other sources of heat
There's nothing more attractive than fresh decorated Christmas trees next to crackling fireplaces. Yet, along with sunshine radiators, air ducts, and stoves, a regularly used fireplace could contribute to your tree drying out much more quickly. To combat dryness in your house, consider utilizing a humidifier to provide additional moisture to the air.
If you've opted to purchase a fresh-cut Christmas tree this year, you may be eager to get your tree home and set it up in your living room. It is possible, though, that if you cut your tree too early, you will have difficulty keeping it fresh and green until Christmas or the new year. Keep in mind the methods outlined in the preceding article to ensure that your Christmas tree will live for a more extended time.
Also Read:
Christmas Tree Toppers Ideas
Upside-down Christmas Trees
Christmas Tree Decoration Themes