Home First Aid Box – What Should Be in Your Home First Aid Kit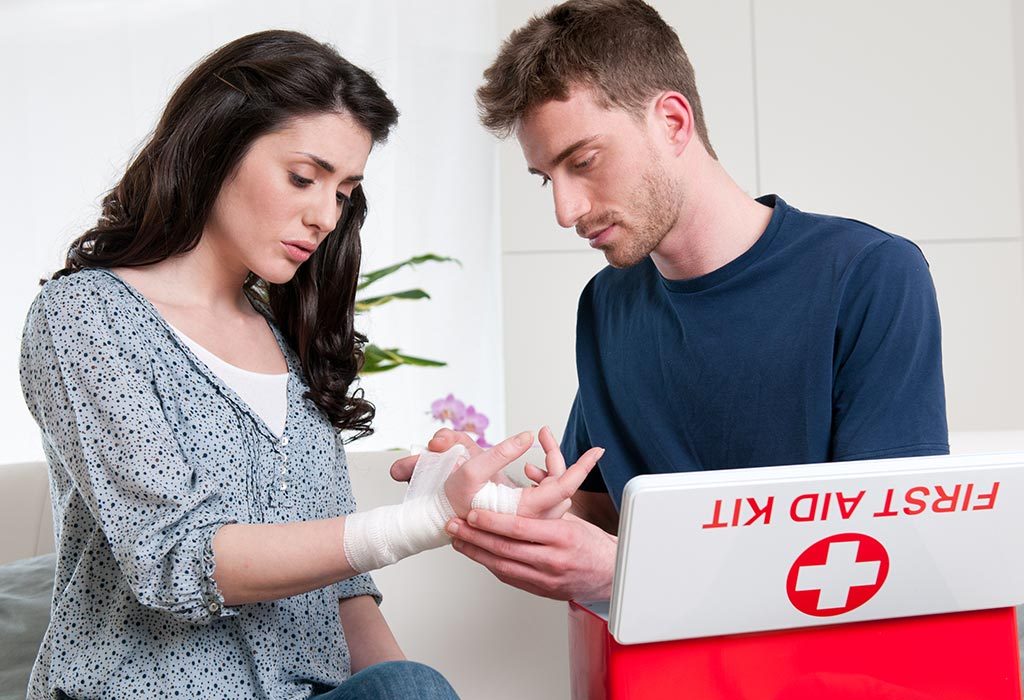 Every home should have a properly stocked first aid kit in order to handle any emergency. It should be kept handy in the personal vehicle too. A handy first aid kit can reduce the risk of any infection and tone down the severity of any injury. The supplies in a first aid kit can treat burns, sprains, scrapes and cuts, stings, splinters or strains. The ultimate idea of keeping a first aid kit is ensuring the safety of the family at home and even on the road. The first aid kit can be comprehensive or basic. If professional medical help is a long distance away, you need to be medically trained to provide emergency assistance.
How to Make and Maintain a First Aid Box at Home?
One should always keep in mind that emergencies can happen anytime and anywhere, so keeping a first aid kit ready at home is a good emergency preparation. Making a first aid kit at home can have an added advantage wherein you can personalise it to suit your personal needs. Apart from this, it is not very difficult to make a smart and equipped first aid box for your home.
Given below are the ways how to make a first aid kit at home:
1. Choose a Nice Container
One should look for a suitable container which is large, water-resistant, translucent, flexible or rigid with a zipper closure or latch top lid. The box should have enough space to contain things, be accessible and portable as well. The items should be easily separated by type, for which there should be inbuilt partitions. The box should be easily identified, so 'FIRST AID' should be marked with a permanent marker.
2. Keep the Kit Safely Accessible
The first aid kit should be kept at a consistent spot which is clearly defined, and each and every member should be aware of it. You must remember to keep it beyond the reach of small children, but they should know where it is kept.
3. Teach Family Members the Use of the First Aid Kit
Every adult member in the house should know when the first aid kit should be retrieved. They should also be well aware of the use of the equipment in the first aid kit. Younger children should just be aware of the location, but should not be able to access it. Older members should be well-versed with the use of it as well.
4. Keep the Kit Updated Always
You should always keep track of the supply of medicines and their expiry dates. Just the way you need to check the battery of your inverter, the status of the first aid kit also requires to be checked.
5. Include a Checklist in the Kit
It is a very good idea to stock the first aid kit well and note every item on a sheet of paper. Whosoever retrieves the kit can immediately know what it includes and also which items are ready to use.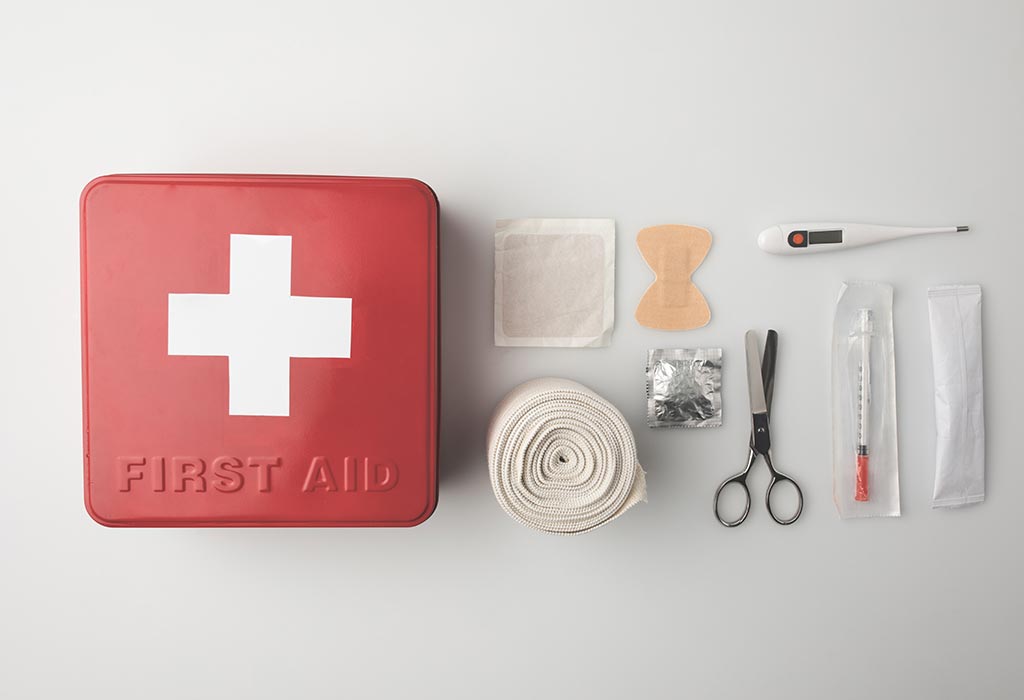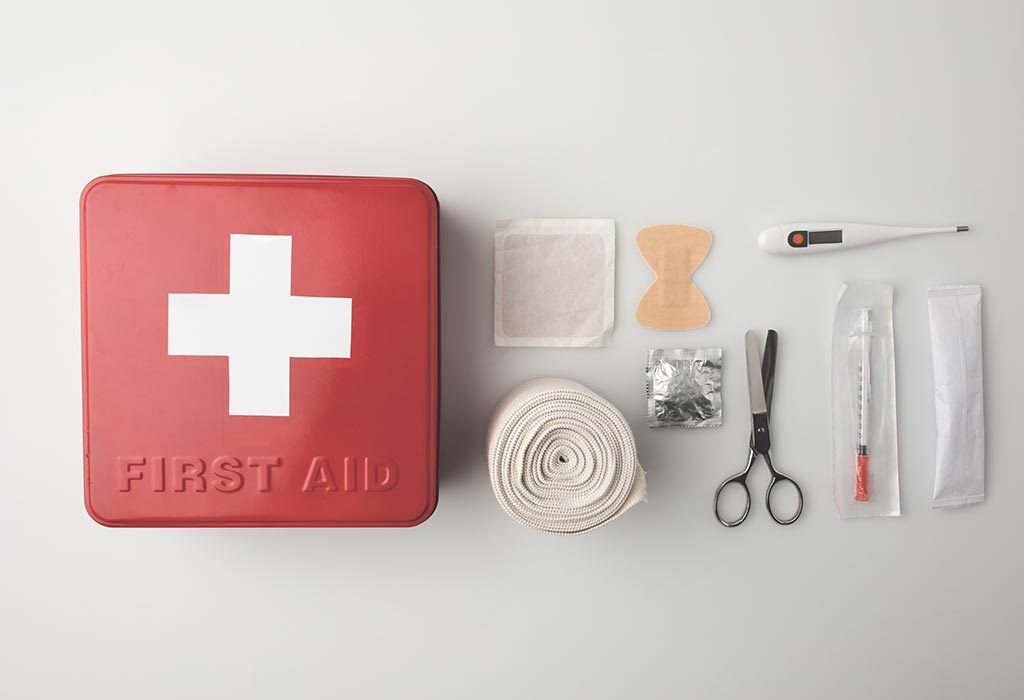 Homemade First Aid Kit Essentials
All emergency essentials are contained in a homemade first aid kit. It is intentionally extensive so that you don't forget anything and all the emergency requirements are readily available. Here is a home first aid kit checklist so that nothing remains forgotten:
1. An Array of Bandages
If there are minor cuts and scrapes, a variety of types and sizes of bandages can be required. The first aid kit will come in handy when you have multiple options to choose from. Keep all the bandages in a clear zip-lock bag, neatly labelled. The different types of bandages are as mentioned below:
Various sizes of adhesive bandages
Gauze pads
Cloth adhesive tape – 1 roll
Triangular bandages
Wide roller bandage
Sterile dressing
2. Basic Medical Tools
Now that you have your bandages, you will require other articles that will either help with cutting the bandages, or be used for other things. Remember that a household medical kit should be transparent so that the content in it is clearly visible. Here are the other medical tools you'll need:
Zip close plastic bags for disposal of medical waste
Wipes for cleansing
Hand sanitizers for cleaning hands on the spot
Instruction booklet for first aid
Cold compress for instant use
CPR breathing barrier mask
Cotton swabs and balls
Oral thermometer – non-mercury
Non-latex gloves for infection protection
Tweezers
Sharp, small scissors
Plucking splinters
3. Non-essential Useful Medical Tools
Try to always keep the kit simple and small. Multi-use items are often required. Some items that are non-essential but can serve as useful medical tools are:
Baster (for flushing out wounds)
Safety pins
Needle for sewing
Petroleum jelly
Duct tape
Aluminium finger splint
Warming blanket (pre-packaged space)
Eye protection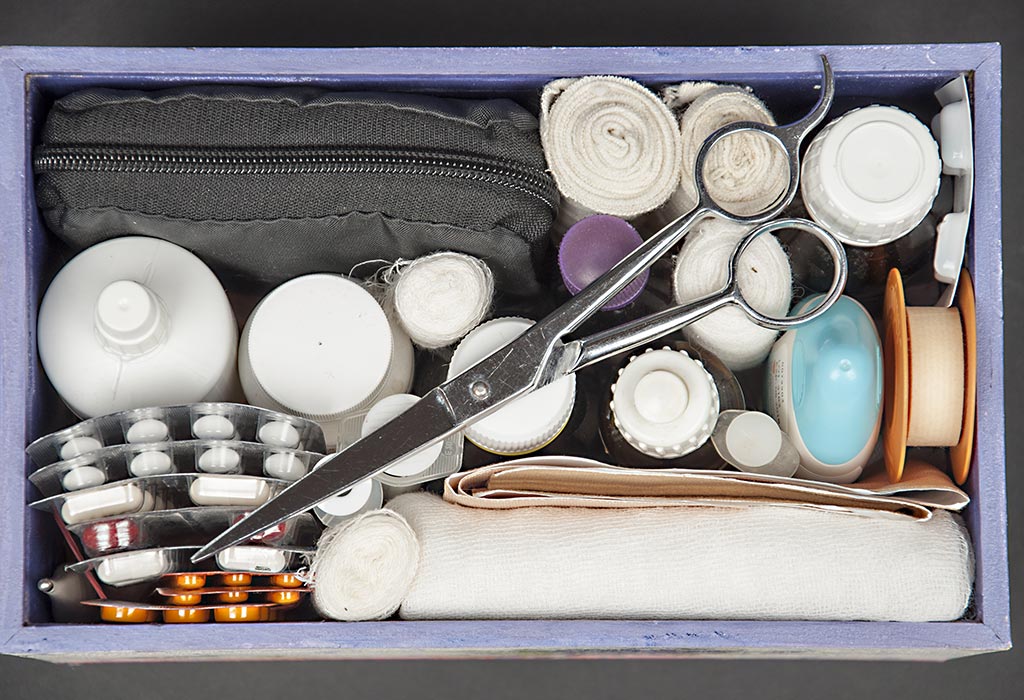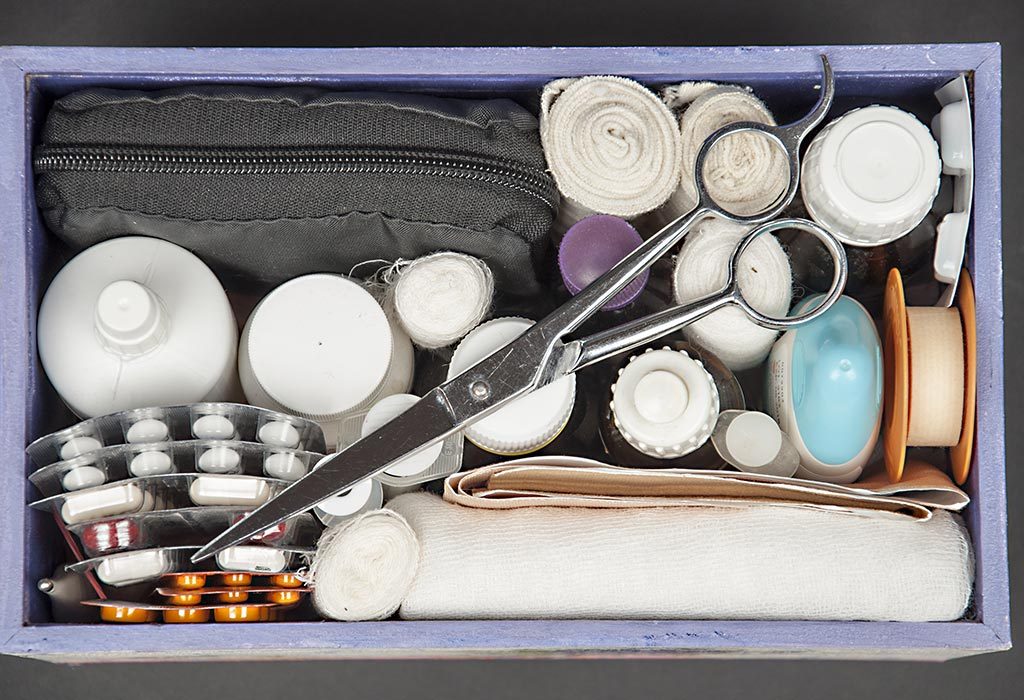 4. Create a Separate Section for Medications As Well
Your first aid kit should be made comprehensive with important medicines that might come in handy. It's best to find travel-size packs of the medicines you need, as it is easy to carry around. Make sure to check the expiration dates of all your medicines, and update your kit with new medicines regularly. Here's a list of medicines you need for your first aid kit for home:
Medicine for cough and cold
Hydrocortisone cream for itchy bites and to reduce inflammation
Pain relievers (aspirin, ibuprofen, acetaminophen) for mild pain
Antihistamine cream for bad conditions of rashes
Antacids
Laxatives
Anti- diarrhoea medication
Calamine lotion
Aloe vera gel for burn relief
Aesthetic spray for itching rashes or insect bites
Antibiotic cream to apply on wounds
5. Family Medicines Should Be Kept to Personalise the Kit
The prescription medicines should be included for members of the family.
Maintain a close watch on the expiry dates of prescription medicines.
If there is a history of some severe allergy, keep some of the medicine in the home kit so that even a visitor can provide assistance during an emergency.
If the medicine supply gets depleted, keeping a small stock of personalised medical supplies can be useful. All the members of the house should be trained on how to administer the medicines. You must also keep the phone number of the regional poison control centre. A first aid kit for everyday use should be available in your car as well.
The three primary goals of a first aid kit are the 3 Ps – preserve life, prevent any further injury, and promote the recovery of a person. The person using the first aid kit should also know about the 3 Bs – breathing, bleeding and bones is the order to follow. The first thing that needs to be done is to check the breathing of the patient.
The person using the first aid kit should be able to give first aid treatment during an injury or illness. One first aid kit should be made available in the vehicle and also at the workplace. Home first aid kits are usually made to treat minor traumatic injuries. Care should be taken to discard the items safely after the expiry date.
Also Read:
Amazing Health Benefits of Holy Basil
Tips for Preventing Swine Flu
Health Benefits of Including Prunes in Your Diet