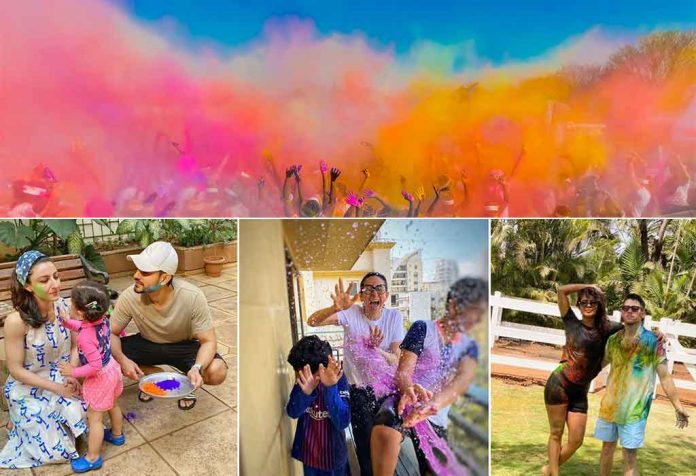 Last Updated on
Holi is a much-awaited festival in India. The Gulal, the Gujiyas, the Thandai and the Puran Poli draw one and all to witness the festivities each year. But, there's something else also that never fails to leave an impact during Holi – The Bollywood Holi Celebrations! We are sure you know about the trending Ambani Holi Party, but the Bollywood stars haven't stopped at it. Here's how they celebrated Holi this year with their loved ones.
1. The Bachchan Family
The Bachchans had a traditional Holika Dahan on the occasion of Choti Holi. They kept the tradition alive by offering prayers together post-sunset. Aishwarya Rai Bachchan even shared some pictures with daughter Aradhya, wishing her followers on the special occasion.
Source: https://www.instagram.com/p/B9hQjxTpvd9/
2. Priyanka Chopra Jonas
Priyanka Chopra Jonas celebrated the festival of colours with her husband, Nick Jonas not once but twice this year. The duo sported almost matching outfits that drove the shutterbugs crazy! In a post, Priyanka even admits they've been living in colour over the past few days.
Source: https://www.instagram.com/p/B9i26Nep1ya/
3. Karisma Kapoor
Karisma Kapoor shared a candid picture of her being soaked in coloured water. She even states she wouldn't have it any other way. Well, we love her post and her energy!
Source: https://www.instagram.com/p/B9i3_8OF9ql/
4. Aamir Khan
Aamir Khan had a colourful celebration with his wife, Kiran Rao and their son, Azad Kiran Rao. He shared a short and sweet post with a couple of images of Azad playing Holi with his mum.
Source: https://www.instagram.com/p/B9izGyXBL6k/
5. Kunal Khemu
Kunal Khemu celebrated Holi after 12 years with his daughter Inaaya at her friend's Holi party. In a heartwarming Instagram post, he even thanked the children for bringing back the joys and colour into his life. Now, that's sweet, isn't it?
Source: https://www.instagram.com/p/B9i-JqEng5F/
6. Kareena Kapoor Khan
Kareena Kapoor Khan shared a simple yet elegant image of her Holi celebration. Yes, the colour does look good on her.
Source: https://www.instagram.com/p/B9jNltNJHeO/
7. Suzanne Khan and Hrithik Roshan
Suzanne Khan and Hrithik Roshan celebrated Holi with Suzanne Khan's family over dinner. Suzanne's sister Farah Khan Ali posted this picture of the men in white wishing the followers on the festive occasion.
Source: https://www.instagram.com/p/B9hpF9jnZV2/
These Bollywood Holi celebration photos have managed to take our minds off the coronavirus. Some chose to celebrate it safely, while some went all out. The festive cheer, nonetheless, can be sensed!