10 Healthy Indian Low-Carb Breakfast Recipes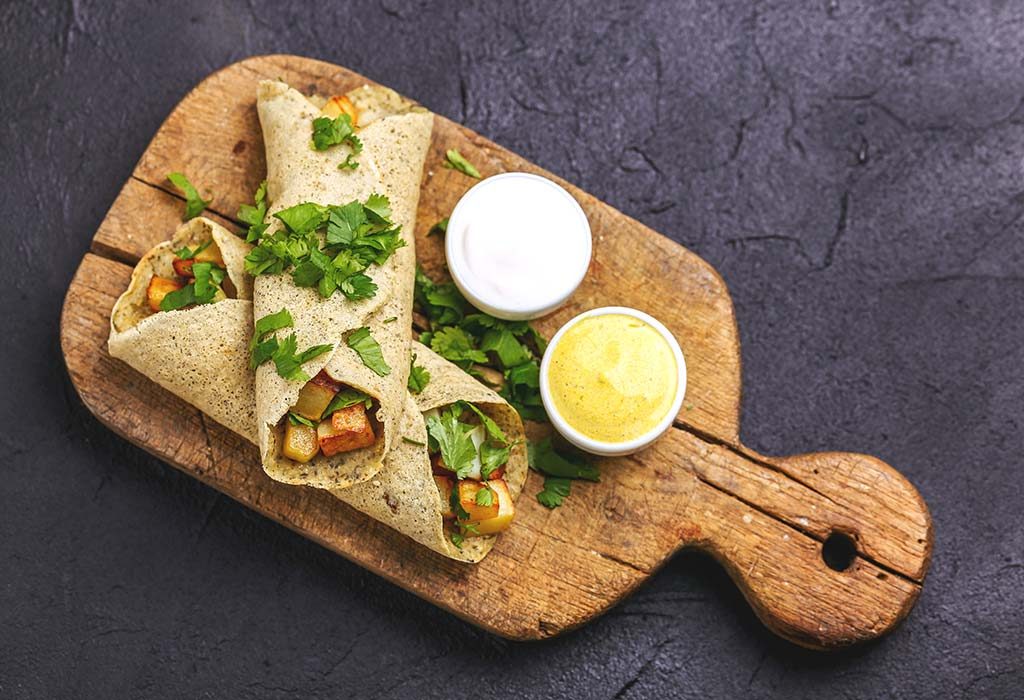 In this Article
A lot of us have started experimenting with a variety of dietary patterns to lose weight and to stay healthy. With healthy low-carb breakfast options available a dime a dozen, there's also a need to put together low-carb breakfasts that can be easily prepared using everyday ingredients.
Low-carb Indian Breakfast Recipes
Here are some great low-carb recipes that can be easily made in the mornings.
1. Sprouts Dhokla
Originally a snack item, dhokla can quickly turn into a healthy breakfast option.
Ingredients
Moong (sprouted) – 1 cup
Green chillies (chopped) – 1 tsp
Curry leaves
Hing – ½ tsp
Sesame seeds – 1 tsp
Oil
Salt
Besan – 2 tbsp
Spinach (chopped) – ½ cup
Preparation Time: Around 25 minutes
Servings: Approximately 12 dhoklas
How to Prepare
Blend green chillies, spinach, sprouts and some water until a paste is formed.
Add this paste in a bowl and to that, add some more water along with besan and salt. Mix it all well to form a batter. Add a little salt and water again.
Pour the batter into a large plate to form an evenly spread, thick layer. Place this in a steamer for about 10 minutes to cook it well.
In another pan, add a little oil along with chillies, curry leaves, hing and sesame seeds. Heat them on medium flame. Once the seeds start popping, pour this mixture over the cooked dhokla and then cut the dhokla into blocks.
2. Goat Cheese, Meat and Spinach Omelette
A low carb breakfast without eggs does have its own share of health advantages. However, an omelette such as this is no less, too.

Ingredients
Meat – 4 blocks
Avocado slices
Spinach leaves – 2 bunches
Fresh goat cheese (crumbled) – 2 blocks
Water
Eggs – 4
Butter – ½ tbsp
Preparation Time: 35-40 Minutes
Servings: 1 large or 2 regular omelettes
How to Prepare
Place the meat blocks in a pan and fry them on medium flame until they cook properly. When done, set them aside on a plate.
Whisk the eggs in another bowl.
To the previous pan, add some butter and pour the whisked eggs, along with the cooked meat blocks. Top this up with goat cheese and spinach on one half of the omelette.
As the omelette starts to thicken, fold it and cook for a couple more minutes. Turn off the flame and cover the pan instead for about 10-12 minutes in case it begins to burn.
3. Low Carb Samosas
It is rare to see the words 'samosas' and 'healthy' in the same sentence. However, this recipe makes it sound a little less surprising.

Ingredients
Cheese (shredded)
Salt – ½ tsp
Cumin powder – ¼ tsp
Almond flour – 1 cup
Coriander – ¼ cup
Chilli flakes
Cumin seeds – ¼ tsp
Garam masala – 1 tsp
Coriander powder – ½ tsp
Ginger – 1 tbsp
Salt
Onion
Cauliflower (chopped)
Butter – 1 tbsp
Preparation Time: Around 40 minutes
Servings: Approximately 8 samosas
How to Prepare
Add butter to a heated pan. Follow it up with onions and pieces of cauliflower. To this, add a little salt and cook until brown.
Then add chilli flakes, cumin seeds and powder, garam masala, coriander, and ginger, and cook for a couple of minutes before taking it off the heat.
Prepare the oven by heating it to 190 degrees.
Take a large pan and add around 1.5 inches of water to it. Place a bowl over it. Heat the water till it begins to simmer.
Turn down the flame and add cheese, salt, cumin and flour to the bowl, and stir it carefully as the bowl and water will be quite hot.
Once the cheese melts and forms a dough, take it out and knead it out on a large sheet. Cut it to form 8 equally-sized squares.
Now add a spoonful of the cauliflower mixture to each square, and join the corners of the square to form a triangular pouch. Use a fork to poke some holes and bake these in the oven for about 15 minutes. Serve hot.
4. Cheese and Egg Flourless Muffins
Preparing low-carb breakfast recipes for diabetics may have you running after artificial sweeteners every time. But some recipes like these are easy to prepare and require no such effort.

Ingredients
Almond mixture – ½ cup
Salt – ¼ teaspoon
Seasonings – ½ teaspoon
Baking powder – ½ teaspoon
Yeast flakes – ¼ cup
Flaxseed mixture – ¼ cup
Cheese parmesan (grated) – ½ cup
Green onion (thin slices) – ½ cup
Cottage cheese – ½ cup
Eggs – 6
Preparation Taken: Around 50-55 minutes
Servings: Roughly 12 muffins
How to Prepare
Heat the oven to 190 degrees.
Prepare the muffin moulds by greasing them with some olive oil.
Take a large bowl and to that, add baking powder, yeast flakes, the flax seed mixture, cheese, almond mixture, seasonings and salt. Mix it well.
Whisk some eggs in a bowl and add in cottage cheese to this along with onions and mix again.
Now fill this mixture in each of the muffin moulds up to the brim. Place these moulds in the oven and bake them for about half an hour. Keep a track of when they start turning brown.
Once done, take them out and serve warm.
5. Upma With a Low-carb Twist
The quintessential Indian breakfast of all times can also be turned into a great low carb breakfast option.

Ingredients
Coriander
Salted peanuts – 20g
Green pepper
Ginger – 5g
Curry leaves
Onions – chopped
Cumin seeds – 1tbsp
Mustard seeds – 1tbsp
Olive oil
Cauliflower
Preparation Time: Around 25-30 minutes
Servings: About 2 plates
How to Prepare
First, blend the chopped cauliflower.
Heat olive oil in a pan and to that add cumin and mustard seeds. Follow up with peanuts, green pepper, ginger, curry leaves, and onions when it starts sizzling.
Keep frying on low flame until the onions are slightly brownish. Add a little salt followed by the cauliflower pieces. Mix them together and cook for a couple of minutes.
Add some water to cover the entire mix and cook for 10 minutes. Place a lid on the pan. Stir it occasionally and take it out once the water has evaporated. Serve hot.
6. Spicy Baked Eggs With Yoghurt and Spinach
When it comes to high protein low-carb breakfast recipes, this spicy and lip-smacking dish should be your go-to option.

Ingredients
Yoghurt – 3 cups
Oregano – 1 tsp
Chilli powder – ¼ tsp
Eggs – 4
Lemon juice – 1 tsp
Fresh spinach – 10 large bunches
Chopped spring onion – 5 tbsp
Olive oil – 2 tbsp
Butter – 2 tbsp
Salt
Half a garlic clove
Preparation Time: About 40-45 minutes
Servings: Approximately 2 servings
How to Prepare
Preheat the oven at 150 degrees.
In a bowl, mix salt, garlic and yoghurt.
Place a large pan on medium flame and to that add butter and oil. Follow it up with chopped spring onions and reduce the flame. Let it cook for about 10-12 minutes.
Once done, add lemon juice and spinach with a sprinkle of salt. Heat it at a higher temperature and keep stirring the mixture for 3-5 minutes. Transfer half of this mixture to another pan.
Spread it out in such a way to leave some empty area in the centre. Crack open an egg carefully in it, making sure the yolk isn't disturbed. Let both the pans continue to bake the eggs for about 15 minutes.
Add a little butter around the second pan, along with chilli powder and salt and let it cook for a few minutes. Sprinkle some oregano.
Take out the garlic halves and pour the yoghurt over the eggs and serve.
7. Khandvi Made With Moong Dal
Another delicious delight that is known for its festiveness and can also be tweaked into a health-friendly breakfast item.

Ingredients
Coriander (chopped) – 2tbsp
Oil
Hing – ¼ tsp
Sesame seeds – 1 tsp
Sarson – 1 tsp
Salt
Turmeric powder – ¼ tsp
Ginger chilli paste – 2 tsp
Curd – 1 cup
Moong dal flour – 1 cup
Preparation Time: Around 10-15 minutes
Servings: Approximately 4 pieces
How to Prepare
Add water to a pan. Follow up with salt, hing, turmeric powder, ginger chilli paste, curd and flour. Mix them all together while heating on a low flame.
Keep stirring until the mixture thickens. Test if it is cooked properly by spreading a spoonful of the mixture on a plate. If it can be rolled up after a few seconds, you're good to go.
Now spread the batter equally on two separate plates, greased with oil. Make a thin layer and then cut them length-wise once it cools. These should then be rolled up. Do the same with the other plate as well.
Now take a pan and add oil to it, followed by sarson seeds. Heat it up and as they start crackling, add hing and sesame seeds to it. Pour this mixture over the rolled khandvis, and serve.
8. Pudding Made From Coconut and Chia Seeds
Amongst low-carb breakfast ideas for kids, this one's pretty popular for being a quick and tasty option that can be consumed before school.

Ingredients
Honey – ½ tbsp
Full-fat coconut milk – 1 cup
Chia seeds – ¼ cup
Mango (diced) – ¼ cup
Preparation Time: Less than 10 minutes, to be stored overnight
Servings: 1 full serving
How to Prepare
In a bowl add honey, chia seeds and the cup full of coconut milk. Place this in the refrigerator the previous night so that it sets properly.
In the morning, take out the thick pudding in a bowl. Garnish with some nuts or diced mango pieces and give it to your child for a quick and tasty breakfast.
9. Cream Cheese Pancakes
A lot of people opt for a healthy keto diet to lose weight speedily. You don't have to compromise on taste with this lovely breakfast recipe.

Ingredients
Cream cheese – 2 large cups
Cinnamon – ½ tsp
Artificial sweetener
Eggs – 2
Preparation Time: About 15 minutes
Servings: Roughly 4 pancakes
How to Prepare
First, blend all the ingredients.
Grease a pan with butter. Heat it and pour that batter from the mixer in small quantities to form a pancake.
Once the pancake gets a brownish shade, flip it to cook the other side. Make about 4 pancakes in the same manner.
Use fruits or artificial sweet syrups to garnish.
10. Mixed Dal Dosas
Dosas are one of the healthiest breakfast items. Here's a low-carb variant making dosas healthier than before.

Ingredients
Oil
Coriander (chopped) – 2 tbsp
Hing – ¼ tsp
Chilli powder – ¼ tsp
Turmeric powder – ¼ tsp
Ginger paste – ½ tsp
Green chilli paste – 1 tsp
Black lentils – 2.5 tbsp
Yellow and green moong dal – ¼ cup each
Preparation Time: About an hour and a half
Servings: Approximately 10 dosas
How to Prepare
In advance, soak three kinds of dal in hot water for an hour. Once done, drain the water.
Then, blend them with water to a smooth mixture.
Pour the mixture into a bowl and add all the remaining ingredients to form a batter.
Take a pan and pour a large spoon of batter in the middle. Use the base of the spoon to make a circle with it.
Add a little oil to it and flip the dosa to cook both sides properly. Take it off onto a plate.
Low carb breakfast snacks can start you off on the right foot for the day with a delicious and healthy meal. Do give these low-carb breakfast recipes a try!
Healthy & Delicious Dry Fruit Recipes
Healthy and Yummy Oil-Free Snack Recipes
Nutritious and Tasty Steamed Food Recipes
?>