Guru Nanak Jayanti (Gurpurab) 2022 – History, Significance and Celebration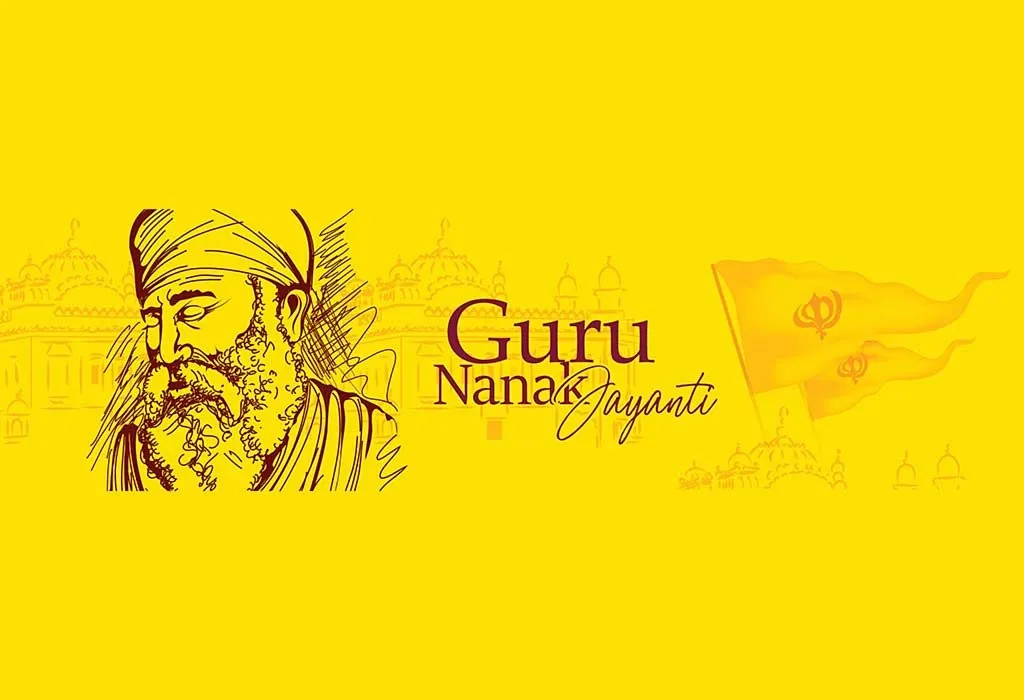 They say the greatness of a culture can be found in its festivals. People celebrate their glorious heritage through festivals, which are reasons enough to bring everyone together and live harmoniously. One of these festivals is the Guru Nanak Jayanti, the day of birth of Guru Nanak Dev Ji. He was the founder of Sikhism who promoted the universal religion of compassion and brotherhood through the message of ik onkar, denoting the one supreme reality – the eternal truth. The day is significant in Sikhism and is also recognised as Guru Nanak Dev Ji Gurpurab or Guru Nanak Prakash Parv. Let's learn some key takeaways from this festival.
Why Do We Celebrate Guru Nanak Jayanti?
Guru Nanak Jayanti marks the birth anniversary of Guru Nanak, the first of the ten Sikh gurus who shaped the beliefs of the religion. The significance of Guru Nanak Jayanti is to honour Guru Nanak Dev Ji and remind one and all about his teachings of sharing, truthful living, and selfless service. His soulful lessons also include the importance of overcoming the five weaknesses, or thieves of human behaviour, as he puts it – attachment (moh), greed (lobh), lust (kama), pride (ahankar) and anger (krodh).
Guru Nanak Jayanti History
Guru Nanak Dev Ji was born in 1469 in present-day Nankana Sahib, Punjab, Pakistan (formerly known as the village of Rai-Bhoi-Ki Talvandi). Young Nanak demonstrated innumerable times that he was blessed by divine power. Much later in his life, he went on long spiritual journeys and wrote 974 hymns which can be found in the Guru Granth Sahib (the holy book). Over the course of time, he inspired several people to practise compassion and laid an important foundation for the followers. He was thus considered the founder of Sikhism. Guru Nanak Jayanti is celebrated to honour this legacy Guru Nanak Dev Ji left centuries ago.
When Is Guru Nanak Jayanti Celebrated?
Guru Nanak Jayanti is celebrated on Puranmashi (full moon) of the Kattak or Kartik month according to the Bikrami Calendar, the historical Hindu calendar. It is, therefore observed on the full moon of October–November of the Gregorian calendar. This year, the day falls on the 19th of November.
Guru Nanak Jayanti Traditions
Guru Nanak Jayanti celebrations consist of a beautiful amalgamation of energy and devotion. Several programs, performances, and processions form important parts of the occasion, some of which begin days before the main day.
One of them is the 48-hour continuous reading of the Guru Granth Sahib (the holy book), also called Akhand Path. It commences two days before the festival and is held in almost every Gurudwara.
A day before the birth anniversary is the Nagarkirtan, a procession led by the five beloved ones or the Panj Pyare. This procession is quite an experience with the participants singing soulful hymns, carrying the palanquin of Guru Granth Sahib, and the Nishan Sahib (Sikh flag). The vibe is lifted ten folds with the Gakta performances and the upbeat traditional music. As we said, it's quite an experience.
The Jayanti begins with the singing of the morning hymns (Asaa-Ki-Vaar), reading the scriptures (Katha) and religious hymns (Kirtan) during the Amrit Vela, i.e. between 3:00 and 6:00 am. Another morning procession, called Prabhat Pheri, is also taken through the neighbourhood to mark the beginning of the auspicious day.
Langars, the community lunches, are held shortly after the Prabhat Pheris. These free community lunches welcome one and all irrespective of class, caste, creed, and gender.
Later in the day, around sunset, people gather in the Gurudwaras for the night prayers or the Rehras and the Kirtan. Post midnight, at about 1:15 am, Gurbani is sung as it is believed to be the actual time of Guru Nanak's birth. The Gurbani completes the day and leaves a soulful mark on everyone.
And, while all of this is happening, how can one forget their loved ones? Don't just wish them "Happy Gurpurab"; this time, send them some gifts, too!
Guru Nanak Jayanti Gift Ideas for Family and Friends
Here are some gift ideas you can use to celebrate Guru Nanak Dev Ji's birthday:
Ik Onkar Pendants – They will not only look pretty but also keep reminding the ideology Guru Nanak Dev Ji lived by.
Books – Religious books with the teachings of Guru Nanak Dev Ji can be a great way to celebrate the day.
Pooja Hamper – Make someone's day with a beautiful hamper of small yet useful prayer essentials, such as a diya, some incense sticks, an incense stick holder, candles, etc.
Idols and Pictures – You can also gift idols or beautifully framed pictures of Guru Nanak Dev Ji with an elegant, handwritten note.
Sweets and Dry Fruits – No festival is complete without sweets and dry fruits. Get your loved ones' their favourite sweets or put an assortment together to make the day even more special for them.
Festivals brings people together in the right spirit. We must, therefore, never forget the reasons why we celebrate them. Let's look at what kids can learn from Guru Nanak's teachings.
Things Kids Can Learn From Guru Nanak's Teachings
The teachings of Guru Nanak Dev Ji can help everyone lead content and happy lives. Encourage your kids to learn them and share them with their friends, too.
Practice selfless devotion and work hard every single day.
God is one.
Before God, we are equal. No one is differentiated on gender, the colour of the skin or social status.
Nothing pleases God but honest and true living.
Kindness is important. Be kind to everyone, including birds and animals.
Pray for everyone's good.
Never fear, and never frighten anyone.
God and truth are one.
Love everyone equally.
There is but one God; his name is truth. These words, so beautifully, explain the ideology Guru Nanak Dev Ji lived by. This Guru Nanak Prakash Parv, enlighten your loved ones with some of these teachings and make them a part of your life, too. You don't have to be religious to follow them. Remember, those who have loved are the ones who found God.